SOUTH CHICAGO — Two business corridors In South Chicago are set to receive millions of dollars in upgrades over the next few years, local leaders announced Tuesday.
Street resurfacing, raised bike lanes, curb extensions to shorten street crossings, bump-outs at bus stops, accessible ramps and crosswalks, lighting and more will be completed along Commercial Avenue between 83rd Street and South Chicago Avenue and along 92nd Street between Anthony and Harbor avenues, city officials said.
Community identifiers and sidewalk plaques that "highlight the rich history and culture of South Chicago" will also be installed along the stretches, Mayor Lori Lightfoot said Tuesday during a groundbreaking ceremony at the Salud Center, 3039 E. 91st St.
The upgrades — which include accessible ramps and crosswalks, traffic signal upgrades and new signs — will "make the streets in this community safer [and] also bolster economic development," Lightfoot said.
The Chicago Department of Transportation will lead the $43 million project, which is funded by the Chicago Works infrastructure plan. It's expected to be complete by the end of 2025.
"A vibrant and accessible street is an important part of fostering economic growth," said Tom Carney, the transportation department's first deputy commissioner.
The project has its roots in a community revitalization plan led by Special Service Area No. 5 and the University of Illinois at Chicago's Great Cities Institute, Ald. Susan Sadlowski Garza (10th) said.
Neighbors identified a need for "a more pedestrian- and cyclist-friendly Commercial Avenue, with improved lighting and a more aesthetically pleasing streetscape," Sadlowski Garza said.
Special Service Area No. 5 also brought permanent public art, vendor stalls and other upgrades to Commercial Avenue through the Chicago Alfresco program last year.
Leaders hope the upgrades will attract businesses and encourage existing shops to "revitalize their street-front facades," said Tom Schell, South Chicago's corridor manager for Invest South/West.
"I think it will bring more of our residents up to the shopping district, like it used to be," said Schell, who also works for Special Service Area No. 5's service provider, South Chicago Parents and Friends.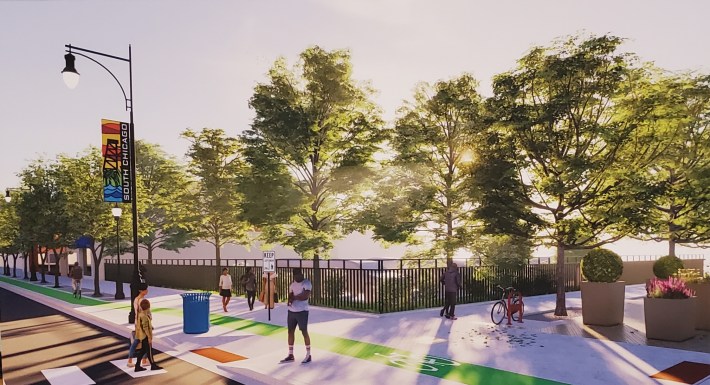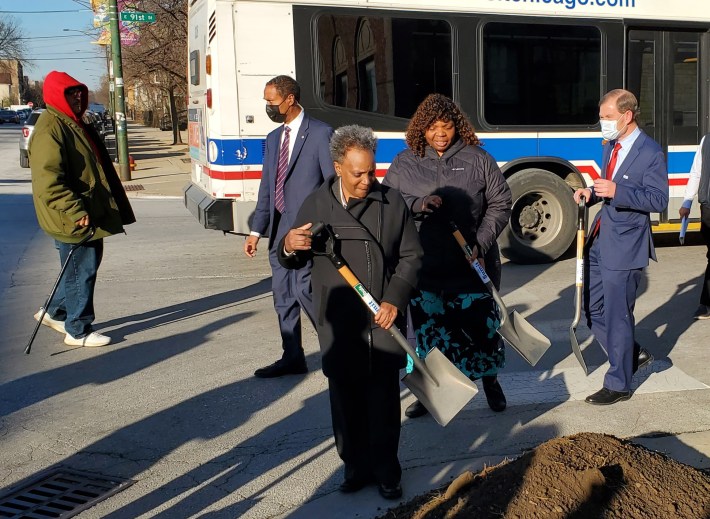 The streetscape upgrades are part of the city's Invest South/West initiative, which pledged $750 million in public funds over three years for commercial development in 10 South and West side neighborhoods.
Last week, city officials celebrated the initiative's three-year anniversary and touted the $2.2 billion in public and private funds secured for Invest South/West projects. The city has committed $280 million of that total to streetscape projects through the initiative, Lightfoot said Tuesday.
The city-backed Galeria 89 development — a project to bring 58 affordable apartments and retail to South Chicago — is also ongoing, officials said.
The $36.4 million development is planned for a mostly vacant stretch of properties on the 8800 block of Commercial Avenue. The current plan is about $13 million more expensive and would create 13 more apartments than last year's projection.