SOUTH CHICAGO — The wide-ranging redesign of a South Chicago block is set to open to the public in mid-August, uniting local business leaders and creatives with the goal of drawing more traffic to the neighborhood's main business corridor.
The project, titled Who Tells Your Story, will transform the 8900 block of South Commercial Avenue with commissioned art, market stalls for local vendors, streetscape elements like benches and planters, performance spaces and more.
In addition to attracting more visitors, Who Tells Your Story is intended to encourage store owners to be better stewards of the sidewalks in front of their shops, Special Service Area No. 5 program manager Dave Price said.
The special service area's service provider, South Chicago Parents & Friends, was one of 15 organizations to receive the first round of Chicago Alfresco grant funding in May. The program provided grants up to $250,000 to nonprofits looking to activate outdoor public spaces.
"The real intent is to create walkable spaces and places for gathering for residents in the community — essentially to create an inviting atmosphere along Commercial Avenue that would encourage residents to gather and stroll," Price said.
Who Tells Your Story will include four zones: one for art and performance, a commercial zone with pop-up market space, another for health and family programs and a final zone for visitors to learn more about the community.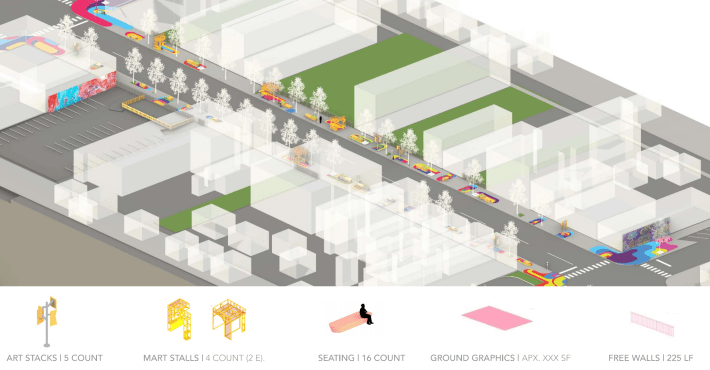 Sidewalk painting is set to begin July 26, with the installation's completion and soft opening planned for Aug. 14 — though work might be completed earlier than that, Price said.
The Alfresco project will officially be unveiled Aug. 21, as business owners and creatives come together for a larger celebration on the sidewalks along Commercial Avenue from 87th to 93rd.
The art zone is planned in collaboration with education nonprofit SkyART, 3026 E. 91st St. The organization is developing a Make Your Mark community art project, where passersby will be able to paint on a canvas installed on the sidewalk, Price said.
Public art will also be visible throughout the installation, with five "art stacks" displaying four works for a total of 20 commissioned pieces on display.
Organizers put out requests to neighborhood artists a few weeks ago to have the art ready to go for the installation's launch, Price said.
Local artists Roman Villarreal and Derric Clemmons have played key roles in the effort. Organizers also are recruiting visual artists, spoken-word performers, musicians and other creatives to use the space, Price said.
The commercial zone will feature a pop-up market, providing opportunities for small businesses and home-based entrepreneurs to sell their goods, Price said.
Arches will serve as the market stalls and be placed along the sidewalk, giving the project "a cohesive design element," Price said. The structures will be made of steel, "a pretty obvious reference to the steel industry in South Chicago."
The informational zone may include a kiosk for visitors from outside the neighborhood to learn about the Southeast Side, while plans for the health and family zone could provide space for a masseuse or yoga instructor.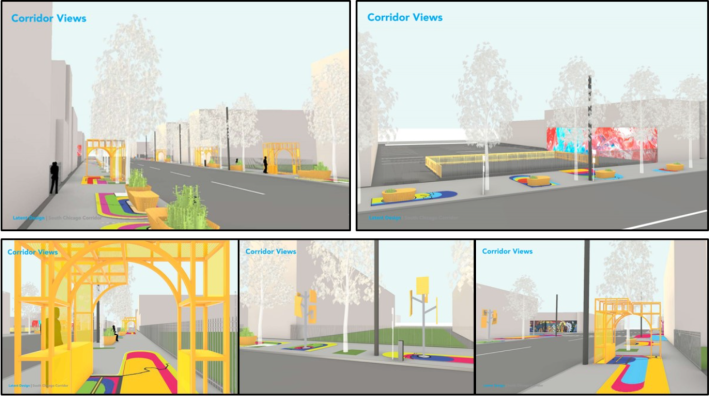 City officials awarded the Chicago Alfresco grant with an expectation the streetscape would be in place for three years, but Price expects the elements "will be in place for far longer than that" given their durable steel construction, he said.
Artists looking to display their work or perform in the art zone, businesses wanting to reserve a market stall and community members seeking more information can email Price at dprice@scpf-inc.org or call 773-251-4581.
The Department of Transportation continues to accept proposals for Chicago Alfresco funding. For more information on the program, click here.
Subscribe to Block Club Chicago, an independent, 501(c)(3), journalist-run newsroom. Every dime we make funds reporting from Chicago's neighborhoods.
Already subscribe? Click here to support Block Club with a tax-deductible donation.