GRAND BOULEVARD — Developments slated for Bronzeville and Washington Park are moving forward after getting City Council approval Wednesday.
Among the approved projects is an outpatient clinic, a food hall and entertainment venue and a mixed-use development featuring eco-sustainable apartments.
Here's a look at what's coming to the neighborhood:

The Grove Bronzeville
The Grove Bronzeville — a three-story, 86,000-square-foot venue at 4731-59 S. Cottage Grove Ave. — would be a "Time Out-style" food hall, marketplace and entertainment venue, developers said.
Black-led Milhouse Development is leading the buildout. CEO Melanie Milhouse previously said she hopes The Grove will be a "place of destination" for neighbors and people from outside the neighborhood.
The venue will feature a metaverse restaurant that would transport diners to any virtual destination in the world. It will be created by coders trained at a coding academy the food hall will create in conjunction with House of Attention, Milhouse said.
The food hall would also serve as an incubator for Black female entrepreneurs who would operate from stalls, allowing them to grow their businesses, Milhouse said.
The expected cost of the project is unknown, but the development team is pursuing funding from a number of sources, including New Market Tax Credits and private investors, developers said.
Five Iron Golf, L3 Agency and Majani Vegan have signed on to be partners on the venture. The project could be completed in a year to 18 months.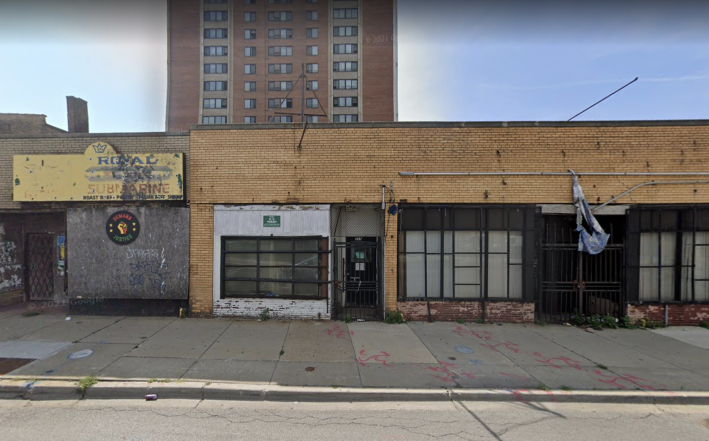 Policy Kings
The former home of Cain's Barber College, 353-363 E. 51st St., will be the future home of Policy Kings, an initiative that "combines architectural innovation with environmentalism, cultural elevation diversity and effortless cool," its owners said.
Corey Gilkey and James Daughrity, the two South Side natives behind the venture, plan to build six eco-sustainable apartments, retail stores, an indoor/outdoor dining venue, elevated gym, a women's sneaker store, Queenz, and a Leaders 1354 location.
The team used 10 percent of its own money for the two-story, 17,220 square-foot project, which will cost $6.1 million. It has received a $2.3 million Neighborhood Opportunity Fund grant and is enlisting the aid of the Local Initiatives Support Corporation and the Chicago Community Loan Fund for the rest of the funding, Daughrity previously said.
The project is scheduled to be completed by late 2023.
UChicago Medicine Outpatient Clinic
UChicago Medicine is opening a 13,000-square-foot outpatient clinic at 4658 S. Drexel Blvd. It would offer an array of services, including pediatrics, women's health and senior care.
UChicago officials unveiled the plan at a community meeting in September.
Six to eight physicians would see 60-90 patients a day at the center, UChicago Medicine President Leslie Stern previously said. Some would be new patients while others would be transfers from the health care provider's on-campus clinic, which has struggled to keep up with demand, Stern said.
Clinic leaders will work with an existing urgent care center nearby, eliminating the need to accommodate one, Stern said. UChicago is looking to hire 10-15 staff members from the community.
Construction could begin early next year, and the facility could be ready to open by June, Stern said. There's no estimate on its cost since it is still in the early stages, officials said.
The site is the former home of Shore Bank, a Black-owned community development bank that went insolvent in 2010. The facility went through a gut rehab in 2020, with a new storefront, roof and landscaping, UChicago officials said. A parking lot replaced the vacant lot north of the property and the site now has an underground stormwater retention system. Only interior work remains, officials said.
Northwestern Medicine also is opening a $100 million outpatient facility less than a mile away, with an eye towards a mid-2025 launch.
Listen to "It's All Good: A Block Club Chicago Podcast":