OLD IRVING PARK — Neighbors, parents and community leaders flocked to Schurz High School Thursday morning to support kids and teachers after a drive-by shooting nearby wounded four teens a day earlier.
Palenque LSNA, a Logan Square-based neighborhood group, organized the Thursday morning event alongside Chicago Teachers Union members and neighbors. At least 50 people came to the school to hand out flowers, doughnuts and school supplies, said Norma Rios-Sierra, the sustainable community schools parent in action coordinator.
"We want to counteract the violence with love. It's about showering them with love and showing them with direct action," said Rios-Sierra, whose group has worked with Schurz students in the past. "We have to show our support and they need to see it and feel it. These situations are devastating and have long-term effects on our mental health."
The shooting happened about 2:45 p.m. Wednesday — the third day of classes — near the patio of ice cream shop La Michoacána, 3591 N. Milwaukee Ave., as some kids were dismissed for the day.
A 15-year-old boy was shot in his face and neck and was taken to Lurie Children's Hospital in critical condition, police said. Another 15-year-old was shot in his back and taken to Stroger Hospital in good condition. A 17-year-old had a graze wound to his leg and was taken to Community First Medical Center in good condition. An 18-year-old was shot in his leg and taken to Illinois Masonic Hospital in good condition, police said.
The teens attend Schurz, 3601 N. Milwaukee Ave., and a nearby charter school, according to a CTU tweet. No updates on their conditions were available Thursday.
Police spokesperson Anthony Spicuzza said the shooting is still under investigation, and no one was in custody as of Thursday afternoon.
Raul Islas, a bilingual social studies teacher at the school, said the response from neighbors showed the school's strong community and its care for students.
Although fewer students came to school Thursday, those who showed were grateful for the well-wishers and the flowers, Islas said. The presence also greatly helped teachers feel supported, he said.
The school received so much support from parents, the CTU, police officers and other community members that the principal needed to adjust the day's schedule to accommodate all of the visitors, which was "amazing," Islas said.
"This morning really helped when we saw the outpour of community support," Islas said. "Being on the inside, I saw a lot more smiles [and] kids with flowers wearing them and making fashion with them."
In a letter to Schurz families posted to the school's website, Principal Heidy Moran said additional support like the district's crisis team and counselors are on hand this week to speak with students and staff. Moran will host a meeting with parents on Friday.
Islas said he referred some students to the crisis support team and reminded his classes that healing spaces and individual therapy appointments are available — and that positivity and love within the school community can beat out fear and the negativity from the media.
"Everything is in place to support the students," Islas said. "We are doing a good job of building a positive culture [and offering] the social workers and youth guidance" to students.
The Rev. Kara Wagner Sherer, of St. John's Episcopal Church, also helped organize the morning welcome. She said the presence felt like "an appropriate response" and it was meaningful to give students flowers and doughnuts.
"It was powerful to have 50 teachers and neighbors out on the yard," Wagner Sherer said. "It's not a solution, just a way to say people are willing to" support.
Some neighbors said the Old Irving Park pocket is a relatively safe area and Thursday's violence was abnormal.
Schurz was locked down in November after a rumor spread on Snapchat about a person with a gun, causing parents and students to panic, administrators said. While no gun was found, community members told Block Club fights were on the rise at and near the school.
An employee at La Michoacána told Block Club at the time she'd seen fights happen at least twice a week between students outside the shop as well as around the school's outdoor campus.
The ice cream shop has at least four security cameras facing the area of the outside patio near where the shooting happened. Two bullet holes could still be seen on the glass window pane near the entrance of the ice cream shop Thursday.
"Schools and ice cream shops should be places that are safe for children," Wagner Sherer said.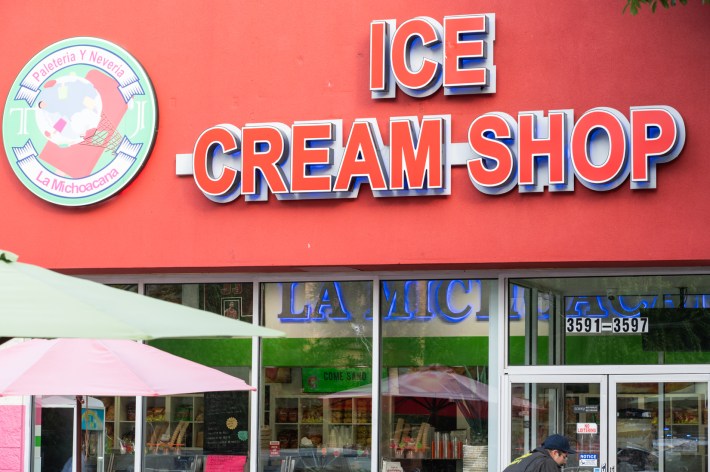 Police have added more patrol units around the school in the wake of the shooting, but Islas said that doesn't make him feel safe.
Islas wants to see more funding go to violence interrupters who can work with youth before a shooting instead of having officials who just react to violence.
"For me, seeing cops lined up outside our school doesn't make me feel that great," he said. "It has a counter-effect. … It's making it feel like a crime scene. But what about something more supportive for the schools?"
Ald. Ariel Reboyras (30th), whose ward encompasses the ice cream shop and whose office is close by, did not respond to requests for comment.
Subscribe to Block Club Chicago, an independent, 501(c)(3), journalist-run newsroom. Every dime we make funds reporting from Chicago's neighborhoods.