OLD IRVING PARK — Four teenage Chicago Public Schools students were wounded in a Wednesday afternoon drive-by near a Northwest Side high school, officials and witnesses said.
The shooting occurred 2:45 p.m. in the 4300 block of West Addison Street, near Schurz High School, police Chief Roberto Nieves said.
Four teen boys were near the patio of a local business when someone in a dark SUV car drove up to the group on Addison and fired shots Nieves said. The victims were shot outside La Michoacána, 3591 N. Milwaukee Ave., witnesses said.
A 15-year-old boy was shot in his face and neck and was taken to Lurie Children's Hospital in critical condition, police said. Another 15-year-old was shot in his back and taken to Stroger Hospital in good condition. A 17-year-old had a graze wound to his leg and was taken to Community First Medical Center in good condition. An 18-year-old was shot in his leg and taken to Illinois Masonic Hospital in good condition, police said.
The teens attend Schurz and a nearby charter school, according to a Chicago Teacher Union tweet.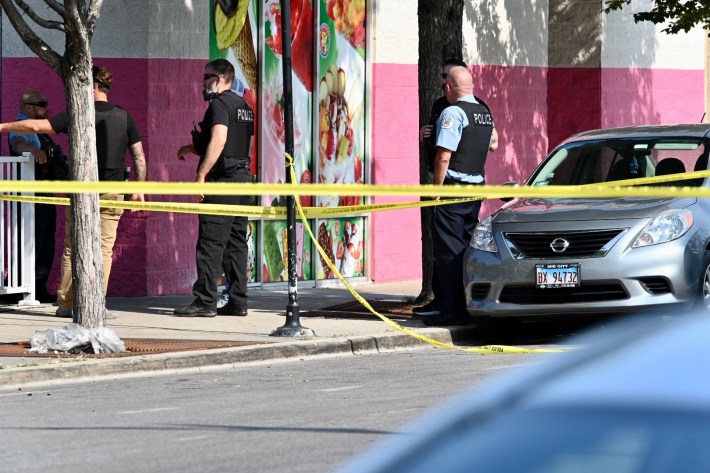 The shooting occurred as Schurz students left for the day, witnesses said.
Police tape was partially roped around La Michoacána about 5:30 p.m. as detectives investigated inside and outside the ice cream shop. Bags of chips, bottles of water, a can of soda and cans of canned cocktails were abandoned at the patio. 
"There's different start times and dismissal times for students. So there were some students out of school, while the majority of the students were inside the school," Nieves said.
The driver from the shooting took off, heading east on Addison, Nieves said. No one is in custody.
"This is very upsetting and we understand that. We're very upset ourselves and frustrated with this," Nieves said. "Our No. 1 priority is the safety of our kids, especially our kids that attend school. They should be safe coming, and while they're at school and going home."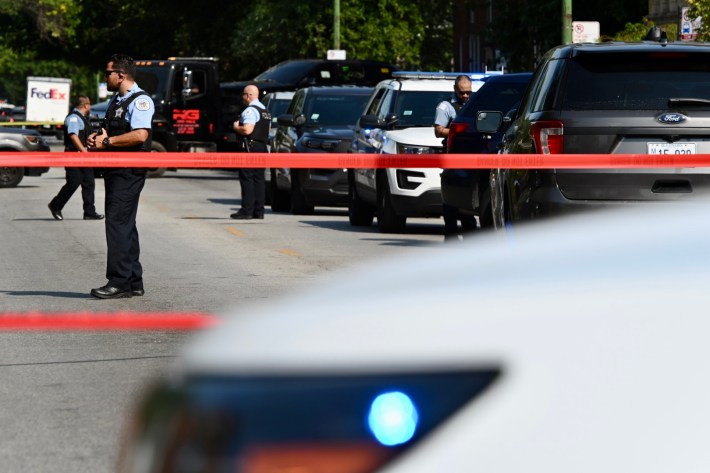 Last year, the school, 3601 N. Milwaukee Ave., was locked down after a rumor spread about a person with a gun, causing parents and students to panic, administrators said. While no gun was found, community members told Block Club fights were on the rise at and near the school.
An employee at La Michoacána told Block Club at the time she'd seen fights happen at least twice a week between students outside the shop as well as around the school's outdoor campus.
Police will increase patrols during arrival and dismissal times at Schurz in response to the shooting, Nieves said.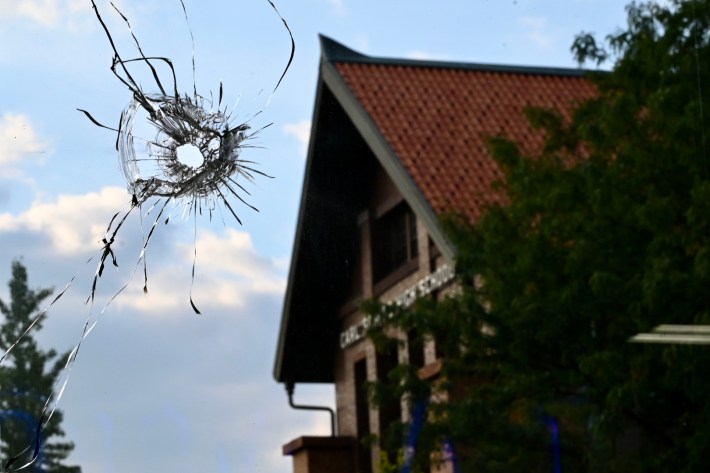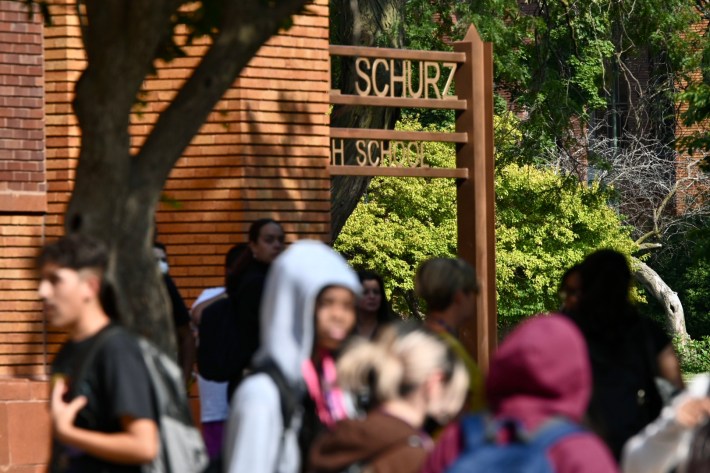 The ice cream shop has at least four security cameras facing the area of the outside patio near where the shooting happened.
Two bullet holes could be seen on the glass window pane near the entrance of the ice cream shop. As emergency crews began clearing the scene, a firefighter was spraying down the glass doors and sidewalk of the ice cream shop entrance.
Local businesses reopened to customers just before 6 p.m.
Previously in 2019, Emmanuel Gallegos, a 17-year-old Northside College Prep student, was fatally shot while riding in a car near Schurz on his way to get a haircut. Another 17-year-old was charged in the shooting.
Subscribe to Block Club Chicago, an independent, 501(c)(3), journalist-run newsroom. Every dime we make funds reporting from Chicago's neighborhoods.