IRVING PARK — Last week's lockdown at Carl Schurz High School started with a Snapchat rumor about a person with a gun, administrators said — and it was made worse by misinformation on the Citizen crime app.
While no gun was found on the campus, community members said fights are happening more frequently at the school, 3601 N. Milwaukee Ave., and parents, teachers and community members gathered this week to discuss solutions.
"We're in crisis. And I need to get the help. But I don't know where to turn," Schurz Principal Anthony Rodriguez said at Tuesday's school council meeting. He asked for patience as he tries to address the root causes of a series of fights between some students, the most recent of which led to the Nov. 3 lockdown.
The lockdown began just before noon that morning after a fight in a hallway, police spokeswoman Karie James said. The lockdown was lifted by 12:30 p.m. after police and SWAT teams searched the school and found no gun and no one injured. 
Rodriguez said he was on the phone with CPS' Network 14 leadership about lockdowns this year at Roosevelt, Steinmetz and Mather high schools when he was notified by staff of a Snapchat rumor about a student having a gun in a backpack.
Rodriguez initiated the lockdown, called police and notified the school district. As the lockdown went into effect, Rodriguez said he and his staff tried to verify the Snapchat rumor by speaking to the student who alerted the teacher about the post.
"We identified the student who the Snapchat was about and very quickly figured out where that student was," Rodriguez said at Tuesday's meeting. "What this turned out to be was, thankfully, a rumor on social media."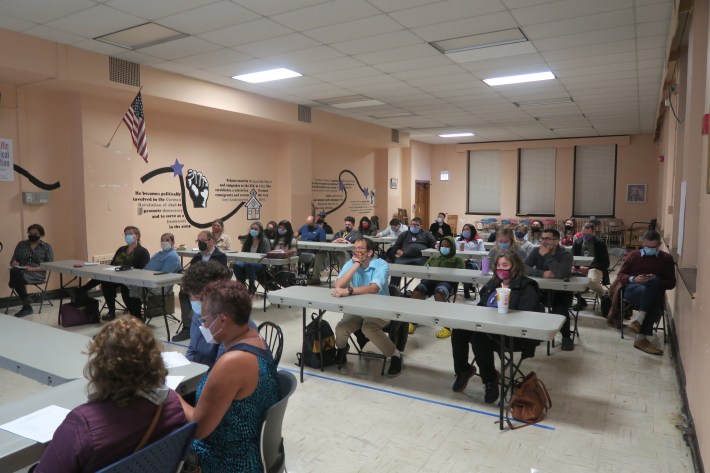 District Delays Caused More Panic
Though the police sweep was done quickly, parents waited for hours to hear from the school, causing panic.
Rodriguez said he was forced to wait for the school district's Downtown media team before giving an official statement, complicating an already traumatic situation for students, parents and staff, he said. 
"There was a guy on the Citizen app who looked like a legit reporter who was saying there's somebody walking around the halls with like five guns. That was completely not true," Rodriguez said. "And he was encouraging students to disobey their teachers and turn on their cellphones to livestream. It was ridiculous, and those kinds of things we just did not anticipate."
Despite the chaos from social media, teacher Catherine Wrenn credited the school's lockdown drills for how the staff was able to address the rumor of a gun "swiftly and with precision."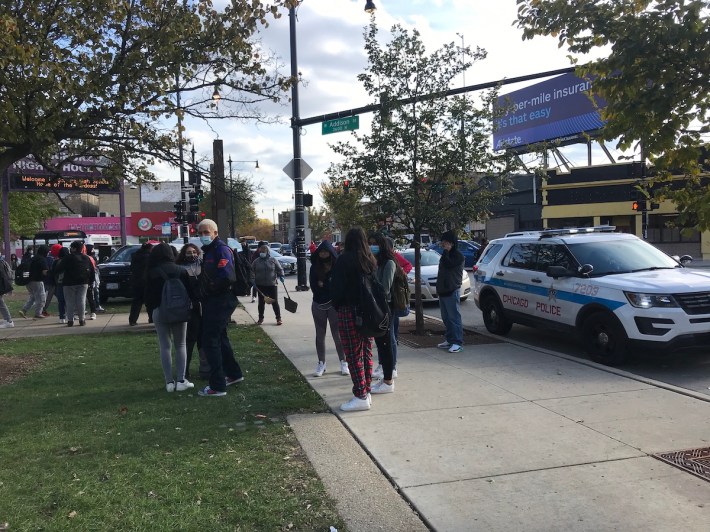 Raúl Islas, a teacher and Chicago Teachers Union delegate, said the lockdown was traumatic for students — and, unfortunately, it was not an isolated incident at the school.
"Over the last few weeks I've had several staff approach me, including in meetings, expressing concern about the lack of safety in the building," Islas said. "We've had several student fights that have happened inside and outside our school."
Islas said tension has been brewing at the school between certain students for weeks, with those fighting sometimes posting videos of it on social media, which may have led to the rumor about the gun. The school's leadership needs to implement a plan to support students and address the root cause of these fights, he said.
"And I'm not talking about bringing more police into the school, because we just had a pretty traumatizing experience with a SWAT team coming in," Islas said.
The school only has one social worker and is working to hire more, but it's been difficult to find qualified candidates, Rodriguez said. He's also waiting on CPS approval for a new security guard and a safety audit of school infrastructure, but those processes have dragged on for months.
Some teachers at the meeting suggested more severe punishments for tardy students as a way to address the fights, but Rodriguez pushed back and said he's not going to take "a pound of flesh from the student for being late."
Rodriguez said he's looking at how to increase the adult presence in hallways. The school has nine security guards for its 450,000 square foot campus. In August 2020, the school's council unanimously voted to keep its police officers. This summer, however, the council voted to remove both officers as part of its whole school safety plan, according to CPS spokesman Evan Moore.
"We have more than 1,300 students, and a significant majority of our students are getting it right. They're going to class on time. They're working with teachers," Rodriguez said. "I'll work with the kids that need the support. I'm trying to find the resources for them and I'm trying to get the folks from downtown to address things and help me out."
New Lunch Policy To Blame?
Some teachers blamed the recent fights on the school's decision to allow students to have lunch off-campus.
Last year, the administration first allowed students outside on-campus lunch privileges depending on the weather. In September, due to students responsibly managing their time with the on-campus lunch, the school allowed them to venture off-campus to grab lunch.
That's when the trouble started, some nearby business owners said.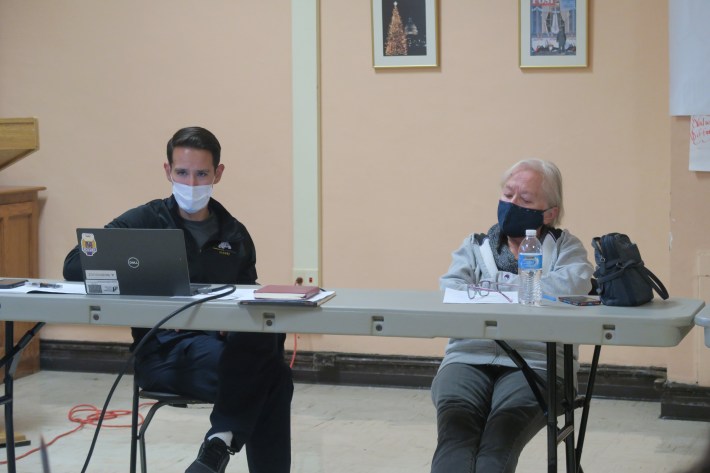 "The first time they had a big fight I noticed was about a month ago," said Jorge Zuniga, owner of nearby Prism Optical. "School security and the vice principal were outside. They came out to keep an eye on the kids out there, and she mentioned to me that they considered closing the campus again because of that. But they haven't yet."
Zuniga said he complained to the school about students hanging out in a neighbor's backyard because she doesn't have a fence that faces the alley. He's also seen students smoking and playing games in an alley.
"The fights are happening pretty much once a week now. La Michoacana, they have a patio and kids would go in there and play fight with each other," Zuniga said. "But you know it starts with play fighting, but then someone gets hit the wrong way and it turns into a real fight."
An employee at La Michoacana Ice Cream Shop, 3591 N. Milwaukee Ave., told Block Club she's seen fights happen between students outside the shop as well as around the school's outdoor campus for at least a month. These fights happen at least twice a week, she said. 
Rodriguez said the solution needs to be bigger than a lunch crackdown, adding that the school needs more non-police resources to address the underlying emotional issues some students are dealing with.
"It's not just students. Parents are in crisis," he said. 
Listen to "It's All Good: A Block Club Chicago Podcast" here: