IRVING WOODS — For decades, the halls of Canty Elementary School twinkled with sparkly animal prints and glittery paper stars made by students in Alexandria Lialios' classroom.
The Far Northwest Side school at 3740 N. Panama Ave. was Lialios' second home for 38 years, where she taught first grade, Greek and specialized in early childhood development. The teacher died unexpectedly in February from lung cancer, her family said. She was 61.
In early June, on the last day of school before summer vacation, an honorary street designation for Lialios was posted across from the school at North Paris Avenue between West Waveland Avenue and West Grace Street. All of the students and staff joined in to celebrate the teacher and share memories.
"Honorary Alexandria Lialios Way" remembers the teacher and mother who impacted the school community and touched generations of students, said Canty Principal Jennifer Rath.
"She was one of the longest-standing teachers here at the school," said Rath, who has been principal since 2019. "One of the things that I learned initially was I have a teacher in the building who had [Lialios] as a first-grade teacher."
'I Was Not Able To Say Goodbye, But Don't Forget Me'
Lialios, a first-generation Greek American, grew up on the Northwest Side and lived in Arlington Heights. She devoted her life to teaching and always put others before herself, said her brother, Chris Lialios. She joined Canty's staff in 1984.
"She loved teaching. She loved being around children," Chris Lialios said. "She started teaching at a very young age, whether it was at our church, parish or Sunday school. She was fluent in both English and Greek, so she loved [teaching] that, as well."
Known for her polished look, Lialios always wore patterned animal outfits and was decked out with sequined jewelry, dresses and high heels. She was always dressed for work, and her makeup was perfect — Rath only saw her in tennis shoes once, she said.
In Lialios' decades at Canty, she created traditions at the school that will continue, Rath said. During the winter holidays, Lialios and her students would make large, white paper glittery star ornaments to wear while singing "Do You Hear What I Hear?" for the winter concert she organized.
Lialios also loved reading "Corduroy," a classic 1968 children's book written and illustrated by Don Freeman, to all of her students, and she tried her best to make sure no student fell behind, Rath said.
"She understood the value of a neighborhood school … that it should be the heart of a community," she said. "That she dedicated her entire teaching to Canty really says a lot about her."
When Lialios wasn't in the classroom, she enjoyed spending time with her two children and caring for her elaborate flower garden, her family said. Neighbors would stop to admire the plants and she'd often talk with them about her favorite flowers, relatives said.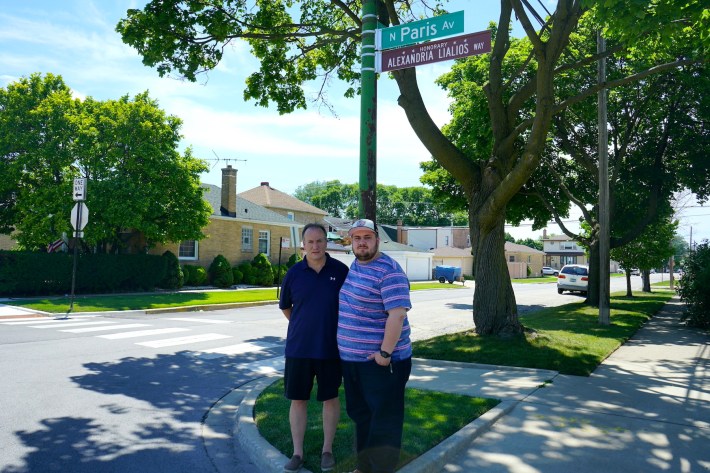 Lialios was at Canty in late January when she didn't feel well and fainted, said her son, Demetri Verros. She was diagnosed with advanced lung cancer.
Verros said Lialios told the family her news, and her instinct was to comfort everyone else, he said.
"When we got the diagnosis, we were all sitting there crying and she was looking at me trying to make me smile," Verros said. "She had just received the worst news of her life probably and she was trying to comfort me."
Lialios died three weeks later, Verros said. It all happened so fast that Lialios never got a chance to say goodbye to her school community. With remote teaching because of the pandemic, there were students she never saw again and families with whom she lost touch.
With the honorary street designation, it's almost as if she came back for a final adieu, her family said. Canty families came out in droves for her wake and the street dedication, and they reached out to the Lialios family to remind them of her impact on their lives, Chris Lialios said.
"She never really got to say goodbye to all of the people she touched here so the street sign, I think, is her way and a blessing of saying, 'I love you guys. I was not able to say goodbye, but don't forget me,'" he said.
That makes the street designation even more important, Chris Lialios said. The family is grateful to Ald. Nick Sposato (38th), who pushed the designation through City Council to make it in time before the school year ended.
Although Sposato never met the first-grade teacher, he said it was important to honor her.
"She was loved by many. … It was a very a nice thing for the family," said Sposato, who attended the unveiling ceremony.
After Lialios' death, Canty created a committee to determine other ways to remember the teacher, Rath said. The committee, along with the family, has raised almost $10,000 in Lialios' honor. The money will be used to build two benches near the school's playground that will be installed in September, the principal said.
The school also hosted a Ms. Lialios Spirit Day after she died, where all of the students and teachers dressed in sparkly animal prints and some received cheetah keychains as gifts.
Inside the school, a copy of the street sign hangs below Lialios' picture, framed with sequins to match her style, the principal and the Lialios family said. The school also gifted the family with a sequined and framed photo.
The brown street signs, which border the back of the school on both sides of North Paris Avenue, can remind people of how deeply an educator can influence a community, Rath said.
"Sometimes people don't think about the power of a first-grade teacher," she said. "How wonderful that we have a street named after a teacher."
Listen to "It's All Good: A Block Club Chicago Podcast":