ROSELAND — The city's transit agency is asking for more than $2 billion in federal funding for its Red Line Extension project, which Far South Siders say would relieve a "transportation desert" and boost the local economy if completed equitably.
The Chicago Transit Authority's $3.6 billion plan to extend the Red Line nearly 6 miles would move its terminal from 95th Street to 130th Street. Stations would be built at 103rd and 111th streets near Eggleston Avenue, at Michigan Avenue near 116th Street and at 130th Street near Altgeld Gardens.
The CTA also wants to create a "transit" tax-increment financing (TIF) district to fund nearly a quarter of the project, build a train yard at 120th Street and support transit-oriented developments in the neighborhoods near the new stations, officials said.
Mayor Richard J. Daley promised to extend the Red Line beyond 95th Street when the Dan Ryan terminal opened in 1969. For decades, Far South Siders have read headline after headline promising the long-awaited extension was finally becoming reality — only to see no construction materialize. Projected dates years in the future for completing the work have come and gone.
Now, CTA officials say they're closer than ever to securing full funding for the project. Early design work and environmental reviews for the extension are nearly complete, they said, and they're preparing to ask for up to $2.16 billion from the federal New Starts program, which support new rail lines and rail extensions costing more than $300 million or needing more than $100 million in funding.
The Red Line Extension project has been in the preliminary "project development" phase for potential New Starts funding since 2020, and it is ready to take the next step toward receiving the funding, officials said.
"We want to ask for a line in the federal budget later this summer, which will queue us up for the full funding grant agreement we hope to get in 2024," said Leah Mooney, director of strategic planning and policy for the agency.
The CTA estimates construction can begin in 2025 if funding is secured, with Red Line service coming to the Far South Side by the end of the decade.
"This is really the perfect time to get both the federal resources that we need from the infrastructure law," Mooney said. "We're perfectly positioned to complete this project."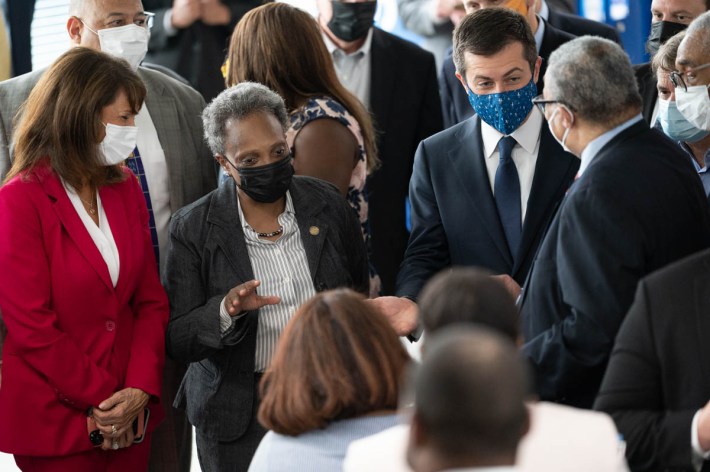 A 'Transit TIF'
The CTA is banking on the feds to pick up about 60 percent of Red Line Extension costs, bur the agency must have a "local match" to secure the federal funding.
The agency plans to meet most of its required match through a transit TIF, which would funnel property tax revenue increases into the Red Line Extension project for 35 years, agency officials said.
The district would not impose any new taxes of its own. Funds would be pulled from property tax revenue increases up to a half-mile from the current Red Line between Madison Street and Pershing Road under the city's proposal.
"This takes TIF dollars from further north and invests it further south," CTA spokesperson Brian Steele said. "Even though the extension is 5.6 miles from 95th to 130th, the benefit of this will accrue across the entire Red Line."
A transit TIF district was created to fund nearly 30 percent of the Red and Purple Line Modernization Project's first phase. It was the first of its kind in Illinois.
The CTA is pushing to pass the Red Line transit TIF district proposal through City Council by the end of the year. The district could raise up to $950 million for the project, officials said.
City officials held a meeting July 21 on its plans for the Red Line Extension transit TIF. To view the meeting, click here.
'It's Going to Be a Blessing' — If Leaders Listen To Neighbors
With few transit options on the Far South Side, neighbors' long commutes are a "burden," said Cheryl Johnson, executive director of People for Community Recovery in Riverdale. She's been involved with the effort to address the "transportation desert" in her community for more than a decade, she said.
Only one CTA route — the No. 34 South Michigan bus — serves Riverdale, which includes the Altgeld Gardens public housing community. Residents must travel 30-45 minutes just to start their "L" journey on the Red Line, Johnson said.
The Far South Side is also the only area of Chicago where "L" service stops short of the city limits, CTA officials said.
"I think that's just an injustice for us," Johnson said.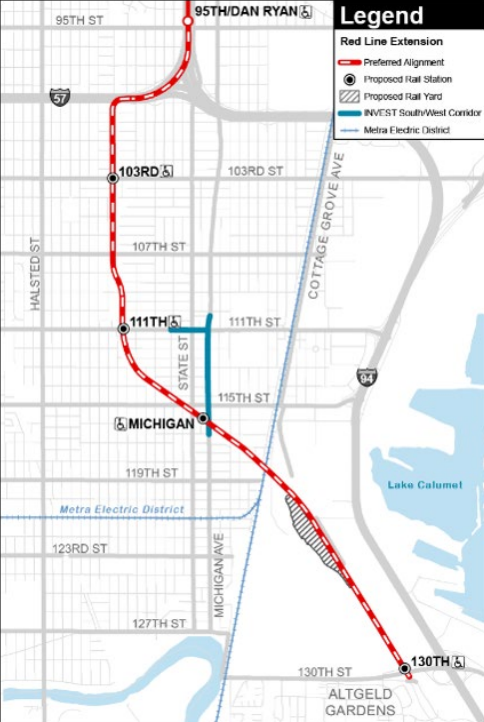 The Red Line extension and its 130th Street station "should spur economic opportunities" in and around Altgeld, including a boost to tourism with the Beaubien Woods forest preserve, the African American Heritage Water Trail and former Underground Railroad stops in the community, Johnson said.
The potential for growth comes with the risk of gentrification, Johnson said. To that end, the CTA has been working on an "equitable transit-oriented development" study for more than a year alongside the Cook County Land Bank and the city's planning and housing departments, Mooney said.
The agencies will present their proposal before the Plan Commission later this year, officials said. Neighbors have said they don't want a one-size-fits-all plan for developments near each station, and instead want factors like affordability and housing types to be tailored to each community, Mooney said.
People for Community Recovery was founded by Chicago's "mother of environmental justice" — and Johnson's mother — Hazel Johnson. Since its founding, its members have fought for clean air and water and against environmental racism on the Far South Side.
As such, Cheryl Johnson wants to see the CTA uphold its commitment to local hiring — not only on the Red Line extension itself, but on any environmental cleanup projects needed along the way.
Such workforce development would prepare neighbors to work in other green jobs and environmental efforts on the Far South Side, "one of the most polluted areas in the state of Illinois," Johnson said.
"When you look at a neighborhood like mine, we have to really fight for that," she said.
Jobs are a central focus of Andrea Reed's advocacy around the Red Line extension, too. Many apprenticeships and job trainings require Far South Siders to leave the community to attend, which is a problem when transit is so scarce, Reed said.
"That No. 34 bus takes too long," said Reed, executive director of the Greater Roseland Chamber of Commerce. "People that depend on transportation to get to work — if they miss that bus, they may have just caused problems for themselves as far as their job security."
The CTA is working with community organizations and labor unions to hire locally for construction and permanent jobs as the extension project moves forward, Mooney said.
The Far South Side's transit inequities are part of "a deliberate effort of some people, who have intentionally decided to cut off parts of our city from access," Reed said.
To address those decades of disinvestment, the Red Line extension must go beyond a straightforward transit project to include job creation, quality housing and other quality-of-life efforts, Reed said.
Reed's also pushing for better collaboration between the CTA, Metra and Pace, as the agencies use the Ventra app but do not share a common fare system.
"We have to correct the wrongs that have been done," Reed said. "There's no quick fix to this."
If the CTA listens to residents on "all the things we are advocating for," the Red Line extension "is going to be a blessing for this area," Johnson said.
"Transit has a long and proven track record in improving communities and fostering development," Steele said. "We see that absolutely being the case for the Red Line extension."
Listen to "It's All Good: A Block Club Chicago Podcast":