PILSEN — After two years in the making, work is starting on an affordable housing development that will bring 53 low-cost units to Pilsen.
Leaders for The Resurrection Project, Mayor Lori Lightfoot, Ald. Byron Sigcho-Lopez (25th), Housing Commissioner Marisa Novara, and community members gathered Thursday for a ceremonial groundbreaking of Casa Durango.
Resurrection Project CEO Raul Raymundo said the project is aimed at "restoring balanced development" in Pilsen and creating new housing that doesn't price out longtime residents.
"Over the last several years, Pilsen has seen private developments going up, property values going up and higher rents increasing at an alarming rate," Raymundo said. "We want the families that have been here for many years to benefit from the prosperity of neighborhood development … Working-class communities, like Pilsen, are essential to a vibrant city and a prosperous city."
The Resurrection Project will build a 37-unit development at 1858 S. Racine Ave. and a 16-unit complex at 2010 S. Ashland Ave. DesignBridge designed the buildings.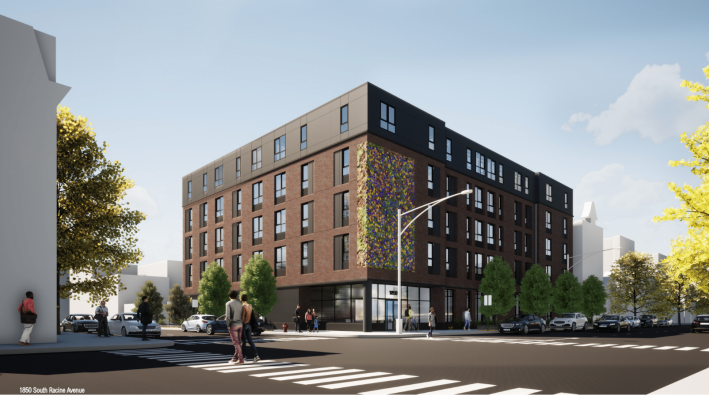 When complete, the Casa Durango buildings will have a mix of one-, two- and three-bedroom apartments with a ground-floor community area for residents. The apartments would be available to people making up to 60 percent of the area's median income. 
The Racine Avenue building will have 27 parking spaces. Six spaces will be available at the Ashland transit-oriented development, which is near the No. 9 Ashland bus and the Pink Line.
Construction is expected to be finished in fall 2022.
The nonprofit unveiled plans for the project's first building to residents in 2019 and revised it before it was approved later that year. The second building was unveiled to neighbors the following year, with the plans revised based on community feedback.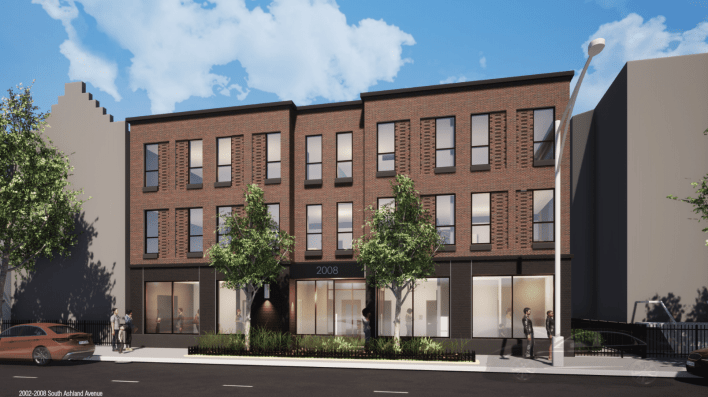 Lightfoot said this project was an example of community, city, and state officials working together between public and private entities to solve housing challenges facing communities.
For more than a decade, Pilsen has seen more than 14,000 Latino residents leave the neighborhood while the white population in both neighborhoods has swelled.
Earlier this year, the city passed an anti-deconversion measure aimed at interrupting the loss of cheap housing stock in Pilsen and around The 606. Separately, the City Council passed an anti-gentrification measure that imposes up to a $15,000 fee on developers who tear down single-family homes and multi-unit buildings in the same areas.
Both measures aim to stymie the displacement of long-term residents in Pilsen and Logan Square.
City leaders will continue partnering with the Resurrection Project to create more affordable housing in the city, Lightfoot said. The nonprofit operates 330 affordable housing units across its Pilsen properties: Casa Morelos, 2015 S. Morgan St.; Casa Guanajuato, 1313 W. 19th St.; Casa Guerrero, 963 W. Cullerton St.; and Casa Monterrey, 967 W. 19th St.
"Finding a safe, affordable place to live — and call home and raise a family — shouldn't be an elusive pipe dream," Lightfoot said. "Making sure long-term residents are not displaced is critically important."
Ald. Byron Sigcho-Lopez (25th) said it was only through collaborative efforts and investment in the communities that would help "overcome the many challenges" neighborhoods face.
With low-cost homes disappearing in the city and housing instability spiking because of the pandemic, Sigcho-Lopez said it's more important than ever to invest in affordable housing.
"We believe development without displacement is not only possible, but it's the way for us to preserve the social fabric of our communities," Sigcho-Lopez said.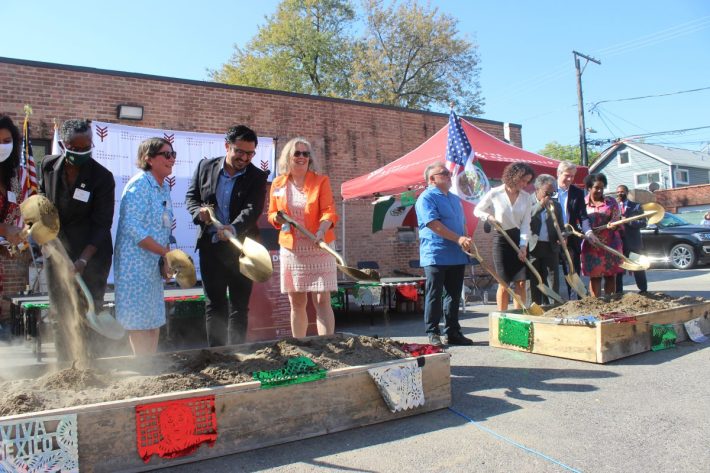 RELATED STORIES
Subscribe to Block Club Chicago. Every dime we make funds reporting from Chicago's neighborhoods.
Already subscribe? Click here to support Block Club with a tax-deductible donation.
Listen to "It's All Good: A Block Club Chicago Podcast" here: