PILSEN — After complaints from some neighbors, an affordable housing complex planned for Pilsen has shrunk.
At a third community meeting Wednesday, the Resurrection Project unveiled its latest plans for 1850 S. Racine Ave. The nonprofit developer now five-story, 37-unit affordable housing development with 31 parking spaces. 
The new proposal calls for 13 one-bedroom, 16 two-bedroom, and eight three-bedroom apartments. 
About 20 one-bedroom apartments, 20 two-bedroom apartments and five three-bedroom units were previously planned at the site.
Changes to the Skender-designed building came after listening to feedback from residents during previous meetings, said Veronica Gonzalez, vice president of real estate at the Resurrection Project. 
Gonzalez said the group reduced the height and number of one and two-bedroom units from the original plan and added additional three-bedroom units.
Previously, they planned to market the building to people making between $17,000 and $58,000 per year. Now, Gonzalez said the group will seek subsidies from both Chicago Housing Authority and the state for 17 units to ensure housing for people making less than $17,000.
Aside from the height reduction, the color scheme of the project was also tweaked to include more neutral tones.
Angela Spadoni, lead architect with Skender Construction, said they took community feedback seriously.
"We are not looking to copy what's already here … but rather take points from what we see in the community and put that into a more modern design of our time," Spadoni said.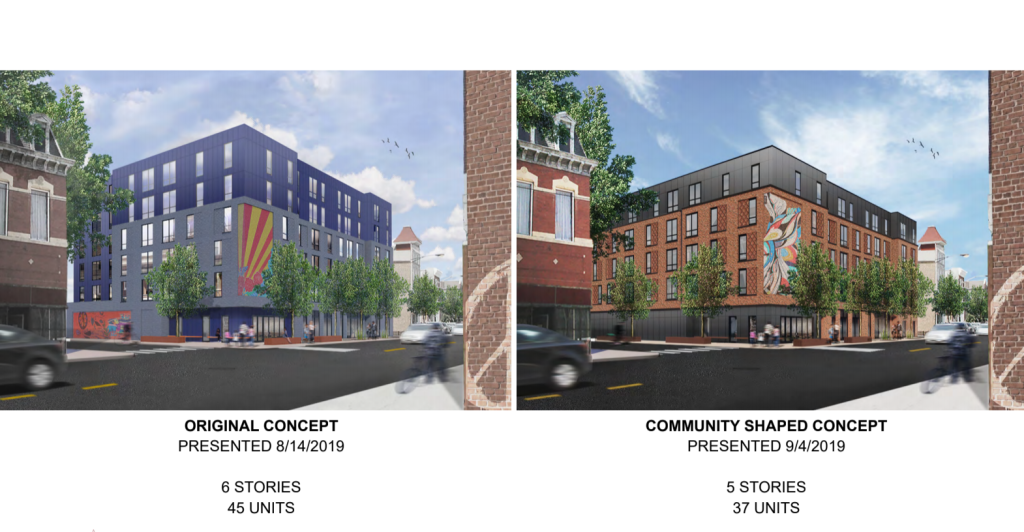 During the presentation, a few neighbors expressed concerns that the proposal was still too dense and would add to parking issues.
Gonzalez said the alderman's office was working with Chicago Metropolitan Agency for Planning to address these concerns.
In order to make the project work financially, 37 units was as low as they could go. Original plans called for 45, which they reduced after public meetings.
"This is really our best foot forward… in trying to preserve East Pilsen as affordable," while also reflecting community input, Gonzalez said.
Pilsen resident Miguel Chacon said he wanted to see more units and less parking.
"I don't think we need as much parking as people think we need," Chacon said. "We are reducing the number of units from 45 to 37. That's seven less apartments, seven less families getting affordable housing for the sake of aesthetics."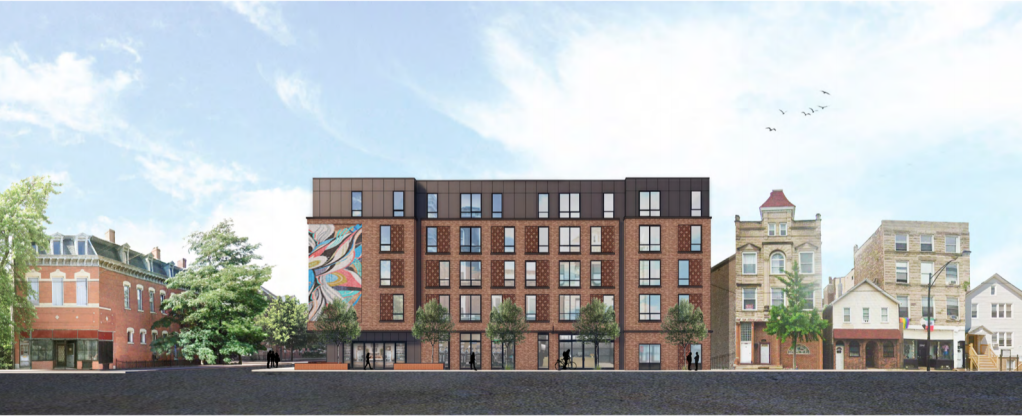 Pilsen resident Gladys Rivera said she was in full support of the development. While she acknowledged opposition from some residents, Rivera said affordability has become a real problem in the neighborhood with "low-income families being pushed out" because rents were becoming "increasing more expensive."  
Macrina Rodriguez, also a Pilsen resident, lauded the design and the overall project, saying there needed to be more affordable options for lifelong residents of the neighborhood.
The Resurrection Project first announced plans for the building in July. After hearing from some that the building was "too tall" and looked "like gentrification," they changed the plan.
The Resurrection Project will submit zoning and funding applications next month with the city and will undergo Ald. Byron Sigcho-Lopez's (25th) zoning process.
Gonzalez said the community will still have a chance to weigh in on the proposal through the alderman's zoning process.
If approved by the alderman and the city, construction on the building would begin by May 2021 and units would begin leasing by spring 2022. 
The Resurrection Project currently operates 330 affordable housing units across its Pilsen properties. Those buildings include: Casa Morelos, 2015 S. Morgan St.; Casa Guanajuato, 1313 W. 19th St.; Casa Guerrero, 963 W. Cullerton St.; and Casa Monterrey, 967 W. 19th St.
RELATED STORIES
Fighting To Keep Pilsen Affordable, Group Wants To Build 45 Units In Booming Part Of The Neighborhood
Pilsen Nonprofit's 45-Unit Affordable Apartment Plan Gets Mixed Reaction From Neighbors
Pilsen Nonprofit To Unveil Design Plan For $20 Million Affordable Housing Development
6-Story Affordable Housing Building Planned In Pilsen 'Looks Like Gentrification,' Some Neighbors Say
City Council Approves New Pilsen, Little Village Affordable Housing Plan
Do stories like this matter to you? Subscribe to Block Club Chicago. Every dime we make funds reporting from Chicago's neighborhoods.