CHICAGO — Mayor Lori Lightfoot is pushing an ordinance allowing the city's top lawyer to sue street gangs and alleged gang members, but critics say the effort was being rushed and relies on a much-criticized gang database riddled with bad information. 
The ordinance mirrors a state law and would empower the city's Corporation Counsel, currently Celia Meza, to bypass the Cook County State's Attorney Office and sue to seize the assets of purported gang members and criminal networks.
If successful, the tactic would interrupt the gang's leadership structure and "take away the profit motive" of gun violence, Lightfoot said Friday. The corporation counsel could work with any federal, state or local law enforcement agencies to "gather data, collect and share evidence and information potentially relevant" in order to file complaints.
Last week, the ordinance was set to be rushed through City Council, but now the timeline is now unclear. It initially was scheduled to be introduced Monday before the Committee on Public Safety, but that meeting was cancelled. A draft of the proposed ordinance was sent to aldermen Thursday but briefings scheduled for Friday also were called off. The Mayor's Office didn't explain why.
Lightfoot defended the ordinance as "one tool" to protect Chicago residents "against these violent street gangs that have demonstrated over and over again, almost on a daily basis, that they have no respect for the sanctity of life, killing babies, killing children, killing old people indiscriminately, that is absolutely not acceptable."
"What we are proposing is a tool in civil courts that gives us the opportunity to go after those gangs that are wreaking havoc, and in particular, take away the profit motive from them by seizing assets that they have been able to purchase because of their violent activity in our neighborhoods," she said. 
The American Civil Liberties Union of Illinois is preparing a legal analysis of the ordinance and urged City Council to be cautious when considering it. ACLU of Illinois Spokesman Ed Yohnka criticized the strategy and said the well-publicized inaccuracies of the gang database means the city risks suing the wrong people, and there already are laws to confiscate property from people involved in crime.
"One thing should be clear — civil asset forfeiture is not the vehicle for reducing gun violence in the city," Yohnka said in a statement. "Reducing violence in all Chicago's neighborhoods requires investing in communities, violence reduction programs, and expanding access to social and mental health services. The Mayor and Council should spend their time and energy on such efforts."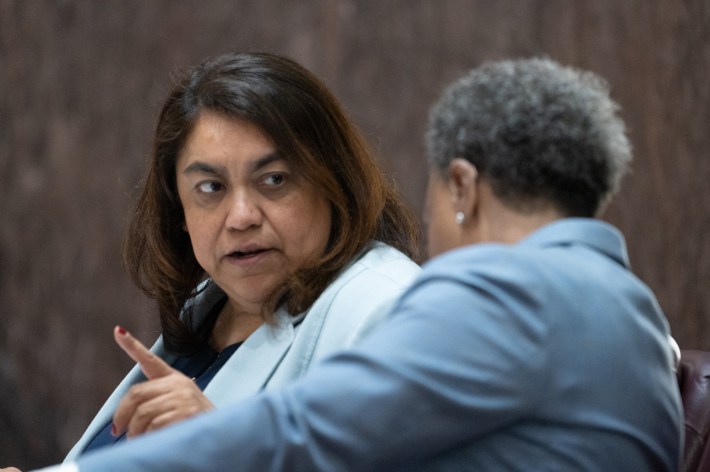 The ordinance defines a gang as: "Any combination, confederation, alliance, network, conspiracy, understanding, or other similar conjoining, in law or in fact, of three or more persons with an established hierarchy that, through its membership or through the agency of any member engages in a course or pattern of criminal activity."
The city would be able to name either individual defendants it believes to be gang members, "all known gang officers," or anyone alleged to have participated in "gang-related activity" in a lawsuit, the ordinance states. The city could also name a class of defendants, including "all unknown gang members."
The city could seize "any property that is directly or indirectly used or intended for use in any manner to facilitate street gang-related activity," and property derived from "profits or proceeds from street gang-related activity."
Fines between $500 and $10,000 would be imposed for each offense, in addition to punitive damages and attorneys fees. The ordinance also states at least 50 percent of any revenue collected through litigation would be "dedicated to the support of victims of, and witness to, street gang-related activity."
Ald. Andre Vasquez (40th) blasted the proposal and said by the ordinance's logic, City Council could be defined as a gang.
"Looking at our city's history of racist policy and racial profiling by police, a gang database that the Inspector General has made clear is inaccurate and compromised, all in the same week the city is being sued for stop and frisk practices, this is the wrong direction for the city to go in, and it doesn't make us safer," Vasquez said in a statement. 
Gangs are also not responsible for the majority of homicides in Chicago, according to the Police Department's own data. Last month, The Trace analyzed Chicago Police Department data of 34,000 shootings in the past decade. Less than three in 10 of them were considered gang-related.
RELATED: Police Gang Database Is 'Riddled With Errors' And Has Ruined Lives, Aldermen Say — So Why Is CPD Still Using It?
Vasquez also said the "rushed" nature of the ordinance concerned him.
"It may garner a headline, but it doesn't address the root cause," he said.
Ald. Matt Martin (47th) said he had more questions than answers and finds it "deeply concerning" alderpeople have had little time to scrutinize the proposal. He also questioned the ordinance's definition of a gang, what flaws in current statute the ordinance is meant to address and whether agencies like the State's Attorney's Office think it is needed.
"When ordinances of this comparable weight and importance are considered by City Council, it's been my experience that there's a heads up and lots of lead time for questions, consideration and potential rewrites before there's a vote on the matter," he said. 
THE TRACE: The Problems With Chicago's Gang-Centric Narrative of Gun Violence
The city's inspector general's office criticized the police department's gang database in a scathing report in 2019, saying the system lacked oversight and was full of egregious inconsistencies. Among other problems, thousands of people have multiple birth dates, are designated gang members without a specific affiliation or are listed as gang members with no explanation.
The agency released a follow up report in April, concluding the department had "fallen critically short" of its promises to overhaul the list.
"We welcome indications of recent progress, but for Chicagoans impacted by an opaque and procedurally flawed system, time is short — and two years is a very long time," Deborah Witzburg, the deputy inspector general for public safety said at the time. 
Even while promising reform, the Police Department has defended continuing to use it in its current form. Department officials were grilled about that in July.
On Friday, Lightfoot said policy changes will "heighten the standards for putting anybody into that kind of database. That's been approved and sanctioned by a court, we're moving forward."
Subscribe to Block Club Chicago, an independent, 501(c)(3), journalist-run newsroom. Every dime we make funds reporting from Chicago's neighborhoods.
Already subscribe? Click here to support Block Club with a tax-deductible donation. 
Listen to "It's All Good: A Block Club Chicago Podcast" here: