Get more in-depth, daily coverage of Chicago politics at The Daily Line.
CHICAGO — Chicago Police Department leaders pledged Tuesday to push forward with a long-promised overhaul of its controversial gang member database but defended sticking with their existing system in the meantime, even as they faced a barrage of criticism from aldermen and advocates over its inaccuracy and disorganization.
The City Council Committee on Public Safety held a two-hour subject matter hearing prompted by an ordinance (O2019-6943) filed in 2019 by Ald. Matt Martin (47) and Ald. Jeanette Taylor (20) that would effectively suspend the department's use of the database. The committee did not vote on the ordinance, and Martin said Tuesday that he hoped to use the hearing for "an information-gathering purpose so that we can figure out where best to take" the database debate.
Martin pointed to an April 2019 report from Inspector General Joseph Ferguson's office that raised "significant data quality concerns" about the database, whose names police share with hundreds of outside agencies and use to channel their own enforcement actions.
Martin said the report "confirmed what many Chicagoans knew, which was the database was riddled with systemic errors that cause profound pain to neighbors all across our city, and that the database contributed to a fractured trust between the department and many of the communities that they serve."
Deputy Inspector General for Public Safety Deborah Witzburg elaborated on the 2-year-old report on Tuesday, telling aldermen that "there was no regular review or purge of outdated or faulty designations, and there were no internal mechanisms to amend inaccurate information."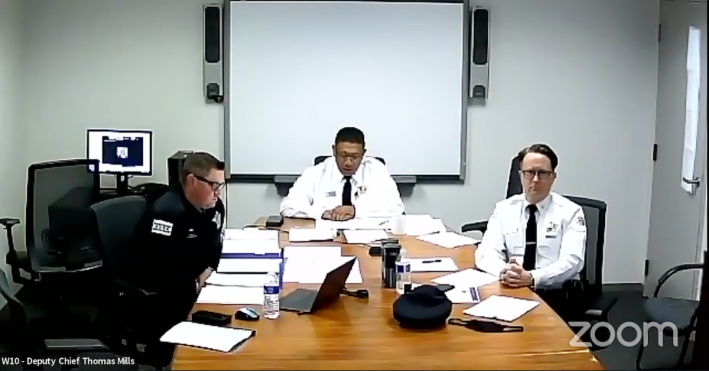 She added that the Chicago Police Department was sharing the database with more than 500 external agencies with "no meaningful agreements" in place governing how it could be used. Police filled out "gang arrest cards" to add names to the database by using descriptors like "scumbag" and "loser," and 95 percent of those registered on the list were people of color.
What's more, Witzburg pointed to a March 2021 follow-up report that found that despite the department's ongoing efforts to craft updates to the database, no changes have been put into practice yet.
"There are no existing protections around the use of the existing data that are in place today that are any different than what was in place in 2019," Witzburg said. "So the gang arrest card data, with its flaws in accuracy and reliability, has still been in use."
A trio of police officials led by Deputy Chief Thomas Mills described a new database the department is planning to roll out that will be governed by tighter controls. The new system is "close to completion" and "on track" to be completed by September, Mills said.
Data from the old system will be "vetted through a new established criteria," including a mix of recorded admissions of gang affiliation, "distinctive gang emblems or tattoos," evidence from "reliable" informants and positive identification by another government agency, Mills said.
The deputy chief added that the system will be subject to a yearly "data auditing and removal process" to purge "stagnant and outdated information."
Mills said people whose names are included in the database will be able to "appeal" to the Chicago Police Board have their names removed.
But Witzburg noted that the police board would have to change its rules to allow for such an appeal. And Ald. Jason Ervin (28) asked how people can appeal if police don't let people know when they've been added to the database in the first place. Officer Bob Long said sending people notice of their addition to the database could create a "privacy concern" by tipping off friends or relatives.
"How can I appeal to get out of something I don't know I'm in until there's some kind of negative outcome?" Ervin said.
Mills said people would be able to look up their name on the database through city Clerk Anna Valencia's office.
Ervin also pressed the police officials on whether they would add names to the new database based only on gang affiliation, regardless of whether the committed a crime. Mills initially said all names in the system would be connected with an arrest record, but Long later clarified that an arrest was not a prerequisite for inclusion on the list.
"We've got to draw some kind of connection to criminal activity, versus just membership," Ervin said. "Somebody can get caught up in something, and now they're part of a criminal enterprise even though [they've] never committed a crime. So I'm trying to get some additional safeguards."
Others, like Ald. Maria Hadden (49), joined advocates and academics who spoke in the meeting's public comment period to question why the database should exist in the first place.
"I hear you guys talking about changes you're going to potentially make to this new system, but it sounds like you're going to be carrying over this same information — you're still using the old database, which you've been told unequivocally is wrong," Hadden said. "I feel like as your City Council, we should not allow you to continue using this database."
"CPD has allowed this database to be used in ways that can ruin people's lives," she added, echoing earlier comments from Andy Clarno, a professor of sociology at the University of Illinois at Chicago who has studied the database.
"Gang databases transform racial stereotypes into so-called facts to circulate amongst these agencies, which creates a network of criminalizing surveillance that has had devastating impacts on Black and brown people and communities in Chicago," Clarno said.
Chicago Police Cmdr. Sean Loughran argued that the database represents a valuable form of intelligence that can help police shift resources to prevent gang-based retaliatory shootings — especially when witnesses refuse to share information with police.
"If we don't use that information, if we don't attempt to get ahead of it, then we're remiss — we're not doing our job, and we're not preventing more violence." Loughran said. "We may have only one little kernel of knowledge, and that's the criminal street gang that's in conflict."
But Taylor said the most common impact she's observed of the database has been its use by Chicago Public Schools as justification to expel students, among other harms.
"We are not talking about the number of folks who are unable to get employment, who are unable to get apartments, who are unable to get [firearm owner identification] cards because of a database that didn't work," Taylor said.
"This is a wheel that we don't need to reinvent," she added. "This is a wheel we need to destroy. Because it has not done what it was intended to do."