JEFFERSON PARK — Piping plovers Monty and Rose have left Chicago for the season — but you can still catch them on the big screen this weekend.
Filmmaker Bob Dolgan, of Jefferson Park, is one of the birders who was instrumental in protecting the plovers, who were first spotted in May 2019 at Montrose Beach.
Since then, the city and state have stepped up to protect the federally protected species, giving them their own Piping Plover Day, expanding their nesting ground at the beach and canceling electronic music festival Mamby on the Beach after birders like Dolgan voiced concerns for the birds' safety.
This was captured in Dolgan's, first short film, "Monty and Rose," which was released Nov. 18, 2019, for Piping Plover Day.
Now, Dolgan is back with part two of his documentary. It continues the story of Monty and Rose with an added educational lens.
The feature-length film is called "Monty and Rose 2: The World of Monty and Rose" and will debut Saturday at the Music Box Theatre, 3733 N. Southport Ave. Tickets for the screenings are now on sale online.
The documentary highlights new chapters for the bird couple, like the beach expansion, their resilience to keep nesting despite outside forces, the conservation and advocacy work surrounding the species and the couple's newest chicks.
"There is a lot known about them, but I think there will still be things people have not seen before" in the documentary, Dolgan said. "If nothing else, it will be another chance to celebrate these really amazing birds that we have all fallen in love with."
Attendees of the screening will be required to wear masks and the event's capacity is 350 people to allow for social distancing.
Dolgan said the film is about more than simply celebrating the piping plovers. He hopes it can serve as an educational resource for folks to get involved in saving the endangered species and other birds.
"This is a more thorough story from which we can educate people about plovers and take it into schools other markets to inspire more folks to get involved and take steps to help impact bird populations," he said.
Dolgan recently helped start the nonprofit Great Lakes Flyway Project, which aims to educate the public about birds and reach out to youth. He's partnered with the Irving Park YMCA and South Side youth organization Lost Boyz Inc. to reach youth and spread awareness about birding.
Sharon Filipkowski, the editor of the second film, came onto the project knowing nothing about plovers. She said she loved learning Monty and Rose's story, which made editing the film fun.
As a frequent beachgoer who also enjoys the Montrose Bird Sanctuary, working on the film taught Filipkowski the importance of protecting the plover's habitats and how humans can better respect the areas birds live in, she said.
"I learned to be more respectful of the areas, and how we as human beings around those areas are supposed to be protective of those sanctuaries," Filipkowski said.
Edward Warden, president of the Chicago Ornithological Society, is another birder and volunteer who has been at the forefront of Monty and Rose's protection. He is featured in Dolgan's film and said it weaves together the birds' full story in a compelling manner.
"The big difference between a good movie and a bad movie is when you feel connected to the characters, and that's the same exact concept here," Warden said. "You take these birds that are behaving in a rather dramatic way by staking a claim at Montrose Beach. … It ends up being a compelling story that makes these non-humans very relatable, which is the biggest value his film brings."
Warden compared getting to know Monty and Rose on the screen to getting to know your neighbors and finding similarities can unite us.
Warden said the film also highlights the false narrative that conservationism is seen as "us versus them," when in fact it should be seen as mutually exclusive in helping urban wildlife thrive.
"It's not about us being against them, it's about us being with them and them being us," he said.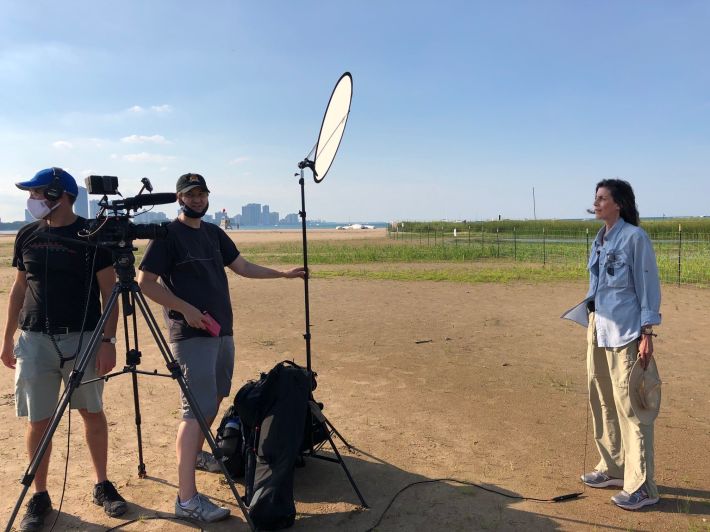 Subscribe to Block Club Chicago, an independent, 501(c)(3), journalist-run newsroom. Every dime we make funds reporting from Chicago's neighborhoods.
Already subscribe? Click here to support Block Club with a tax-deductible donation. 
Listen to "It's All Good: A Block Club Chicago Podcast" here: