UPTOWN — Beloved Great Lakes piping plovers Monty and Rose have suffered a setback in their efforts to successfully nest at Montrose Beach after a skunk ate the bird couple's eggs, bird watchers said Thursday.
Monty and Rose returned to Montrose Beach for a third consecutive summer this year. Last month, Rose laid three eggs in the dunes area of the lakefront park. The nest was enclosed in a wire box and wildlife enthusiasts watched the nest as much as possible.
But sometime Wednesday night, a skunk reached into the nest and ate the eggs, said Tamima Itani, vice president of the Illinois Ornithological Society and volunteer plover watcher at Montrose.
A camera set up to monitor the birds and their nest caught the situation. Itani, who had the first volunteer watch shift Thursday morning, confirmed the nest was without the eggs.
"It was very shocking news, and very unexpected," Itani said. "We were within a week of the chicks hatching."
Monty and Rose were not hurt.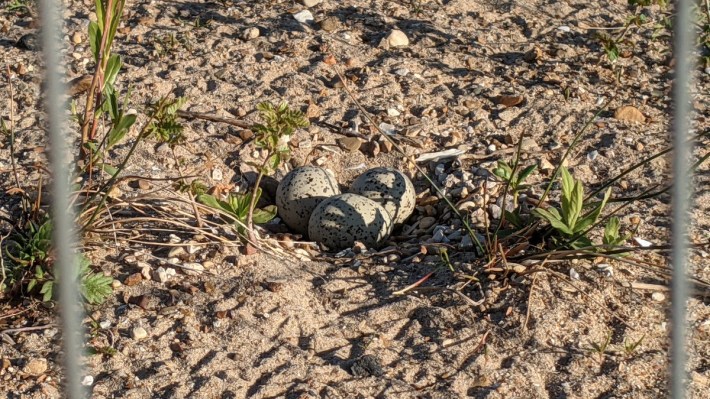 Piping plover nests are susceptible to predators like skunks and damage from the natural elements and people. This isn't the first time Monty and Rose have lost a clutch of eggs.
In 2019, the plover's nest at Montrose was lost due to flooding. Five days later, the birds had created a second nest and laid an egg, Itani said.
And it seems like the two will attempt to nest again this year.
Monty and Rose were seen Thursday morning courting and conducting in other mating behavior, Itani said.
"It's very sad for us, but Monty and Rose seem to be focused now on re-nesting," Itani said in an email. "It is still early in the season, and assuming a successful second nest, they have plenty of time to raise healthy chicks."
To give more room for the birds to find a nesting spot, the Montrose dunes area will likely be closed again to the public, Itani said. The Park District closed off the dunes area while the birds settled on a nesting area this spring. Volunteers will continue to monitor the site.
Monty and Rose have successfully nested and reared plover chicks at Montrose Beach the past two years. In 2019, their presence in the beach marked the first time the endangered bird species chose to nest in the city since 1955.
Some of those chicks are now making news of their own. Nish, one of Monty and Rose's chicks born last year at Montrose, has landed and nested near Toledo, Ohio. It is the first time plovers have nested in Ohio in 83 years, according to the Chicago Tribune.
Subscribe to Block Club Chicago, an independent, 501(c)(3), journalist-run newsroom. Every dime we make funds reporting from Chicago's neighborhoods.
Already subscribe? Click here to support Block Club with a tax-deductible donation. 
Listen to "It's All Good: A Block Club Chicago Podcast" here: