UPTOWN — A strip of Montrose Beach is being added to the neighboring nature preserve in an effort to safeguard the favored nesting ground of Chicago's beloved —and endangered — Great Lakes piping plovers.
The Chicago Park District announced Wednesday it will add 3.1 acres of Montrose Beach to the Montrose Dune Natural Area. The beach's easternmost portion — which piping plover pair Monty and Rose have chosen as their yearly nesting ground — will be absorbed into the natural area.
"This treasured space, which attracts native and migratory birds, including the endangered piping plover and various plants, brings nature and people together in a unique way," Park District Supt. Michael Kelly said in a statement.
In expanding the dunes area, the Park District approved a proposal brought by birders to protect the piping plovers whose decision to mate on the lakefront has captivated Chicagoans since 2019.
RELATED: To Protect Chicago's Piping Plovers, Group Wants Montrose Beach Nesting Ground Added To Nature Preserve
The piping plovers are expected to return this spring to Montrose Beach for what will be the third consecutive year. With beaches closed last summer due to the pandemic, piping plovers Monty and Rose had their run of Montrose Beach and the dunes area.
But with the expected return of more normal lakefront activity, birders and wildlife enthusiasts asked the city to add the plovers' preferred mating grounds to the protected natural area. Ald. James Cappleman (46th) supported the effort.
"It's such a treasure to have these birds want to nest in the city," said Bob Dolgan, a documentary filmmaker and Chicago-based bird watcher. "It would be ideal to have this protected area there and waiting for them."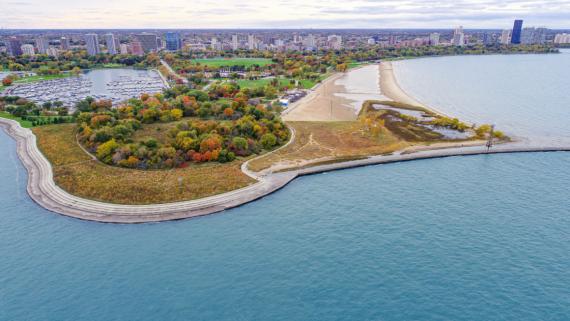 Expanding the protected dunes area results in the loss of recreational beach space. The move comes at a time when Chicago's beaches are shrinking due to rising Lake Michigan levels.
But wildlife enthusiasts say there is more than enough room to accommodate lakefront recreation and the chosen piping plover nesting ground.
"It makes sense to prioritize an endangered bird species, especially one that has demonstrated repeated yearly success at Montrose Beach Dunes," Leslie Borns, who leads sustainability and environmental efforts at Montrose, said in a recent newsletter. "Suitable places for larger recreational uses can be found."
The natural area will incorporate a rectangular portion of the beach that is surrounded on two sides by the dunes and does not front the lake. Montrose Dune Natural Area is accessible to the public but shielded from the recreation of the nearby beach.
In 2019, piping plover couple Monty and Rose chose to mate at Montrose Beach, just next to the dunes preserve. It was the first time federally protected, endangered piping plovers had chosen to nest in Chicago since 1955.
The birds' nesting area set off a conservation effort, which caused beach volleyball games to be relocated and a music festival to be canceled.
The migratory Monty and Rose returned to Montrose Beach in spring 2020. They nested in the protected dune area but foraged in the beach area that in normal years hosts volleyball games and other recreation.
With lakefront parks closed for months in the spring and summer, Monty, Rose and their four chicks had the beach free of humans.
Wildlife enthusiasts are hoping to avoid the preservation fights of previous years, and have likely achieved just that with the Park District's decision. Monty and Rose usually return to Chicago in May.
"We applaud this lakefront expansion, which will benefit critically important wildlife that rely on the regionally unique dunes habitat for survival," Michelle Carr, Illinois state director for the Nature Conservancy, said in a statement.
With the addition of 3 acres of beach space, the Montrose Dune Natural Area will grow to nearly 15 acres of lakefront that has evolved into a precious ecosystem home to rare species, including the piping plovers.
In 2001, the Park District stopped grooming the easternmost portion of the beach, allowing native species to take root. Since then, the area has formed a globally rare panne habitat, which is a dunes wetland that hosts native and threatened species.
Subscribe to Block Club Chicago. Every dime we make funds reporting from Chicago's neighborhoods.
Already subscribe? Click here to support Block Club with a tax-deductible donation.