LINCOLN PARK — A family-owned West Town Mexican restaurant will reopen soon — across the river from its old home of 47 years.
Tecalitlan will reopen next month at 1538 N. Clybourn Ave., in the New City development in Lincoln Park.
Carlos Garcia Sr. opened Tecalitlan in 1973 at 1814 W. Chicago Ave. in West Town. His children, Karla Garcia and Juan Carlos Garcia Jr., took over the restaurant after their father retired.
But when their lease expired and the landlord tried to sell the building, they had to move out, Karla Garcia said. While they tried hard to keep Tecalitlan in West Town, the siblings couldn't find an affordable storefront that worked for them, she said.
Now, the family is eager to start a new chapter of Tecalitlan, Karla Garcia said.
"It's an amazing feeling," she said. "We've been lucky to have amazing customers. Our customers have become our friends and family. … It's surreal. I can't believe we're here."
RELATED: Tecalitlan Restaurant Leaving West Town Home After 47 Years, Owners Hope To Open New Spot Nearby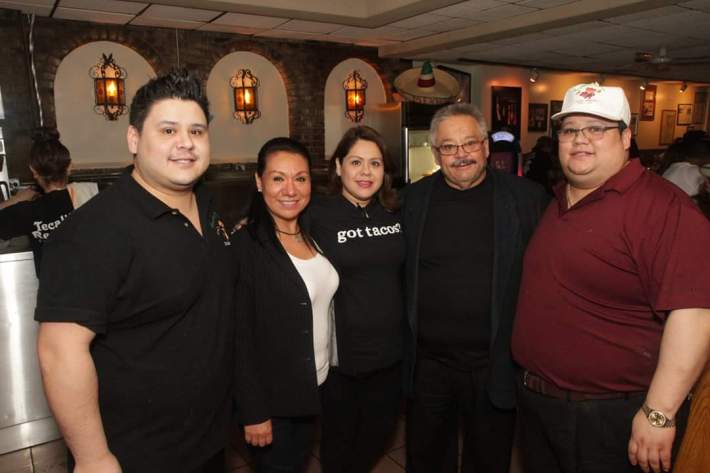 Garcia Sr. grew up in El Josefino, a rural town in the Jalisco state of Mexico. After running away from home twice to Mexico City to work, he moved to Chicago to live with his uncle when he was a teenager.
Garcia Sr., who learned to make tacos in Mexico City, learned more about the food business working at a Greek restaurant in Chicago. At 21, he and his brother opened Tecalitlan.
Garcia's children grew up helping in the restaurant. And after their father's retirement, they decided not to mess with many of Garcia's tried-and-true methods. But the pandemic forced the Garcia children to slow down and rethink some of their father's ideas.
For example, Garcia had a cleaning crew in every night to deep clean the restaurant and act as security, a nod to a time when the area had higher rates of crime. The Garcia children maintained this practice, even after West Town gentrified and crime rates went down. During the pandemic, they realized this was unnecessary.
They also realized they needed a break, Karla Garcia said.
"I think the pandemic made everyone rethink, reorganize themselves," she said. "Carlos and I, we were way overworked. … That's how our parents raised us. We have to figure out ways to work smarter, not harder."
Going into the reopening, the Garcia children said they plan to take more time to check in with each other and make sure they're watching their mental and physical health.
In addition to visiting a new neighborhood for Tecalitlan food, customers will notice a pared-back menu. The costs of produce, meat and cheese continue to rise, Karla Garcia said. Tortillas that were once 25 cents a pop are now 50 cents, she said.
Many items, such as tamales, will not initially appear on the new menu. The restaurant's famous mole sauce and al pastor tacos will remain staples.
And Garcia Jr. plans to listen to customer feedback as the restaurant reopens, Karla Garcia said.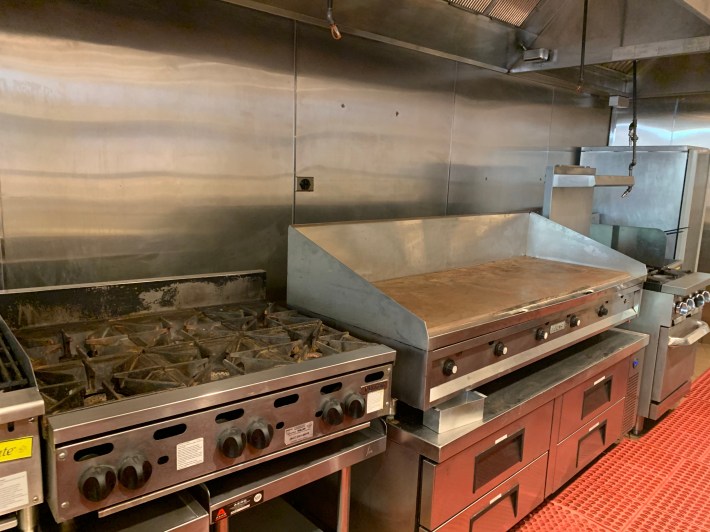 Riding out the pandemic wasn't easy.
After Tecalitlan closed last summer, the Garcia family briefly leased kitchen space inside the cloud kitchen Humboldt Park Eatery, 3220 W. Grand Ave.
The shared kitchen spaces, often opened inside warehouses, offer food delivery through third-party services. The model allows restaurants to avoid hiring public-facing employees and paying rent or taxes on their own storefronts.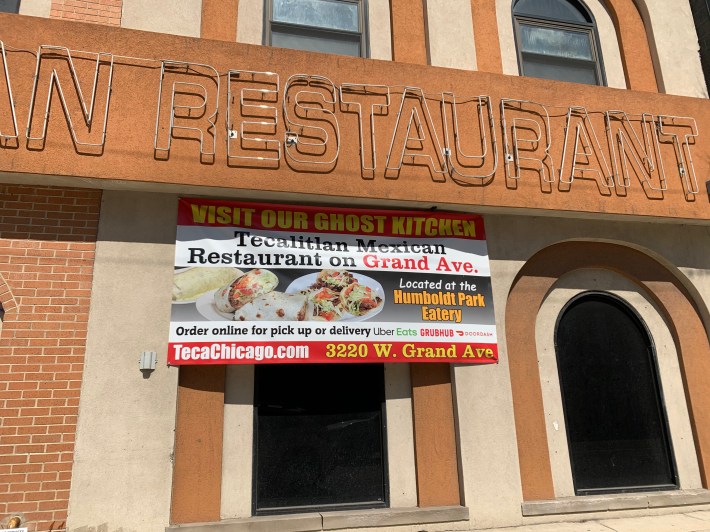 While the kitchen allowed the family to stay connected to their customers through delivery orders and pay some staffers' wages, the ghost kitchen business model was not conducive to independent business owners, Garcia Jr. said.
On Garcia Jr.'s busiest days — Fridays and Saturdays — he may have gotten 15-20 orders at the most, he said at the time.
"It's hit or miss, but it's nothing compared to the brick-and-mortar," he said. "We did it to get our employees in here, make some money."
RELATED: Cloud Kitchens Launches PR Campaign To Fight Business Restrictions In North Center — And It Looks A Lot Like The Early Days Of Uber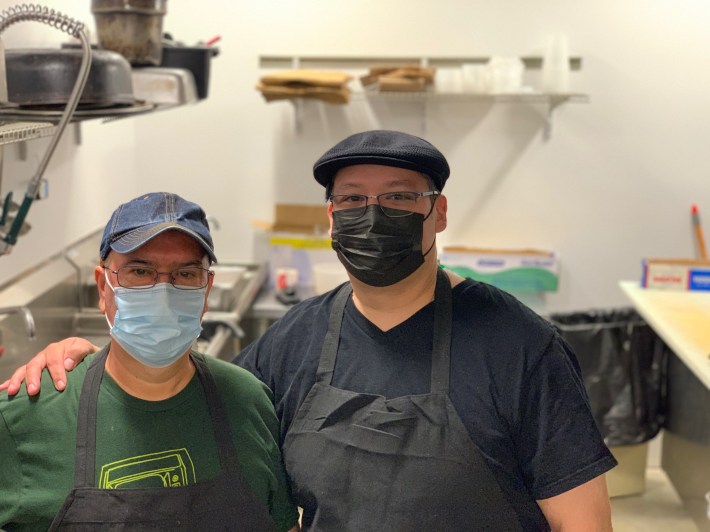 The Garcia children did not renew their lease this winter and pivoted back to looking for a permanent brick-and-mortar home in the neighborhood.
Karla Garcia said she and her brother desperately wanted to keep Tecalitlan in West Town.
They toured at least 25 storefronts in the area, including the former homes of Natalinos, 1523 W. Chicago Ave., and Pizano's, 2056 W. Division St.
But landlords either wanted too much money or required the family to build out their own restaurant and kitchen spaces, Karla Garcia said. The NewCity location hit the sweet spot of rent in their range and offering turnkey kitchen and dining room build-outs.
Customers who grew up eating at Tecalitlan in the 1970s, '80s and '90s have largely moved out of West Town, anyway, Karla Garcia said. Many regulars drive from other neighborhoods or even the suburbs to eat her family's tacos.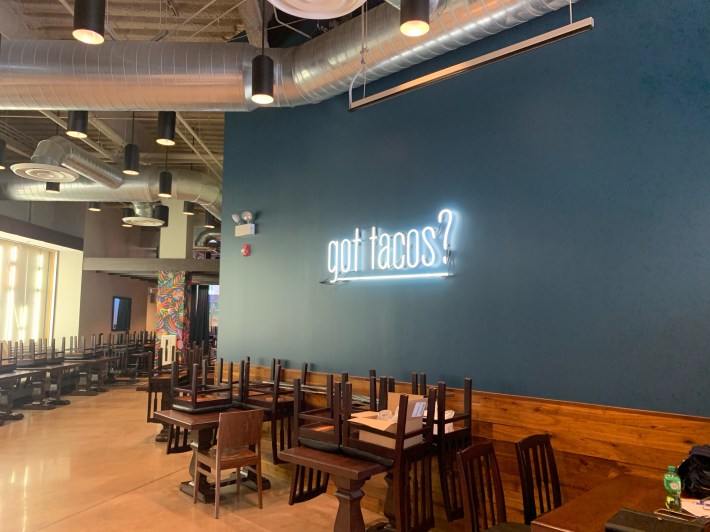 Now, customers can park for free for up to two hours in New City's parking garage.
"It's not that we left the old neighborhood. The neighborhood's always been changing," Karla Garcia said. "We have our following.
"People are already coming in from Aurora, Oak Lawn, Crystal Lake. … I don't want people to turn around and say, 'Everything's different.' It's still us. It's still our food. We're still sharing love through our food. … Give us a chance."
Customers who dine at the new restaurant will see familiar faces: Jose Navarro, a longtime bartender, is coming back, as well as Ramiro Ramirez, a cook who began working for the restaurant when Karla Garcia was a child, and longtime floor manager Alfonso Rosas Joule.
Framed photographs, magazine covers and newspaper clippings featuring the restaurant over the decades adorn the wall behind the host stand.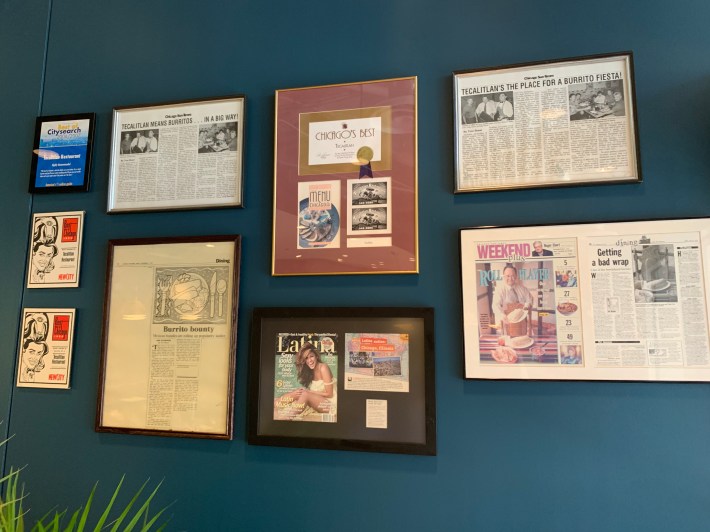 But as the Garcia children aim to modernize the restaurant, there are new features, too.
There's a large, colorful statement mural inspired by artwork popular within the Otomí tribe. A neon "got tacos?" sign lights up another wall.
A pair of hand-beaded hummingbirds — symbolizing good luck, Karla Garcia said — and the letters T, E and C to hang on another wall.
Karla Garcia said her father is very proud of his children for continuing his legacy despite the hardships of the pandemic. She hopes neighbors feel the same way.
"We've been at this too long to fail," she said. "We're excited. We think it's going to be a good change. … And we just wanna thank our customers for 48 years of service and love."
Tecalitlan is aiming for an early July opening. The restaurant can seat 165 inside and 18 on an outdoor patio.
Follow Tecalitlan online, on Facebook and on Instagram for updates on restaurant hours and opening day information.
Those interested in applying for a job at the restaurant can email Karla Garcia at jobs@tecachicago.com.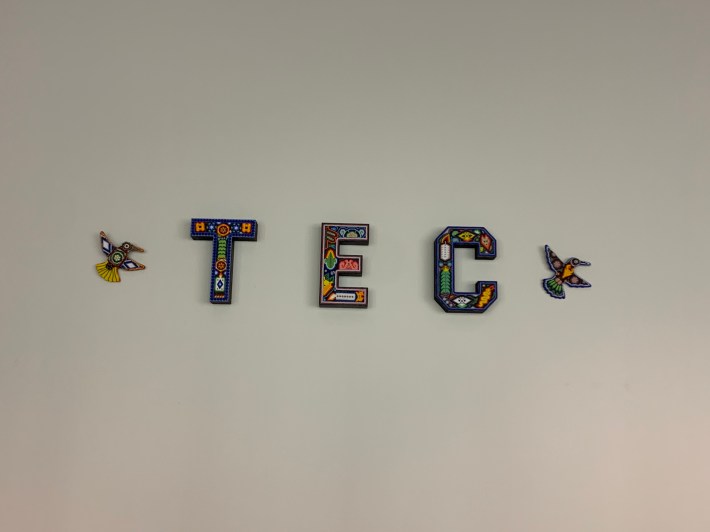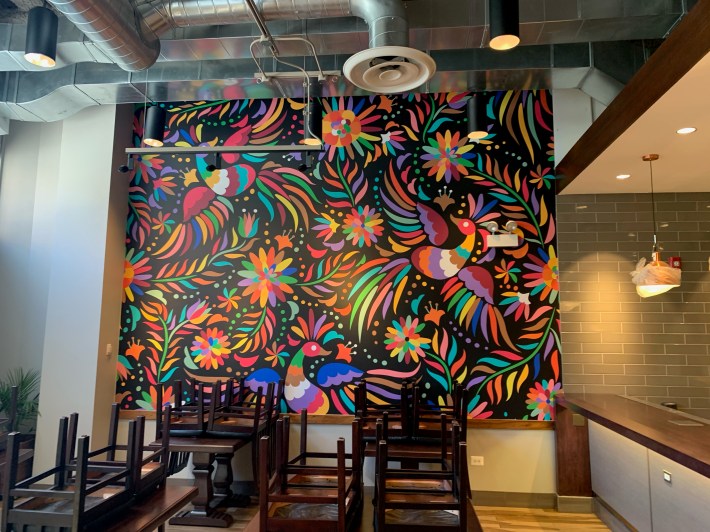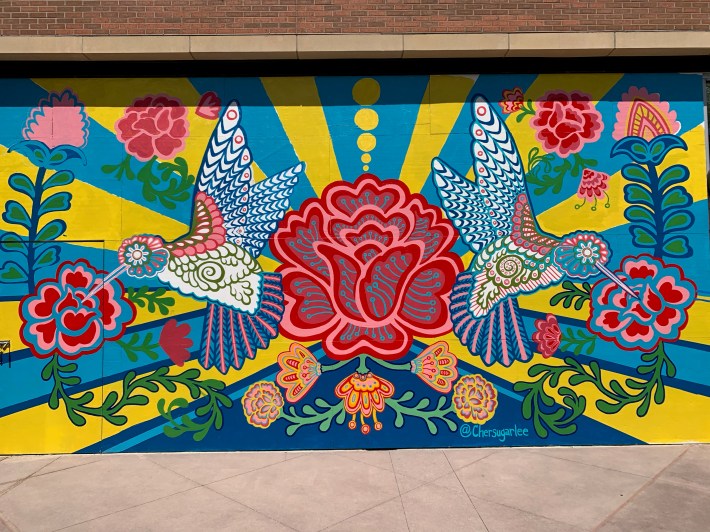 Subscribe to Block Club Chicago, an independent, 501(c)(3), journalist-run newsroom. Every dime we make funds reporting from Chicago's neighborhoods.
Already subscribe? Click here to support Block Club with a tax-deductible donation. 
Listen to "It's All Good: A Block Club Chicago Podcast" here: