CITY HALL — Chicago will have a midnight last call on alcohol sales at grocery and liquor stores after a trimmed down business relief package favored by Mayor Lori Lightfoot was approved by City Council Friday.
The controversial measure to permanently move retail alcohol sales from 2 a.m. to midnight was part of a larger 93-page relief package Lightfoot said is needed to jumpstart Chicago's economy following pandemic-related closures and capacity limits.
The full relief package, named Chi Biz Strong by the Lightfoot administration, also includes a separate ordinance to increase protections for workers, including beefing up the city's ability to crack down on companies that engage in wage theft. That ordinance was also passed Friday.
However, a provision in the ordinance that curtailed ultimate authority from aldermen to dole out certain business licenses and permits in their ward, including for signs and sidewalk cafe permits, was separated from the larger packaged and wasn't voted on Friday.
The mayor said consolidating the licensing into City Hall is a necessary to cut red tape and speed up the process for small businesses. But aldermen pushed back, fearing a Fifth Floor power grab would limit their influence in their neighborhoods.
In a 25-24 vote, the Council sided with Downtown Ald. Brendan Reilly (42nd), who made the motion to strip out the public way provision over Lightfoot's objections. It was a loss for the mayor, who came into office promising to reign in aldermanic prerogative, the series of powers aldermen wield within their own ward, including over permits and signs.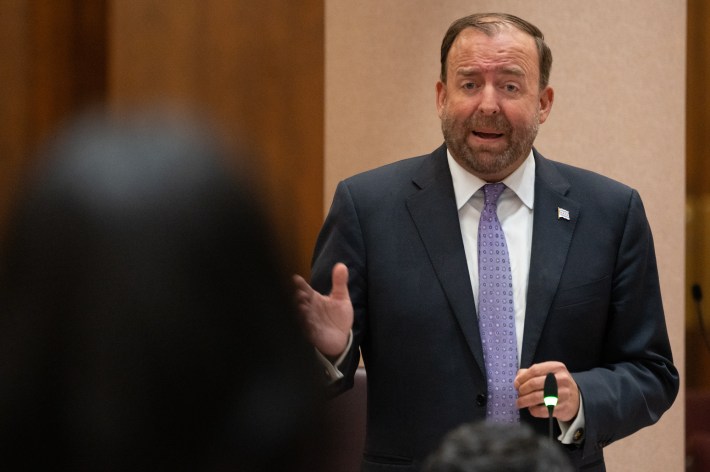 The 25 aldermen voting to separate the provision from the larger package were: Brian Hopkins (2nd), Sophia King (4th), Leslie Hairston (5th), Rod Sawyer (6th), Anthony Beale (9th), Patrick Daley Thompson (11th), Marty Quinn (13th), Ald. Ed Burke (14th), Raymond Lopez (15th), Stephanie Coleman (16th), David Moore (17th), Matt O'Shea (19th), Jeanette Taylor (20th), Howard Brookins (21st), Silvana Tabares (23rd), Byron Sigcho Lopez (25th), Felix Cardona (31st), Rossana Rodriguez Sanchez (33rd), Carlos Ramirez Rosa (35th), Gilbert Villegas (36th), Samantha Nugent (39th), Andre Vasquez (40th), Anthony Napolitano (41st), Brendan Reilly (42nd), Maria Hadden (49th) and Debra Silverstein (50th).
After the package was separated, the larger business relief measure passed unanimously. Ald. Ray Lopez (15th) and Ald. Rossana Rodriguez Sanchez (33rd) teamed up to block a vote on the public way provisions until at least July.
Reilly, who praised "98 percent" of the Chi Biz Strong package, said there are other ways to expedite the process while retaining final decision making power with aldermen. 
"My concern is future City Councils, future administrations may not be as interested in playing nicely with us," he said. 
But others disagreed, saying that allowing City Hall bureaucrats to take the lead over those mundane functions would streamline the process for businesses.
"Businesses have a choice to do business in Chicago. Businesses have a choice to reopen in Chicago," said Ald. Harry Osterman (48th). "We have to work to streamline this stuff, and if that means us giving up a little bit of power … the world's not going to stop on a few signs."
After the meeting, Lightfoot said the battle isn't over.
"What this issue is about is cutting red tape and listening to our small businesses who say, the fact that it takes months, months, to get a sign to open up a business, which is unprecedented any place else in the country doesn't make any sense. And I agree with them," she said.
The business package also earmarks $10 million in federal relief funds as small businesses grants, makes permanent cocktails-to-go from bars and restaurants and extends the 15 percent cap on fees food delivery apps can charge restaurants. 
Friday's meeting was the second of the week after Lightfoot allies abruptly voted to adjourn the meeting after Ald. Ray Lopez (15th) and Ald. Jeanette Taylor (20th) used a parliamentary tool to block a vote on Lightfoot's nomination of Celia Meza to the post of the city's top attorney.
Meza was confirmed with ease Friday, following tense speeches from aldermen who debated whether it was appropriate to block her nomination on Wednesday. She becomes the first Latina to serve as the city's corporation counsel.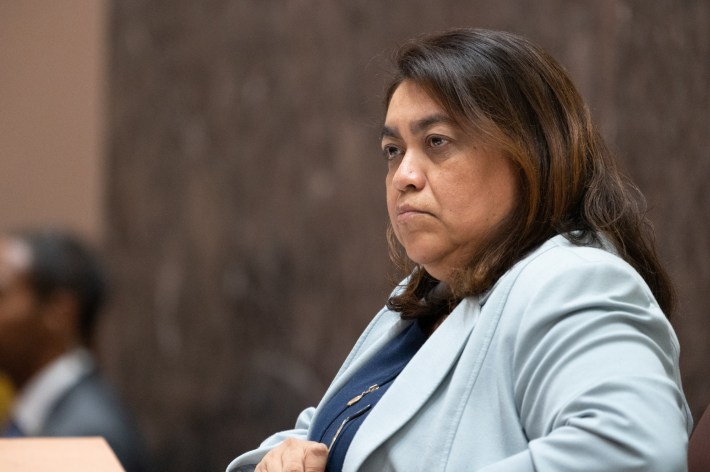 Veteran Ald. Carrie Austin (34th) sought to temper the recent rancor of the City Council by admonishing her colleagues for their conduct Wednesday and pleading with Lightfoot to honor the Council's rules.
"We should all get along. We have a right to argue with one another, we have a right to disagree with one another, but we don't have a right to attack one another the way we did," she said. "Madam Mayor, I hope and pray that you follow the rules and regulations of this body. … Council members follow the rules and regulations of this body. Respect the chair, just like we expect the chair to respect others."
On Thursday, 22 aldermen sent a letter to Lightfoot criticizing how she oversees meetings in her role as presiding officer of the City Council. 
On Friday, Ald. Anthony Beale (9th) introduced an ordinance to allow the City Council to hire their own legislative counsel and an independent parliamentarian to adjudicate disputes over the Council's governing rules that arise in meetings. 
Subscribe to Block Club Chicago, an independent, 501(c)(3), journalist-run newsroom. Every dime we make funds reporting from Chicago's neighborhoods.
Already subscribe? Click here to support Block Club with a tax-deductible donation.