NORTH CENTER — After months of increasingly bitter conflict, Cloud Kitchens is ramping up public relations efforts to defend the business as it faces more restrictions due to pressure from frustrated neighbors and the aldermen.
Led by Cloud Kitchens' general manager and a PR representative who flew into Chicago for the occasion, a group of about 20 people rallied outside Ald. Matt Martin's (47th) office Thursday, holding signs like, "BIPOC Businesses Deserve Rights," "BIPOC Workers > North Side NIMBYs" and "Let Chicago Restaurants Survive."
Deidra Suber, manager of the ghost kitchen at 4131 N. Rockwell St., said Martin and neighbors who have been critical of the company are driving minority and female restauranteurs out of business. In the ongoing battle, the city has banned Cloud Kitchens from letting customers pick up their own orders, but the company is refusing to comply.
No one was inside Martin's office at the time of the rally because the alderman and his staff are working remotely during the pandemic.
"Ald. Martin and a small group of residents want to prevent these businesses from takeout, which also prevents growth and success," Suber said. "We're here today to let Ald. Martin know that he represents the residents and the businesses of the district."
The strategy is a familiar one and resurfaces a years-old tie to Travis Kalanick, the former Uber CEO who has a controlling stake in Cloud Kitchens.
Cloud Kitchens works with Tusk Strategies, a New York- and Chicago-based PR firm. It is owned by political consultant Bradley Tusk, a former Illinois lieutenant governor, whom Kalanick hired to wage a public relations campaign against New York City Council members who wanted to regulate Uber's growth in the city in 2015.
Yvette Buckner, a managing director at Tusk Strategies, came to Chicago to help organize the rally.
Neighbors and some nearby business owners are concerned Tusk is dusting off the strategies the firm developed for Uber and adapting them to Cloud Kitchens. They said Cloud Kitchens is deflecting from the issues that made neighbors wary of the ghost kitchen opening there.
"It's quite clear this stunt is aimed at protecting their profits from walk-up business," said Kristi Noonan, who lives near Rockwell. "Given Kalanick's history of sexism and racism, and even recent reports of the 'white bro' culture at Cloud Kitchens, this doesn't surprise me that they're utilizing this tactic."
Despite Cloud Kitchens' assertions neighbors are attacking small business owners, Martin said it was local businesses — several of which are minority- and women-owned — who sounded the alarm about the traffic and parking problems caused by the company. That has spurred months of combative meetings with him, neighbors, the Chicago Department of Transportation, the city's Department of Planning and Development and the Department of Business Affairs and Consumer Protection.
"These businesses have lost many customers as a result, prompting my office and officials from [the city] and the Mayor's Office to spend hundreds of hours to craft short- and long-term remedies," Martin said in a statement. "If Cloud Kitchens considers expanding its operations in Chicago and beyond, I sincerely hope it exercises greater care in selecting locations and conducting operations that avoid harming existing local businesses the way it has along the 4100 block of North Rockwell."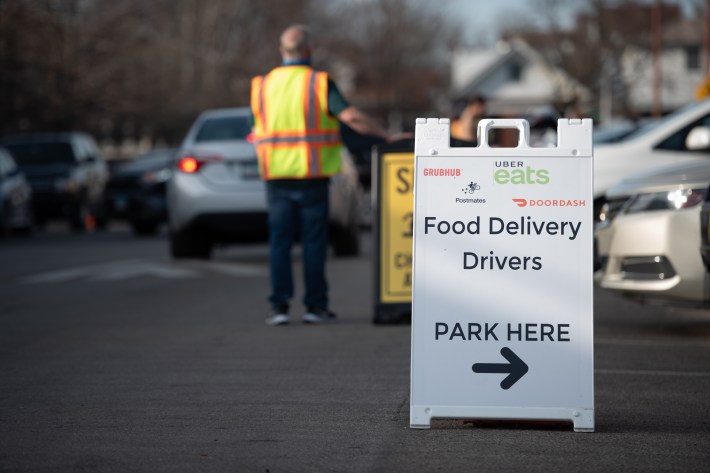 Small Restaurants Caught In The Middle
Cloud Kitchens specializes in providing commercial "ghost kitchens" for delivery-only restaurants, avoiding typical overhead, licensing and hiring requirements. 
The North Center location is home to about a dozen restaurants that only offer takeout or delivery, the largest of which is Chick-fil-A. It also has been the site of Monti's Cheesesteaks while its owner rebuilds after a fire.
While the Rockwell location does have small businesses based there, neighboring residents and business owners say its largest tenant, Chick-Fil-A, is the primary source of their headaches. They've said delivery drivers and trucks circle the blocks, double park and cut through neighborhood streets to get to and from the site.
The city's move to restrict incoming traffic to third-party deliver drivers and not customers doing walk-up orders and pickups was aimed at relieving some of that congestion. Cloud Kitchens representatives pushed back, saying they didn't think that was causing problems.
Lisa Youen-Umfuer left as owner of Shanghai Inn, 4723 N. Damen Ave., in October 2020 and launched Dai Yee's Asian Kitchen out of the Rockwell Cloud Kitchen.
"It's unfair to say no pickup," Youen-Umfuer said. "We're just really caught right in the middle. So what, do we not say anything? There's bills to pay. I have four employees. What am I going to do?"
Suber accused neighbors of being territorial and overstating the problems.
"In my opinion, based on the demographic of the neighborhood, this is a higher-income neighborhood in which some of the activities businesses have to endure are not palatable to people in this demographic. I think our restaurants should not be penalized," Suber said. "These neighbors are in million-dollar homes on an industrial block. I think their sense of entitlement about what they think they should or shouldn't have on their block is really inflating what the actual issue is, which is nothing."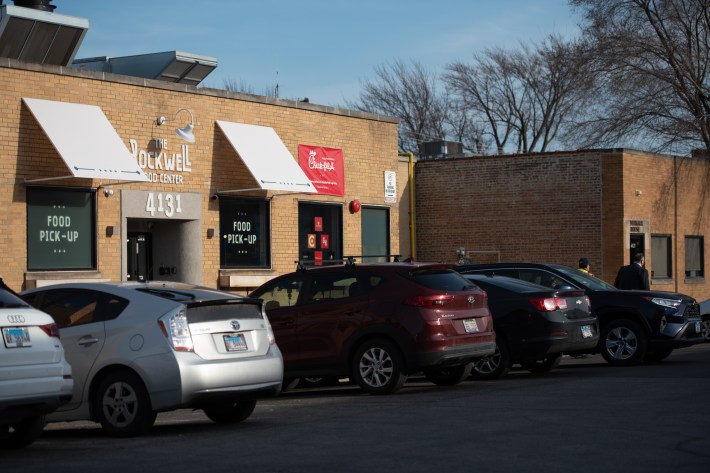 Fabian Romo, owner of Found Chicago Board and Training Center down the street from Cloud Kitchens, said the company is using its minority and female tenants to spin the issue. 
"Our complaints have nothing to do with ethnicity," Romo said. "When you have a business like Cloud Kitchens, that has millions invested in it and whose owners want to make millions more, I think they're willing to do and say anything to make sure their agenda gets through."
After the rally ended, Buckner rolled her suitcase into a car she ordered to take her to the airport. She said she had a flight to return to New York City. 
'Super-Aggressive Campaign'
Before Kalanick was pushed out of Uber by investors amid accusations of sexism and harassment, Tusk Strategies waged a "super-aggressive campaign" against New York City Council members that included $400 million in TV ads, according to a 2016 Recode Decode story. 
That included going after New York City Council members by hosting "big events with rallies" where Tusk argued city officials were hurting minorities and immigrants "trying to make their way in the United States" by drafting regulations for the then-new rideshare industry. 
"If you lost this in New York, you'd be vulnerable everywhere; you win, you actually have a chilling effect on bad regulation everywhere. We had to win," Tusk said in the 2016 interview. 
It wasn't until 2019 that New York City was able to impose stringent regulations for companies like Uber and Lyft, according to the New York Daily News.
Representatives for Tusk did not respond to a request for comment about the 2016 interview and its PR strategy for Cloud Kitchens. Neighbors said they won't be deterred in raising the alarm about Cloud Kitchen flouting the rules. 
"Honestly, as a small business owner, I could not get away with 10 percent of what they get away with. I could not tell [the city's business department], 'Hey, listen, I know we're not supposed to do customer pickup orders, but we're going to do it anyways,'" Romo said. "Are you kidding me? Small business owners can't do that."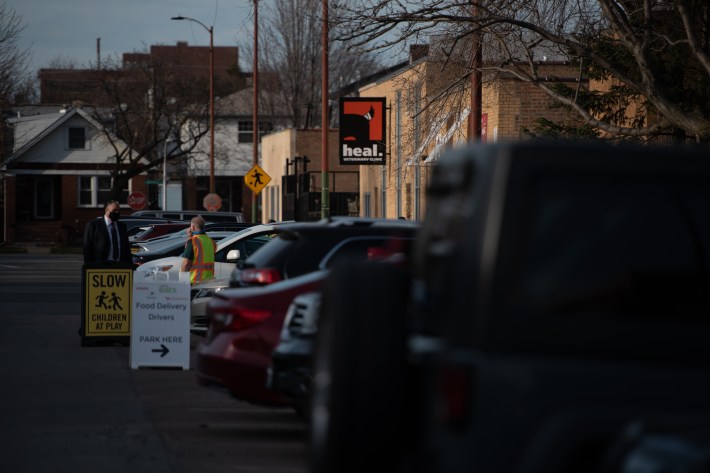 RELATED COVERAGE
Cloud Kitchens Isn't Following A City Rule To Lessen Traffic Woes, North Center Neighbors Say
North Center Neighbors, Fed Up With Cloud Kitchens Problems, Want More Action — And Fewer Meetings — From City
Cloud Kitchens' Plan To Resolve Traffic, Parking Problems In North Center Is Too Little, Too Late, Neighbors Say
Cloud Kitchens Promises To Fix Traffic 'Clusterf–k', But North Center Neighbors Skeptical Plan Will Work
North Center Neighbors, Alderman Say Cloud Kitchens Has Created Traffic, Parking And Garbage Nightmare On Rockwell
Cloud Kitchens Will Open In North Center Despite Objections From Neighbors And Alderman
Cloud Kitchens Plan To Open In North Center Will Be Opposed By Local Alderman
City Blocks Startup Cloud Kitchens' Plan To Open In North Center Over Parking
Subscribe to Block Club Chicago, an independent, 501(c)(3), journalist-run newsroom. Every dime we make funds reporting from Chicago's neighborhoods.
Already subscribe? Click here to support Block Club with a tax-deductible donation.