DOWNTOWN — A flag-raising event Monday at Daley Plaza will kick off the city's first "day of observance" in honor of Juneteenth — and more citywide events are in store.
City officials will gather at 10 a.m. Monday at Daley Plaza to raise the Juneteenth flag for the first time in Chicago history, said Ald. Maria Hadden (49th), whose office helped organize the ceremony. The event will kick off a week of activities that celebrate Juneteenth, which recognizes the day on June 19, 1865, when enslaved Black Americans were freed in Galveston, Texas.
The flag-raising event is closed to the public, though the Juneteenth flag will fly in Daley Plaza through the week.
Juneteenth has always been celebrated in Chicago, but events were coordinated on the community level and not through city-sanctioned events like official parades. That will change this year, the first time Juneteenth will be recognized as an official "day of observance" by the city.
Juneteenth was given the day of observance title after more than a year of efforts by activists and aldermen to have the city officially recognize the holiday.
"It's the first year we'll have this" day of observance, Hadden said. "We wanted to have a significant demonstration and something that can also be educational. This seemed like a really good way to observe the day."
Seven virtual panel discussions are slated to take place Monday-Wednesday as part of Black Culture Week. On Saturday, which is Juneteenth, the March For Us 2021 event will have organizers take off from Jones College Prep and march to Daley Plaza.
A new website, juneteenthillinois.com, seeks to be a centralized calendar for Juneteenth events.
City Hall will be decorated in Pan-African flags and colors, and a citywide car caravan on Friday will also mark the holiday, said Torrence Gardner, economic and community development director for Ald. Maria Hadden (49th).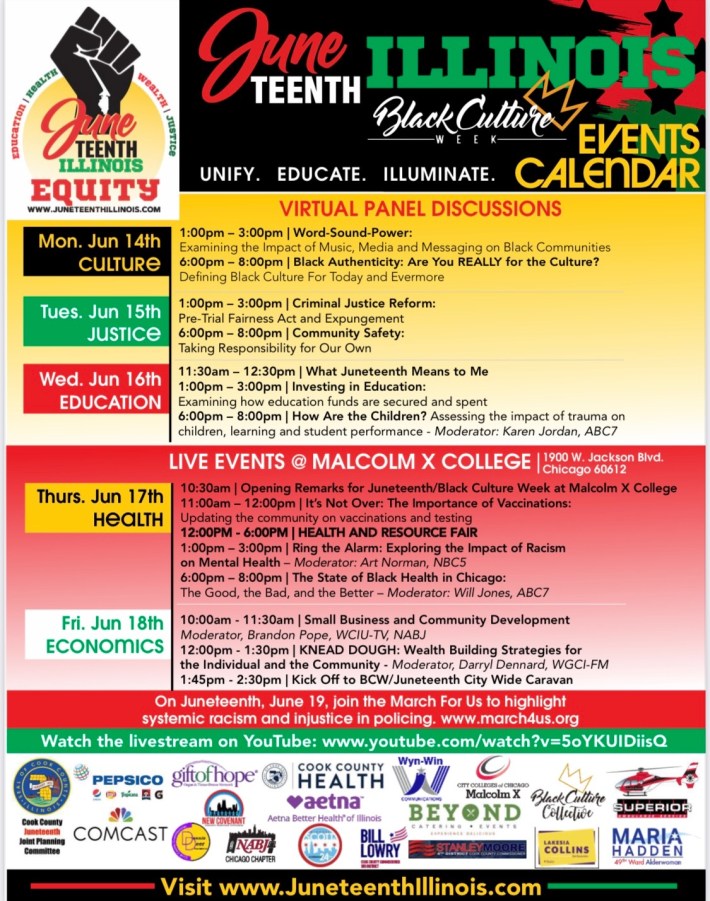 "The goal was to put the day of observance into real form," he said. "We see this as being a tradition every year."
The car caravan will start 10 a.m. Friday at Malcolm X College, 1900 W. Jackson Blvd. The event will kick off with programs, including a performance by the Chicago Bulls bucket boys, Gardner said.
From Malcolm X College, the caravan's drivers will travel through the West Side before heading south and ending at the Pullman Porter Museum. A car caravan to honor Juneteenth was held last year on a smaller scale to make for a coronavirus-safe celebration.
"It's a safe way to show solidarity," said LaCreshia Birts, founder and co-chair of the Black Remembrance Project, which spearheaded local efforts to officially recognize Juneteenth. "I'm super excited that there's so many people coordinating Juneteenth events and making space for it."
While activists will be busy celebrating Juneteenth, they continue to work on making the day an official paid city holiday.
The Juneteenth day of observance was a compromise agreed to in November after efforts to make it a paid holiday stalled.
Ald. David Moore (17th) and Hadden introduced legislation to make Juneteenth a paid holiday, but the effort hit a road bump when its price tag was pegged at $100 million. Officials then made Juneteenth a day of observance — the only holiday with that designation in Chicago.
Hadden said she and City Council allies will seek to institute a floating holiday system with the city, which would allow city employees to take off Juneteenth or other holidays that are relevant to their culture or religion, she said.
The fight for a paid Juneteenth holiday is wrapped up with larger issues around making amends for slavery, including conversations of reparations and civil rights protections, Birts said.
"It is so important to have Juneteenth as a paid holiday," she said. "Our enslaved ancestors worked for free. We should have a paid day off."
Subscribe to Block Club Chicago, an independent, 501(c)(3), journalist-run newsroom. Every dime we make funds reporting from Chicago's neighborhoods.
Already subscribe? Click here to support Block Club with a tax-deductible donation. 
Listen to "It's All Good: A Block Club Chicago Podcast" here: