CITY HALL — Ald. Maria Hadden is working to make Juneteenth an official Chicago holiday — without it costing the city $100 million.
Hadden (49th) has teamed with Ald. David Moore (17th) and other city leaders and community groups to recognize as a city holiday Juneteenth, the day that honors the emancipation of enslaved Black Americans. Similar movements across the country are seeking official holiday status for Juneteenth, celebrated on June 19, and former Gov. Bruce Rauner in 2018 declared the day a state holiday.
The effort has broad support from fellow aldermen, Hadden said. At issue, however, is the initiative's price tag. The city's estimate for adding a 13th paid holiday was $100 million, Hadden said — though her staff later said they are working to better understand that figure.
"The question is not whether we want to make Juneteenth a holiday," Hadden said. "It's, what is the financial impact? And how do we do this with our labor agreement?"
With the estimated cost being essentially a non-starter for the City Council, Hadden said she is working with city officials on a new "floating holiday" policy that would allow for the official recognition of Juneteenth without the price tag.
Floating holidays are paid days off that are not tied to specific dates like federal holidays and can be used at the employee's discretion. Such a policy would allow the city to recognize Juneteenth and allow city workers the option to take the day off.
"Floating holiday policies are used in a lot of nonprofit and private work spaces … that give employees a few more options when they're looking to celebrate culturally relevant things," Hadden said. "It's also modernizing Chicago's human resource policies."
The effort to make Juneteenth an official Chicago holiday is winding its way through City Council, and has been introduced in the council's Committee On Workforce Development. Hadden's ordinance has 41 co-sponsors, she said. Supporters of the measure have also started a petition to get Chicago to recognize Juneteenth as a holiday.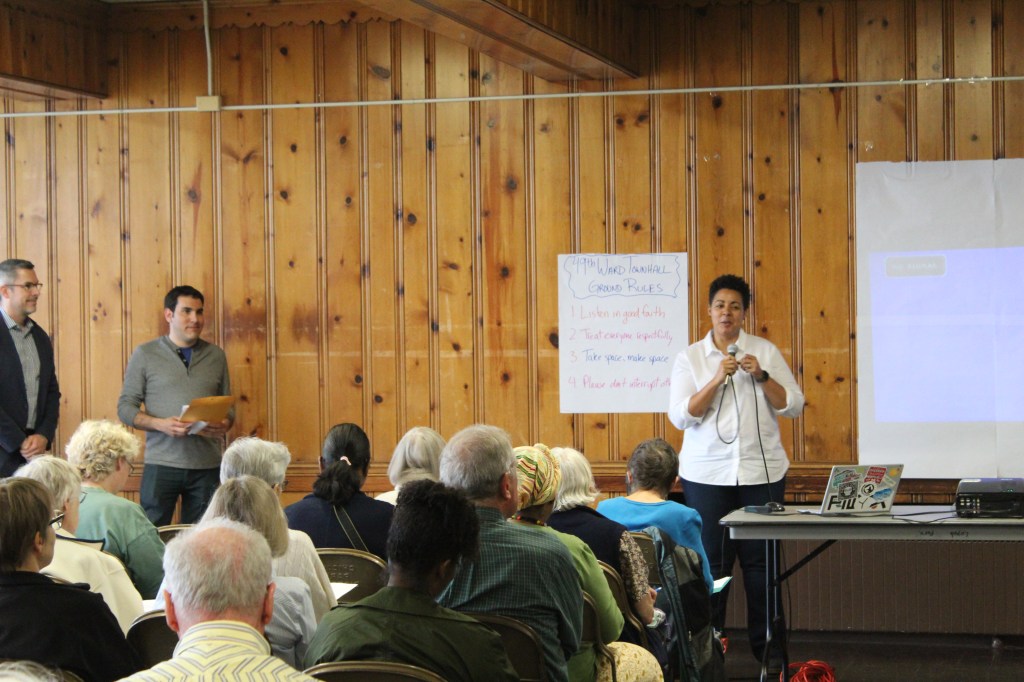 While city leaders are looking to make Juneteenth a local holiday, Hadden is teaming with organizations like the Black Remembrance Project to make sure there is an official Juneteenth celebration this year.
Juneteenth has long been celebrated in Chicago, but the events have been organized by community groups spread throughout the city. Hadden and the Black Remembrance Project are seeking to create a more centralized and official celebration of Juneteenth, she said.
A planning committee will be established to help organize the citywide event, which could be held in a central location like Daley Plaza or Millennium Park, Hadden said.
"We're pretty excited to bring this important cultural celebration right to the heart of the city," she said.
The Black Remembrance Project was founded last year in an effort to recognize the 400th anniversary of slavery being introduced to America. One of the group's efforts was to get Juneteenth recognized as a holiday.
That didn't happen in time for the 400th anniversary of the introduction of slavery to America. But supporters are hoping that this year's Juneteenth will be celebrated with Chicago well on its way to making it an official holiday.
"Black history is American history, which is Chicago's history," said Torrence Gardner, director of economic and community development for the 49th Ward.
Do stories like this matter to you? Subscribe to Block Club Chicago. Every dime we make funds reporting from Chicago's neighborhoods.
Already subscribe? You can make a tax-deductible donation to support our nonprofit newsroom here.