HYDE PARK — As young Chicagoans reflect on a year of heightened organizing around police violence and injustice, a new exhibit is giving them an opportunity to showcase art telling "the collective story" around those protests.
"Black Creativity: Art and Activism" is on display at the Museum of Science and Industry, 5700 S. Lake Shore Drive. It features the photography of Vashon Jordan Jr., a Pullman-based photographer who documented protests throughout Chicago during summer 2020, and Chris and Zachary Slaughter, who documented murals on boarded-up buildings across Chicago.
Also on display are murals painted by visual artist Jamiah Calvin and high school students from King College Prep and Kenwood Academy.
Activists work tirelessly to share their joys and visions for a better world with others, said Jermaine "Jayy Jayy" Wright, a youth organizer at the Chicago Freedom School. So there are "no words to explain" the validation that comes from seeing a "Defund the Police" mask and T-shirt featured in a photo on the Museum of Science and Industry's walls, Wright said.
The exhibit shows aspects of protesting that are often overlooked — joy, empowerment and community building — and provides a platform for the movement's ideas that isn't always available in other mainstream institutions, he said.
"A lot of Black people live through trauma, and a lot of times their joy isn't really expressed," Wright said. "I think of TV all the time, when people were showing all of these protests and it was like, 'These violent people.' I was like, 'Where are y'all when these photos are being taken?'"
Jordan's photos in the exhibit are taken from his book, "Chicago Protests: A Joyful Revolution," which he created to reflect "pure, authentic Black joy" in the face of unprecedented upheaval.
Some of the people featured in his work — who joined him to view their photos at the exhibit Saturday afternoon — "didn't have to die to be in a museum," he said.
"The message that I have to folks is: We can craft our own history books. We can tell our own stories. We can get our works in our museums," Jordan said.
'We Do Speak Through Our Art'
Movement mainstays like Wright are featured in the exhibit alongside young people who took their first steps into protesting last summer.
Jordan photographed Nadia Jones Aug. 15, as she attended her first action alongside hundreds of other protesters against police brutality. The group set out to shut down the Dan Ryan Expressway, but it was met by counterprotesters and eventually redirected by police.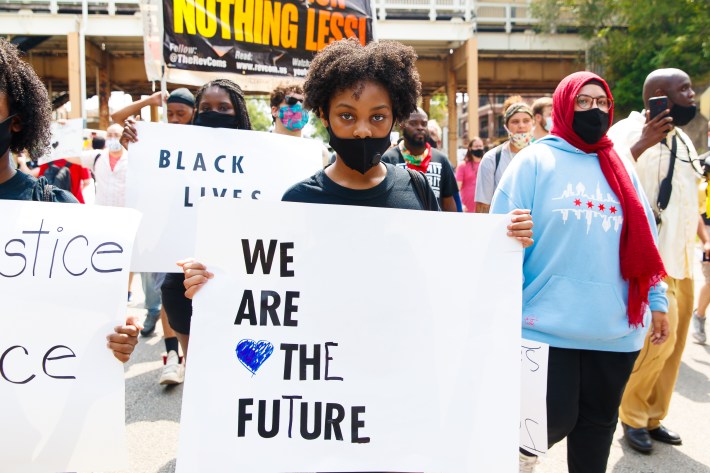 Nadia's mother Marquita Jones said she was initially concerned about bringing her child to the protest, after hearing about actions last summer that ended with police violence, property damage and other traumatic events.
But by attending, Nadia saw how protests can remain peaceful even as emotions are heightened, Marquita said. The Art and Activism exhibit can hopefully pass along that lesson to other museum attendees, she said.
"African Americans are a part of America," Marquita said. "We deserve to be able to be free to go where we want, to get an education, to get a home — to feel at peace and safe in the country that we were born in and live in. As long as we don't feel that, we're going to be demanding our rights and equal treatment."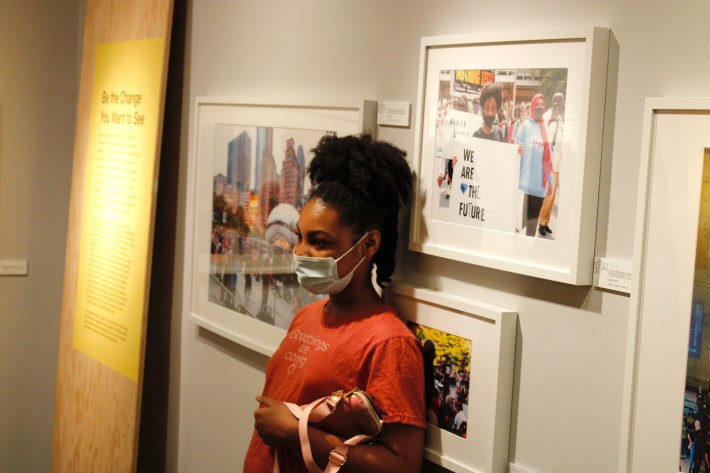 University of Chicago student Keshav Raghu also attended his first protest last August, where Jordan photographed him at a youth-led "Cops Out CPS" rally outside education board member Sendhil Revuluri's home.
The UChicago bhangra dancer was on hand Aug. 20, calling for Chicago Public Schools to end its contract with the Police Department while teaching the traditional Punjabi music and dance to other attendees.
Though Revuluri ultimately voted to renew the school resource officer program, the demonstration showed Raghu how joy and creativity are as crucial to political action as fiery speeches and a desire for change, he said.
"I always thought protests were rooted in fear or sadness and all of these terrible things that are happening," he said. "But I realized that it's more of a celebration of life, what we're happy about and what we want things to look like."
Mainstream attention on police brutality and racial equity has died down since last summer, when it was "trendy to support these issues," Raghu said.
Yet the work of organizers like Wright, and the plethora of protests like those documented by Jordan, continue to make conversations around these issues "more intense" and unavoidable for those who may have previously ignored them, Raghu said.
"At UChicago especially, a lot of the students do think about these issues pretty critically," he said. "Professors have done a good job about introducing these topics in the classroom and keeping the discussions [sparked last summer] going. I do think that is a pretty specific subset of the population, so I obviously would like to see it happen more, but I think that it is kind of promising."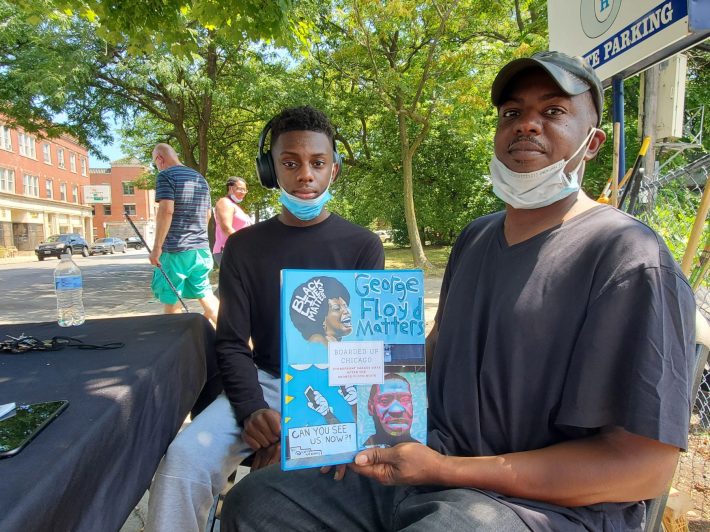 The exhibit "tells the collective story" of last summer's protests, Chris Slaughter said.
"The art is catching their attention," Slaughter said. "Some youth that weren't even part of that movement have shown some interest … where maybe we can start talking it up — getting them to take action and take responsibility in their neighborhoods, and getting them to speak up when things are not right."
It's not news to Black Chicagoans that change is needed in their communities, attendee and Southeast Side resident Natasha White said.
She grew exhausted from media coverage of the uprisings last summer, particularly in hearing stories about property damage and theft that coincided with it, she said.
"I felt if I kept watching it, I was just going to lose hope," White said.
But the museum's exhibit tells stories beyond the trauma and violence that often made headlines over the past year, White said.
As a writer and poet, and as a mother to a budding creative, White said she appreciates the world-renowned museum for giving a platform to Black perspectives that don't always reach the mainstream.
"We do speak through our art," White said. "We speak through drawing, dancing, poetry — all of these things … we have messages in those. I think it's beautiful that [the exhibit] portrayed all different aspects in that."
Illinois residents can visit the Museum of Science and Industry for free as part of the Black Creativity Family Day celebration June 19. The Black Creativity art exhibition is on display through July 4.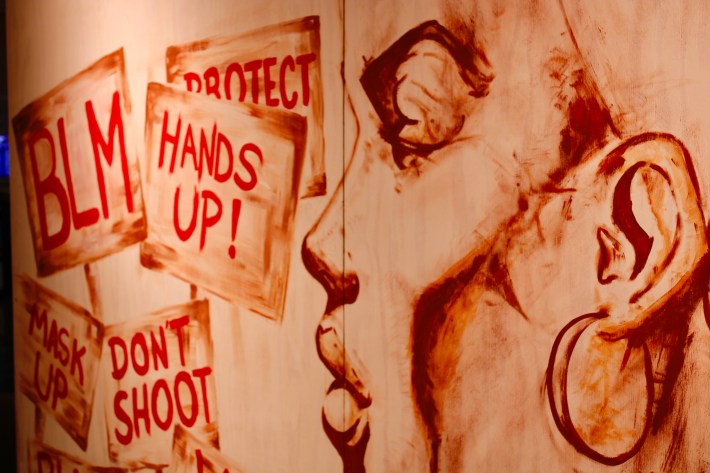 Subscribe to Block Club Chicago. Every dime we make funds reporting from Chicago's neighborhoods.
Already subscribe? Click here to support Block Club with a tax-deductible donation. 
Listen to "It's All Good: A Block Club Chicago Podcast" here: