WICKER PARK — When Krista Kee moved into her street-facing apartment at the corner of Wood and Division last year, she knew what she was signing up for: sirens, bar music, the occasional drunken shouting.
Kee did not anticipate five nights in a row of rumbling from a city recycling truck idling outside her apartment all day and night — 2 p.m.-3 a.m.
But on April 16, a city recycling truck camped outside Kee's apartment on Division Street — and stayed there for nearly a week, she said. The driver told her the city ordered sanitation workers to park in busy neighborhood business corridors after finishing up work to deter looters, she said.
The trucks idled until the wee hours of the morning, and the noise was so loud Kee could not sleep even with noise-canceling headphones, she said.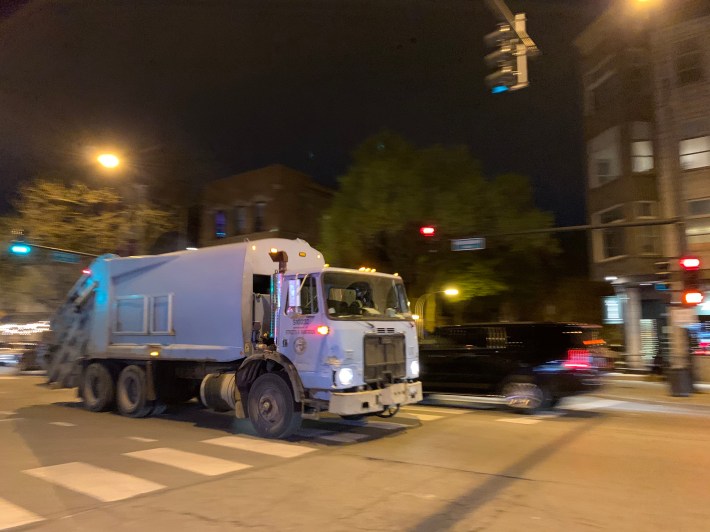 Finally at her wit's end on Tuesday, Kee booked a $117 room at The Robey Hotel so she could sleep. By Wednesday, the driver of the truck parked outside her house — an elderly man, Kee said — looked "exhausted." He apologized to her for having to run his engine at night to stay warm, Kee said.
"Everything about it hurt my heart," Kee said. "I can't rest. He can't rest. The store's not protected. … I don't understand who this is helping."
The city's Office of Emergency Management and Communications said in a news release April 19 it was going to put out "infrastructure assets … to ensure the safety of residents, neighborhood commercial corridors and critical businesses." That typically means deploying garbage trucks and other large vehicles so they can be used to block streets and protect businesses.
The city did not specify where or when trucks would be deployed.
The move was part of the city's preparations for potential unrest after the verdict came in for the Derek Chauvin trial. Chauvin is the former Minneapolis police officer who kneeled on and killed George Floyd last summer.
RELATED: National Guard Coming To Chicago Tuesday As City Prepares For Derek Chauvin Verdict
Ald. Daniel La Spata (1st) told Block Club on Thursday he became aware of plans to station recycling trucks along Division Street after receiving complaints from residents. Aldermen were not consulted or informed of the plan prior to its initiation, he said.
"We don't want looting. … At the same time, to have trucks idling all night, keeping folks up, keeping those workers working over time … That is not the way to do it," La Spata said. "It communicates to Chicago that we have ever reason to live in fear. I don't believe that's the city we want to be."
Mayor Lori Lightfoot's office did not respond to Block Club's request for comment.
There are two family-owned businesses in Kee's block that were looted last year in the wake of Floyd's murder: Division Street Liquors and Alexandra Marks Jewelry.
Marks, a fourth-generation jeweler, said she learned of the recycling truck plan on Thursday when a reporter brought it to her attention. She described the idea as a "waste of tax dollars."
"That doesn't even make sense. … What is a guy in a recycling truck going to do?" she said. "I kind of feel bad for the recycling guys. Are they supposed to step in if they see someone's store getting looted? That seems like a lot to ask."
La Spata said he doesn't know how much money the city spent on using trucks to prevent looting. The thinking behind the plan was not explained to aldermen, either, he said.
If Mayor Lori Lightfoot wanted to calm protestors, she could instead fund violence prevention efforts or sign police reforms into law, La Spata said.
"They probably spend more on those forms of social control than they do on providing violence prevention and street outreach workers in the 1st Ward," he said. "That's what we're really calling for, for the funding to intervene in gang violence in the community. And that's what they won't fund for us. And I know that, because we keep asking for it."
As a business owner, Marks is signed up for text alerts from the city. She showed a Block Club reporter the most recent text, which had information about Logan Square street closures related to protests over police killing 13-year-old Adam Toledo.
RELATED: Thousands March In Chicago To Protest Police Killing Of 13-Year-Old Adam Toledo: 'Adam Deserved To Live'
If the city anticipated looting to the degree officials felt it necessary to deploy recycling trucks in neighborhoods, then the city should have used its text alert system to warn business owners to board up their windows or pull their merchandise, Marks said.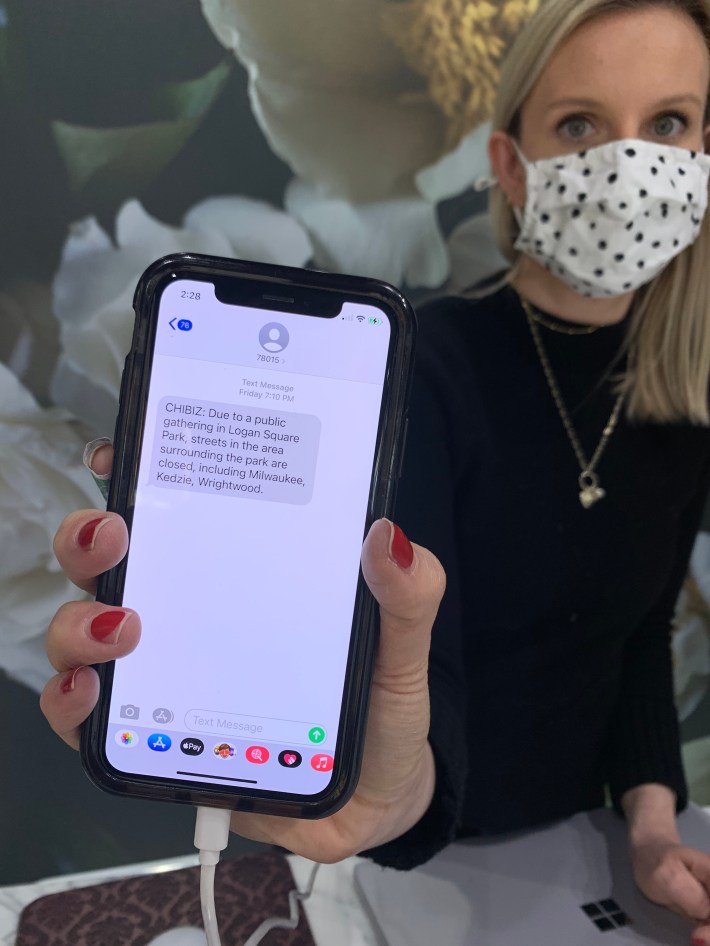 Motea Nasser's family has owned Division Street Liquors since they immigrated to Chicago from Yemen.
After the store was looted last year, the family spent $1,000 boarding the store's windows, Nasser said. After boarding up an additional four times last summer, the family invested in a drop-down $15,000 window system to prevent future break-ins.
Nasser said he learned of the city's recycling truck plan when the driver of the truck came inside to talk with his family.
"It could help a little bit. Maybe some people would see the truck, think they can't park and get away?" Nasser said. "But they're not police. … If people wanna loot, they're gonna come in anyway."  
Kee described the driver who parked outside her apartment as an older man who was very kind and constantly apologized to Kee over the course of the week.
"I just didn't understand the strategy," Kee said.
After a jury ruled Chauvin guilty Tuesday, and there was no unrest in Chicago, Kee hoped the recycling trucks would leave. When they didn't, she booked the hotel.
The trucks returned Wednesday afternoon, but shortly after nightfall, the drivers finally left Division Street.
Kee said she wants to know how much money the city spent on deploying these resources. The Mayor's Office has yet to respond to emails she sent this week "begging" the city to remove the trucks, she said.
"I hope Mayor Lori Lightfoot understands and empathizes," she said. "Chicago residents are tired for a lot of reasons. … How can a Black woman process these events when she can't sleep?"
Subscribe to Block Club Chicago, an independent, 501(c)(3), journalist-run newsroom. Every dime we make funds reporting from Chicago's neighborhoods.
Already subscribe? Click here to support Block Club with a tax-deductible donation.