CHICAGO — Police officers will remain in Chicago Public Schools under a modified program approved by the board of education, who once again rebuffed demands from community organizers to eliminate school resource officers altogether.
The seven-member board voted 4-2 on Wednesday to renew the district's contract with Chicago Police to staff campuses with officers. The majority of board members said they support the changes made to the program. One member abstained.
Young activists in Chicago long have organized to remove police officers from public high schools. They say having law enforcement involved in meting out school discipline creates a school-to-prison pipeline that disproportionately affects Black and Brown students.
That activism took on renewed urgency after the police killing of George Floyd in Minneapolis, which spurred national demonstrations against police violence.
Other cities — including Minneapolis — have opted to end their school police programs, but Chicago leaders have avoided a similar move for the country's third-largest school district. The board also narrowly voted in June against canceling the district's contract with police and removing officers from schools, thereby pushing the decision onto individual school councils in a chaotic and sometimes opaque process. 
Chicago Board of Education Vice President Sendhil Revuluri favored the modified program, saying the new agreement between CPS and the police department made significant changes from the one approved last year.
"[The contract] now contains the protections, procedures and guardrails around how schools work with police officers," he said.
Before the vote, Ald. Michael Scott Jr. (24th), chairman of the City Council education committee, noted the 54 school councils that voted to retain officers, saying he doesn't think the board should "remove all officers from all schools at one time."
"I know there are many parents that do not feel comfortable allowing their children in and around the schools without officers," he said.
Youth activists, led by Students Strike Back, protested outside the CPS headquarters during the meeting. They groaned and shook their heads as the vote came down. On Monday, 13 people were arrested after shutting down the street outside the headquarters, according to the Sun-Times.
"This decision perpetuates a system that targets Black, Brown and disabled students with physical and emotional trauma," members of Black Lives Matter Chicago tweeted after the vote.
"Everyone that voted 'yes' should be ashamed."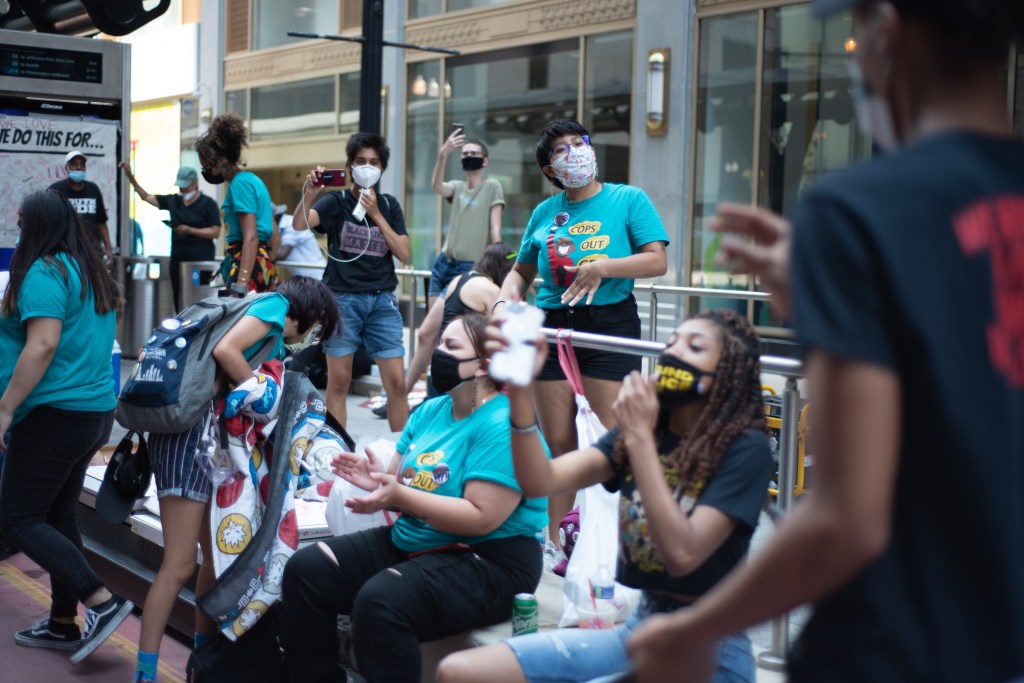 Ahead of Wednesday's vote, district officials laid out plans to reform the program first announced last week by Mayor Lori Lightfoot and CPS CEO Janice Jackson.
Jadine Chou, the district's chief of safety and security, told the board it's "absolutely one of our goals to eradicate the school to prison pipeline."
Principals will now have the power to hire or reject officers to serve in their school, those selected for the program must have "excellent" disciplinary records and will receive more training. Police officers should not be involved in routine disciplinary matters.
Officers in schools will no longer have access to the controversial gang database and complaints made against officers will now be handled by the Civilian Office of Police Accountability.
District leaders also said they are slashing the budget for the school officers program from $33 million in 2020 to $12 million for the coming school year. 
The costs fell for this year because the district won't pay for days when there is not in-person instruction — and CPS is set to be all-remote for at least the fall quarter. CPS will also get credit for days when students learned from home during the 2019-2020 school year. Schools were closed in March due to the coronavirus pandemic.
The district will also partner with Lurie Children's Hospital, the University of Chicago and a "variety of student groups" to provide specialized training for officers and study the impact of the program on children, Jackson told the board.
The board also approved a resolution, put forward by Revuluri, to direct schools chief Janice Jackson to develop additional school safety plans by next spring, including an option that eliminates the need for police officers. 
The new plan would allow school councils more options than the either-or decision of retaining or removing police officers from their campus, Revuluri said.
Board members Amy Rome and Elizabeth Todd-Breland, who voted no on both police related resolutions, criticized the resolution as unnecessary, and not going far enough to force a phase out of the program.
The changes to the program did not quell the call of activists to eliminate the program.
Marlenne Garcia, a 2020 graduate of John Hancock High School on the Southwest Side, said it's up to activists to hold the board accountable and it was students' voices who forced changes to the program.
"We protest, we send you emails, we've held workshops, we've met with public officials," she said, "We believe in a world where we have a seat at the table to make decisions about our lives."
Lightfoot and district leadership chose to not eliminate the program unilaterally, but instead punted the decision to local school councils. That led to a chaotic month of school council votes and criticism of a lack of transparency of the process.
In the end, over 70 school councils held votes, with the majority — 54-17 — choosing to retain officers on their campus.
Board member Amy Rome, who voted no, said pushing the vote to local school councils was "not the right approach," saying student voices were not adequately heard during the process.
"While [local school council] involvement is critical, it does not take a necessary whole system view of what's an issue of justice and a civil rights issue," she said. "…The research is conclusive that police in schools perpetuate trauma and harm, and contribute to the criminalization of Black students."
Last week, CPD released data showing overall arrests at school grounds are at an all time low, but racial disparities in those arrests persist. More than 73 percent of students and young people arrested on school grounds in 2019-2020 were Black, despite Black students accounting for only 36 percent of the district's students.
Read all of Block Club's coverage on school resource officers here.
Subscribe to Block Club Chicago. Every dime we make funds reporting from Chicago's neighborhoods.
Already subscribe? Click here to support Block Club with a tax-deductible donation.