OLD IRVING PARK — Neighbors of the proposed Six Corners Sears redevelopment largely applauded the project at a virtual public meeting Thursday, but some raised concern over the lack of affordable housing, among other things.
The virtual meeting, held by Ald. Jim Gardiner (45th) and his staff, had more than 150 people who discussed the development of the Sears building at 4730 W. Irving Park Road with architects from MG2 and developers Novak Construction.
Novak wants to convert the 83-year-old art deco Sears into about 50,000 square feet of commercial space on the first floor with 208 luxury apartments and about 183 parking spots.
Developers would tear down an addition built in 1972. A new building there would be connected to the old one, and it would have an additional floor for apartments and a rooftop for residential amenities like a pool, dog walk and communal areas.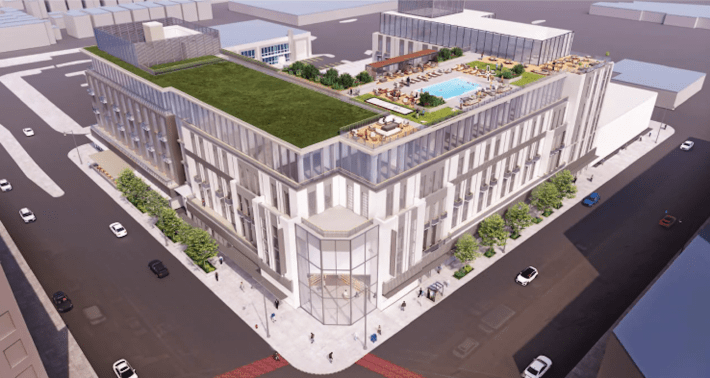 The developers want to keep the famous façade and name, said Jake Paschen, executive vice president of development at Novak.
"We are excited to try to enhance the art deco look of it [and] do something that would complement it but not exactly match it," Paschen said.
Gardiner touted the project, saying it would bring needed density, economic development and businesses to the area, which has struggled in recent years with stalled developments, vacant land and empty storefronts.
"This is one of the most impactful developments in the area," Gardiner said. "It will help revitalize, attract future businesses, allow for more housing and drastically improve the landscape of Six Corners."
While developers said an anchor retailer has not been picked yet, Gardiner said he is open to community feedback to pick retailers. The project would have no more than three tenants, with the anchor taking up at least 45,000 square feet, Paschen said.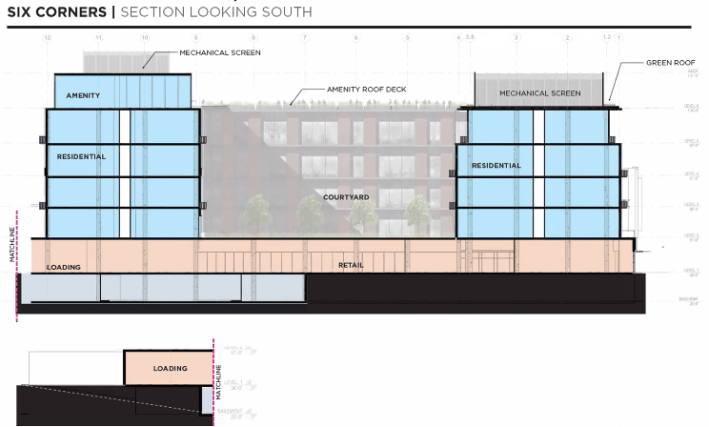 The project's studio, one- and two-bedroom convertible apartments would cost $2,750-$3,000 a month for a 1,000-square-foot apartment. Paschen said only six of the 208 units would be affordable, which raised concerns among many neighbors who said the number needs to be higher.
Neighbor Kara Wagner Sherer said she wants to see at least 20 affordable units in the development.
"We need people to shop at the shops, but we want to keep existing people in the neighborhood and be able to afford living in this neighborhood," Wagner Sheer said.
Gardiner said if the project moves forward, he will work with the developer to bring more affordable units if that's what the community wants.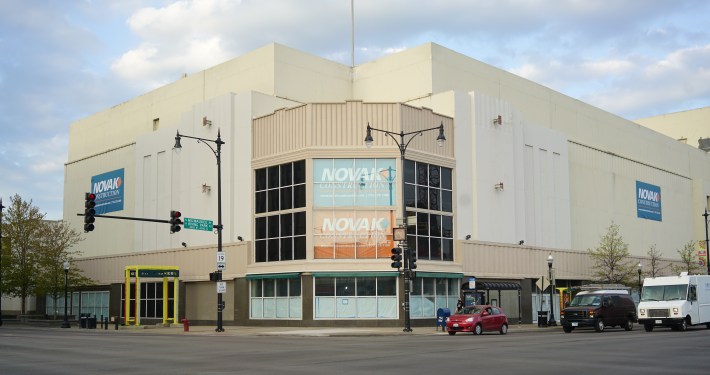 Under the current Affordable Requirements Ordinance, developments that require a zoning change need to offer 10 percent of units at affordable prices, either by offering them on site, building them off site or by paying a fee. For the Sears redevelopment, that would mean 21 units.
In the first in-person City Council meeting of the year, a rewritten Affordable Requirements Ordinance was overwhelmingly passed, which increases the percentage of affordable units that must be offered in major developments from 10 to 20 percent in wealthy and gentrifying neighborhoods. The measure was pushed by Mayor Lori Lightfoot.
Under that change, the Sears project would need to have at least 20 percent affordable housing if approved after October.
Residents also said they're worried about if the development would bring more traffic to the area — especially since there's construction at The Point at 4747 W. Irving Park Road, which will become a 10-story senior living facility with 258 residences.
Paschen said Novak is doing a traffic study of the area as part of the city's approval process. Based on preliminary data, the development could bring 75 additional drivers during morning peak hours and about 150 drivers during evening peak hours, he said.
"I think we are going to increase our traffic congestion thus far. … Six Corners is really revitalizing itself, which means more people moving in and more traffic," neighbor Christine Zgonina said.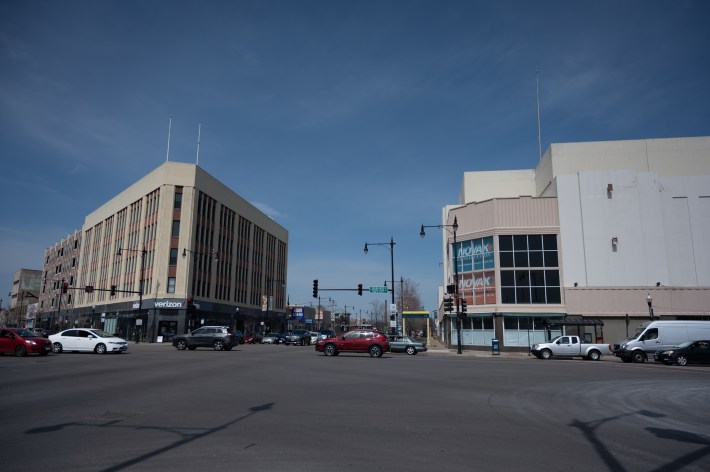 Neighbors said they hope better traffic light timers, safer pedestrian infrastructure and public transportation access can be added to the area. Gardiner said he plans to work with the city and state departments of transportation to ease these challenges.
The proposed development also has a courtyard in the middle for residents, but some neighbors said they would like to see more green, communal space the public can use, similar to the renderings for the proposed Peoples Gas site close by.
"There is a great opportunity to make this space more than just a place for people from other places to drive to, but also a place for neighbors nearby to commune," neighbor Craig Fitzgerald said.
A building proposal under the site's former developers had a public plaza that could be used for public events like farmers markets. Gardiner said the developers will take note of this desired amenity for the second phase of the project.
Richard Fahy, a representative for Operating Engineers Local 150 and a longtime Northwest Side resident, said the development is long overdue. He praised Gardiner for bringing needed development to Six Corners and working with Novak to secure union jobs.
"It will help the businesses in the area and expand the area but more importantly, it will bring a lot of local jobs to a lot of local tradesman," Fahy said.
The project is still far from reality, but if it gets broader community approval, a zoning amendment and full approval from the city, developers said construction could start in March and last 18 months.
Gardiner said the site overhaul is part of his ambitious plan to invest in developments in the 45th Ward and bring $500 million in redevelopments in four years. So far, he said area investments are nearing $375 million.
"Six Corners was once the second-busiest shopping center aside from Downtown area," he said. "This site has the potential in playing a vital role in transforming our community and give our local economy a boost that is long overdue."
Subscribe to Block Club Chicago. Every dime we make funds reporting from Chicago's neighborhoods.
Already subscribe? Click here to support Block Club with a tax-deductible donation. 
Listen to "It's All Good: A Block Club Chicago Podcast" here: