CHICAGO — In the first in-person City Council meeting in more than a year, aldermen signed off on an overhaul to the city's affordable housing rules while old foes traded verbal jabs free from the glitches of Zoom and reporters chased an indicted alderman through City Hall.
The City Council overwhelmingly approved a rewritten Affordable Requirements Ordinance, which increases the percentage of affordable units that must be offered in major developments from 10 to 20 percent, and up to 30 percent in some neighborhoods. The measure was pushed by Mayor Lori Lightfoot.
The ordinance applies to developers who need a zoning change to build, are building in a Planned Development, receive city assistance or are building on city-owned land.
The mayor's ordinance also reduces options for developers to pay into a fund supporting affordable housing in the city in exchange for not including lower-cost units in their projects. The percentage of units that can be bought out now drops from 75 percent to 50 percent.
The revamped ordinance also means developers who choose to build affordable units off site now can build anyplace in the city experiencing displacement and gentrification, instead of within 2 miles of the development.
The overhaul seeks to address a need for 120,000 affordable housing units in the city, the mayor has said. Lightfoot said the changes will address "our city's systematic patterns of segregation."
"This ordinance will expand off-site options that target our most vulnerable residents for affordable housing, while also focusing on anti-displacement measures that will allow longtime residents to remain in the communities they call home and see and reap the benefits of redevelopment initiatives," Lightfoot said after the meeting.
The measure passed 42-8. Alds. Brian Hopkins (2nd); Jeanette Taylor (20th); Byron Sigcho-Lopez (25th); Rossana Rodriguez Sanchez (33rd); Nicholas Sposato (38th); Anthony Napolitano (41st); Brendan Reilly (42nd) and Maria Hadden (49th) opposed it.
Several aldermen have said they think the ordinance doesn't go far enough to create affordable housing.
"Despite the rhetoric, we don't see change in the city of Chicago, we see the same ol', same ol' happening," Sigcho-Lopez said. "The special interest groups continue to put their agenda" forward.
During a committee hearing Tuesday, Hadden said the changes were a "big step," but "where we're falling short … is really getting into the level of affordability that we need to see for our residents."
Aldermen who supported the ordinance said the changes will address the city's affordable housing gap, even if it falls short of fully closing it.
Ald. Daniel La Spata (1st), who was a housing organizer with Logan Square Neighbors Association prior to being elected to City Council, said it was a "remarkable step forward," but the city must find ways to create more multi-bedroom affordable housing for families.
"As long as we let the free market determine what housing gets produced, working families are always going to get left out," he said. "We have work to do, but I trust the Department of Housing is up for the challenge … . We're going to find the right incentives to find a path forward to compel, mandate, incentivize developers to do more multi-bedroom affordable housing."
Ald. Roberto Maldonado (26th) said he supported rules that allow developers more flexibility for where to build affordable units off site, which could benefit areas like Humboldt Park, which he represents.
The ordinance "will help those communities that are in transition to becoming the big place, the next Wicker Park or Logan Square, where folks are totally priced out of that community," said Ald. Jason Ervin (28th). "We're recognizing that we need to get in now to do work in order to preserve affordability in these transitioning communities."
Wednesday marked the first in-person City Council meeting since in more than a year because of the coronavirus pandemic. Aldermen were given the opportunity to come to City Hall or continue attending virtually. Twenty-eight council members attended in-person.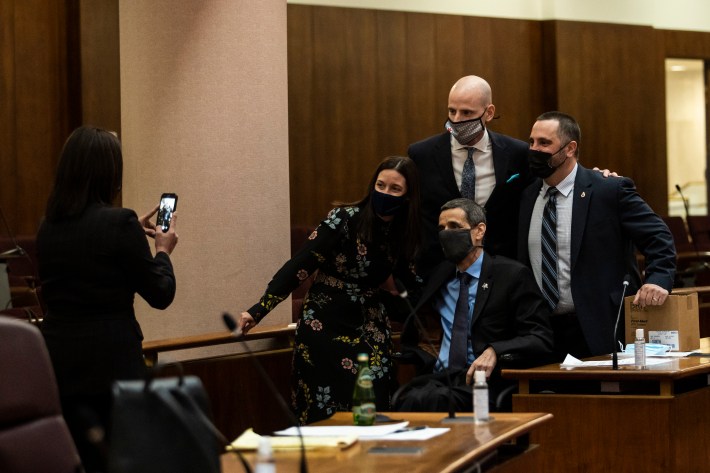 Mayor, Alderman Clash Over Civilian Oversight Of Police; Burke Faces Renewed Scrutiny
Outside City Hall, protesters called on City Council to pass an ordinance creating a civilian panel to oversee the Police Department, a compromise forged between the backers of two competing oversight proposals.
Lightfoot does not support the measure, and she has promised to introduce her own oversight panel — that keeps significant control of the Police Department within the Mayor's Office — but has yet to do so.
Near the end of the meeting, Sigcho-Lopez attempted to bring the protest over the issue inside the chambers, but he was cut off by Lightfoot.
Ald. Michael Rodriguez (22nd) was granted a "brief" moment to speak in support of a newly introduced resolution honoring the life of Adam Toledo, the 13-year-old who was shot and killed by a police officer in March in Little Village.
Following Rodriguez, Lightfoot said, "On behalf of the City Council, we all need to pray for the Toledo family and to continue to give them support."
Sigcho-Lopez asked to speak on the Toledo resolution, as well, but he used the opportunity to criticize Lightfoot for stalling a vote on the police oversight ordinance. The mayor ruled him out of order and his microphone was cut off.
"What our community demands … is more than prayers or platitudes but action, Mayor Lightfoot," he said. "We have a bill right now … in the Committee on Public Safety, we need to pass it."
Following the meeting, Lightfoot said she is "close" to introducing her own civilian oversight proposal while defending her record on police accountability.
Lightfoot said there has been a "lot of engagement" with the groups pushing for the oversight proposal and she will continue to work out the details of what she described as the "one of the most consequential changes in oversight in policing in this city, maybe ever."
"I want to make sure that whatever is voted on has been thoroughly vetted by every conceivable stakeholder, that we thought long and hard about the long-term implications and not 'let's just get something passed and we'll clean it up later,'" she said.
Lightfoot also reiterated her call for longtime foe Ald. Ed Burke (14th) to resign following new revelations in his corruption case.
During the meeting, the Sun-Times reported federal prosecutors had filed a 227-page briefing in the case against Burke. 
The documents include anti-Semitic comments allegedly made by Burke, who is accused of using his position as the powerful chair of the city's Finance Committee to steer business to his private law practice.
"By his own words in wiretapped conversations, Ald. Burke said and did things that not only were improper, but seemingly illegal," Lightfoot said. "I called on him to resign. He's obviously not done that, but I just think there's no place in public life for somebody like him, who used his office for corrupt fashion … ."
Burke has denied wrongdoing and did not respond to questions from reporters about the comments as he left City Hall.
Subscribe to Block Club Chicago, an independent, 501(c)(3), journalist-run newsroom. Every dime we make funds reporting from Chicago's neighborhoods.
Already subscribe? Click here to support Block Club with a tax-deductible donation.