PORTAGE PARK —After reducing the height of planned apartments, a proposal to convert the vacant Six Corners Sears store into an apartment complex is moving forward with the support of Ald. Jim Gardiner (45th).
On Monday night, Gardiner told an audience of more than 125 residents at the Copernicus Center, 5216 W. Lawrence Ave., he was happy with the developer's revised plan and it will move forward.
Seritage Growth Properties and Tucker Development Corp. are working together to bring more than 400 apartments to the old Sears at 4730 W. Irving Park Road. The apartments will be split between the converted Sears building and a new seven story complex on an adjacent lot. There will also be 13 townhomes along Belle Plaine Avenue north of the lot.
"I'm beyond thrilled about this development," Gardiner told neighbors. "…This is a $200 million development coming into this ward. When was the last time you heard that? $200 million, and my goal is to have 100 percent union labor on this site."
The 81-year-old Art Deco Sears building will be saved and modified to include 100,000 square feet of retail on the ground floor. That space would be divided by different businesses, the largest of which will be a full service health club. 
In a speech before the meeting began, Gardiner praised himself, his staff and the developer for working together to address concerns the community had with a previous iteration of the project, though it still falls way short of the city's required affordable housing requirements.
Tucker Development's Richard Tucker told the audience they agreed to reduce the maximum height of the project from 121 feet to 90 feet, bringing their previously-planned ten stories down to seven.
Green space at the corner of Cicero Avenue and West Belle Plaine Avenue will be set aside for a dog park, the developers said. Bollards would be installed to protect the dog park and along a pedestrian walkway planned between the two buildings at West Cuyler Avenue.
The seven-story building set to replace the old Sears Auto, 4035 N. Cicero Ave., would modify its footprint from a "C" shape to an "E" shape to retain a similar number of apartments as the previous plan.
While a specific number wasn't given for the new plan, the developers said the total units will be around the 434 units discussed at a December meeting. Of those, 288 units would be in the new building on Cicero and 133 would go into the renovated Sears building. Additionally, there will be 13 townhomes nearby.
Tucker said 80 percent of the units would be studios or one bedrooms, with fewer two and three-bedroom units. Rents have not been finalized but the studios and one-bedroom units could average "under $2,000 a month."
Project falls short on affordable housing, some residents say: 'It's not enough'
Though most residents seemed pleased with the latest plans, several people called attention to the lack of affordable housing in the plan.
The city's Affordable Requirements Ordinance mandates 10 percent of units be set aside as affordable or requires developers to pay a fee to the city's Affordable Housing Fund. The current plans call for only 3 percent — or 16 of 434 units — to be built on site. This is actually up from the original plan for 11 affordable units. Tucker said it was the best they could do.
In order to comply with the city's rules, they'll make a $3.5 million payment to housing fund.
While Gardiner touted the five-unit increase as a win, neighbor Jason Gronkiewicz-Doran was among a group of neighbors who felt it was not enough.
"Over 400 new units, only 16 are going to be affordable. It's not enough, this is a drop in the bucket," Gronkiewicz-Doran said. "There's some wards where aldermen require more than 10 percent affordable [housing], that's what we'd like. We hope that the alderman will stand up for permanent affordability going forward."
Tensions over 'The Point' continue
Before breaking ground on construction, the project needs to clear the city's Plan Commission, after which the developer can bring the project to the Committee on Zoning and full City Council for approval.
Tucker said realistically they hope to start construction next year and complete the project in 18-20 months.
The majority of residents who spoke Monday evening praised the project, while others called for more affordable housing and brought up the stalled "Point" project across the street from Sears.
Before the meeting, Gardiner ally and City Newsstand owner Joe Angelastri said the Sears overhaul can't come soon enough.
"During Christmas break, everybody was off, but [Gardiner] was out every day talking to people, asking them what they think," he said. "… All of Six Corners was built around this department store and it was there since the 1930s and then they closed. It was quite devastating."
"It's a $200 million project right across the street from us, so we're excited about it," he said.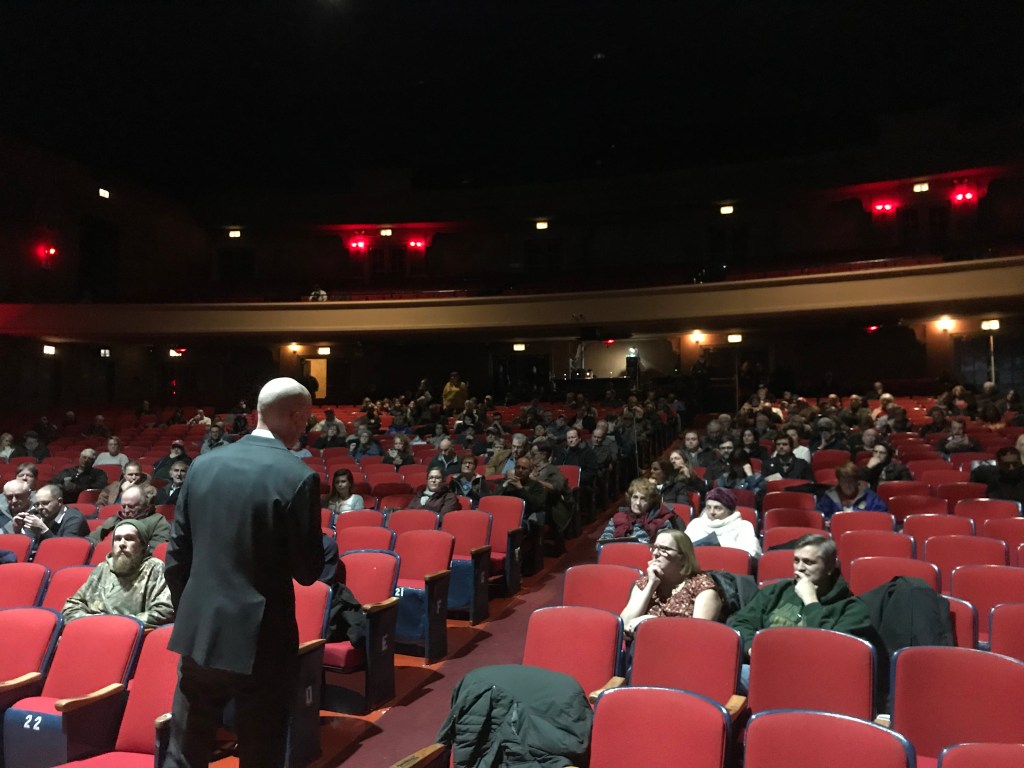 One resident questioned Gardiner's decision to stall The Point, which was set to bring a senior housing development and grocery store to a large swath of vacant land across the street from Sears.
"I'm guessing you're one of the crew. You're one of the crew that you want to poke some jabs tonight," Gardiner said to the resident.
When the resident asked Gardiner what he meant by that, the alderman cut him off.
"You understand what I said. Yeah, you do," Gardiner said. "… So, times up."
Gardiner's supporters cheered and others booed. Someone shouted "act like an adult," although it was unclear if he was speaking to the alderman or the resident.
After the meeting, resident Jesse Lapin told Block Club he'd never been involved in local politics until Gardiner stalled The Point project, which several local businesses say hit them hard. He said he supports the Sears redevelopment, and hopes both sides of the fight for Six Corners can work together going forward.
"I don't think it's necessary, I think both sides probably crossed the line a little bit tonight, but it was far less than it was at the initial meeting," he said.
Gardiner would not answer resident questions on The Point, but said he hopes to announce plans for a meeting soon.
He would not answer any of Block Club's questions on any aspects of either project.
Lapin said he'll continue to be active in the community, and is looking forward to The Point meeting, if it comes to pass.
"I think that might be the most exciting thing that came out of this meeting," he said.
Check out more renderings of the latest Sears proposal here: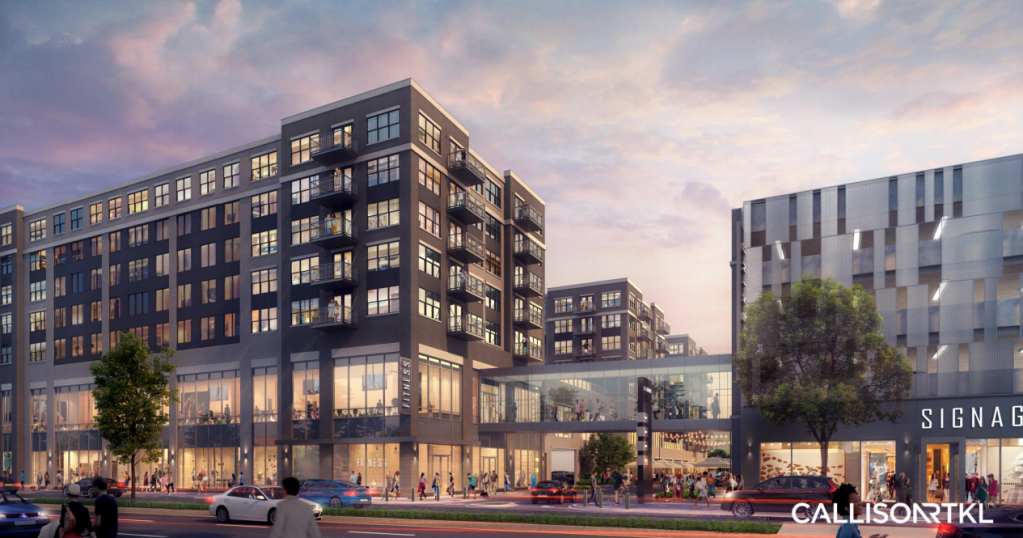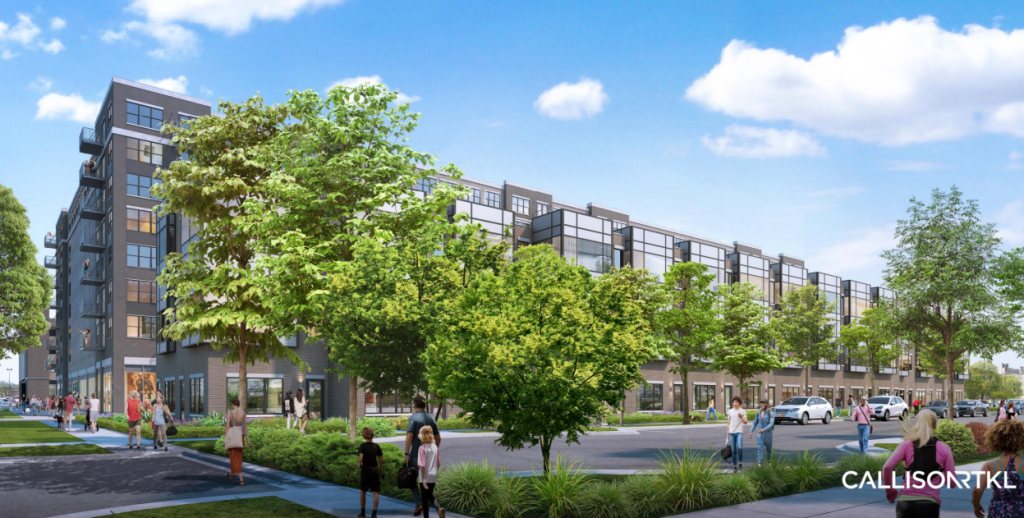 A flier handed out to residents Monday touted amenities at the new complex: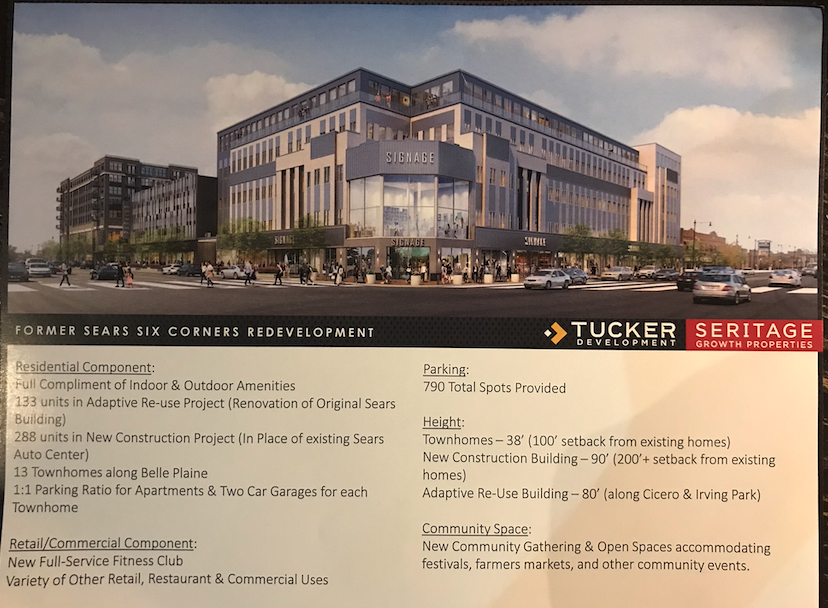 Do stories like this matter to you? Subscribe to Block Club Chicago. Every dime we make funds reporting from Chicago's neighborhoods.
Already subscribe? Click here to support Block Club with a tax-deductible donation.