SOUTH SHORE — As city leaders hype their efforts to equitably vaccinate Chicagoans, gaps based on race and location — closely linked in the deeply segregated city — are becoming clear.
Black residents are 29.8 percent of Chicago's population and represent a disproportionate amount of coronavirus deaths. But they account for only 18.7 percent of residents who have received their first vaccine shot.
As of Saturday, the ZIP Codes entirely in Chicago with the lowest first-shot rates are all on the South and West sides:
60621 (Englewood): 24.4 percent
60624 (Garfield Park): 27.8 percent
60644 (parts of Austin): 28.2 percent
60649 (South Shore): 28.7 percent
60636 (West Englewood): 29 percent
Late last month, Mayor Lori Lightfoot hammered home the message South Siders must get vaccinated while bemoaning a "lack of vaccine uptake in Black Chicago."
"We need to send out the alarm to everyone that make sure that Black South Siders understand: You must get the vaccine. It is safe. Come to Chicago State," Lightfoot said at the Far South Side university's mass vaccination site, which was launched in April.
But despite a narrative Black Chicagoans are reluctant to get vaccinated, community leaders say skepticism isn't the primary problem. South Siders want the vaccine, but they often can't get one.
Neighbors struggle to access vaccine sites, appointment platforms that require the internet and other resources. Improvements that make it easier to connect South Siders with shots have only come recently, they said.
Others said South Siders have been let down by their health care facilities before and during the pandemic and don't trust them. Health care gaps mean there often aren't nearby hospitals and clinics that can partner with the city to administer shots.
In short: It's no surprise the city is struggling to overcome inequities that have existed for decades.
"We don't like the narrative that folks aren't getting vaccines because there's so much hesitancy and major distrust in the system," said Amalia NietoGomez, Alliance of the Southeast executive director. "Though some folks have hesitancy — and it doesn't matter on race — one of the biggest things is we haven't had the vaccine access."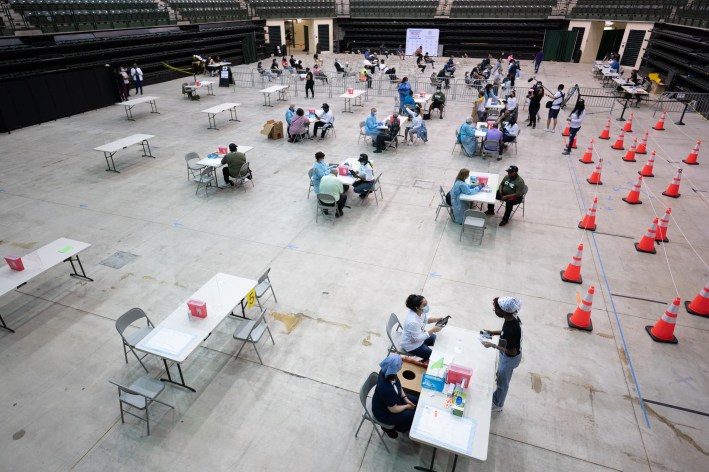 Barriers To Access
As vaccines arrived in the city, securing an appointment was akin to a competition, with eligible residents racing to sign up anywhere doses were available.
Older people and others without internet access struggled to find doses through online platforms. Information was scattered and constantly changing. Supply outpaced demand for months.
Access has improved as officials received more doses — but vaccinations are starting to slow.
The Chicago State walk-in and drive-thru site has been welcomed by residents of ZIP code 60617 on the Southeast Side, NietoGomez said. However, it's only been open for about a month, and the area's 32.1 percent first-shot rate ranks among the city's lowest.
A lack of internet access in the community has left many residents struggling to secure appointments at clinics where they're still required, like at smaller health centers.
The digital divide also means last-minute notifications for pop-up events are ineffective, as residents must use word of mouth, NietoGomez said.
Eliminating appointment requirements at all sites while adding more places to get shots will be crucial to boosting the area's vaccination rate, she said.
"It's easier to be out in the community doing errands, then stop by and get a vaccine, rather than [having] to plan my whole day around when I can get my appointment," NietoGomez said.
NietoGomez was vaccinated through one of the Alliance of the Southeast's partners.
In majority-Latino Hegewisch, which shares the nearby 60633 ZIP code with south suburban Burnham, neighbors "get lost in the shuffle" when it comes to receiving city services, said Bob Wisz, Hegewisch Business Association president.
Vaccine rollout has been no different, he said, as the area holds the third-lowest rate in the city for first doses.
"In defense of City Hall, it's hard to find partners in the neighborhood" with the capacity to administer the shots, Wisz said.
There have been pop-up vaccine events, like one held at the business association's offices April 10. About 100 people were vaccinated there, which was organized after a "last-minute" call from Ald. Susan Sadlowski Garza's (10th) office, Wisz said.
But since the demise of the Hegewisch Community Committee a few years ago, the neighborhood hasn't had "an overall organization to take the bull by the horns" and organize a large-scale vaccination effort, Wisz said.
"When it comes to Hegewisch, we don't have an infrastructure," Wisz said. "There's no operating medical center … . Respecting that, you have to have partnerships with the community organizations, or possibly the churches, to pull that off."
The city aimed to build neighborhoods' capacity to give out vaccines by partnering with community organizations through its Protect Chicago Plus program.
Communities were chosen for the program based on a "vulnerability index" that considered social, economic, health, employment and coronavirus risk factors. But Hegewisch wasn't among them, and Wisz said he wasn't aware Protect Chicago Plus even existed.
Wisz was vaccinated at the University of Chicago Medicine.
The City's Efforts
There are six permanent vaccine sites in the 10th Ward, which includes all of 60633 and roughly half of 60617, Sadlowski Garza said in a statement.
The Hegewisch Business Association's pop-up event was one of four in the ward to date, and the alderman's office is "working with Walgreens to schedule additional pop-up sites," Sadlowski Garza said.
Though Hegewisch was left out of the Protect Chicago Plus program, South Deering — mostly covered by the 10th Ward — was included.
Howard Brown Health ran the Protect Chicago Plus site at Trumbull Park until April 17, and it will administer vaccines in the neighborhood through May 8, Regional Medical Director Maya Green said.
Protect Chicago Plus has finished its work in the initial 15 communities, nine of which are on the South Side, according to a city spokesperson who did not provide their name.
Aldermen introduced a measure in March to spend $180 million in federal stimulus funds on new vaccination sites in hard-hit areas. The proposal would also increase staffing at the city health department. That is likely to go nowhere after being relegated to City Council's rules committee, where legislation typically stalls.
South Shore was one of the earliest neighborhoods to expand vaccination to all adults — residents have been eligible for appointments at the United Center since early March — but 60649 has the fifth-worst rate of first doses in the city.
The neighborhood's gaps in vaccinations are no surprise, said Ernest Sanders, South Shore Works executive director.
South Shore Works had to advocate for another way to bring in shots. The organization serves as a recruiter for South Shore Hospital's vaccination site and helped organize two events in the neighborhood. About 500 older people and caregivers were vaccinated March 8 and April 5.
South Shore Works urged city officials to hold the events and make up for not including the neighborhood in Protect Chicago Plus, Sanders said.
"We screamed and yelled and said we've been part of this citywide effort to bring the rates down. For us not to be included in Protect Chicago Plus was really unfortunate," Sanders said. "So we said to them, we still have a very vulnerable population — that being our seniors — and we advocated for the Protect Chicago Plus model to come to South Shore."
The city is also creating a South Shore task force to achieve many of Protect Chicago Plus' goals in the neighborhood. It will be made up of community groups, businesses, faith leaders and health care providers, according to the spokesperson.
City officials are "trying to do everything they can" to make sure the most vulnerable residents get vaccinated, though they've inevitably hit bumps in the road while carrying out such a difficult task, Sanders said.
"The Mayor's Office has a tough job in delivering an equitable strategy," Sanders said. "But at the same time, they have to hear from the community. We are advocating for our residents and business owners … to be vaccinated at the same rate as those in the central district."
Sanders has received the Moderna vaccine. He posted about it so "folks in my network see that it is safe and I'm still here," he said.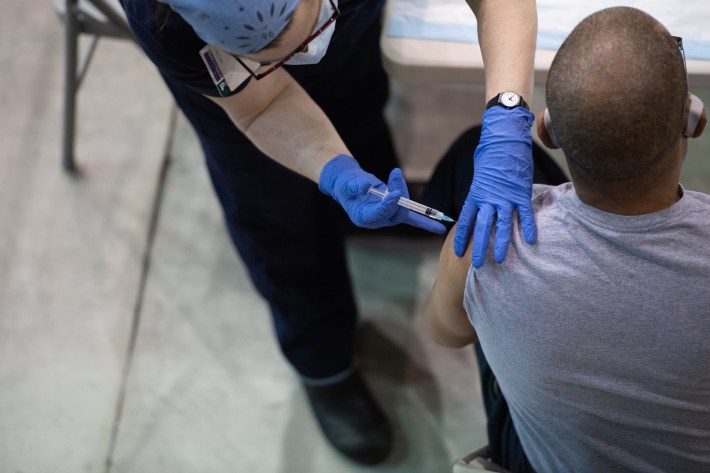 'Spend More Time Listening Versus Speaking'
City officials and some health experts have rejected the narrative Black Chicagoans aren't getting vaccinated because they distrust the vaccines.
"There are a bunch of people who are showing up for these events and getting the vaccine that were previously assumed to be hesitant," Candice Robinson, health department medical director, said last month.
Skepticism remains a primary factor in Englewood's city-low rate for first shots, but there's more to the neighborhood's low vaccination rate than that, said Asiaha Butler, president of Resident Association of Greater Englewood.
"When you think of communities like Englewood who have very limited access to quality health care, they're not jumping up to get a vaccination, to get tested," Butler said.
Some neighbors will need officials to meet with their communities and separate fact from fiction around the vaccine before signing up, she said. Others struggling to secure food and shelter during the pandemic haven't prioritized a vaccine appointment.
Still others don't pay attention to the news, haven't worn masks and "are not even thinking of COVID-19," Butler said. It's unsurprising "folks who have been marginalized from access to healthy lifestyles" aren't prioritizing their health, she said.
Butler has not been vaccinated, and she will observe how side effects impact others before deciding on whether she'll get her shots. Her mother and daughter have gotten theirs, and her daughter is a "huge advocate" for the vaccine, she said.
The city partners with community leaders to address skepticism in communities with low vaccination rates, the health spokesperson said. Officials share information by going door to door, visiting residents in businesses and high-traffic areas and calling and texting residents.
There's value to the city's vaccine education initiative, but to slow the spread of coronavirus on the South Side, officials must "spend more time listening versus speaking" to residents, said Green, of Howard Brown Health.
"We've got to flip that narrative of always saying, 'Doctor knows best,'" Green said.
To that end, Green has joined community forums throughout the pandemic, including ones organized by R.A.G.E. and a South Shore block club.
Green hasn't taken these forums as an opportunity to instruct communities, she said. She's instead spurred conversations among neighbors, only giving an "expert" opinion when asked to.
This approach allows health experts "to be educated by members of the community in regards to what works," she said.
"For everybody, a vaccine might not be a realistic achievement right now this second," Green said. "Offering things like vitamin D, vitamin C, taking zinc; wearing a mask, washing hands, social distancing; the scientific literature shows that those things are helpful in addition to getting the vaccine."
"A culturally competent approach" that prioritizes residents' expertise on mental, financial and spiritual health — alongside the push for vaccination and access to health resources — will be key to ending the pandemic on the South Side.
"Nowhere in history can I find an example of an overlooked, underserved or oppressed culture coming out of that oppression by the hands of a whole other culture," Green said. "The solution is in that culture. If we don't listen, we will never get there."
Block Club Chicago's coronavirus coverage is free for all readers. Block Club is an independent, 501(c)(3), journalist-run newsroom.
Subscribe to Block Club Chicago, an independent, 501(c)(3), journalist-run newsroom. Every dime we make funds reporting from Chicago's neighborhoods.
Already subscribe? Click here to support Block Club with a tax-deductible donation.