HYDE PARK — The main barrier to vaccinating Black and Latino Chicagoans is a lack of accessibility, health care professionals said at a University of Chicago panel discussion Thursday.
Health experts answered questions, addressed rumors about the vaccination process and spoke on how the pandemic will shape the future of health care at Thursday's Racism as a Public Health Crisis: COVID-19 Vaccine Access and Acceptance panel moderated by WBEZ reporter Natalie Moore.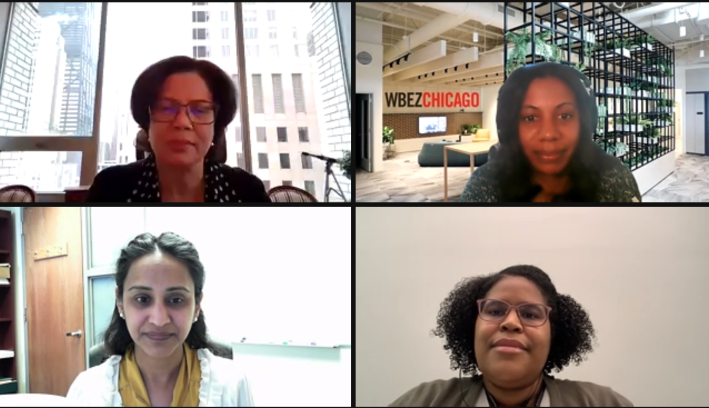 As more people get vaccinated and their friends and family witness their experience, community fears have decreased, said Dr. Candice Robinson, Chicago Department of Public Health medical director.
Medical professionals have also worked to help residents understand the facts, and many people are simply tired of the pandemic and "want to hug [their] loved ones" again, she said.
"I think the more access we have to vaccines, the greater the participation we'll see," she said.
In fact, though a narrative of distrust persists in coverage of communities of color, "there's not enough vaccine on the streets right now for the people who want it," Robinson said.
"There are a bunch of people who are showing up for these events and getting the vaccine that were previously assumed to be hesitant," she said.
In Hispanic communities — where seven out of 10 people nationwide want to be vaccinated, according to a Kaiser Family Foundation study — the main issue around vaccines isn't residents' fears, said Dr. Arshiya Baig, UChicago associate professor of medicine.
"If more than 70 percent of a community wants something, I don't think that's hesitancy — I think that they want it," said Baig, who specializes in research around health disparities among Latinos.
There are differences in trust based on age and field of employment, but improving access should be health officials' focus, Baig said. This can be done by providing information about the vaccine and how to sign up in multiple languages, as well as addressing gaps in internet and technology access, she said.
In Little Village, where a community health advisory board guides Baig's research, vaccines are often administered through pop-up events. Residents would be better served with a consistent location to get vaccinated, she said.
"It's almost like a race — this church just opened up, and within minutes the slots are filled up," Baig said. Smaller institutions "have to ramp up their staff … they're getting pulled away from other things. It's great that we have vaccine supply, but we also need to support the health centers, the small agencies, the pharmacies — all the people who are actually on the ground giving the shots."
Though access is key, vaccine providers can't ignore how trust in health care is still "a major barrier" to vaccinating Latino Chicagoans, Baig said.
It's "sad" that the health department's website must clarify the city won't share identifying information with U.S. Immigration and Customs Enforcement, Baig said, but nevertheless this transparency is one way to encourage immigrant residents to make appointments.
"We need to let people know, 'Come get tested; please don't have a fear of us sharing your information or immigration status,'" Baig said.
Efforts to improve health care access in Black and Brown communities must not end with the pandemic, the panelists said.
The pandemic has underscored the importance of government funding and public participation in health care, said Brenda Battle, Urban Health Initiative vice president and chief diversity, equity and inclusion officer with UChicago Medicine.
Collaborations between public, private and academic health centers are also proving to be crucial to the vaccine rollout's success, offering lessons to be learned post-pandemic, Battle said.
"We hadn't [collaborated] to this magnitude and scale before," Battle said. The pandemic has "highlighted that the delivery system working together can actually get some things moving very quickly."
During the panel's Q&A session, attendees asked how people facing homelessness are being vaccinated given residency requirements for city appointments; the ethics of "line-jumping" to secure a vaccine; and whether essential workers were missing out on vaccines due to a lack of around-the-clock appointments, among other questions.
The health department gives vaccines directly to providers who distribute them in shelters or to street teams that travel to people facing homelessness, Robinson said.
Leftover doses are "really, really rare" and do not justify traveling to communities hard-hit by coronavirus to secure an appointment, she said.
Robinson did not directly address Moore's question on how the health department will prevent "violators" — like Loretto Hospital, which shared vaccines intended for West Siders with ineligible people — from improperly giving access to vaccines.
Vaccine providers can learn from community health centers who have late evening and weekend hours for patients working double shifts or those who must take care of children during the day, Baig said.
Block Club Chicago's coronavirus coverage is free for all readers. Block Club is an independent, 501(c)(3), journalist-run newsroom.
Subscribe to Block Club Chicago. Every dime we make funds reporting from Chicago's neighborhoods.
Already subscribe? Click here to support Block Club with a tax-deductible donation.