Another version of this story does not include graphic video of the incident. To read this story without seeing the video, click here.
CHICAGO — Graphic videos released Thursday shows a Chicago police officer fatally shooting 13-year-old Adam Toledo as he raised his hands in a Little Village alley late last month.
The footage comes from body cameras worn by police when Officer Eric Stillman fatally shot Toledo the morning of March 29. The Civilian Office of Police Accountability — which is investigating the shooting — also released third-party video, transmission from the city's Office of Emergency Communications, ShotSpotter recordings, case incident information and tactical response and arrest reports.
RELATED: Chicago Police Officer Who Killed 13-Year-Old Adam Toledo Won't Be Charged With A Crime, His Lawyer Says
An attorney for Toledo's family said the videos show the seventh-grader had raised his hands and was not holding a gun when he was shot. The killing was "an assassination," Adeena Weiss Ortiz said.
"If you're shooting an unarmed child with his hands in the air, it is an assassination," Weiss Ortiz said after the videos were made public. "The fact of the matter is that he was walking on the street and he was shot, shot unarmed. That could have been been me in that street, that could have been my son in that street, that could have been any one of us in that alley."
Mayor Lori Lightfoot, the Toledo family's attorneys and local leaders have asked people to remain peaceful in response to the footage.
Lightfoot said it is "excruciating" to watch the videos, particularly the parts that show Toledo lying mortally wounded after Stillman shot him in the chest. She and Little Village community leaders held a news conference where they said the video will raise strong emotions in people and urged people to protest nonviolently.
"This is not something you want children to see," Lightfoot said.
COPA invited Toledo's family to view the footage privately on Tuesday. The teen's mother, father, brother, sister and grandfather all have seen the videos. The family's attorneys, Weiss Ortiz and Joel Hirschhorn, said viewing the videos was "extremely difficult and heartbreaking for everyone present and especially for Adam's family."
WARNING: EXTREMELY GRAPHIC VIDEO:
The videos show the moments leading up to Stillman shooting Toledo, the shooting itself and the aftermath.
Video taken from the front door of a Little Village church shows Toledo and 21-year-old Ruben Roman walking down the street before stopping at the corner of 24th Street and Sawyer Avenue, where it appears Roman fired shots at a target that is out of view. Toledo and Roman leave, video footage shows.
Body-camera footage shows Stillman — a 10th District tactical unit officer, according to COPA — chasing Toledo through an alley, yelling at the teen to stop. Stillman catches up to Toledo, who appears to have stopped running near a gap in a fence between the alley and a church parking lot.
Video from a different angle appears to show Toledo tossing the gun behind the fence moments before he is shot.
Stillman flashes a strobe flashlight at Toledo and says, "Hands! Show me your fucking hands!"
Immediately after commanding Toledo to show his hands, Stillman shot the boy at close distance. Toledo's hands were raised when he was shot, the footage shows.
The footage does not show Toledo point or raise a gun at Stillman at the end of the chase. Toledo does not appear to be holding the gun as the officer shot him.
Toledo collapsed into the parking lot after being shot and died at the scene. The gun was found alongside the fence behind Toledo, police said.
The conclusion of the foot chase to the fatal shooting happened in only one second, said Brendan Deenihan, Police Department chief of detectives.
WARNING: GRAPHIC VIDEO:
After Stillman shot Toledo, he walked toward the boy and radioed for backup and an ambulance, the footage shows.
"Look at me. Look at me. You all right? Where you shot?" Stillman said to Toledo, who was unresponsive. The officer lifted up Toledo's sweatshirt to look for a wound and told the boy, "Stay with me."
Stillman radioed for someone to bring him a medical kit. Responding officers and Stillman then began to treat the 13-year-old, performing CPR.
Stillman walked away from the scene by himself. Minutes later, a police supervisor radioed in to officers on the scene to turn off their body cameras.
Stillman has been placed on administrative duties for 30 days, which is "routine protocol," Supt. David Brown previously said. COPA is investigating and Lightfoot said she has urged the agency to be "expeditious."
Since mid-2017, four use of force reports and three complaints have been filed against Stillman, according to the Invisible Institute. The group, which collects and publishes information about police misconduct in Chicago, earlier said there were no complaints against Stillman but later clarified its database had not been updated.
COPA initially said it would not release videos of the shooting due to Toledo's age — but, amid mounting pressure, the agency reversed course and said it would release videos within 60 days. After seeing the videos Tuesday, Toledo's relatives asked COPA to delay releasing them to the public, but officials said they would still come out. People can view all the material online.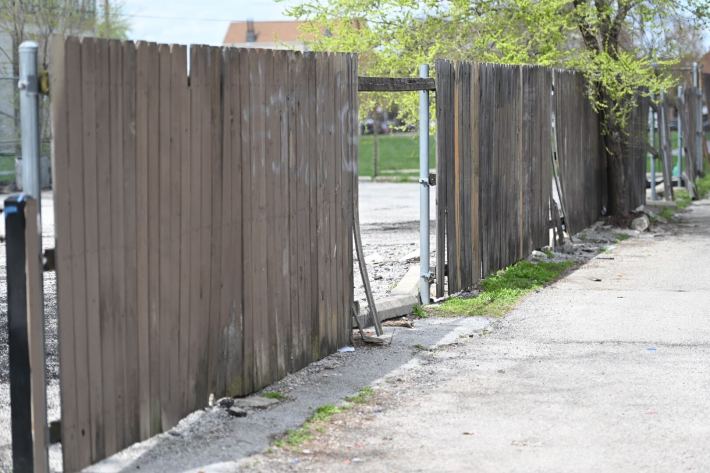 In the weeks since Toledo was killed, details about what happened were slow to come out, and have been mired with shifting and conflicting accounts from Lightfoot, Brown, COPA and the Cook County State's Attorney's Office.
Police first said officers were responding to a ShotSpotter alert of eight shots fired in the 2300 block of South Sawyer Avenue when they saw two "males" in an alley, and one of them had a gun, Brown said. The officers chased after them, "which resulted in an armed confrontation," Brown said, and an officer shot once, fatally hitting Toledo in his chest.
A police spokesman tweeted a photo of a handgun recovered at the scene. The ages of the two were not immediately disclosed and it would be two days before police identified Toledo and notified the teen's family. Brown said the delay was partially because Toledo was not carrying identification.
Brown later refused to answer questions about which of the "males" had a gun. Lightfoot — who initially said she'd not seen the videos, but had them described to her — said multiple times at an April 5 press conference that Toledo had a gun. A spokesman for COPA did not address the issue in multiple statements.
Roman was charged with a misdemeanor, then was arrested and charged with felony reckless discharge, unlawful use of a weapon and child endangerment in connection with the shooting. On Saturday, during a bond hearing for Roman, prosecutors said Toledo was holding a gun and was told twice to "drop it" before the police officer shot him. They did not say the teen raised or pointed a weapon at officers.
But just before the video was made public, a spokesperson for the state's attorney's office said Prosecutor James Murphy was wrong about that detail in court. Murphy said Toledo had a gun in his hand when he turned toward the officer, but video contradicts that.
"An attorney who works in this office failed to fully inform himself before speaking in court," Sarah Sinovic, a spokesperson for Cook County State's Attorney Kim Foxx, said in a statement. "The video speaks for itself." Sinovic did not say why it took prosecutors five days to correct that information.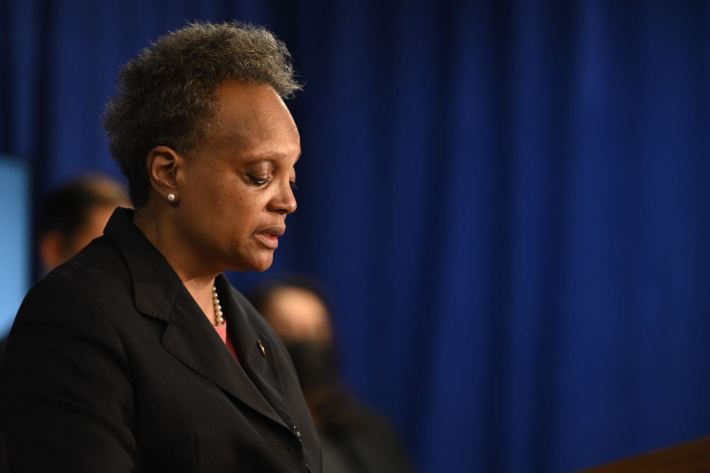 Before the videos were released, Lightfoot confirmed she had watched them but she would not detail what they showed other than to say Toledo did not shoot at any police officers.
Lightfoot acknowledged trust between the police and many communities in Chicago has been broken by years of abuse, but she urged people to "wait until we hear all the facts" before making up their minds on the case.
Toledo's family is "still, critically, in the throes of grief," Lightfoot said Wednesday. "I want to be respectful of the family, but I also do think something like a police-involved shooting, particularly under these circumstances, it's important for us to be transparent."
Peaceful protests and memorials have been organized to honor Toledo and to call for police to be held accountable.
But the city has prepared for potential unrest in the wake of the video's release. More police have been stationed Downtown and large trucks have been prepared to block neighborhood commercial strips to protect businesses from looting like that experienced last summer.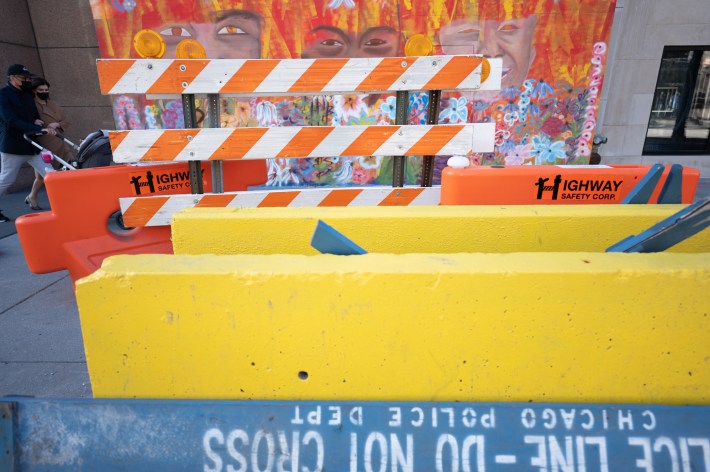 After Toledo was killed, a member of Brown's staff called him, waking him up, and told the superintendent "the subject seemed very young," Brown said. Brown told the officers to try to identify Toledo.
There was no identification on Toledo's body, and Roman gave officers a false name for the boy, Brown said.
"We lost considerable time trying to identify Adam because of the wrong name," Brown said.
Officers checked Toledo's fingerprints three times but did not find matches in their records, nor could they find reports of him in their open cases of missing people, Brown said.
Toledo had been reported missing, but he returned home and was there March 27 — during which time a detective called his mother, Elizabeth Toledo, who told police her son was no longer missing. That missing persons had been closed, Brown said. Adam Toledo left home again late March 27 or early March 28, and the family thought he was missing during the time police were trying to identify his body.
Detectives then began to review cases of missing people who had returned home, and one found a case report that matched Toledo, who had still not been identified, Brown said.
Two days after Toledo was killed, police contacted Elizabeth Toledo and told her the description of her son matched that of an unidentified person in the morgue, Brown said.
Elizabeth Toledo went to the morgue and confirmed the boy killed by police was her son, Brown said.
Toledo, who attended Gary Elementary School, was laid to rest Friday. His family thanked Little Village community members for the outpouring of support they have received since his death.
"Adam's memory can best be honored by refraining from violence and working constructively for reform," the attorneys said.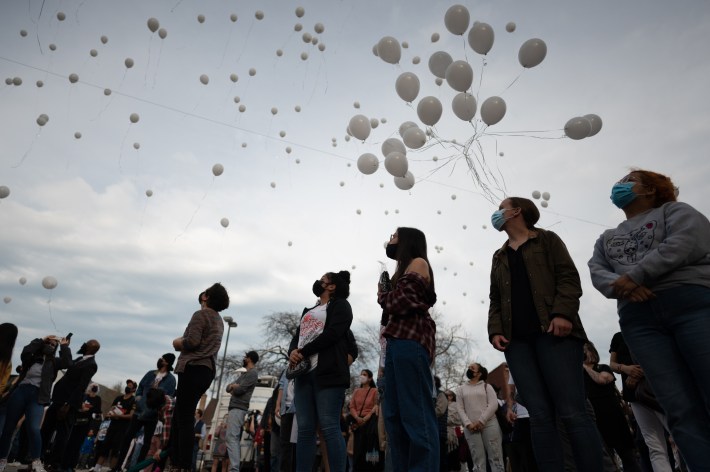 Subscribe to Block Club Chicago. Every dime we make funds reporting from Chicago's neighborhoods.
Already subscribe? Click here to support Block Club with a tax-deductible donation.
RELATED STORIES
Video Appears To Show Adam Toledo Wasn't Holding Gun When He Was Shot By Cop, Refuting Claim Of Prosecutor, Cop's Lawyer
Chicago Police Officer Who Killed 13-Year-Old Adam Toledo Won't Be Charged With A Crime, His Lawyer Says
Video Shows Chicago Police Shooting 13-Year-Old Adam Toledo As He Raised His Hands (NO VIDEO IN STORY)
Lightfoot, Toledo Family's Attorneys Call For Peace As City Releases Video Of Police Shooting 13-Year-Old
Adam Toledo, Holding A Gun, Was Told To 'Drop It' Before Cop Fatally Shot 13-Year-Old, Prosecutors Allege
After Chicago Police Kill 13-Year-Old Adam Toledo, Little Village Neighbors Demand Answers At Vigil: 'We Want To See Justice'
13-Year-Old Adam Toledo's Mom Thought Her Son Was Missing — Until Cops Came Knocking 2 Days After Killing Him
Police Foot Chase Policy Should Be Changed, Lightfoot Says After 13-Year-Old Boy Killed By Officer