RIVER WEST — Despite a statewide ban on indoor dining and drinking, a River West tavern is continuing to serve patrons inside and has put the city on notice: a letter on its door warns staff "will not comply" should city officials attempt to shut them down. 
On the front door of Richard's Bar, 491 N. Milwaukee Ave., a posted note tells patrons the bar is open and asks people to wear a mask when entering. Below, the letter tells government agencies the bar's owners won't comply with any department's shutdown requests and will send citations to their lawyer.
"If you are asking us to shut down our business, we will not comply as that request is unlawful according to the law identified below," the note reads. "We have legal counsel … representing us and we're happy to provide any notices or citations to him if that's necessary."
The note also threatens legal action if a health department tries to close down the bar or pull its licenses.
On two occasions this week, Block Club reporters saw people drinking at the bar inside Richard's Bar.
In response to questions about the letter on Richard's door, city officials said they have the authority to order businesses to close if they have egregiously flouted coronavirus restrictions, said Isaac Reichman, spokesman of the city's Department of Business Affairs and Consumer Protection.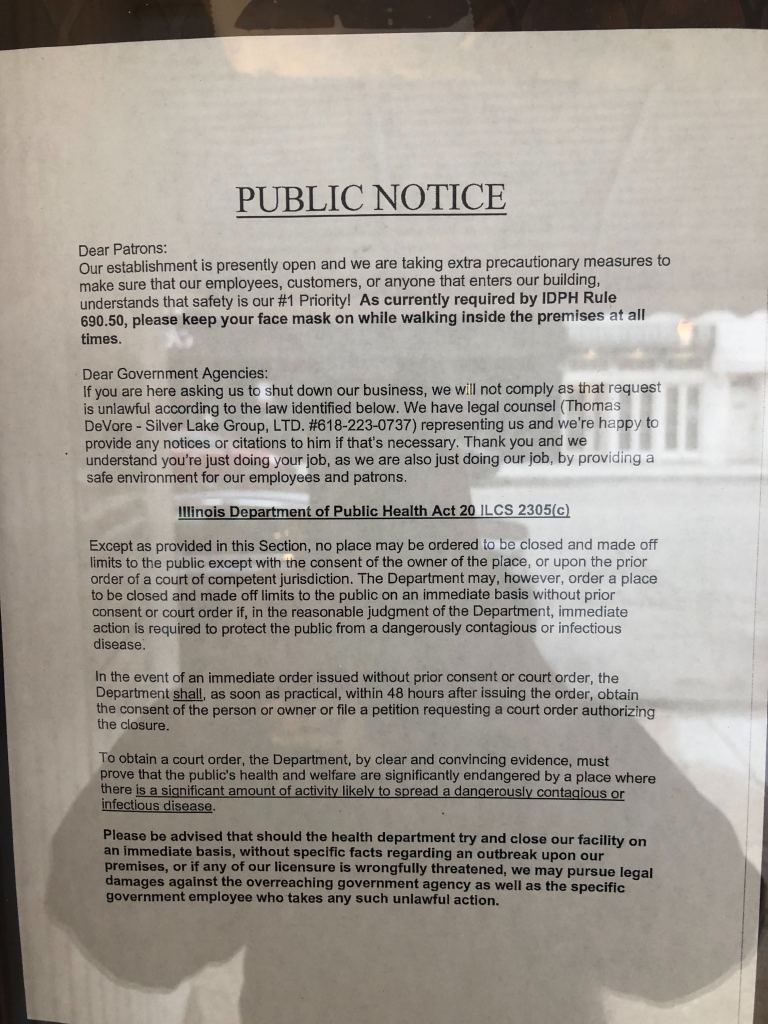 City officials have received complaints the bar isn't adhering to coronavirus guidelines and the bar is under investigation, Reichman said.
The bar was issued four citations for failing to follow social distancing requirements and for staff failing to wear face coverings when inspectors stopped by the bar July 26, Reichman said.
As part of those citations, Richard's Bar could face up to $12,500 in fines. A hearing is scheduled for January.
The Department of Business Affairs and Consumer Protection received additional complaints Nov. 28.
Reichman said businesses that choose to "flout rules are putting their community at risk and disrespecting the tens of thousands of businesses that are operating responsibly."
"While this matter remains under investigation, businesses like this that openly disregard regulations have faced and will continue to face consequences," he said.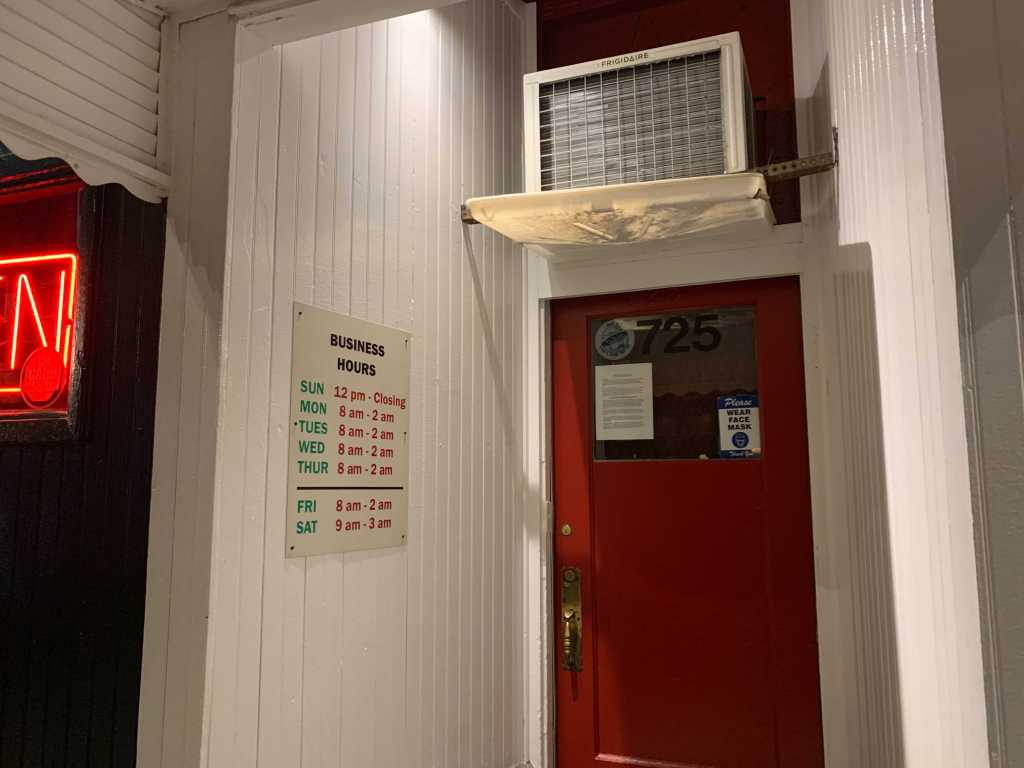 Reichman said the city has enforced COVID-19 safety regulations throughout the pandemic, and it'll continue to do so to slow spread of the disease.
Some businesses have been cited, which can lead to fines, while others have received cease and desist orders and orders to close for one day or longer.
State and city leaders, including Gov. JB Pritzker, have said businesses should first be warned if they break the rules — but if they continue to put people at risk, they should be shut down and can even have their licenses revoked.
Still, Richard's remains open.
'It's Just Not Safe'
The state and city do not allow indoor drinking and dining at present due to the surge in coronavirus cases. Drinking indoors at a bar is among the riskiest things you can do during the pandemic, according to experts.
On Monday, three people were seen drinking at the bar about 3 p.m.
Reached by phone Wednesday, a Richard's Bar employee said the owner was not available to talk. He claimed the bar was not serving patrons indoors.
"It's outside only. They can only take it outside," the employee said. The bar is also licensed for packaged liquor sales
When asked about patrons seen drinking at the bar Monday, the employee hung up.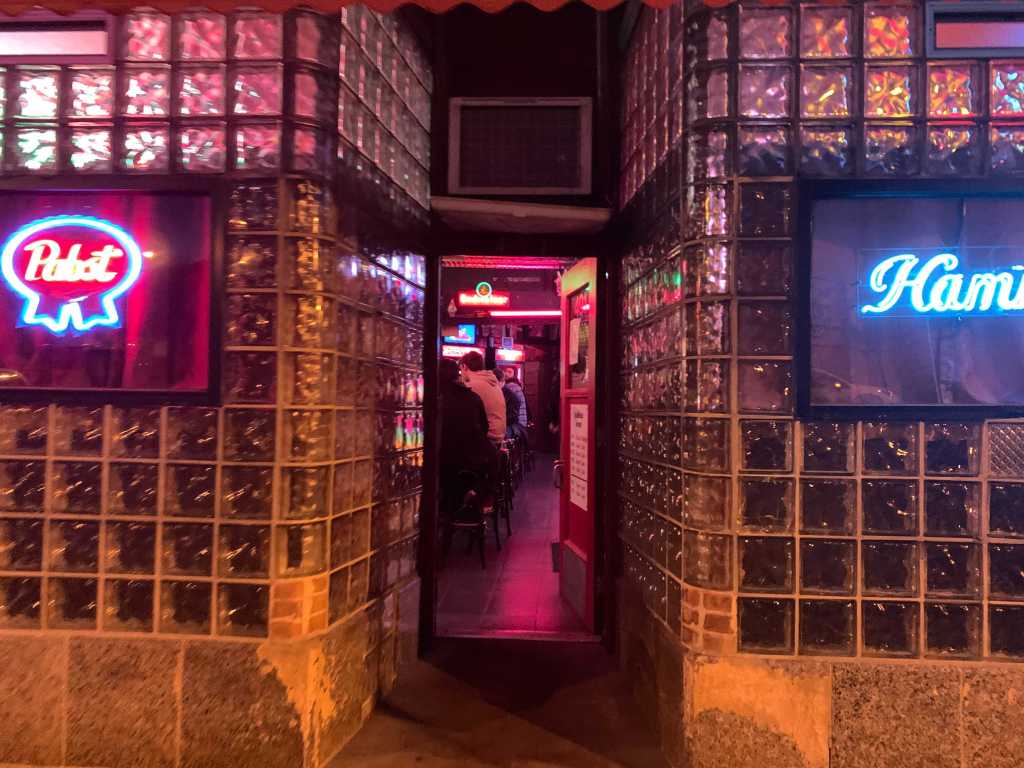 Hours later, about 5 p.m. Wednesday, the signs were still posted at both Richard's entrances. At least a half-dozen patrons could be seen drinking inside at the bar.
A neighbor, who asked to remain anonymous, noticed the note on the door weeks ago and said they "weren't surprised" the bar is still serving patrons, especially since the bar had known to flout other regulations. Richard's is famous for its persistently smoky atmosphere despite a smoking ban enacted more than a decade ago.
"It's unfair that every other bar has had to close or severely change their businesses," while Richard's continues to defy guidelines, the neighbor said. "It's just not safe."
Thomas DeVore, an attorney for Richard's Bar, declined to comment before speaking with his client.
According to state records, the bar's is owned by Susan Dominic. It opened in 1926.
Dominic is the sister of Robert "Bobby" Dominic, who at one time was classified by law enforcement officials as a mob associate, according to the Sun-Times. 
'Some Businesses Would Rather Take A Fine Than Lose Money'
Ald. Walter Burnett Jr. (27th) said Wednesday was "the first [he was] hearing about" people drinking indoors at Richard's.
"I think everyone needs to follow the guidelines, but the appropriate city department needs to enforce it," Burnett said. "To be honest, a lot of businesses are not totally abiding by the guidelines.
"Some of them … are doing what they can do. But everyone should [follow the rules], and if they don't they have to suffer the consequences."
Burnett said he will reach out to the Department of Business Affairs and Consumer Protections and to Richard's Bar.
Burnett acknowledged businesses are struggling to survive but said they need to comply with state and city rules to keep workers and patrons safe as coronavirus continues to spread.
"Some business would rather take a fine than lose money. Some are staying open [regardless], not just Richard's Bar," Burnett said. "It concerns me, but the city has to enforce it."
And there aren't enough people to "enforce the laws," Burnett said.
The veteran alderman said people visiting rule-breaking establishments are also at fault.
"It takes two to tango," Burnett said. "If they have the place open and people go there, both are wrong.
"But Richard's Bar, with all the publicity they've been getting in the past, of all bars…I would try to abide by the rules and not try get anymore bad publicity," Burnett said.
It's been a tumultuous year for the bar.
In March, the family of Kenneth Paterimos called on city officials to close the bar after the 23-year-old was fatally stabbed outside. Thomas Tansey, an ex-Marine, was charged with murder in the case. Both had been in Richard's Bar before the stabbing.
The family criticized bar staff for failing to cooperate with the investigation.
RELATED: With Alleged Killer Walking Free, 100 People Gather At Richard's Bar To Demand Justice For Slain Barista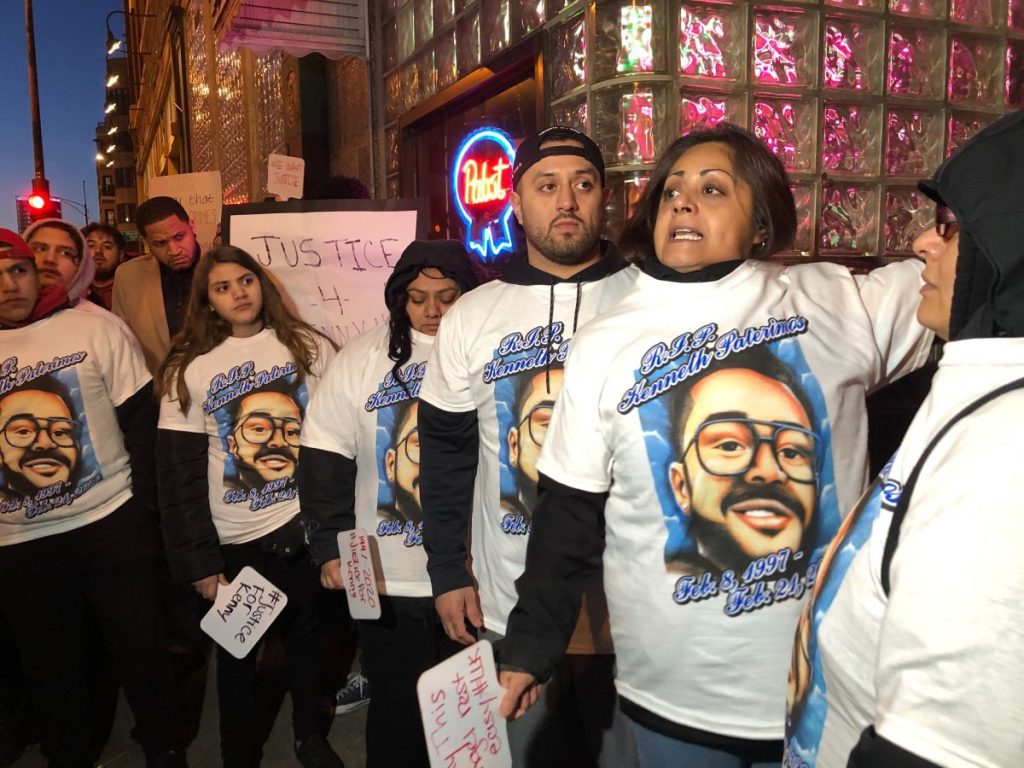 Later that month, police were called to the bar after neighbors said it was ignoring the state's indoor drinking ban during the first wave of the pandemic.
Neighbors who called the police at the time said they saw about nine "elderly" people bellied up to the bar drinking while another played video poker while drinking beer.  
RELATED: Neighbors Call Cops On Richard's Bar To Report People Drinking Inside During Bar Shutdown
Richard's Bar employees denied the allegations in March, saying they were "carryout only."
The business department was not notified of the March incident and deferred questions to law enforcement at the time.
Police officers have been giving establishments defying the directive a warning the first time, a law enforcement source said.
The Department of Business Affairs and Consumer Protection has not issued any immediate closures for Richard's Bar, but they plan to investigate.
Read a transcription of the notice posted on Richard's Bar below:
Dear Patrons: 
Our establishment is presently open and we are taking extra precautionary measures to make sure that our employees, customers, or anyone that enters our building, understands that safety is our [number] one priority! As currently required by IDPH rule 690.50, please keep your face mask on while walking inside the premises at all times.
Dear Government Agencies: 
If you are asking us to shut down our business, we will not comply as that request is unlawful according to the law identified below. We have legal counsel (Thomas DeVore – Silver Lake group, LTD. #618 223-0737) representing us and we're happy to provide any notices or citations to him if that's necessary. Thank you and we understand you are just doing your job, as we are also just doing our job, by providing a safe environment for our employees and patrons.
Illinois Department of Public Health act 20 ILCS 2305(c)
Except as provided in this section, no place may be ordered to be closed and made off-limits to the public except with the consent of the owner of the place, or upon the prior order of a court of competent jurisdiction. The Department may, however, order a place to be closed and made off-limits to the public on an immediate basis without prior consent or court order if, in the reasonable judgment of the Department, immediate action is required to protect the public from a dangerously contagious or infectious disease.
In the event of an immediate order issued without prior consent or court order, the Department shall, as soon as practical, within 48 hours after issuing the order, obtain the consent of the person or owner or file a petition requesting a court order authorizing the closure.
To obtain a court order, the Department, by clear and convincing evidence, must prove that the public's health and welfare is significantly endangered by a place where there is a significant amount of activity likely to spread a dangerously contagious or infectious disease.
A Block Club subscription is an excellent gift. Get a subscription now and you'll get a free tote bag — and you'll help us reach our goal of 15,000 subscribers by the beginning of 2021. We're almost there! Subscribe or buy a subscription as a gift here.


Block Club Chicago's coronavirus coverage is free for all readers. Block Club is an independent, 501(c)(3), journalist-run newsroom.
Already subscribe? Click here to support Block Club with a tax-deductible donation.