WASHINGTON PARK — South Side kids have a new gym thanks to a $200,000 grant and help from locals.
The Chicago Youth Programs unveiled the renovated gym Wednesday at its Community Center, 5350 S. Prairie Ave. The gym typically serves hundreds of children per year.
The upgrade was made possible by a $200,000 National Neighborhood Promise grant from Republic Services Charitable Foundation. Members from the Chicago chapter of Rebuilding Together, a nonprofit, reached out to Republic Services for the grant and then helped arrange the renovations.
Typically, Rebuilding Together enlists local volunteers for renovation projects. Organizers had to pivot due to the pandemic, hiring Black-owned firms to do the work instead.
The project, which began in the spring, was completed last month.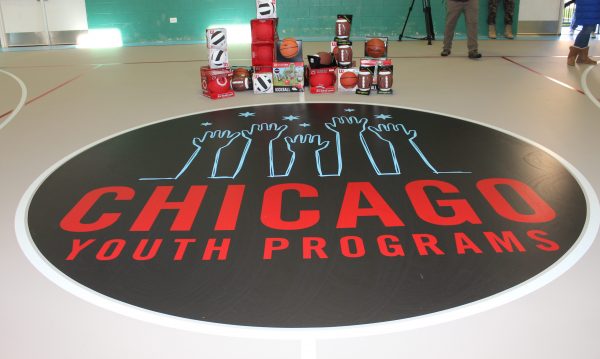 "The only silver lining from the pandemic is that the kids weren't here having to deal with all of the construction, which made it easier to get the project done," said Calvin Boostra, Republic Services general manager.
In addition to renovating the gymnasium floor, contractors repaired a damaged fence and drainage system while ridding the center's perimeter of troublesome weed trees. A storage room was built, as well, and Republic Services donated more than $700 worth of sports equipment to fill it.
"Republic Services did an amazing thing," said Melody Brooks, Chicago Youth Programs' external engagement and events manager. "We couldn't have made all of these repairs without them because we didn't have the funds to do it. The gym floor was really bad, but the kids were psyched to have a safe space to play."
More than 450 children and teens come through the doors of the community center every year.
Due to the pandemic, the organization had to take its programs online. Brooks hopes the kids will be able to enjoy the new court next year.
"The kids are definitely going to be excited about the new gym floor, but they'll definitely benefit from the other things, as well. We teach kids to take care of our environment, and this will show them that we're doing what we've been telling them to do," Brooks said.
A Block Club subscription is an excellent gift. Get a subscription now and you'll get a free tote bag — and you'll help us reach our goal of 15,000 subscribers by the beginning of 2021. We're almost there! Subscribe or buy a subscription as a gift here.


Already subscribe? Click here to support Block Club with a tax-deductible donation.