RIVER WEST — Almost two weeks after Kenneth Paterimos was fatally stabbed outside of Richard's Bar, his mother, Diona Bueno, pleaded to be let inside to pray in the place where she said her son took his last breath.
Flanked by more than 100 family members, friends and supporters seeking justice for Bueno's son, attendees broke out in chants: "Let her in."
While patrons drank inside, bar staffers had locked bar doors to prevent protestors from making their way inside Tuesday at Richard's Bar, 491 N. Milwaukee Ave.
"I just want to release his soul that's trapped in this … bar," Bueno said as she knocked at the doorway where her son bled to death just 10 days earlier.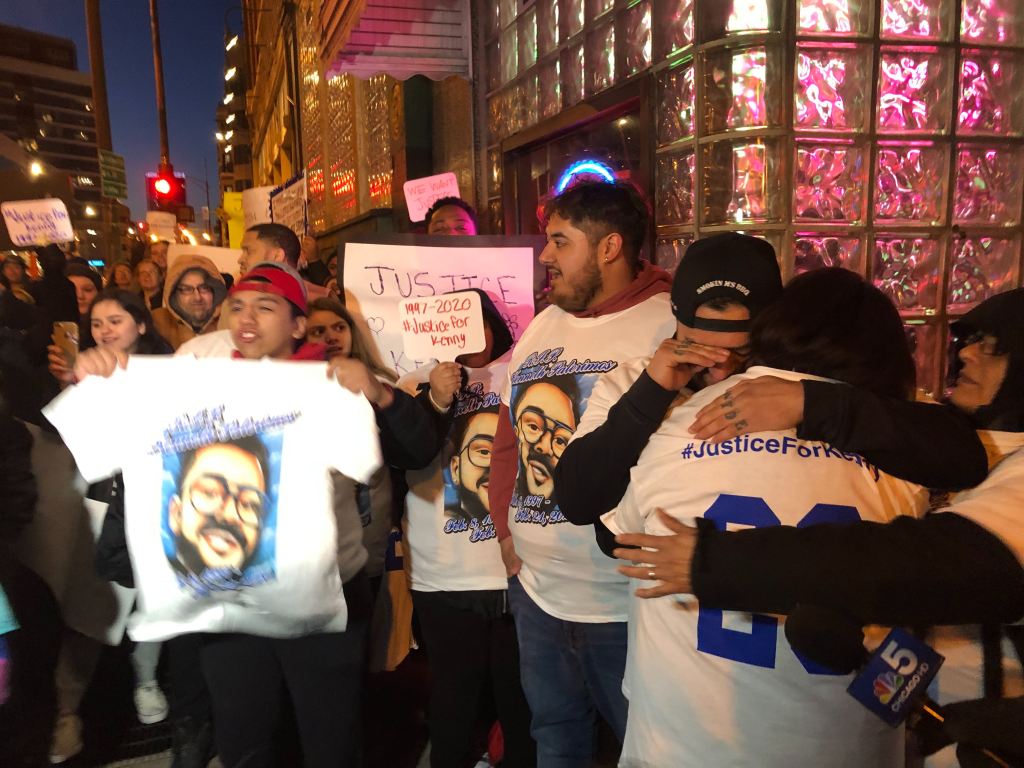 At 11:23 p.m. Feb. 21, Thomas Hugh Tansey — a former Marine with a criminal record — fatally stabbed Paterimos, a gay Latino man, outside Richard's Bar after yelling homophobic slurs at the victim, witnesses and police said. Police are also investigating if the man yelled racial slurs at the bar.
An arrest warrant for Tansey was issued by a Cook County judge nearly a week ago, said Chicago Police spokesman Anthony Guglielmi. The department had urged Tansey to turn himself in, but he remained at large Wednesday.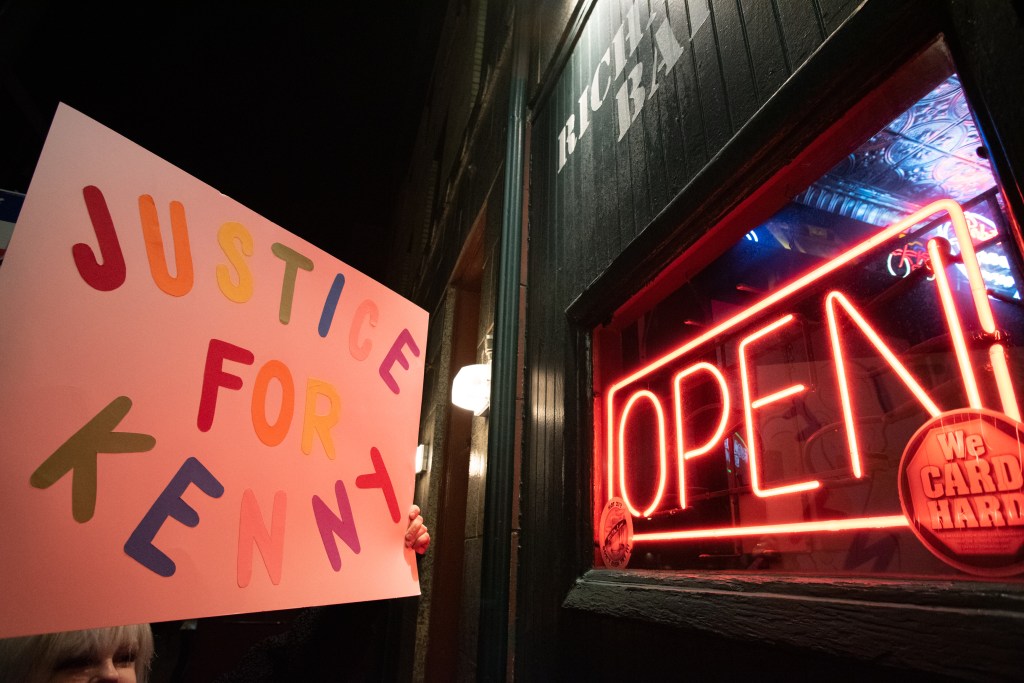 'I Hope They Get Shut Down'
During the protest, family members and supporters camped outside the bar holding signs with messages that read: "Justice For Kenny," "We aren't giving up on you little brother!" "You will get justice!" "We aren't staying silent," and, "Chicago Police Department: Do Something."
At various times, the family criticized bar staff for failing to cooperate with the investigation. Bueno vowed to see the bar shut down before the year's end.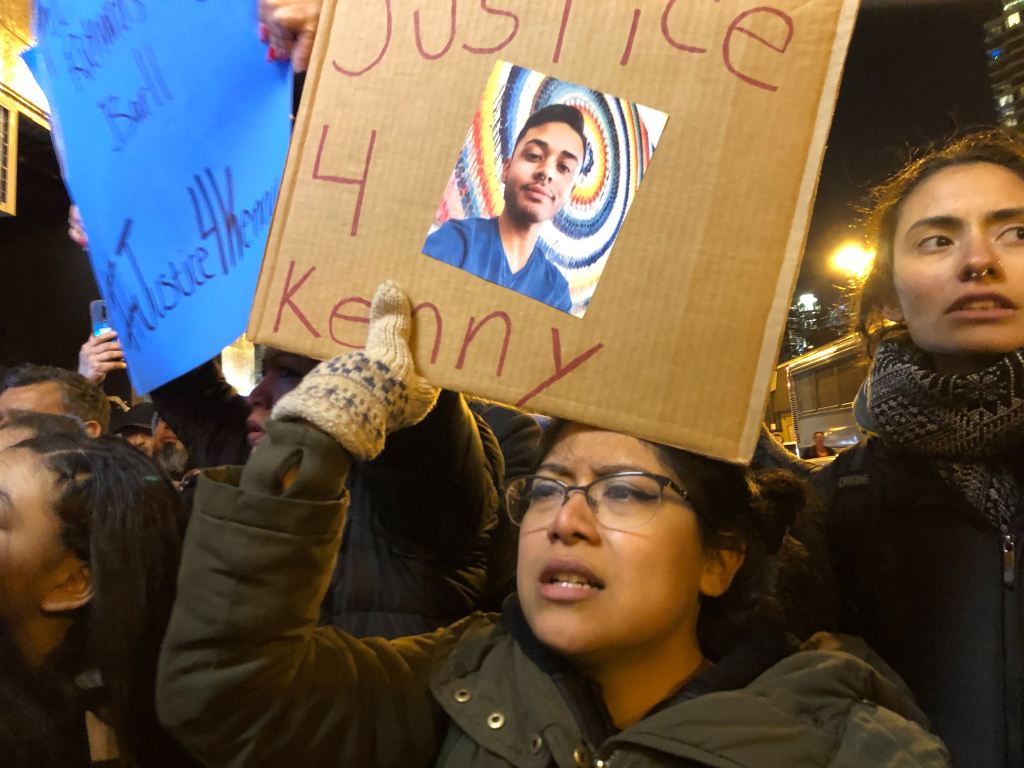 Before the fatal stabbing, Paterimos' brother, Julian Bueno, kicked Tansey out of Richard's Bar after seeing the much larger Marine veteran pin his brother to the floor. The stabbing occurred shortly after when Paterimos stepped outside, Bueno and police said.
Bueno chased Tansey and held him until police arrived. Despite having a criminal record and the weapon used to kill Paterimos, Tansey was released from police custody two days later.
Bueno said he went back to the bar the next day after detectives told him to "find a witness." When he returned to Richard's, he said he was told: "We don't know anything. Here, come have a drink. It's on us." 
The slain man's sister, Dina Paterimos, said she was outraged over the lack of cooperation by Richard's Bar staff and how elected officials and police have not held them accountable for what happened leading up to the slaying.
"I hope they get shut down," she said.
Ald. Walter Burnett (27th) has represented the ward Richard's Bar is located in for 25 years. The popular late-night dive, known for its smoky atmosphere — which persists despite the smoking ban — opened in 1926. 
As of 2015, the bar was owned by Susan Dominic, sister of Robert "Bobby" Dominic, who at one time was classified by law enforcement officials as a mob associate, according to the Sun-Times. 
Burnett has lobbied in the past to have problem bars closed.
At least four bars in Burnett's ward have been forced to close in recent years because of fights and shootings. 
Two shootings right around the corner, at Funky Buddha Lounge in November 2014, prompted the longtime River West bar at 728 W. Grand Ave. to close. 
But Burnett said he won't push Richard's to close.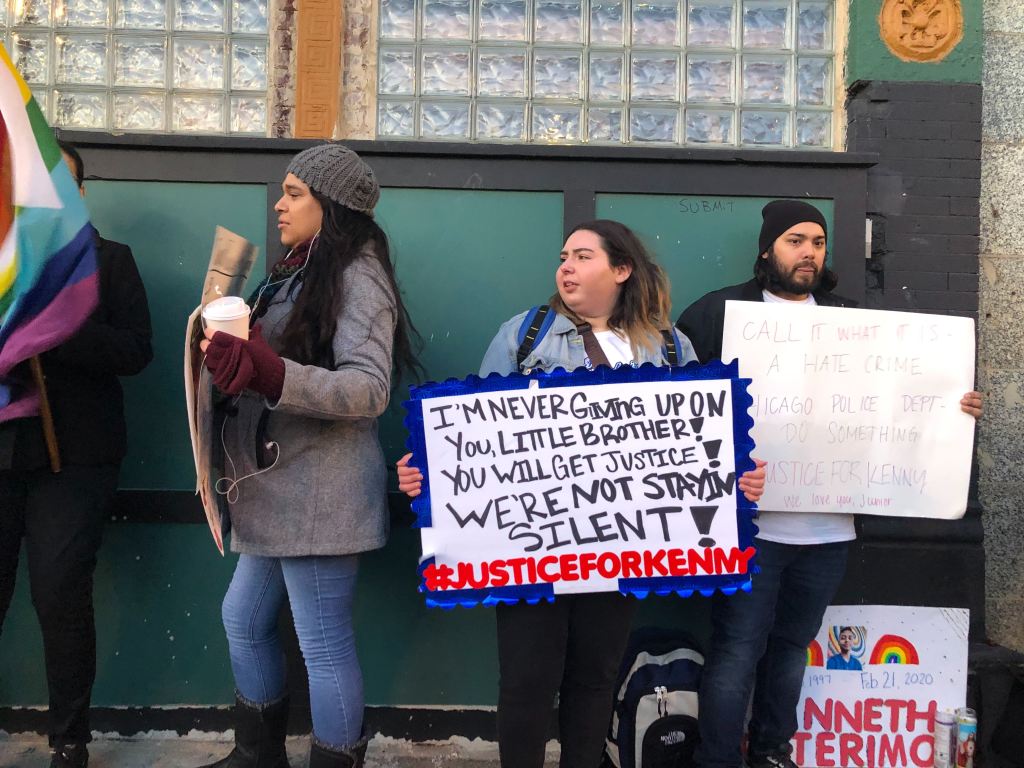 'Our Justice System, When You're A Certain Skin Tone, Responds Differently'
Family and friends expressed frustration with the Police Department and the State's Attorney's Office, too. At one point, more than 20 police officers lined up outside to create a barrier between protestors and the bar's Milwaukee entrance.
"Instead of urging [Tansey] to turn himself in, all of these officers could be people on the streets looking for him," Julian Bueno said.
Tansey belongs in prison, not walking the streets where he could cause more harm to others, Bueno said.
Other attendees told officers they should be catching the killer.
Two protestors entered through Richard's Bar Grand entrance but were quickly kicked out by staffers. Last week, Block Club Chicago reporters stopped by multiple times for comment and were told to leave by employees of the bar.
Police initially arrested Tansey on the scene after the stabbing, but he was released without charges after claiming he killed Paterimos in self-defense. This claim infuriated Paterimos' friends and family members — including his brother, who said he caught the killer with the murder weapon and held him until officers arrived. 
Guglielmi said when officials realized the self-defense claim didn't add up, the arrest warrant was issued. But six days later, Tansey remains at large. Police will not comment on efforts to locate Tansey.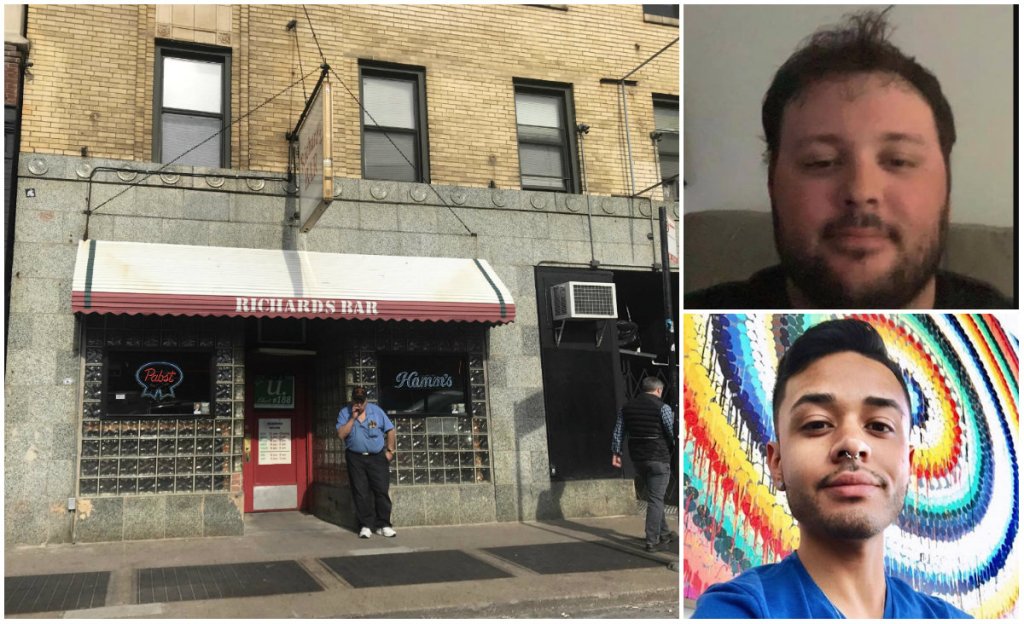 Tansey, 30, was previously convicted of battery in suburban Arlington Heights in December 2016, according to public records. 
The following year, he pled guilty to battery and was sentenced to 18 months probation and counseling, according to the Sun-Times.
This December, Tansey was charged with a DUI in Arlington Heights, records show. In old blog posts, Tansey wrote about of his time serving as a Marine and getting into drunken brawls and hiring underage sex workers. He reportedly suffers from PTSD.
Dina Paterimos said the self-defense claim was hard to believe. 
"My brother was so small … and this guy was military-trained and somehow he needed a box cutter because he feared for his life," she said.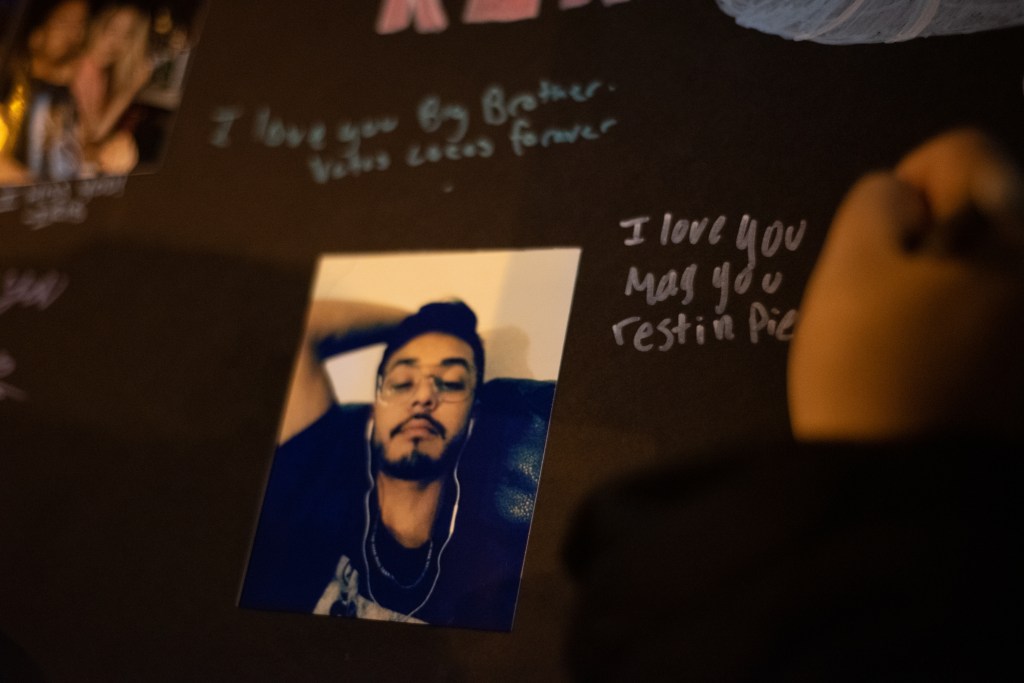 Citing Tansey's previous history of battery and a blog post where Tansey wrote he joined the military to knock down doors and kill people, Diona Bueno balked at the self-defense claims.
"What self defense? F——er, you killed him," Paterimos' mother said of Tansey. "You meant to kill someone that night. It just so happened to be him because you bully everyone."
Anthony Clark, who is running for state representative in the 7th District where Richard's Bar is located, told the crowd, "This is not what justice is supposed to look like."
"Justice does not exist if you're brown, justice does not exist if you're Black," Clark said. "As the family has been saying, they are hurting right now. They are in pain. I share their frustration. I share their anger. You can have that at a peaceful rally because injustice continues to occur.
"I'm a Black male … . If I stood outside of a predominately white establishment and I stabbed someone to death, I would have never been released, and quite honestly, I would have been convicted before we even had a trial."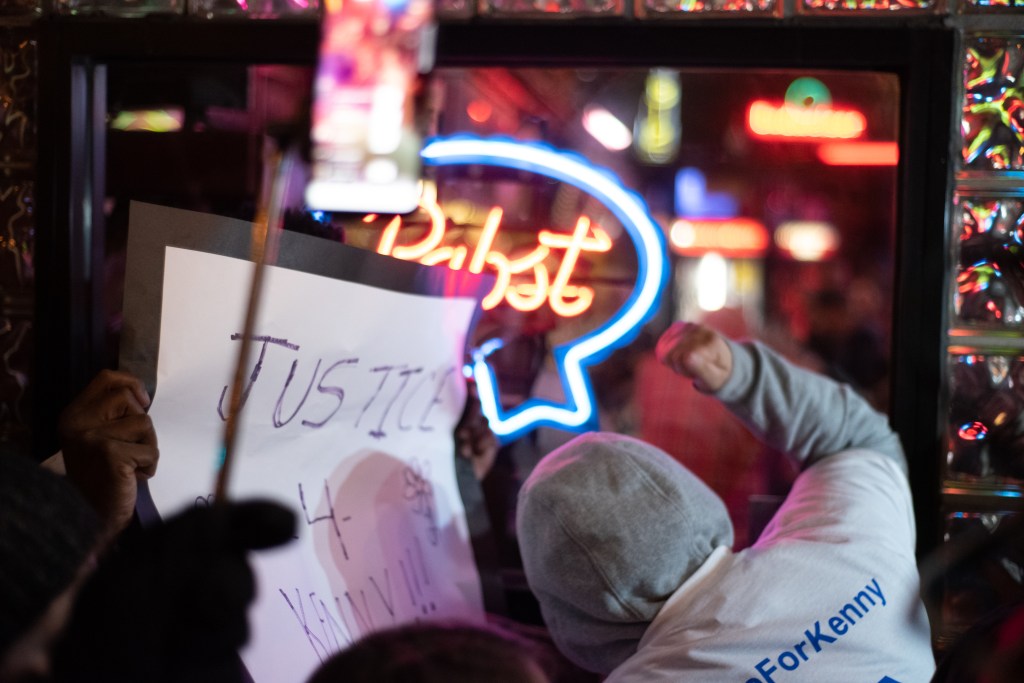 Communities of color bare the burden to demand justice, he said.
"This man who committed this crime has committed other crimes. He's hurt other people. But yet our justice system, when you're a certain skin tone, responds differently and gives you a little more privilege and leeway … and this leeway has led to a murder," Clark said.
Clark, a veteran of the Air Force who has suffered from PTSD for 10 years, said PTSD or any mental health issue is "no excuse to terrorize a community."
"We have to do to better," he added.
'There's No More Tears I Can Cry'
Paterimos' mother described him as the "glue" who held the family together. 
"He was my shining star," Dino Bueno told the gathered crowd said. "We are celebrating the life of my son … . The shine that he had.
"Thanks to all who came out in numbers … for praying for us [to see] justice come for my baby."
Paterimos' sister, Dina Paterimos, echoed Bueno, saying her brother was outgoing and "so supportive." 
"He made you feel good about yourself," she said.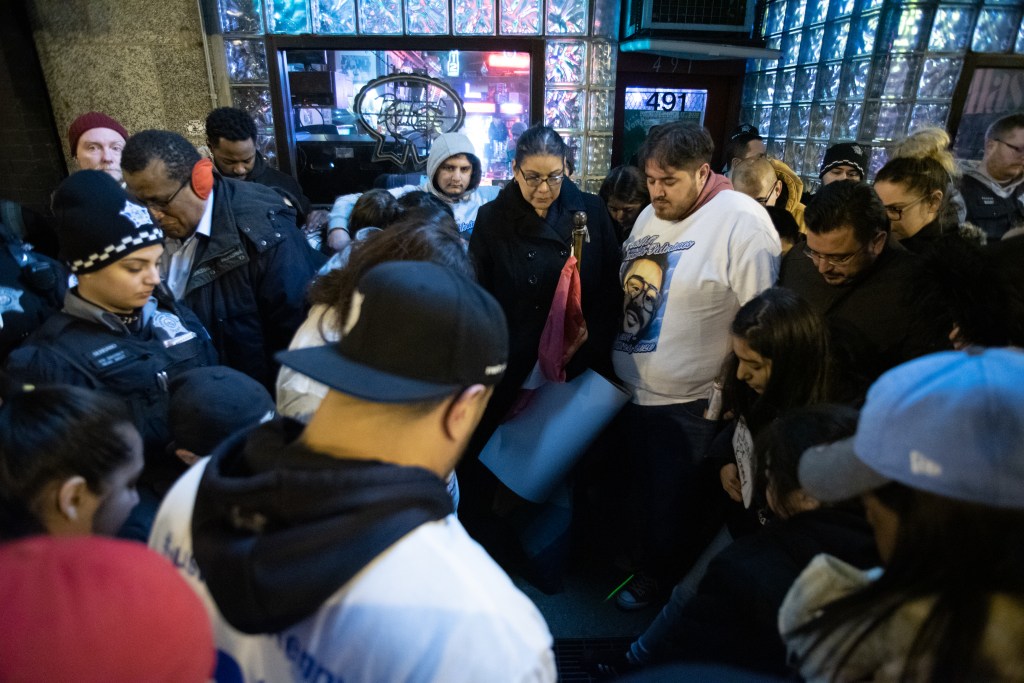 "It really hurts I'm not going to have that support system … . I'm not going to have the brother I go to with everything. It's a hole in my heart now," Paterimos said through tears.
"There's no more tears I can cry. It's only anger and frustration for my family because we would like closure and justice already."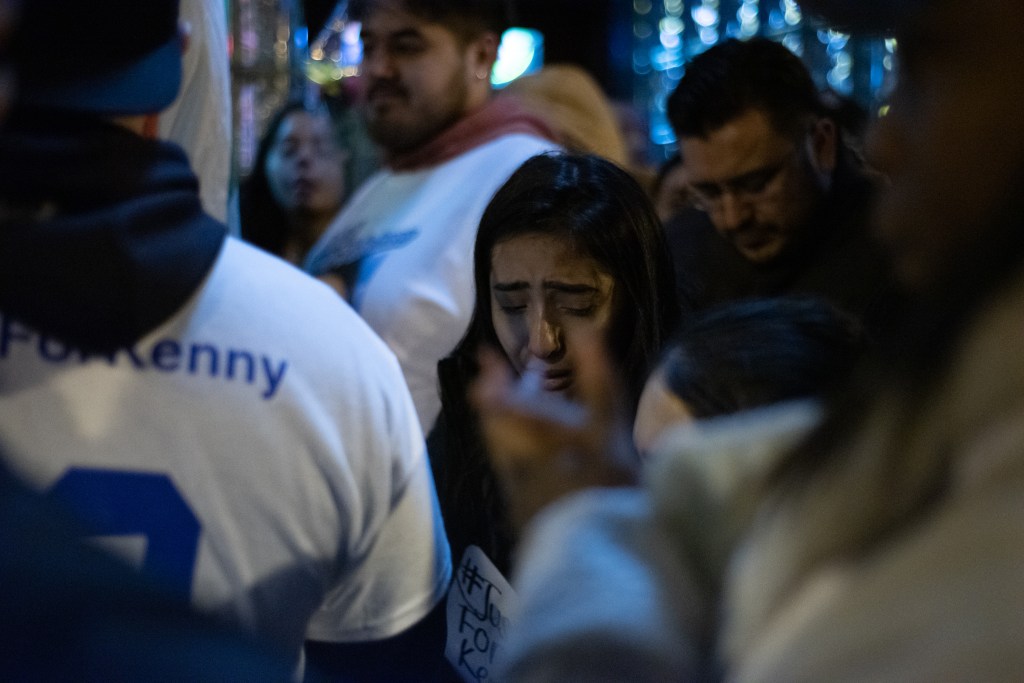 In reflecting on the rally, Julian Bueno said he was hoping to achieve justice and peace of mind for his family.
"I'm going to pray for not only my family and my brothers but also for the man that did this," Bueno said.
RELATED COVERAGE
Man Wanted In Richard's Bar Stabbing Harassed UIC Students On His Block, Impersonated Police, They Say
Ex-Marine Wanted On Murder Charge In Richard's Bar Stabbing Has A Criminal Record, Remains At Large
Warrant Issued For Man Who Killed Pilsen Barista Outside Richard's Bar, Police Say
'Justice For Kenny' Protest Planned Outside Richard's Bar, Where Barista Was Stabbed To Death
Brother Of Slain Barista Tackled Killer After He Stabbed His Little Brother: 'This Isn't … Self Defense'
Homophobic Slur Yelled At Stabbing Victim Before He Was Attacked At Richard's Bar, Police Say
Do stories like this matter to you? Subscribe to Block Club Chicago. Every dime we make funds reporting from Chicago's neighborhoods.
Already subscribe? Click here to support Block Club with a tax-deductible donation.