GARFIELD PARK — A food service company on the West Side will be able to expand thanks to a $100,000 grant recogizing its work breaking down the social barriers that cause health disparities.
ChiFresh Kitchen is a worker-owned cooperative that provides healthy and affordable prepared meals. The team also creates jobs and wealth among people facing barriers to employment.
"We were looking for a way to create access to employment, primarily economic security and creating a liberating workplace environment for formerly incarcerated Black women," said Camille Kerr, a consultant who helped launch and manage ChiFresh Kitchen.
The $100,000 grant was awarded by the American Heart Association's Social Impact Fund in recognition of the company's approach addressing the health inequalities underscored by the coronavirus pandemic. The funding will allow ChiFresh Kitchen to scale up and expand as a food provider for partner organizations.
The company was selected since it tackles multiple issues of equity with an approach that empowers people directly affected by those issues, said Raymond Guthrie, managing director of the Social Impact Fund.
"We are always intrigued and encouraged when we see new models trying to get at old problems as opposed to just trying to fund the same things over and over again and hoping for a different solution," Guthrie said.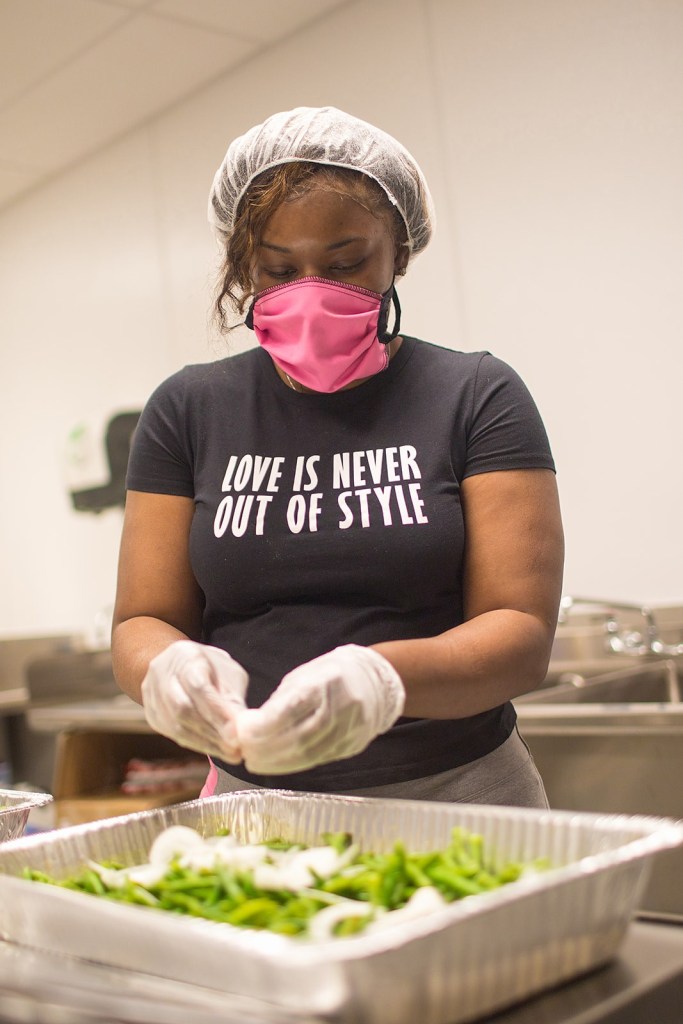 ChiFresh Kitchen operates out of food business incubator the Hatchery, 135 N. Kedzie Ave.
The company makes up to 450 free prepared meals per day for partners who are addressing food insecurity caused by COVID-19, like the the Montessori School of Englewood, the Grace House for formerly incarcerated people and Black Youth Project 100. They provide healthy and affordable meals for other clients like La Casa Norte, YMCA of Metro Chicago and local senior centers.
With the funding from the American Heart Association, ChiFresh Kitchen will take steps towards acquiring a bigger kitchen space that will allow them to serve bigger clients like charter schools and after-school programs. As ChiFresh Kitchen grows, new employees will also be offered a share of the business.
"It's really helping us to be, on a pretty aggressive timeline, a major player in prepared food service," Kerr said.
When ChiFresh Kitchen launched during the pandemic, the formerly incarcerated women who own and run the company made it a priority to provide relief for people with the most need.
West Side native Kim Britt was living in a transitional home at the time, and the food service provider for the women returning from incarceration was forced to leave due to COVID-19. There weren't many grocery stores in the area, and the markets that did exist had shortages, she said.
"We were left to fend for ourselves to find meals to eat," Britt said. "I know that it was a struggle for me to get meals on a day-to-day basis. Knowing that I could provide one meal a day for people who were experiencing what I had experienced would make a difference in the community."
But ChiFresh Kitchen was created not just to address the inequitable food access aggravated by the pandemic. It formed as an answer to the social conditions of inequity that allowed coronavirus to hit communities of color the hardest.
As a cooperative business, ChiFresh Kitchen is owned by the workers themselves. That means each employee has a say in every business decision, from what's on the menu to their operating processes.
"All of our rules and guidelines were created to accommodate each person," Britt said.
Owning a share of the business also means the women get a cut when ChiFresh Kitchen is profitable. That results in a dignified workplace where employees are motivated to do their best because they have a stake in the company and because they believe in the work — not because they're being hounded by a supervisor, Britt said.
"Everybody's heart is involved in it because of different experiences that we have had throughout our childhood, throughout our lives growing up on the West Side of Chicago," Britt said. "It's heart-involved more than work-involved. More than looking at it like, 'This is just a business.'"
The workers come from the same historically under-resourced communities that ChiFresh Kitchen serves. Through their own experiences, they know how best to brand their company and design a menu that is healthy and culturally relevant to people's eating habits.
"Our members are powerful and brilliant and have so much insight … and a lot to offer to what a company that's serving their communities should be like," Kerr said.
The ChiFresh Kitchen team hopes the recognition from the grant and their success as a growing social enterprise will show it is possible to build an economy where businesses prioritize the dignity of workers and the wellbeing of the communities they serve.
"There's a lot of feeling of oppression going on. And if you think you can work and get paid for being in an environment that you created without feeling oppressed, I think that that would be appealing to most people," Britt said.
Only about 500 worker-owned co-ops exist in the country, according to the United States Federation of Worker Cooperatives. But the success of the "small but mighty community" shows worker-owned cooperatives are viable businesses that have seen proven success in in parts of the economy that matter, Kerr said.
"People want a fair economic system. People want to see what the alternative is. And I think people's imaginations are limited for what's possible," Kerr said.
Worker-owned businesses that address crucial social needs like health disparities can open up people's imaginations of what is possible "so that when we're thinking about large-scale policies that restructure how our economy works, we think about these alternatives," Kerr said.
Pascal Sabino is a Report for America corps member covering Austin, North Lawndale and Garfield Park for Block Club Chicago.
Block Club Chicago's coronavirus coverage is free for all readers. Block Club is an independent, 501(c)(3), journalist-run newsroom.
Subscribe to Block Club Chicago. Every dime we make funds reporting from Chicago's neighborhoods.
Already subscribe? Click here to support Block Club with a tax-deductible donation.