UPDATE: The Block Club Chicago coronavirus hotline has closed after nearly three years of serving Chicagoans. Read more here.
Para leer esta información en español, haga clic aquí.
We know just how confusing and isolating navigating a pandemic can be, so we launched a hotline where you can get your coronavirus questions answered. 
Starting today, you can text or call us at 312-248-4876 or email us at coronavirus@blockclubchi.org with your coronavirus questions. You'll be connected with a member of the Block Club team who will answer your question or connect you with the resources you're seeking. 
The hotline is open 9 a.m.-5 p.m. Monday-Friday and Spanish assistance will be available 9 a.m.-1 p.m. Tuesday-Friday. If you reach out outside of those hours, no problem — we'll get back to you the next business day. 
If you've been following Block Club, you know our team has written thousands of stories about coronavirus, live-tweeted every coronavirus press conference and provided up-to-the-minute, daily updates via our coronavirus newsletter. Now we're tapping that knowledge to answer your questions on symptoms, city rules and how and where to access testing, housing aid, unemployment, benefits, free food and other resources for those out of work. 
While hotline staffers will share the latest Centers For Disease Control and Chicago Department of Public Health guidance, if you call with a medical question, we'll advise you to consult a physician. 
Please note, the information hotline staffers will share is not professional medical or legal advice. For questions about your health or that of another, you should consult a medical provider. If you have an emergency, contact 911 immediately.  For questions about legal rights and responsibilities, please contact an attorney knowledgeable in such areas.
The Block Club coronavirus hotline is staffed by newsletter and hotline manager Hannah Boufford and hotline specialists Hillary Flores and María Guerrero. Kelly Bauer, Block Club's lead editor on coronavirus coverage, will lend her expertise to the hotline. Block Club reporters will also have a hand in answering neighborhood-specific questions.
Block Club's coronavirus hotline was inspired by the coronavirus hotline launched by KPCC, Southern California's public radio station, and was made possible by a Facebook Journalism Project grant. Hearken consulted on the project.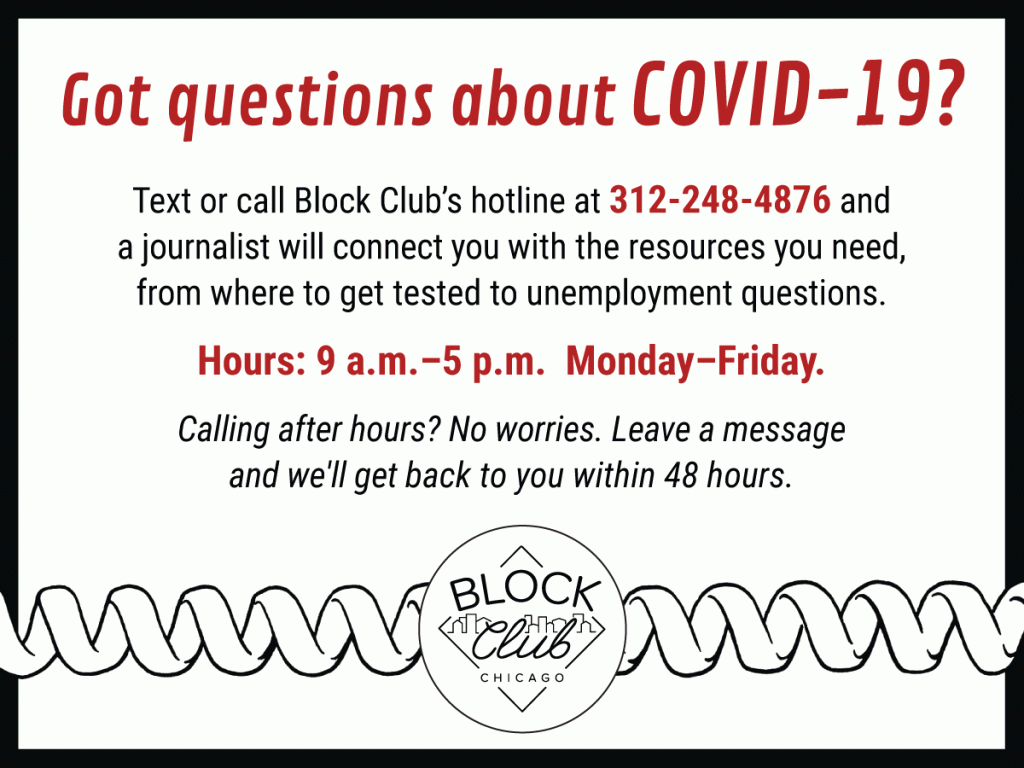 In addition to calling, texting and emailing us, you can consult our frequently asked coronavirus questions section below.
And you can read all of our coronavirus coverage here.
Frequently Asked Questions
Where can I get tested?
The Chicago Department of Public Health recommends people first contact their primary care provider to see if they can be tested through them.
If that's not possible, the department recommends people try to get tested at a community clinic or federally qualified health center before going to one of the city's free testing sites.
Here's a map of where you can get tested in Chicago. You can get tested at any of the community health centers or the city's community-based testing sites for free. Coronavirus testing is also available at many doctor's offices, pharmacies and health care centers.
You can schedule a free coronavirus test here.
Do I need insurance to get tested?
No, you do not need insurance to get tested at a city-run or state-run testing site. Testing is free to all Chicagoans "regardless of immigration status, insurance coverage or the ability to provide identification," said Elena Ivanova, spokeswoman for the Chicago Department of Public Health. You may be asked if you have insurance but it is not required. Read more here. 
What are the symptoms of coronavirus?
According to the Centers for Disease Control and Prevention, the most common symptoms of coronavirus are: 
Fever or chills
Cough
Shortness of breath or difficulty breathing
Fatigue
Muscle or body aches
Headache
New loss of taste and/or smell
Sore throat
Congestion or runny nose
Nausea or vomiting
Diarrhea
But it is important to note not everyone shows symptoms of the virus.
What do I do if I think I have coronavirus?
You should get tested. Illinois allows anyone to get tested without a doctor's order.
And, of course, if you think you're sick with coronavirus, don't risk exposing other people to the virus. Anyone who feels unwell has been advised to stay home and try to stay apart from family members and roommates.
You should only go to an emergency facility if you have symptoms of severe illness, and you should still call ahead to let them know you're coming, according to Harvard Medical School.
How do I know if I need to go to the emergency medical help? 
According to the CDC and Harvard Medical School, you should seek immediate medical attention if you experience any of the following:
Have difficulty breathing
Have a persistent pain or pressure in your chest
Become confused
Cannot be roused or feel like you might pass out
Develop a bluish face or lips
Have a very high or very low body temperature
How does coronavirus spread? 
Symptoms of coronavirus can appear two to 14 days after a person has been exposed to the virus, according to the CDC. People with no symptoms may have the virus and spread it to others.
The virus spreads through people's respiratory droplets, which means it can spread through talking, coughing, sneezing, breathing and singing, among other things, even when the sick person is asymptomatic.
Those who become ill with COVID-19 might still be contagious even weeks after they've recovered, according to Harvard Medical School.
How can I avoid getting coronavirus and help stop the spread of it? 
Cover your mouth and nose with a mask when around others. Cloth face coverings should not be placed on young children under age 2, anyone who has trouble breathing or is unconscious, incapacitated or otherwise unable to remove the mask without assistance. Click here to find out how to properly wear a face covering.
Stay at least 6 feet away from others, the CDC advises. 
Stay home when you're sick and avoid close contact with people who are sick.
Wash your hands often, including before, during and after eating; after using the bathroom; and after blowing your nose, coughing or sneezing, according to the CDC. Here's a guide for how to properly wash your hands. Remember: Wash with soap and water, scrubbing your hands for at least 20 seconds.
If you can't wash your hands with soap and water, you can use an alcohol-based hand sanitizer, according to the Illinois Department of Public Health.
Avoid touching your face, especially your eyes, nose and mouth, with unwashed hands.
Clean and disinfect objects and surfaces you touch frequently, like cellphones and light switches. Here are tips from the CDC.
If you have to sneeze with a tissue, throw it out immediately after using it, according to the CDC.
What states are on Chicago's quarantine list?
You can find states currently covered by the Emergency Travel Order here. 
The Emergency Travel Order directs travelers coming to Chicago from states experiencing a surge in new coronavirus cases to quarantine for a 14-day period.
What's the latest coronavirus data for my area? 
You can find the most recent city data — and sort by ZIP code — here. Data by ZIP code is updated weekly.
How can I apply for unemployment?
File for unemployment here.
Block Club Chicago's coronavirus coverage is free for all readers. Block Club is an independent, 501(c)(3), journalist-run newsroom.
Subscribe to Block Club Chicago. Every dime we make funds reporting from Chicago's neighborhoods.
Already subscribe? Click here to support Block Club with a tax-deductible donation.