SOUTH SHORE — Residents and local officials reflected on a year of progress in addressing the impacts of record-high lake levels while honing in on longterm solutions at the South Side Lakefront Erosion Task Force meeting Thursday.
Since giving state officials a tour of South Shore Aug. 19, the task force has organized to apply for a piece of $500 million in federal infrastructure funding.
BRIC grant funding from the Federal Emergency Management Agency would go toward a breakwater, seawall and revetment to protect the Windsor Beach Apartments and Lake Terrace Condominiums at 7321 and 7337 S. South Shore Drive, if granted.
The task force worked with the offices of State Rep. Curtis Tarver II (D-25th) and Ald. Greg Mitchell (7th) to secure a sign off from the Chicago Department of Transportation on its preliminary application.
"We never would have heard about [the BRIC grant] if it weren't for the people who came on the tour," Windsor Beach Apartments board president Juliet Dervin told Block Club. "The formal application will be a rigorous process requiring a strong cost-to-benefit ratio analysis."
The formal application is due in January, and a decision on the grant funding is expected next summer.
Residents were "very encouraged" by state officials' responses following the August tour, task force member Sharon Louis said at Thursday's meeting. "The resulting activity has been nothing short of miraculous. They are pointing us in the direction of the money."
The task force, founded in response to concerns that the impacts of high water levels on the North Side were receiving more attention from public officials, "has been doing an absolutely phenomenal job" since its formation last December, Tarver said. He hosted Thursday's meeting.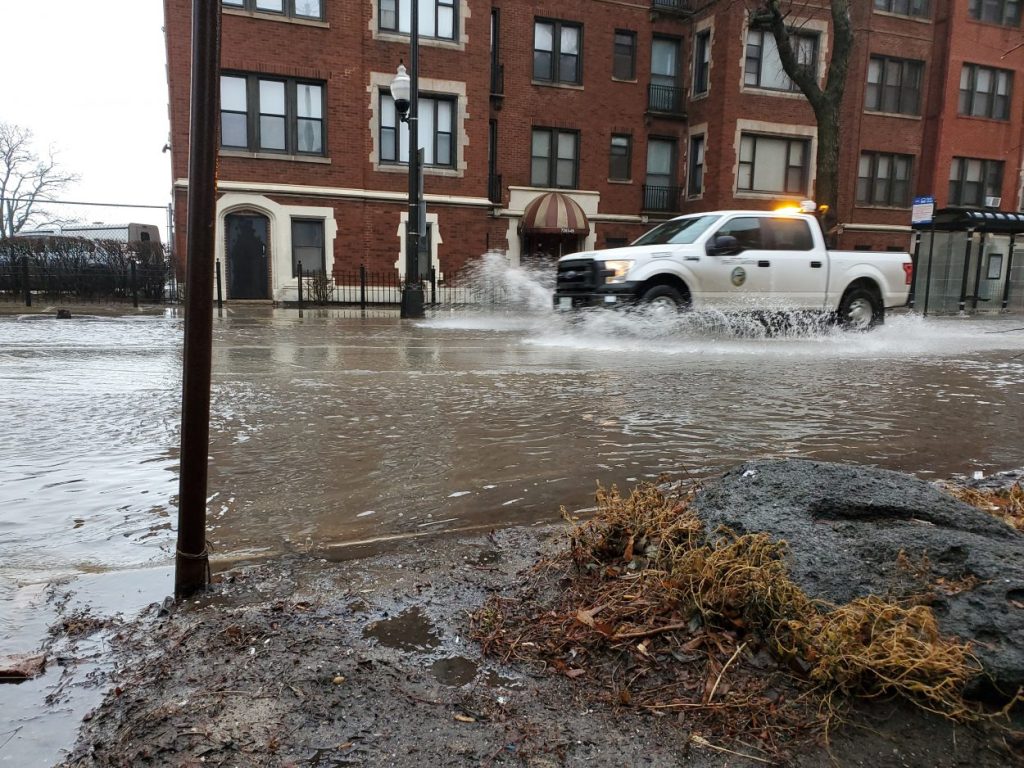 Applications for BRIC grant funding are also planned to support reinforcements at Morgan Shoal, Promontory Point and 71st through 75th streets, according to Heather Gleason, the Chicago Park District's director of planning and development.
Gleason updated attendees Thursday about progress made on various lakefront protection projects since a series of meetings on lakefront erosion last year.
Among the city's projects that have been completed, are in progress or are set to start in 2020:
A $3 million emergency revetment project at Morgan Shoal from 45th to 51st streets.
A $3 million Jackson Outer Harbor breakwater project and retaining wall repair.
Repairs of an asphalt path and benches at Oakwood Beach.
Ramp and deck repairs at 57th Street Beach.
"Long-term" plans for revetment reconstruction at Morgan Shoal and Promontory Point and breakwater improvements from 71st–75th streets are still being hashed out among city, state and federal partners, Gleason said.
Morgan Shoal and Promontory Point are the only unfinished aspects of the Chicago Shoreline Protection Project, an effort funded by Congress 24 years ago to protect the eight "most critical" miles of Chicago's lakefront.
Shorter-term projects currently in the design phase include an emergency revetment at Arthur Ashe Beach Park, repairs to the damaged promenade at the Calumet Park beach house and erosion mitigation efforts at the South Shore Cultural Center and Rainbow Beach.
Gleason also highlighted billionaire Ken Griffin's $4.75 million donation to help shore up the Lakefront Trail at points like Jackson Harbor, Morgan Shoal, La Rabida Children's Hospital and 67th Street.
On the state's side, the Illinois Department of Natural Resources is using emergency procedures to expedite permits for shoreline erosion control, assistant director John Rogner said.
The emergency measures would allow work to begin before permits are issued, though permits have already been granted for one project at 72nd Place, he said.
Rogner praised the task force for organizing August's tour and alerting state officials to their needs.
It's "tough" for state agencies to take direct action to protect private property, he said, but officials can point residents in the right direction for funding — just as the Department of Natural Resources informed the task force about the possibility of using federal grants to protect South Shore homes.
"That's how we learn about these kinds of things; people contact us and then we respond," Rogner said. "We're committed to helping out wherever we can."
A continued effort to find short- and long-term solutions will be necessary to prevent the severe flooding seen during last winter's storms from becoming the norm for South Siders.
Lake Michigan has already varied widely in the past decade, going from record low levels in 2012 to setting new monthly record highs in each month of 2020, according to Mark Wagstaff, a senior waterfront engineer with SmithGroup.
Data shows lake levels may become even more unpredictable in the future, Wagstaff said. To address this, Chicago should consider stepping up its flood protection efforts, he said.
Oakwood Beach, the city's newest beach, was built in conjunction with piers and a breakwater to protect the lakefront from erosion. It's an example of "the kind of ambition I think we need for areas elsewhere in Chicago," Wagstaff said.
One ambitious proposal, the "Last Four Miles" plan to complete a lakefront-long park from Evanston to Indiana, has been in place for years. South Shore residents overwhelmingly disapproved of the plan more than a decade ago, preferring to keep their lakefront private.
But "some of us really love the idea" of a fully public lakefront, said Diane Tecic, the Coastal Management Program director with the state's Department of Natural Resources.
She said the proposal merits further planning and community outreach to see if opinions have changed since the non-binding referendum of 2009.
"If it works for the community, I do think it would prevent a lot of that erosion, and it would add open space," Tecic said. "It would be very expensive, but there may be interesting ways to fund it."
Tarver was hesitant, citing potential legal challenges to implementing the Last Four Miles plan. But he also said it wasn't a bad idea, and encouraged residents to continue sharing their ideas for potential solutions to lakefront erosion.
"This is the beginning of a conversation, certainly not the end," Tarver said. "This is a long-term issue, and we need a long-term plan going forward."
Task force meetings will continue to be held quarterly at a minimum, according to Tarver.
Subscribe to Block Club Chicago. Every dime we make funds reporting from Chicago's neighborhoods.
Already subscribe? Click here to support Block Club with a tax-deductible donation.