BRONZEVILLE — With a rising Lake Michigan continuing to pound away at the Chicago shoreline, city and federal officials announced more plans to fight back against erosion on the South Side.
Officials announced two new construction projects at a Monday night meeting at Northeastern Illinois University's Carruthers Center in Bronzeville.
One project will build a pair of breakwater at Jackson Park Harbor. The second will reinforce the shoreline in the southern side of Kenwood.
It's all part of the ongoing battle up and down the lakefront, from Rogers Park to the Far South Side.
Lake Michigan has been rising since 2013, swallowing beaches and altering the shoreline across the city. Storms this fall have further exacerbated the problem, causing more damage and more erosion.
The reconstruction of the eroded lakefront from 48th to 50th streets is set to begin in the next four weeks. Construction is projected to last two months, with the hope of completion before any severe winter and spring storms.
The Jackson Park Harbor breakwater plan, however, has yet to be approved by the Army Corps of Engineers and the Chicago Department of Transportation, said Heather Gleason, the Chicago Park District's director of planning and development.
If breakwater plans are given the go-ahead, the city hopes to begin construction "as early as possible" in the spring, Gleason said. They would minimize waves and sediment buildup in the harbor, with a design that allows boats to enter and exit safely, she said.
Gleason also updated residents at Monday's meeting on reopening the pedestrian trail along the lakefront from 48th to 51st streets. It has been closed because of erosion.
Every spring, the Chicago Park District must restore the trail from winter weather damage. But routine restoration will be delayed in 2020 until lakefront restoration work in the area is completed.
There's no set timeline for the trail's reopening right now, though the bike path that sits further from the shoreline remains open, she said.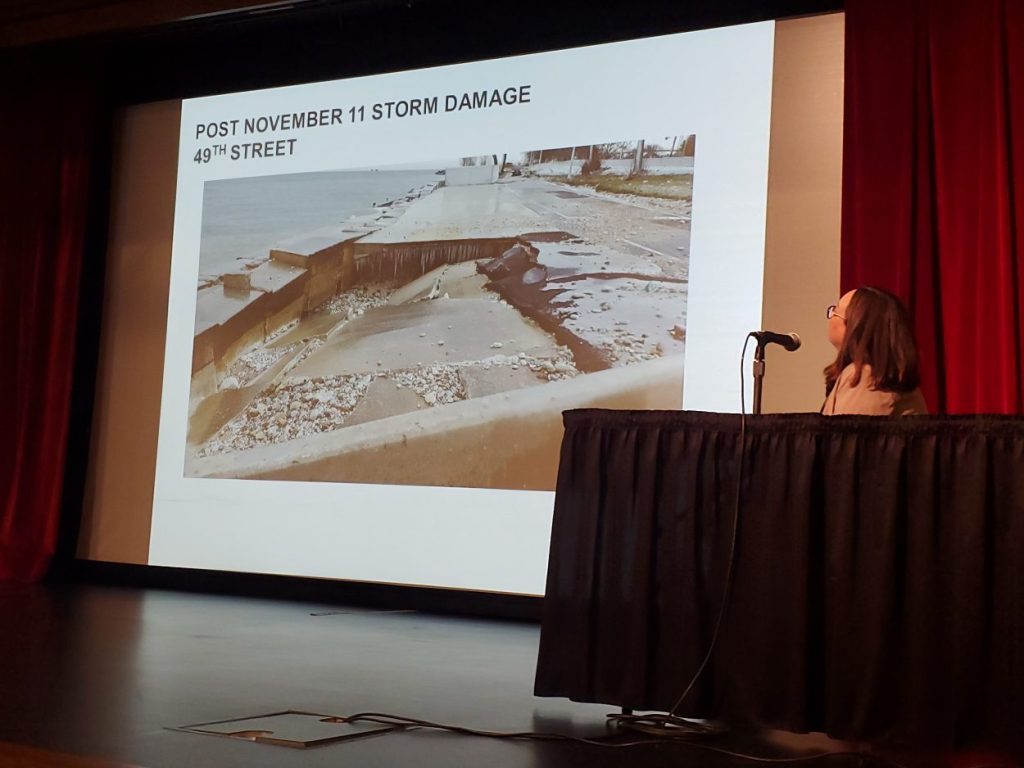 The meeting was organized to address host Rep. Bobby Rush's (D-Ill.) frustration that most of an earlier citywide meeting focused on erosion "north of Roosevelt Road," he said.
It's not the only way Rush and neighbors in attendance felt the South Side was being left behind as lake levels rise.
All 23 projects that make up the Chicago Shoreline Protection Project are complete, except for reinforcements to Promontory Point and along Morgan Shoals, which runs from 45th to 51st streets.
"There were, to me, some disparities between the North Side and the South Side," Rush said. "We certainly understand that the squeaky wheel gets the grease, and we intend to squeak more and squawk more, because we want to be treated better — as well as the North Side."
North Side officials led a series of community meetings in October to address the matter after the city installed concrete jersey barriers along the lakefront's more vulnerable areas, a move that Ald. Brian Hopkins (2nd) criticized as nothing more than a band-aid.
Near record-high water levels have already forced the closure of recreational areas and the enforcement of parking restrictions on the North Side as city agencies — along with the U.S. Army Corps of Engineers — work to mitigate the damage already done. As conditions are expected to worsen this winter, the closures are expected to last until spring.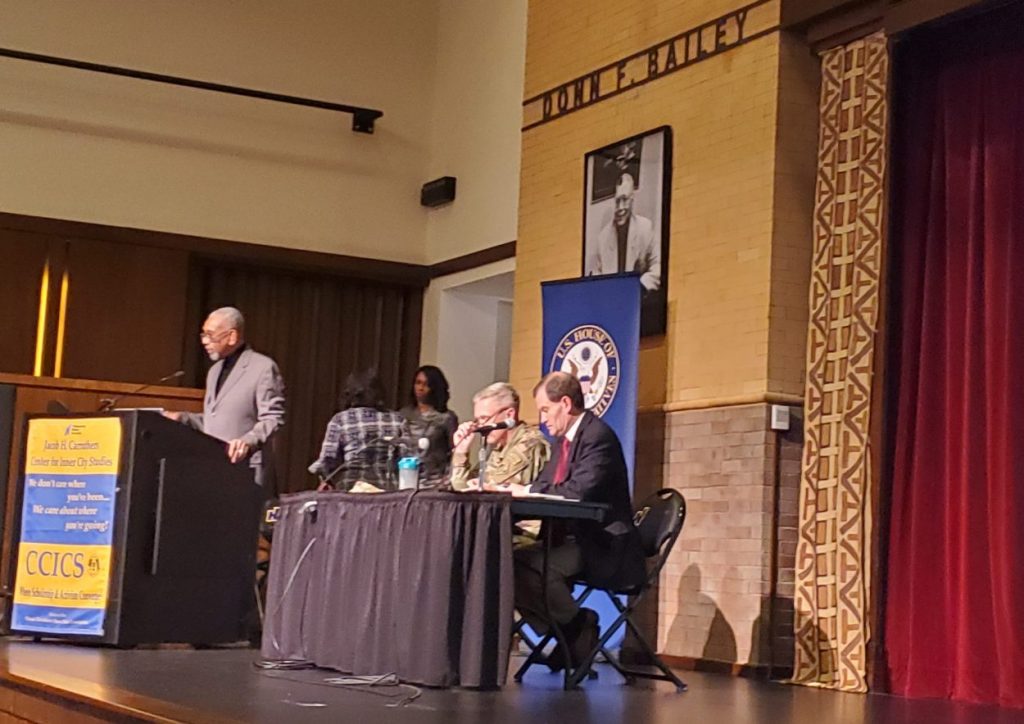 Continued improvements to Chicago's southern shoreline are needed in the face of near-record high water levels, said Col. Aaron Reisinger of the Army Corps of Engineers.
Even at its lowest projections, lake levels in early 2020 are expected to be higher than in 2019, according to Reisinger. This winter and spring are a potentially "high-risk" period of time for the city's lakefront, he said.
During a Q-and-A session, residents questioned panelists on the level of coordination for the various agencies' plans, as well as the impact of climate change.
All panelists affirmed the departments were working together as closely as possible to avoid duplication of efforts, although they all have different obligations and timelines for securing funding.
While long-term reinforcements are every agency's goal, these projects do not happen quickly, multiple panelists said.
"As we're all looking for long-term funding … it seems like it might be separate, but it really is coordinated," Gleason said. "We're each taking on pieces of the project within our jurisdiction that we can tackle in order to help the greater good."
The Army Corps can't predict how climate change will impact lake levels in the long term, Reisinger said. The agency takes action based on historical data, which aren't able to accurately model for climate change right now.
"We have seen periods of extended high lake levels, extended low lake levels; we assume that cycle will continue, but we do not know," Reisinger said. "If history is any indication, we'll see a trend downward at some point."
The city's main course of action in recent weeks has been to install jersey wall barriers as temporary solutions in noted problem areas.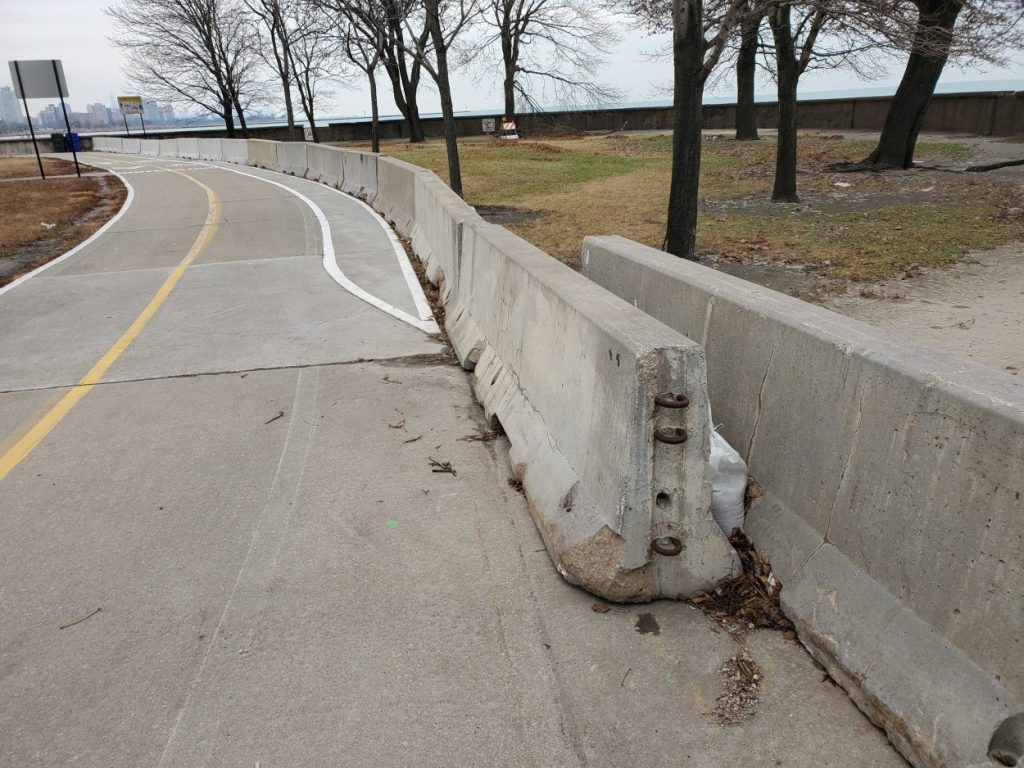 In September, an 800-foot-long barrier was set up at 49th and 50th streets, while a 100-foot barrier went up at 75th Street. A 200-foot barrier was installed at 67th Street Nov. 20, after waves jumped the existing wall and flooded South Shore Drive, according to nearby residents.
But it's time to take more serious action than the temporary barriers, said Frances Lake of the 6700 block of South Shore Drive.
"There's a small wall [near her residence], and that water just pours over," Lake said.
Lake and fellow South Shore resident Jera Slaughter attended the meeting together. Slaughter said she has noticed the rising water at her lakefront home for years now, and has recently become more active in organizing around the issue.
Slaughter said she was inspired to start "throwing a fit" about south lakefront issues after seeing the effectiveness of coalition-building and community involvement on the North Side.
"People come from all over the city and everywhere to enjoy our lake. That's in danger of being no more," Slaughter said. "It is one lakeshore. … We cannot just talk about the problems as it affects the north shore when we're having the same problems.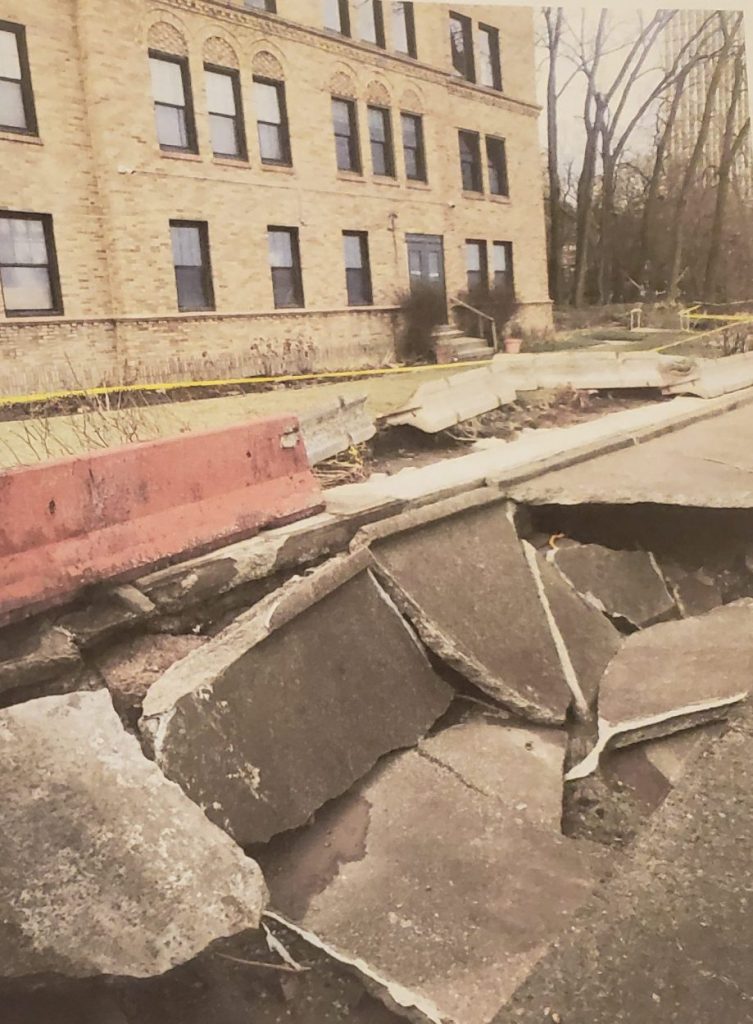 While she understands the importance of being vocal, Lake said the government's action on an issue that affects all Chicagoans "really shouldn't be dependent on the sophistication of the residents."
A follow-up meeting on south lakefront water levels will be hosted by Ald. Greg Mitchell (7th) from 6-8 p.m. Thursday. It will be held at Powell Paideia Academy, 7511 S. South Shore Drive.
Do stories like this matter to you? Subscribe to Block Club Chicago. Every dime we make funds reporting from Chicago's neighborhoods.
Want to support Block Club with a tax-deductible donation? Thanks to NewsMatch 2019, your donation will be doubled through Dec. 31. Donate here.