ROGERS PARK — With high lake levels and strong storms continuing to wreak havoc on the Far North Side's shoreline, multiple agencies will begin emergency work Monday to stabilize the eroding lakefront.
Multiple city agencies and the Army Corps of Engineers have approved a plan to reinforce the shoreline at Juneway, Howard and Rogers beaches in Rogers Park, Ald. Maria Hadden (49th) said. The multi-million-dollar project will begin Monday at Juneway, and will cause park and lakefront closures that could stretch into the spring.
Lake Michigan has been rising since 2013, swallowing beaches and altering the shoreline throughout the city. The problem is particularly acute in Rogers Park, where development and city infrastructure abut the lake.
Storms this fall — like the one on Halloween night — have further exacerbated the problem, causing more damage and more erosion. Now, however, the city will take emergency action to prevent further erosion.
At Juneway Beach, crews on Monday will begin constructing a several-hundred-foot-long revetment wall made of boulders that will seek to reinforce the shoreline, Hadden's office said. Work at Juneway Beach could take as long as five weeks, at which point crews would move on to Howard and Rogers beaches and parks, said Leslie Perkins, Hadden's chief of staff.
"We are relieved that we were able to get these stopgap measures for the shoreline," Perkins said. "This will be important to protect our public land."
Juneway Beach Park will be closed during the work, and parking restrictions will be in place on North Eastlake Street for that duration, according to a letter from the Chicago Department of Transportation.
The work will likely require the closure of other park and lakefront land, some of which could stretch into the spring months, Perkins said. Erosion at Howard Beach will require the removal of playground equipment there. The Department of Cultural Affairs and Special Events is also working on a plan to protect a sculpture at Juneway Beach, which is threatened by the eroding shore, a department spokesperson said.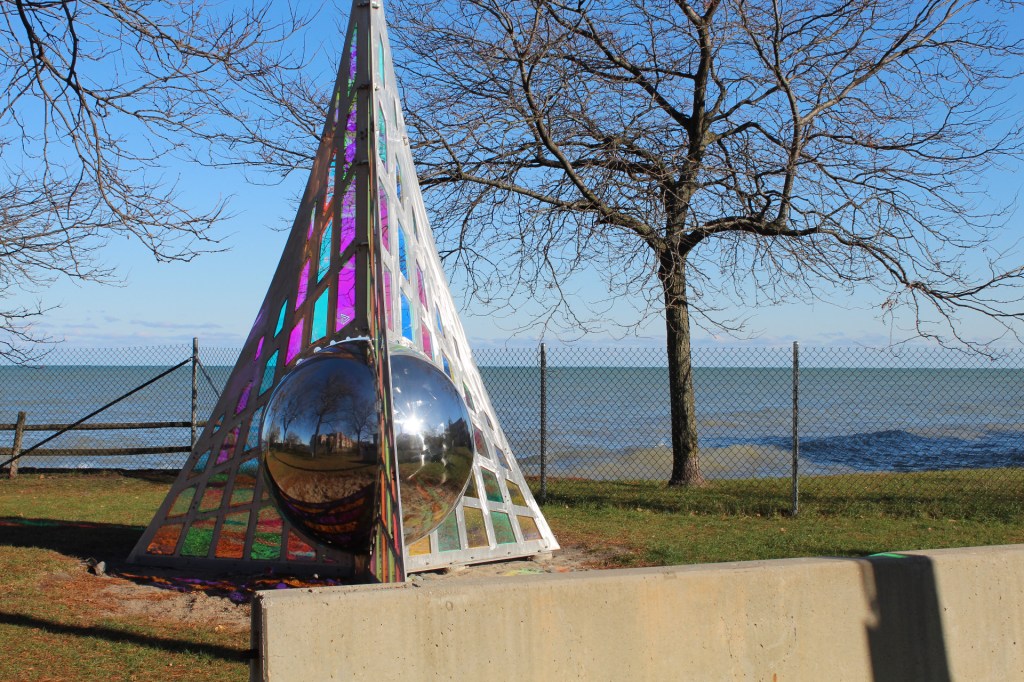 After the reinforcement work is completed, Chicago Park District crews will work to "restore" the Far North Side parks, Hadden's office said. A representative for the park district did not immediately respond to a request for comment.
The emergency work is seeking to halt shoreline erosion until a more permanent solution is approved. Such a solution will likely require heavy lifting from local and federal politicians and agencies.
Since coming into office this year, the lakeshore erosion problem has been one of the biggest issues facing Hadden's ward, Perkins said. In late October, Alds. Harry Osterman (48th) and Hadden held a community meeting on the topic of the lakefront erosion. City officials said large concrete barriers were to be erected along the lakefront to prevent flooding of critical infrastructure like Sheridan Road. Those barriers can be seen at places like Juneway Beach.
A much more grand solution is needed, Osterman and Hadden said at the meeting.
After lake levels reached critical highs in 1987, the city, state and federal government teamed on a $500 million project to fortify about 8 miles of the shore, Perkins said.
That work is evident in the breakwaters and other shoreline infrastructure on the Near North Side; however, the project stopped at Montrose Beach, leaving Edgewater and Rogers Park with the problem they have today.
Hadden and other local leaders are working with Rep. Jan Schakowsky (D-Chicago) and the Army Corps of Engineers to secure $3 million for a study of the lakeshore problem, Perkins said. Once that study is completed, those officials and agencies can then begin lobbying local and federal governments for the funds needed to solve the problem.
"We need to get federal money to shore up the lakefront," Osterman said at the October meeting. "It's going to take many years and we may get funding from the state along the way. But in the short-term we are going to do what is necessary this winter to keep people safe."