SOUTH SHORE — South Shore residents took state officials on a tour of the neighborhood's lakefront Wednesday as they try to secure funding to protect private homes from worsening erosion and rising lake levels.
Officials with two programs within the Illinois Department of Natural Resources, the Coastal Management Program and the Office of Water Resources were on hand for the tour.
State assistance requires some proof of benefit the aid would bring, Office of Water Resources director Loren Wobig said. Because of this, neighbors can help by documenting severe damage to their properties and proving the need for state-funded action.
"If it's your lawn, that's one thing," Wobig said. "If it's your parking garage and your cars and your houses, that's totally separate, and that's where the state has programs in place that can provide dollars."
The Coastal Management Program, founded in 2012, works to protect lakefront communities' natural, cultural and economic resources.
Its work in years past mainly focused on North Shore suburbs, in part because of the severity of erosion there and the difficulty in building relationships with Chicago agencies and residents, director ​Diane Tecic said.
But now, active resident groups like the South Side Lakefront Erosion Task Force and the Black Chicago Water Council have given the state a point of communication, and rising lake levels have worsened erosion along the entire state's shoreline.
"We've been planning for a while now to expand our work throughout Chicago," Tecic said.
Wednesday's tour went along South Shore's lakefront from the Quadrangle condominiums, 6700 S. South Shore Drive, to 75th on the Lake, 2772 E. 75th St.
Ten tour stops included nine private residences and the South Shore Cultural Center, all of which were hit hard by a January storm that flooded the neighborhood.
Beyond the threat to their property, residents are also concerned about preserving the cultural value of South Shore's private lakefront.
The Quadrangle and the Lake Terrace Condominiums, 7337 S. South Shore Drive, were both designed by John Moutoussamy, the only Black architect to design a Downtown high-rise and a pupil of Mies Van Der Rohe. The Windsor Beach Apartments, 7321 S. South Shore Drive, are on the National Register of Historic Places.
One possible solution lies in advocacy group Friends of the Parks' "Last Four Miles" plan to complete a lakefront-long park from Evanston to Indiana, South Shore Drive homeowner Sharon Louis said. As a member of the South Side Lakefront Erosion Task Force, she led Wednesday's tour.
South Shore residents overwhelmingly disapproved of the plan more than a decade ago, preferring to keep their lakefront private. But at the time, lake levels were much lower and erosion didn't pose as serious a threat to residents, Louis said.
Louis lives across the street from the Windsor Beach Apartments. The building's electrical room flooded along with much of the surrounding neighborhood in that January storm, and much of the private beach has been overtaken by water.
Windsor Beach residents have already spent $335,000 on erosion-related projects, and a recently approved long-term proposal to protect the property would cost $1.6 million, according to board president Juliet Dervin.
"We do not have the money to do this," Dervin said.
Residents of the neighboring Lake Terrace Condominiums paid for an extension to a barrier wall that protects the building's terrace and parking spaces a few years ago, but that still isn't enough to prevent flooding.
"Water comes over; we've had it knock out windshields," Lake Terrace board president Joyce Brown said. "When I say flooding, I'm talking flooding up to my knees … We have a pumping mechanism that gets most of it, but when it goes so fast, sometimes we just can't stay ahead of it."
But Lake Terrace residents face a predicament. If they were to further raise their barrier wall — as they initially planned to — it would only worsen the flooding at Windsor Beach.
"We stopped that project, so now we're trying to cooperate with them," Brown said. "We don't want them to be more damaged than what we are."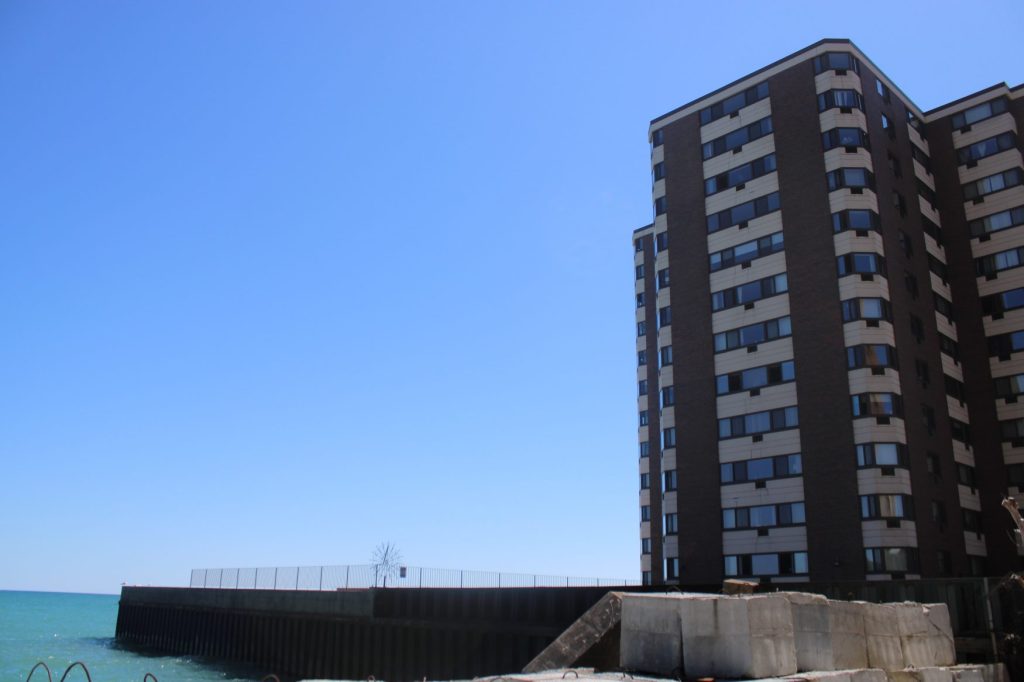 "Competing interests" like these show why the government needs to take responsibility, said Naomi Davis, founder of environmental nonprofit Blacks in Green. Protecting the lakefront serves the common good, just like trash collection or road paving, she said.
Davis is encouraged by the state officials' willingness to hear neighbors' concerns, and by neighbors' willingness to mobilize around the issue. Finding a sustainable solution for all will require time and a bit of give and take, she said, but that process needs to begin now.
"We're way beyond the theoretical," Davis said. "We're looking for real time, real money [and] real solutions, with real neighbors driving the action. … Until the problem gets solved, we are going to be using every play in the book."
Subscribe to Block Club Chicago. Every dime we make funds reporting from Chicago's neighborhoods.
Already subscribe? Click here to support Block Club with a tax-deductible donation.