LOGAN SQUARE — Coming off a tumultuous weekend, Mayor Lori Lightfoot unveiled a nationwide police reform plan Thursday morning, again making it clear she does not intend to defund the Chicago Police Department.
But local organizers, who are propelling a broader movement to combat police violence, aren't letting up.
Hours after the mayor's announcement, youth activists marched to Lightfoot's Logan Square block, again demanding the mayor defund the police department, remove all police officers from public high schools and invest in Chicago's Black and Brown neighborhoods.
"The police department is an inherently racist institution. It cannot be reformed, it must be abolished," an activist with Pilsen Alliance said at Thursday's march.
As a member of the United States Conference of Mayors, Lightfoot helped craft a plan aiming to reform city police departments across the country.
The plan, which comes amid widespread protests for racial justice after the police killing of George Floyd in Minneapolis, recommends cities put more money into social services, empower police chiefs to hold officers accountable and create policies that require other officers to step in when one of them is using excessive force.
It flatly rejects defunding the police.
"A well-resourced police department remains critical as we attend to the other needs of communities, as well," Lightfoot said.
Any plan short of defunding or abolishing the police department isn't enough, activists say.
"We will not be safe unless police are completely defunded," said Alycia Kamil, a 19-year-old organizer with the youth-led group GoodKids MadCity.
"Police reform is a cop out way to fix issues because we know that even with the reforms we have now, they don't work. Body cams were a reform and the police weren't wearing body cams when the 20-year-old got shot."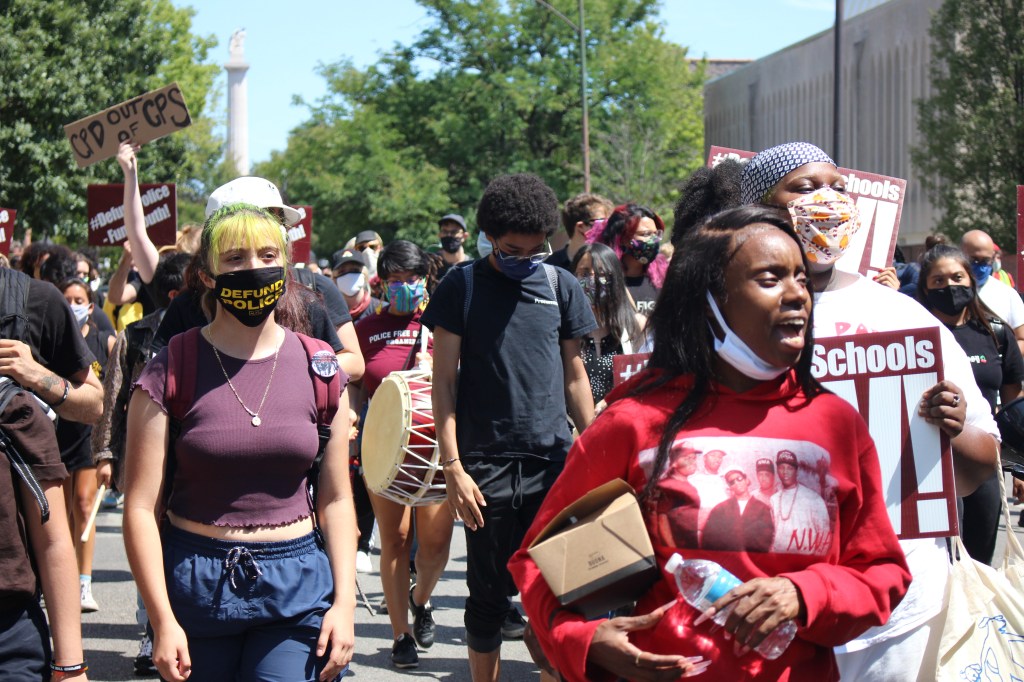 This past weekend, police shot and wounded a 20-year-old man in Englewood, which sparked widespread violence and destruction Downtown.
Like she did in late May, Lightfoot raised Downtown bridges and halted CTA service to prevent people from easily getting Downtown. She also implemented nightly shutdowns of Downtown, which is in effect through the weekend.
Lightfoot's handling of the unrest has drawn sharp criticism from youth activists who have been leading many of the protests across the city.
"What does it [mean] to trap youth, specifically Black and Brown people, Downtown and not leaving them a way to get out without getting arrested? And then charged with felonies? I really think that Lori Lightfoot is acting on anti-Black principles right now," said Ana McCullom, an organizer with the organization Assata's Daughters.
"I think Lori Lightfoot should've just listened to the people. … [She] should just abolish the police like I was saying since I was 6."
McCullom said it's also troubling Lightfoot has been so focused on the looting and isn't questioning what drove people to damage businesses and steal from them.
"If communities had what they needed, it wouldn't have happened," McCullom said.
In recent weeks, local school council members at Chicago's public high schools have been voting on whether to keep or eject in-school police officers from their campuses.
The move comes after Lightfoot and Chicago Public Schools CEO Janice Jackson refused to make a unilateral call and instead punted the decision to local school councils.
A majority of councils have opted to keep in-school police officers on campus, but a handful have opted to go without school resource officers from now on.
On Monday, the district announced plans to cut its school police program by more than half in the next fiscal year by removing payment for officers on days they are not serving in schools, and no longer paying for mobile patrol officers. 
The budget proposal — part of a broader $8.4 billion spending plan unveiled Monday by the district — is the first indication of how the district will modify its school police contract for next year, with coronavirus dramatically changing the landscape for schools alongside an increased spotlight on the cost of school policing. 
At Thursday's protest, youth activists called for redirecting funding for school policing toward families in Chicago's underserved neighborhoods.
"We feel like we should use that money to get families more resources, such as computers and food. … other resources other than cops in schools. We need something to better our education," said Lamia Young, 15, a sophomore at Hyde Park Academy.
"Having to come to school everyday and see the people who hurt us personally that hurts. It makes us feel like we have to fight on our own."
Subscribe to Block Club Chicago. Every dime we make funds reporting from Chicago's neighborhoods.
Already subscribe? Click here to support Block Club with a tax-deductible donation.