ENGLEWOOD — A destructive Sunday rocked Chicago as dozens of stores in neighborhoods all over the city were broken into and ransacked, leaving behind broken glass, empty shelves and shattered businesses.
The widespread looting played out one day after people smashed windows in the Loop and River North, stealing merchandise, vandalizing ATMs and spray-painting walls. The unrest came at the end of organized protests of the killing of George Floyd in Minneapolis, though protests themselves were mostly peaceful.
The closure of Downtown left it mostly quiet throughout the day Sunday and into the night, but the damage spread throughout the city. People broke into stores, pouring through smashed front doors and plate glass windows and emerging with handfuls of merchandise. It played out in Logan Square, Humboldt Park, Garfield Park, Englewood and many other neighborhoods.
Chicago's suburbs saw similar looting as well. Chain stores and mom-and-pop stores alike were targeted, leaving behind a trail of packaging from stolen items. Fires also broke out around the city, sending firefighters scrambling to put out the blazes.
Crowds broke into stores at 71st and Halsted streets, and at 74th and Halsted in Englewood. There was looting at Madison Street and Pulaski Road in Garfield Park, and at Chicago and Kedzie avenues in Humboldt Park. A news crew in WGN-TV's helicopter filmed a small beauty store being looted at 79th Street and the Dan Ryan in Chatham. And the neighborhood plaza at 47th and Halsted was also destroyed.
At Madison and Pulaski, police blocked off streets after looting and rock throwing. Neighborhood resident Keysha Carson spent time with friend inside an empty storefront amid the chaos. Asked about the chaos going on in her Garfield Park neighborhood, Carson blamed the situation on politicians.
"They need to clean out everyone from the top to the bottom," Carson said. "No one here owns anything so no one cares about it," Carson said.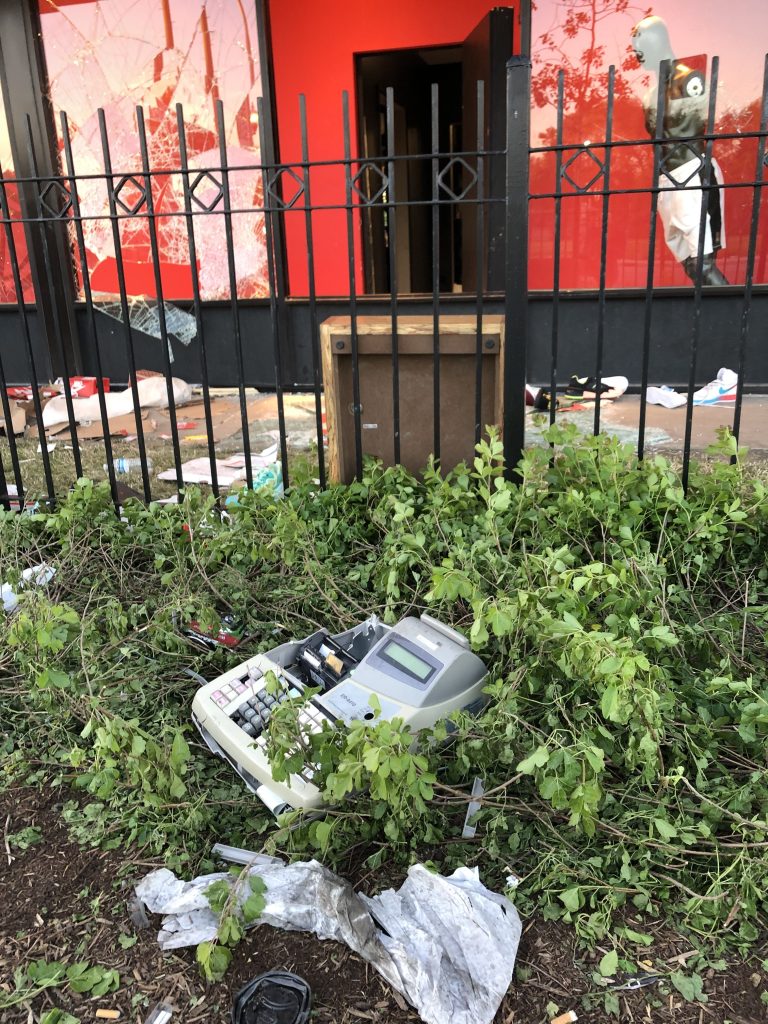 In Logan Square, the Foot Locker at Kimball and Diversey avenues was looted. In Canaryville, a Metro PCS Store was ransacked. Its owner sat outside the store on the stoop when it was over, guarding it because he lives upstairs.
Multiple gatherings played out around the city Sunday, including a protest march that began at the Chicago Police headquarters in Bronzeville. That march remained peaceful for miles as it flowed south into Hyde Park. But it began to get tense just after 7 p.m., as some people clashed with police at the 53rd and South Lake Park. The group eventually headed east and marched on Lake Shore Drive, closing down lanes for blocks.
South Side community leaders said they understand the frustration protesters feel over police abuses and systemic racism in America. But they cautioned marchers that their actions could undue years of work to build up the South Side.
Asiaha Butler, executive director of Resident Association of Greater Englewood, said she watched looters on Sunday target stores near 66th and Halsted. As she watched protesters pick over retail stores in Englewood, Butler said she was thinking of the children and elderly residents of the neighborhood who have already been traumatized by police abuses and decades of disinvestment.
"I know they're desperate," Butler said. "This puts trauma on the very people that help those individuals. Our communities are already disinvested, struggling to get jobs. This is going to set us back further behind. We've already been rebuilding.
"It's not right, the way people have chosen to express themselves. I've never seen it in my life."
Butler said the South Side looting is different from what was seen Downtown, where city officials have said violence was perpetrated by organized groups. Rather, the neighborhood activity is a reaction to the Downtown events combined with years of anger and mistrust of local officials.
"What we have seen over the last few days, this is a sense of desperation," Butler said. "It's layers upon layers of tension built up. To me, it's more of a direct outcome of our systems in Chicago and this country."
Activist Ja'Mal Green, speaking at a South Side news conference, said he understood the rage playing out in the streets, saying vast economic and health care disparities for Black Chicagoans — along with police brutality and oppression — have created the environment.
But he pleaded with people to stop the looting and channel their energy into making change.
"All of those folks out there looting on the South and West sides, understand that when it's all over, they won't care," Green said. "Understand when it's all over, they're going to build up Downtown again so it's thriving for the tourists, but they will never reinvest back into the South and West sides. We don't have the power, we don't have anything."
He also criticized Mayor Lori Lightfoot's decision to shut down Downtown, saying it sent the wrong message to the rest of the city.
"The mayor sent a message today that she was going to protect Downtown at all costs, shut everything down around it," he said. "Basically saying she was going to protect the business district and leave all the other business throughout Chicago to fend from the themselves. And that was not the correct message."
At 47th and King Drive in the Ground Boulevard neighborhood and in Hyde Park, businesses were badly damaged.
Across town in Logan Square, a heavy police presence of officers and SUVs blocked off the mayor's block.
Just down the street from her home, though, a large BLM sign was hung.
People gathered at Logan Monument — some relaxing with friends and speaking while others protested. Felipe Silva, of Logan Square, walked around the monument with his arms raised and, at times, laid on the ground with his hands behind his back. He'd been quietly protesting for hours along with Michael Sampson, of Roscoe Village.
"We're here just to show solidarity to the community," said Silva, who protested for the first time Saturday night Downtown. "It was the most empowering thing I've ever done in my life. For the first time in my life I felt like an American citizen."
Just blocks away, on Kimball Avenue near Diversey Avenue, a large group of police surrounded and handcuffed a Black woman who they claimed had looted from a nearby Foot Locker. Neighbors filmed the situation, worried about the woman's safety.
At one point, a second woman got into a car that police claimed was full of items stolen from the Foot Locker. The second woman told officers it was her car, not the woman's in handcuffs. An officer immediately threatened to smash open her car window to get her out.
A sergeant spoke to the woman through the car window and eventually was able to get her to come out. Both women were eventually released by police.
The large police presence in the neighborhoods feels provocatory, said John Francis Klingle, one of the neighbors who filmed the incident.
Sarah Stevens, who was also filming, said she was frustrated by the city shutting down the Downtown area to protect the businesses there.
"I don't f—— care about Cartier and Macy's," Stevens said.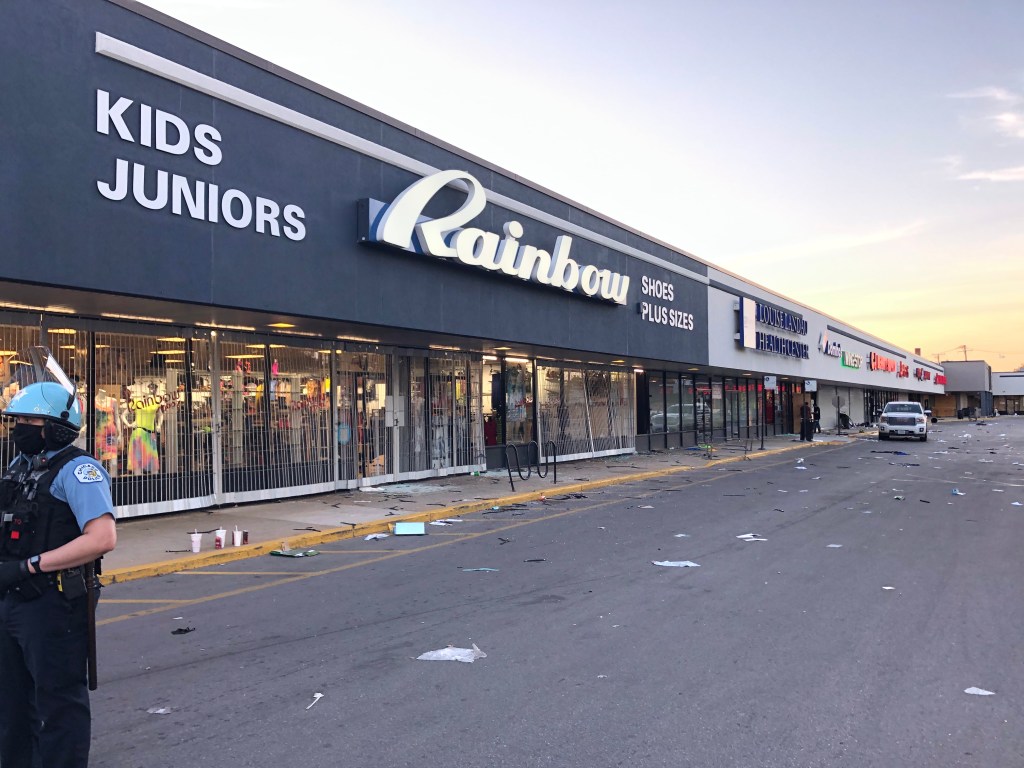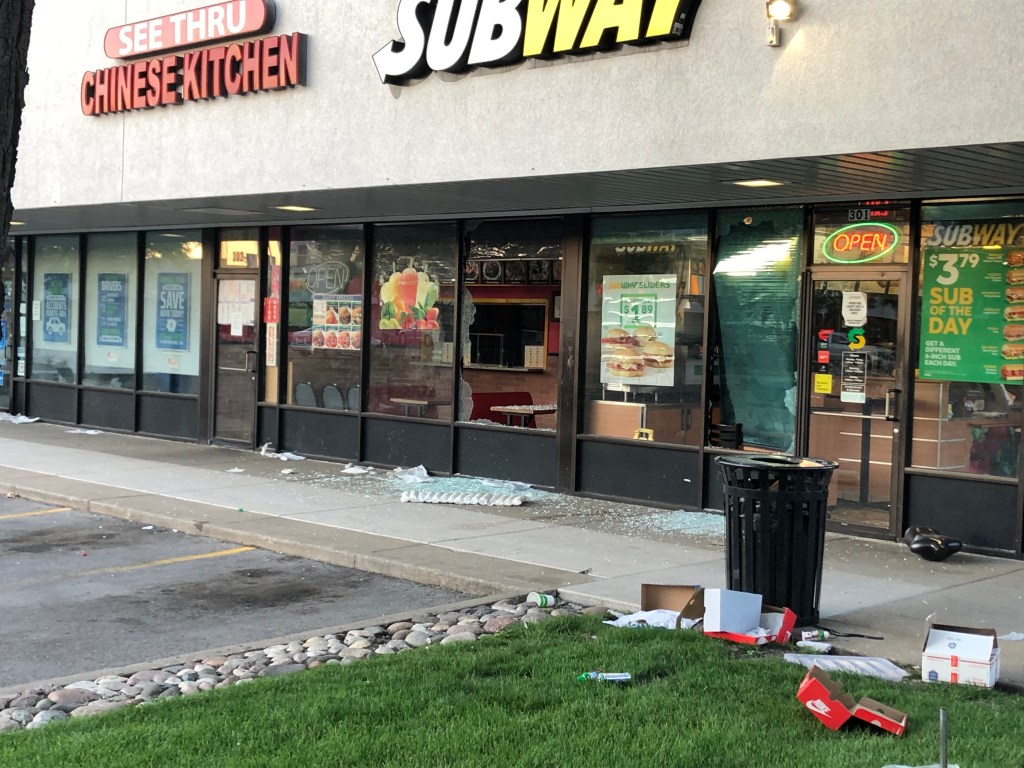 Subscribe to Block Club Chicago. Every dime we make funds reporting from Chicago's neighborhoods.
Already subscribe? Click here to support Block Club with a tax-deductible donation.