CHICAGO — More than 100 protesters were arrested Downtown Friday night during a mostly peaceful protest of people demanding justice for the killing of George Floyd in Minneapolis at the hands of police.
The Chicago protest mimicked others in cities across the nation. For hours, hundreds of protesters marched and chanted as they walked through the Loop late into the night, at one point marching onto the Eisenhower Expressway.
Although the protest was peaceful through most of the night, there were "multiple arrests," officers were injured and properties and city vehicles were damaged, said officer Michael Carroll, a police spokesman.
On Saturday morning, Supt. David Brown said police arrested 108 protesters on charges of mostly disorderly conduct. One person was arrested on gun charges after a shot was fired and another was charged with aggravated battery for allegedly breaking an officer's wrist, Brown said.
Some windows were broken, but Brown said he could not confirm reports of looting, adding most protesters were peaceful.
Floyd, a Black man, died after Minneapolis Police officer Derek Chauvin pressed his knee on Floyd's neck for more than eight minutes, including more than two minutes after Floyd became unresponsive, prosecutors said. While in police custody, Floyd told the officer he couldn't breathe. Chauvin has since been fired and charged with murder.
"We're here in Chicago in solidarity for Minneapolis," said organizer Iggy Flow with the group Grimm Vanguards. "We are here to say that we feel your pain so deeply about police brutality here in Chicago."
Videos of Floyd's death went viral, igniting days of protests in Minneapolis and in cities across the country. On the third night of protests in Minneapolis, a police station was set on fire.
"A lot of people here, they're mad, they're fed up. They want to do what Minneapolis is doing right now. But we don't have the numbers," Flow said in Chicago.
Throughout the protest, Flow called for a peaceful demonstration, saying looting is "not the way out."
"No more arrests. We are going to keep marching, we are going to make a stand," he said over a megaphone.
The demonstration in Chicago remained relatively peaceful until clashes between protesters and police officers escalated after midnight. Videos on Twitter show fights breaking out between protesters and police along State and Harrison streets at roughly 12:15 a.m. 
Protests are expected to continue Saturday, with thousands expected to head Downtown at 2 p.m. Mayor Lori Lightfoot said she understood the anger and frustration people are feeling, but she urged protesters to practice social distancing and wear masks.
"COVID isn't gone," she said Saturday morning. "When you're out there protesting. Wear a mask, practice social distancing … please be smart and be safe."
While supporting the protests, Lightfoot and Brown said they would not tolerate "lawlessness."
"We're going to give people space to express themselves, but we won't tolerate lawlessness," Lightfoot said.
Earlier Friday night, protesters gathered outside the Metropolitan Correctional Center federal prison to chant to prisoners inside. Prisoners responded by flickering their lights and making noise in solidarity. Protesters also gathered outside Trump Tower at one point.
Lennie Williams, of Auburn Gresham, said he was protesting to support his community.
"I'm tired of seeing our people being gunned down by police," Williams reflected. "I'm scared out of my life because that could be me at any moment."
Williams said he was protesting because he wants justice for the next generation, despite the risks of exposing himself to people who might have coronavirus.
Sydney Gallant, a second-year Columbia College student, also marched in the protest.
"This isn't about violence. We are not violent. We are pushed to violence when we are not heard," Gallant said.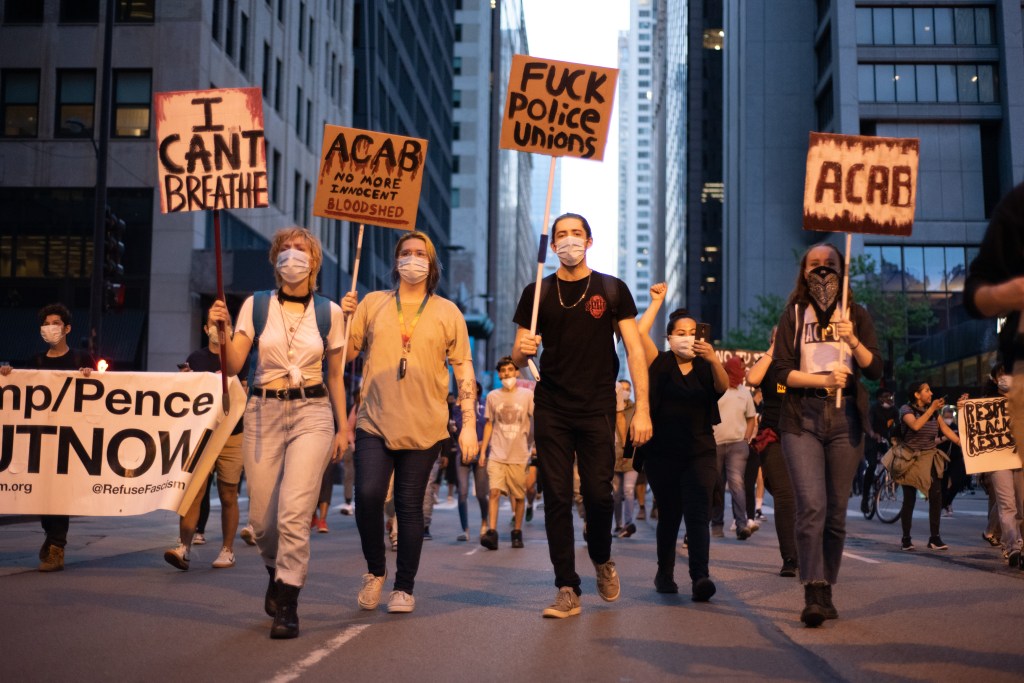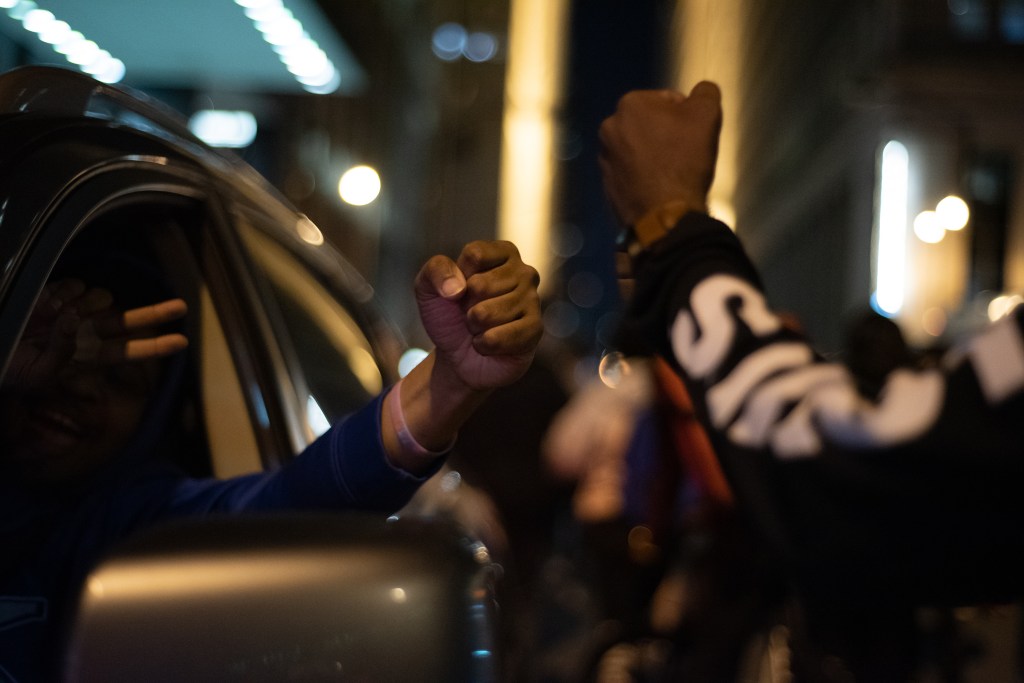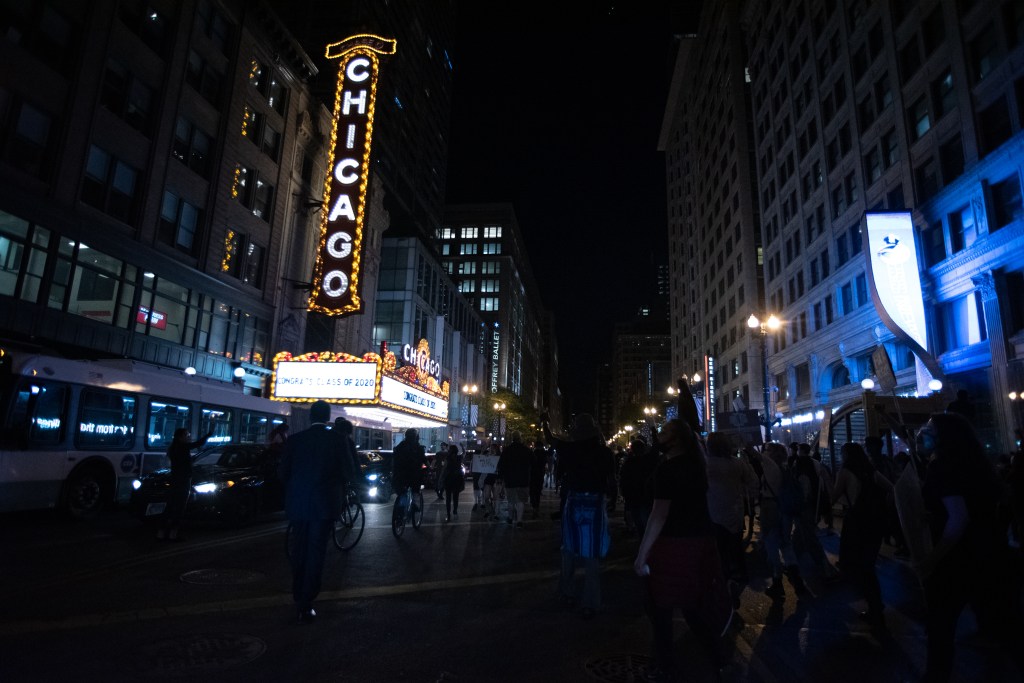 Subscribe to Block Club Chicago. Every dime we make funds reporting from Chicago's neighborhoods.
Already subscribe? Click here to support Block Club with a tax-deductible donation.