CHICAGO — Mayor Lori Lightfoot imposed a 9 p.m. daily curfew on the city amid protests over the killing of George Floyd.
Lightfoot set the curfew during a Saturday press conference just about a half hour before it was set to go into effect. She said the curfew would run 9 p.m.-6 a.m. daily "until further notice," though essential workers are exempt.
An emergency alert about the curfew was sent to people's cellphones throughout the city.
The curfew is meant to help police, who are facing large protests, particularly in the Downtown area. Lightfoot said they'd be able to use the curfew to "clean out and clear out" Downtown.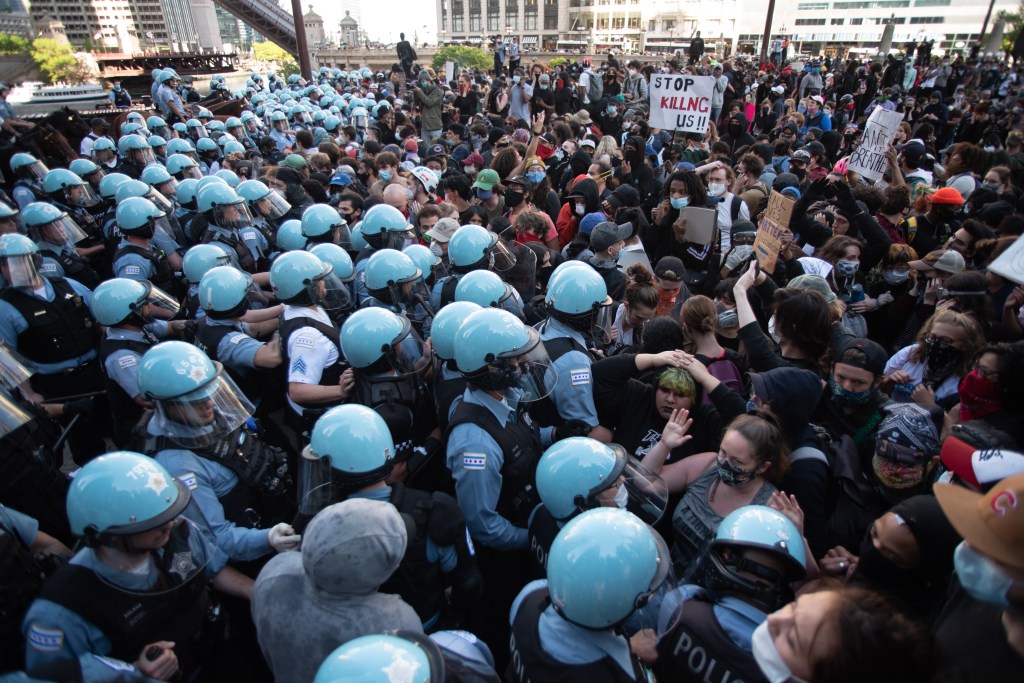 "We want to give people ample opportunity to clear the streets. We're talking about 35 minutes. I think we're giving them ample notice," Lightfoot said. "My expectation is most people who have been peaceful today are going to go home. But if they don't, we give the Police Department another tool to use to enforce the curfew."
But people Downtown said they were notified of the curfew at the exact time it was put in place — while bridges were raised, blocking access across the Chicago River, and some CTA trains were shut down.
Police will warn people to disperse but will arrest those who don't comply, Lightfoot said.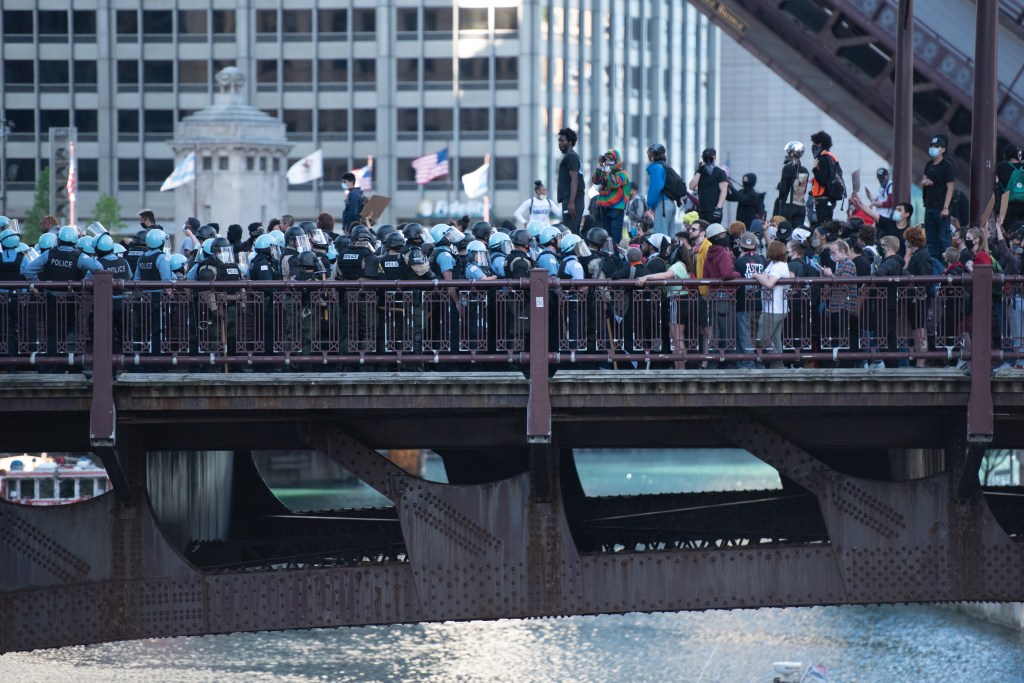 The American Civil Liberties Union of Illinois condemned the curfew, saying in a statement it could lead to "arbitrary and discriminatory enforcement." The group is considering filing a lawsuit over the curfew.
"The mayor's summary announcement of a potentially indefinite curfew tonight for the entire city — with hundreds of people trapped in the Loop — raises serious constitutional questions that need to be remedied," the group said in a statement Saturday night. "Any curfew must be limited to the specific places in the city where there is imminent threat of danger or harm, not the entire city.
"The broad and vague nature of this order — and the suggestion that it is indefinite in time — invites arbitrary and discriminatory enforcement. We encourage the mayor to rethink this strategy immediately. The ACLU of Illinois is exploring all options, including litigation."
RELATED: Hundreds Take Over Downtown Streets In Chicago, Demanding Justice For George Floyd
The vast majority of Saturday's protesters were peaceful, said Lightfoot and Police Supt. David Brown.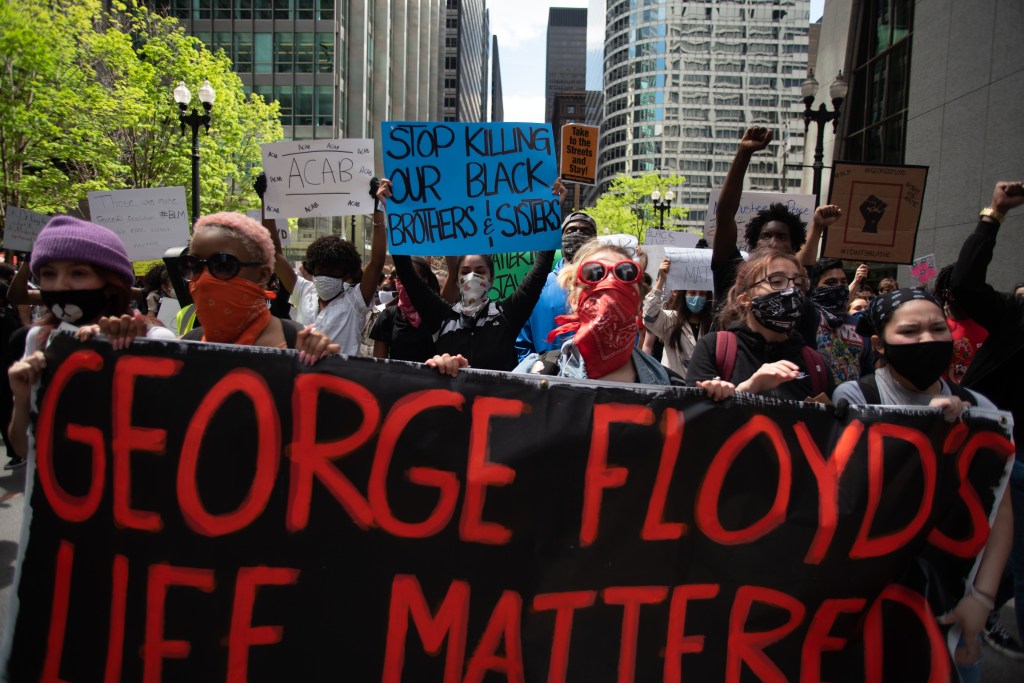 But officials said some protesters came with bottles of urine, rocks and bats that they used against Chicago Police officers.
"I want to express my disappointment and, really, my total disgust at the number of others who came to today's protest armed for all-out battle," Lightfoot said. "You don't come to a peaceful protest with a bowling ball or a hammer or a shovel or a baseball bat. You don't come to a peaceful protest with bottles of urine to throw at police officers.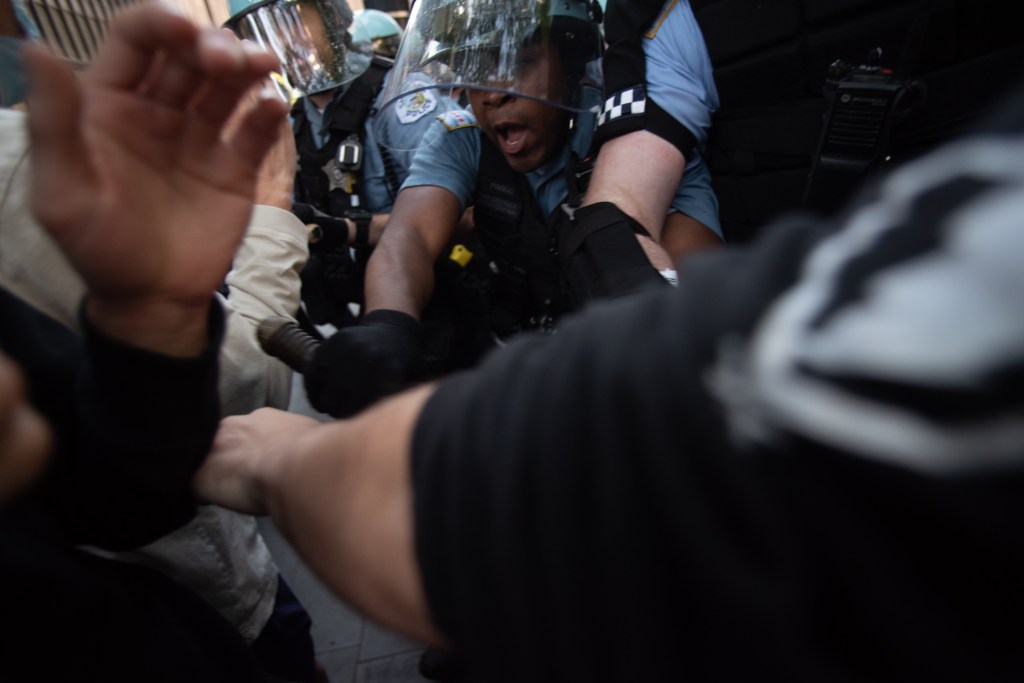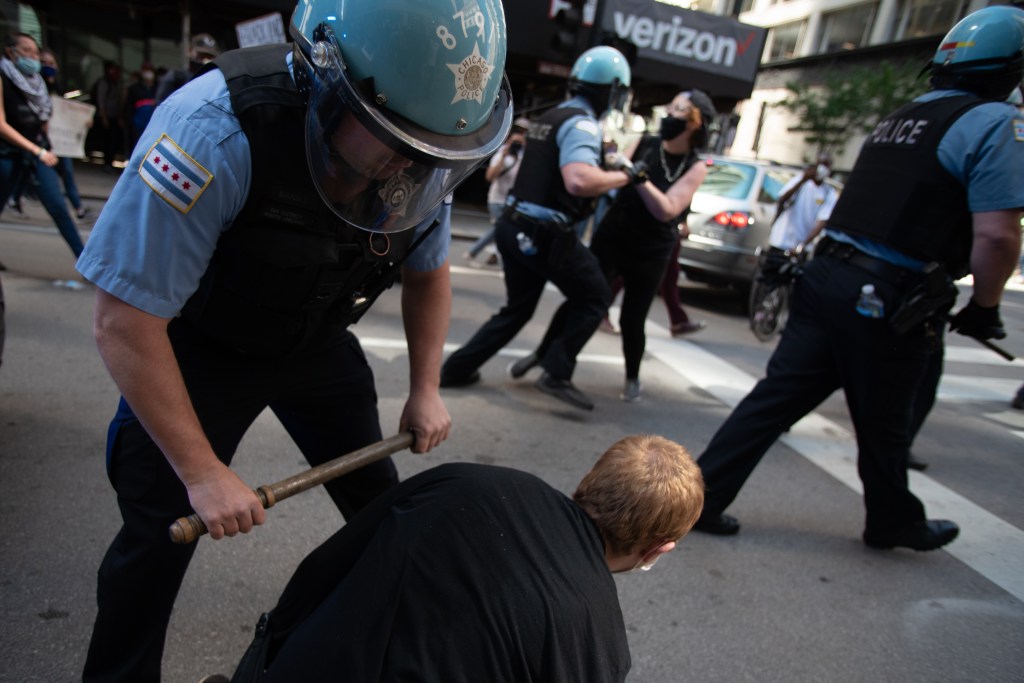 "I applaud the vast majority of the individuals who came here to make true and lasting change peacefully; but to the rest of you, I'm here to call you out for your recklessness and for your obscene disrespect to the righteous cause you are trying to hijack."
Brown said he thought Chicago's officers had shown "great patience in the face of stiff opposition."
Brown said at least one officer had bones broken during Saturday's clashes with protesters and others had minor injuries. On Friday, there were "dozens" of officers who were injured, he said.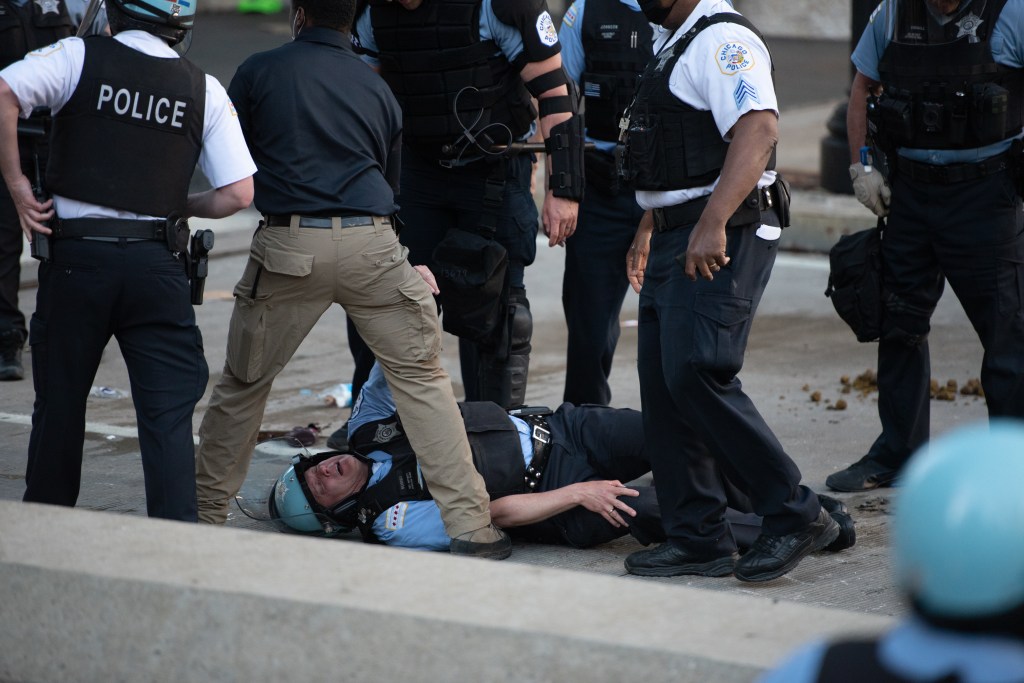 But protesters throughout the day said they were pepper sprayed and abused by officers — some of whom obscured their badge numbers.
Eve, a protester who came out with a friend from Logan Square, said the protest was peaceful until they marched to Trump Tower, where there was a line of officers.
"It was weird," she said. "There was not that presence outside of Federal Plaza or anywhere else. When we got there [Trump Tower] it was crazy."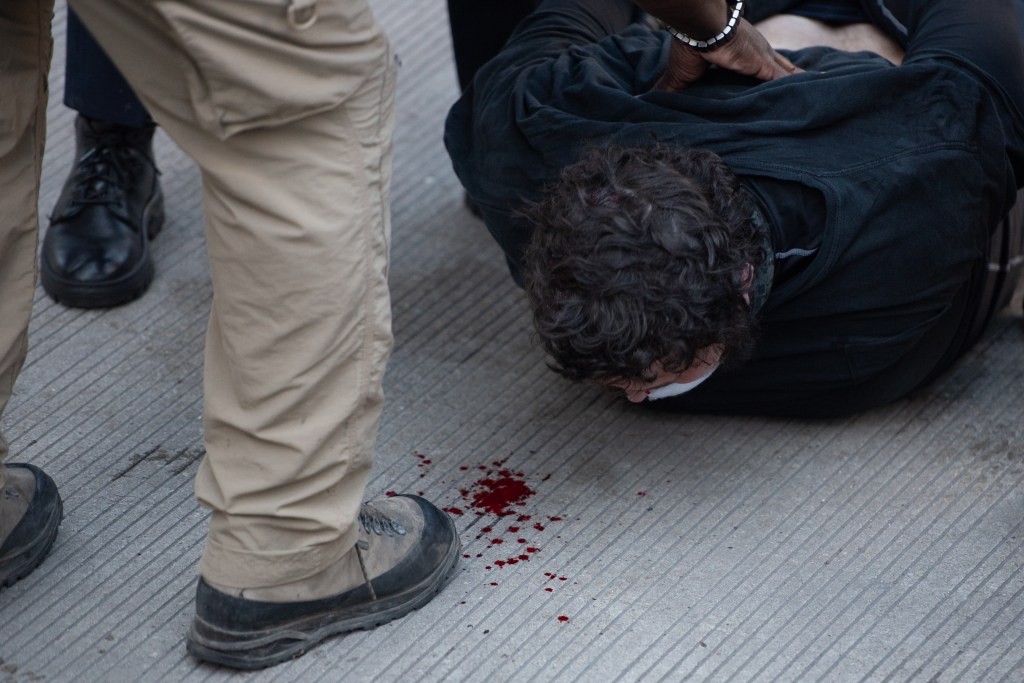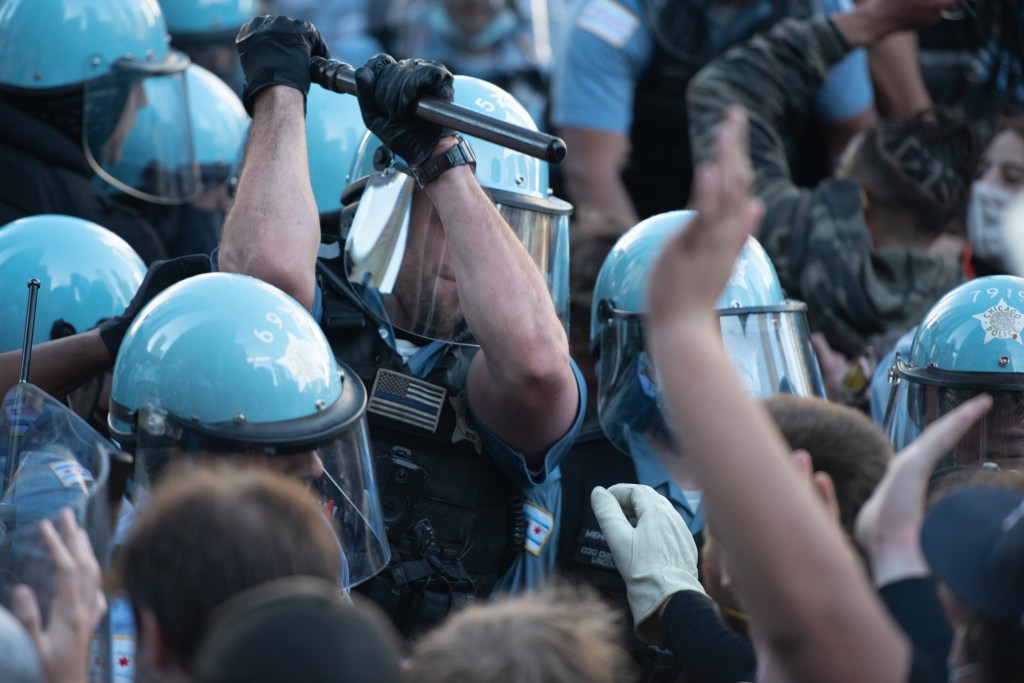 Eve said she could hear officers calling for backup and many protesters seemed confused as to why. She and her friend helped walk a dad and his baby out of the crowd. When she turned around, she said she saw an officer run into a street and knock over a protester.
"They kept calling for more and more police at Trump Tower," she said.
The city also raised bridges over the Chicago River and used officers to block streets and keep protesters from moving around.
Brown acknowledged officers did pepper spray and arrest protesters, saying they'd done that to "prevent looting."
The superintendent also said police are using social media to track what protesters are planning.
Lightfoot said the city will respect peaceful protests and give space to those expressing their First Amendment rights, which she said was the vast majority of people.
But the mayor said the people who clashed with officers are "criminals."
"The people who are throwing things at our police, who came armed with weapons in what should have been a peaceful protest to honor the memory of George Floyd, those are criminals," Lightfoot said. "We gave and will continue to give peaceful First Amendment expression the space that it needs and the space that it deserves, but we can have zero tolerance for people who came prepared for a fight and tried to initiate and provoke our Police Department.
"There's no space for them, and we should not give them any shelter anywhere in our city. That's not who we are as Chicagoans."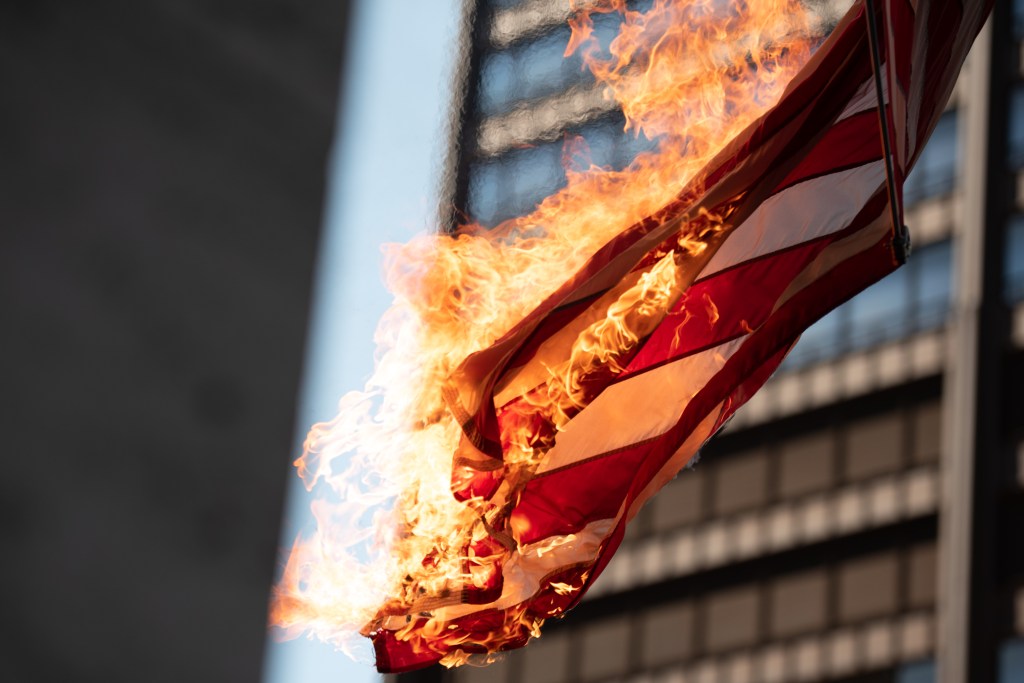 Roy Williams, an employee of Accurate Board Up in suburban Hinsdale, had been boarding up store windows on the Magnificent Mile — some that were broken and some as a precaution — since 5 a.m. Saturday.
By 8 p.m., Williams was still working as some people, who did not appear to be protesters, were looting the Nike Store a half block from where he was working and a Nieman Marcus several blocks north.
Williams said his crew had five trucks and still had to make seven trips to get more wood throughout the day.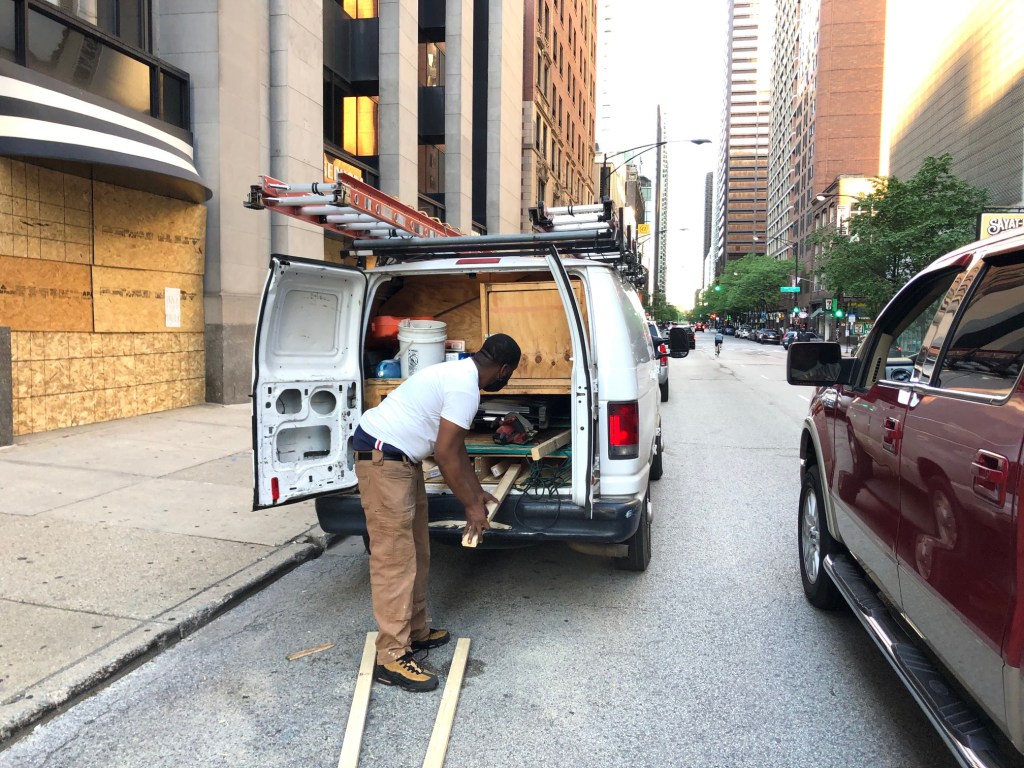 "This is stupid," Williams said, referring to the broken windows and looting.
One woman who came out of the Nike store with numerous shirts in her arms said she was from East Side. She refused to give her name but said, "This is what happens when you kill someone for no reason. We gonna take what we want."
Multiple announcements by police on loudspeakers were played to protesters standing on the Wabash Street bridge but they were ignored.
Subscribe to Block Club Chicago. Every dime we make funds reporting from Chicago's neighborhoods.
Already subscribe? Click here to support Block Club with a tax-deductible donation.