DOWNTOWN — Mayor Lori Lightfoot said the National Guard has been called in to help the Chicago Police Department prevent riots and vandalism Downtown after Saturday protests in the Loop.
"This wasn't an easy decision; I did it at the request of and in consultation with Supt. Brown. But it's surely the right decision in this moment," Lightfoot said Sunday morning.
Gov. JB Pritzker sent 375 Illinois National Guardsmen and -women to the city after Lightfoot's request, Pritzker said in a statement. About 100 State Police officers will also help Chicago officers.
"This is an immensely challenging moment for our city, our state and our country, one born from decades and centuries of systemic racism," Pritzker said. "To those peacefully expressing the pain, fear and rage of this moment, I hear you. Your voices matter. We must address the profound injustices in our society and bring about real and meaningful change."
The National Guard will "be primarily providing perimeter line support" and will not patrol the city, Lightfoot said. Pritzker said the soldiers would help "so the center of the city doesn't get overtaken the way it seemed to certain times" Saturday night.
Police Supt. David Brown said the Guard will also be used to provide some relief for Chicago Police officers, who have had all their days off canceled and are working 12-hour shifts.
Lightfoot said she's not worried the Guard would enflame already tense relations between police and some residents.
"They're every bit as well trained as our officers are. They are trained to come into these circumstances," Lightfoot said. "The particular assets that are going to be initially deployed are military police officers. I have every confidence they are going to show the same kind of restraint that our officers do."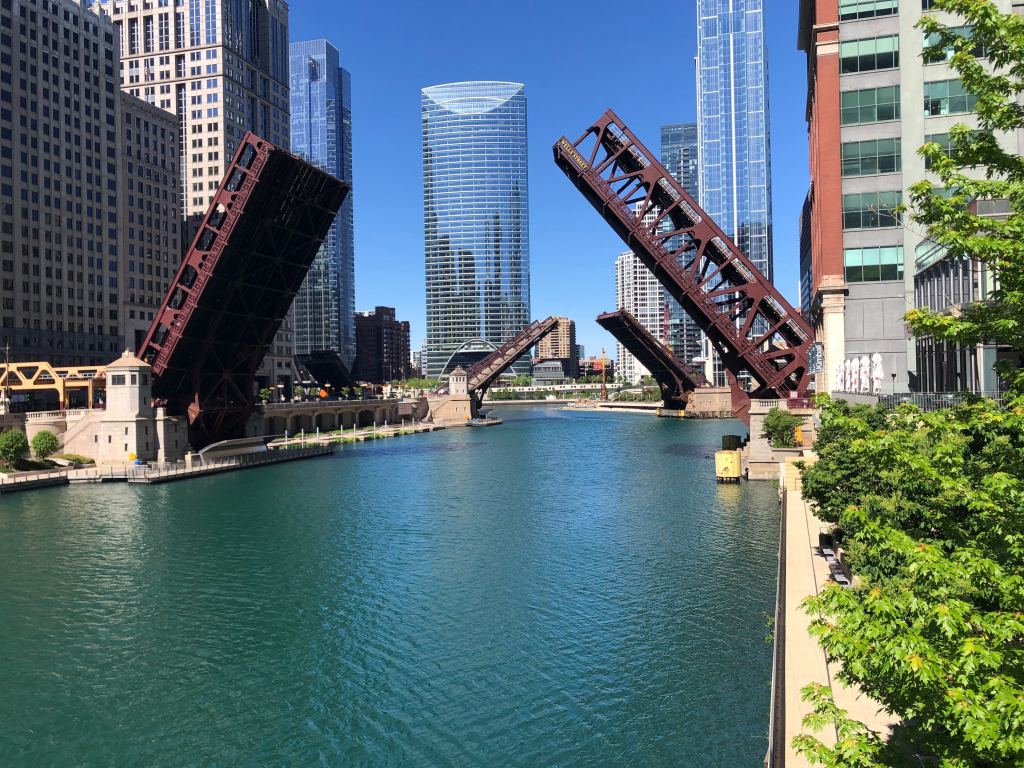 Lightfoot praised the mostly peaceful protesters, but she said "disgusting" violence and destruction is harmful to the fight for racial justice.
"We saw four shootings in the Loop last night from 7-11 p.m.," Lightfoot said. "Six people were shot; one person killed. Is that how we bring social justice? How we seek change? No, it certainly is not."
Lightfoot set a curfew during a Saturday night press conference just about a half hour before it went into effect. She said the curfew would run 9 p.m.-6 a.m. daily "until further notice," though essential workers are exempt.
But even journalists who work in the Loop were turned away Sunday morning:
Lightfoot faced widespread criticism from protesters for the way the curfew was enacted — with less than an hour's notice with CTA trains from the Loop shut down and bridges over the Chicago River raised.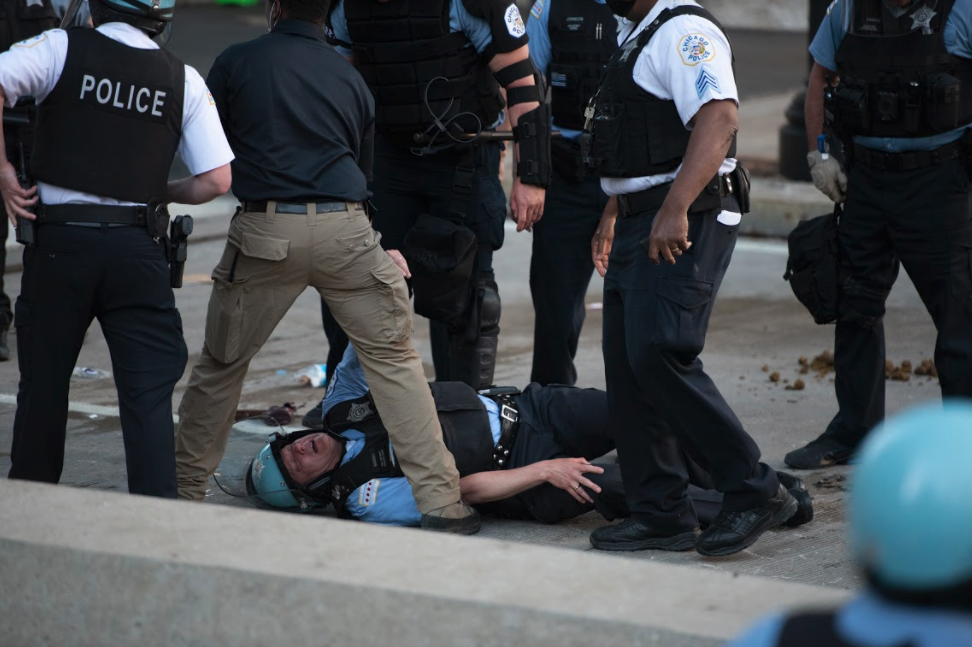 Damage, Injuries And Arrests
Brown said police arrested 240 people for looting and other violations during Saturday night's protests. He referred to those Downtown Saturday night as a "mob," not protesters.
"Our First Amendment rights are sacred … and should not be used as a ruse for criminal behavior," Brown said. "What was meant as a peaceful protest devolved quickly into looting and property damage and violence."
Brown said officers were assaulted verbally and physically, with 20 hospitalized with broken bones. At least two required surgery, he said.
"Police vehicles were spray painted with graffiti, had their windows broken, were flipped over and burned," Brown said. "Businesses and buildings that have existed in Chicago for generations were vandalized."
Protesters blamed police for escalating tensions Saturday night.
One protester was hit so hard by an officer with a club, the club broke. A former Block Club Chicago reporter covering the protest was pepper-sprayed and many others said officers brutalized crowds as they approached Trump Tower.
Concerns About Curfew
The American Civil Liberties Union of Illinois condemned the curfew, saying in a statement it could lead to "arbitrary and discriminatory enforcement." The group is considering filing a lawsuit over the curfew.
"The mayor's summary announcement of a potentially indefinite curfew tonight for the entire city — with hundreds of people trapped in the Loop — raises serious constitutional questions that need to be remedied," the group said in a statement Saturday night. "Any curfew must be limited to the specific places in the city where there is imminent threat of danger or harm, not the entire city.
"The broad and vague nature of this order — and the suggestion that it is indefinite in time — invites arbitrary and discriminatory enforcement. We encourage the mayor to rethink this strategy immediately. The ACLU of Illinois is exploring all options, including litigation."
Sunday morning, garbage trucks and emergency vehicles blocked access to some Downtown streets and bridges remain raised. The city is limiting access to the Loop throughout the day, Lightfoot's office said in a statement.
The following streets are being closed off to everyone except "employees whose businesses are located within the designated boundaries, individuals who reside in the surrounding area and residents engaged in essential activities":
Division Street from Lake Shore Drive and North Halsted Street
North Halsted Street from Division Street to Milwaukee Avenue and Grand Avenue
Milwaukee Avenue from Grand Avenue to Kinzie Street
Canal Street from Kinzie Street to 26th Street
26th Street from Canal Street to Lake Shore Drive
The city said it's working with protesters on "alternative" routes for protests planned Sunday afternoon, but activists reached by Block Club were unaware of such plans.
"Nope," said Black Lives Matter activist Kofi Ademola, who was working to get arrested protesters out of police custody Sunday morning. "I have no idea who they're communicating with because it certainly isn't us."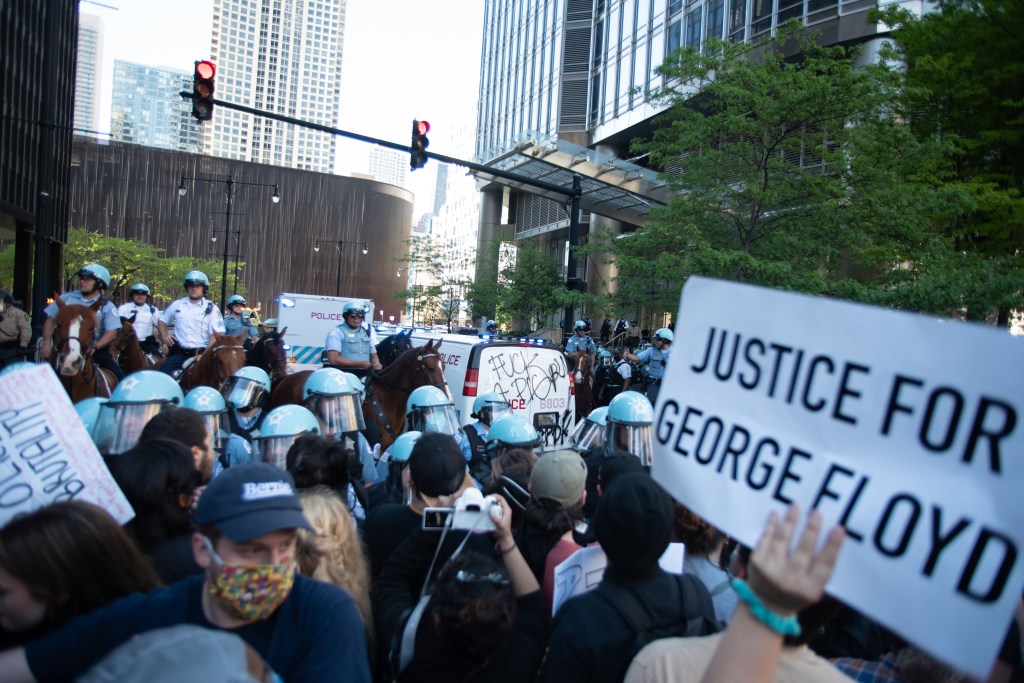 Subscribe to Block Club Chicago. Every dime we make funds reporting from Chicago's neighborhoods.
Already subscribe? Click here to support Block Club with a tax-deductible donation.