UNIVERSITY VILLAGE — The thirst for getting into Illinois' nascent legal cannabis industry was on full display Saturday as thousands packed into the city's first Cannabis Resource Fair.
How to expand the industry's diversity was a recurring topic as budding entrepreneurs line up to snag future state licenses to open cannabis businesses. All of the existing dispensaries are run by white men, a fact the state and city vow to improve on during the second round of licensing.
One message began with Mayor Lori Lightfoot in the morning and was echoed throughout the day: the industry is bigger than just pot shops.
The crowd showed up to the UIC Forum, 725 W. Roosevelt Road, to listen to panels, connect with industry players or pitch a new idea. Many had or were planning to apply for state licenses in the industry.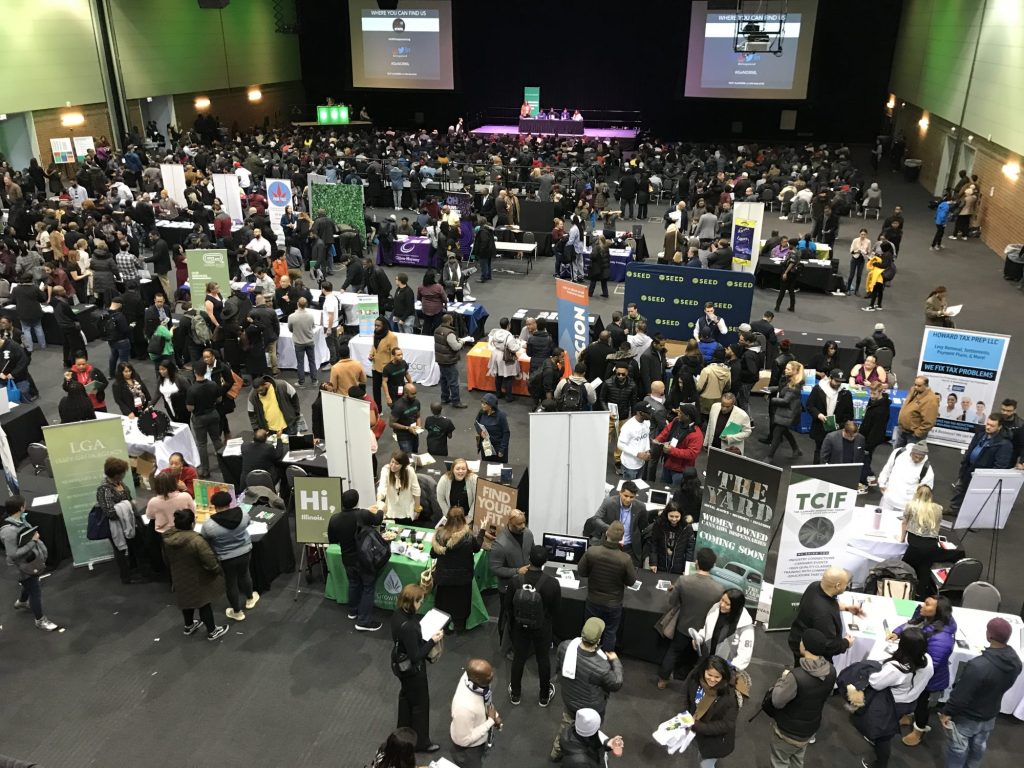 The event was free and connected dispensaries, government departments, groups organizing around social equity and other industry insiders to a crowd that was much more diverse than the industry itself.
In addition to vendor booths, there were six panel discussions on topics like expungement and navigating the complex regulatory obstacles that make it difficult to open a business in the industry.
Mayor Lightfoot opened the event before sitting down with State Rep. Kelly Cassidy and Wanda James, who opened the nation's first Black-owned dispensary in Colorado, Simply Pure Dispensary.
Lightfoot said she hoped the event would help those with a great business idea link up with experts who can help them achieve their dreams.
"It's all about building wealth," she said. "There's lots of different ways which you can participate … and I want to make sure in the city of Chicago that we are laying the foundation for people to participate at all points of entry."
James had a free tip for entrepreneurs in the room, referencing a state law that requires strict packaging when driving on the highway with your cannabis. 
"The first person in this room that can come up with biodegradable child-proof packaging is going to be the richest person in this room," she said.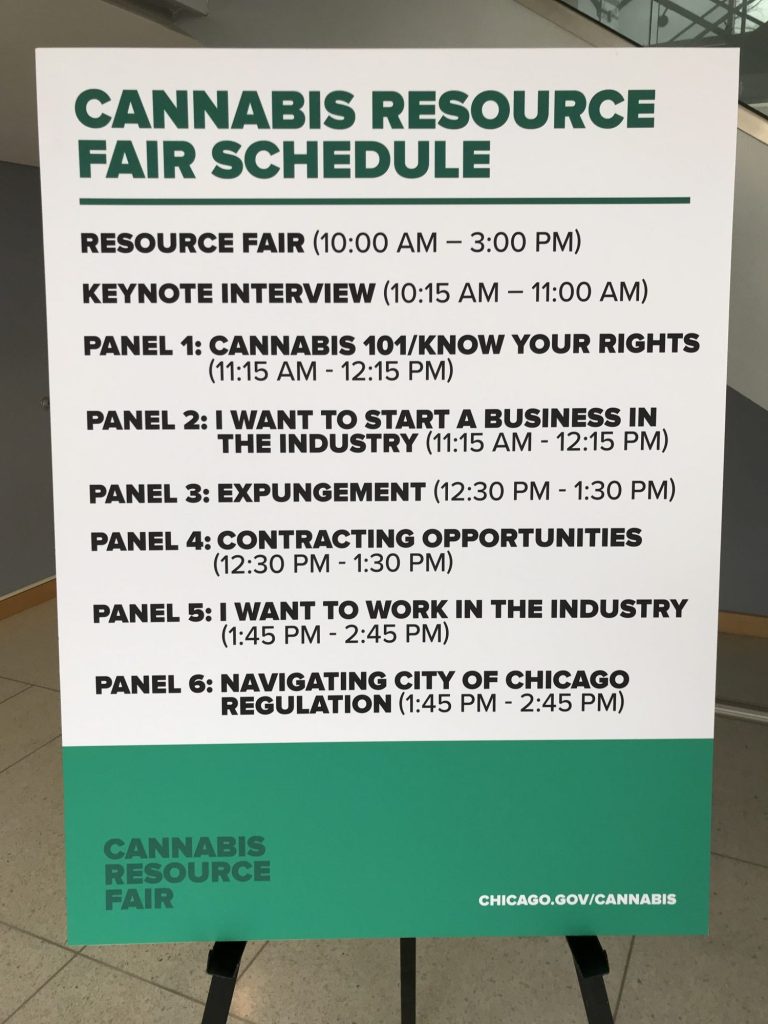 Lightfoot's cannabis advisor Paul Stewart led the effort to organize the event and was thrilled with the turnout. 
"We had just over 4,800 people register and it felt like all 4,800 showed up. But I would probably guess close to 3,200- 3,500 over the course of the day," he said.
Stewart said the mayor's team had been conducting neighborhood level outreach and realized there was a demand for a larger event, so they created what he described as a "one stop shop."
"We can bring all of the vendors here, all of the technical-assistance providers that we had already vetted so we knew people weren't getting scammed," he said. "You get expungement information, the licensing and technical assistance."
Stewart echoed the sentiment that those looking to enter the industry should look at other opportunities beyond opening a dispensary.
"Everyone doesn't need to be a cannabis business. If you have a business already, then find out if you have the ability to contract with one of the companies. Anything from security, to trucking, electrical contractors," he said. "…We want as many local residents and clearly want to see more diversity in the industry as well."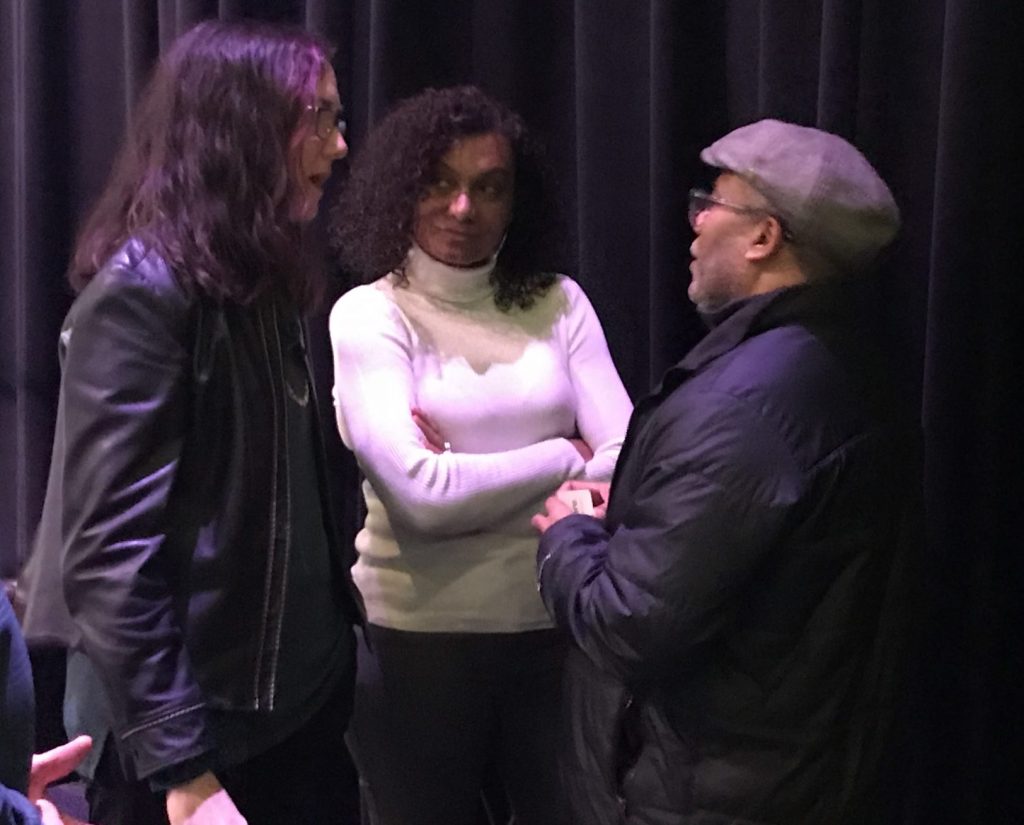 On May 1 the state will announce the winners of 72 dispensary licenses statewide. On July 1, the Department of Agriculture will grant licenses to up to 40 processors, craft growers and transporting organizations.
Saturday's panel discussions were split into three, hour-long blocks with two simultaneous discussions. The popularity of the event led to an early hiccup, when people hoping to attend a panel on starting a business in the industry were shut out of the at-capacity meeting room.
A woman who asked not to be named attended because she is interested in opening an infusing or processing business. She was among a group of people unsuccessful getting into the room.
"I came here to really understand what resources are available, which is why I am so upset that I can't get into the session on how to start a business," she said.
Later panels were moved into the main event hall to accommodate more people.
Many who attended were budding entrepreneurs who were seeking advice on the best way to enter the industry. Others saw it as a networking event — a chance to pitch their product or idea.
Yewande Odusanwo owns a digital marketing company and was hoping to connect with people to help market their products. Odusanwo also hosts the "Zora Talks" podcast, where she interviews entrepreneurs in the healthy living business. She was inspired by James' story and made it a "stretch goal" to get her on the podcast.
"I saw it on the news today and I have my own business," she said. "I just kind of wanted to see what opportunities there were in the cannabis industry."
Sugar LanCret, a tax accountant, and Precious Fraction, in school studying biochemistry, hope to one day open a dispensary or processing company. They plan to apply when more licenses become available next year.
"We're preparing and we know that they have another round coming up next year, and so we're getting all of our information and all of our documents ready now," said Fraction.
They attended a discussion on contracting opportunities. LanCret said they found it useful.
"I liked their candor," she said. "They helped paint a better picture of that [process]," she said.
Samuel Hutchins works in the tech sector, which he said has the same lack of equity ownership as the cannabis industry. 
"I'm really interested in understanding the intersection of technology and cannabis. Specifically from an equity lens and understanding that equity can be more than just the dispensary experience, but also the backend analytics that are helping make dispensaries more optimized and profitable," he said.
Peter Contos is vice president of the Cannabis Equity Illinois Coalition. His group has been attending community meetings for proposed dispensaries and asking cannabis companies to sign on to a community benefits agreement that would commit the companies to hiring standards beyond what state law requires. 
On Saturday, he said his vendor booth was getting a lot of questions from people seeking to have their own, or a family member's, record expunged for past cannabis-related offenses.
"We're going to connect you with our partners at Legal Aid Chicago, Cabrini Green Legal Aid, who have been phenomenal for the last year in working with us to make sure the expungement process is as accessible as possible," he said. 
Grady Norwood, managing partner of Chicago Minority Cannabis Group, said they provide classes that can train and certify people to work in the industry.
"Everything is regulated now. So if you touch the weed, you gotta be certified," he said.
Classes are $100 and last 8 hours. He said they filled up five sign-in sheets with people interested in taking the class. 
This was the city's first resource fair. There may be more planned later. Stewart said those who couldn't attend or are looking for more information can visit a website created by the mayor's team.

Do stories like this matter to you? Subscribe to Block Club Chicago. Every dime we make funds reporting from Chicago's neighborhoods.
Already subscribe? Click here to support Block Club with a tax-deductible donation.