RIVER NORTH — Residents and business owners — including owners of a rival dispensary — packed into a River North banquet room Tuesday as Cresco Labs pitched their plan to open a dispensary in the neighborhood.
Cresco Labs aims to open a dispensary in a storefront once home to the Baton Club at 436 N. Clark St. The meeting, hosted by the River North Residents Association at Maggiano's Little Italy, 516 N. Clark St., is a required step as owners seek a special-use permit from the city's Zoning Board of Appeals.
It was the first of many meetings as cannabis companies seek to plant their flag in Chicago's most coveted retail districts.
Inside a stately room, Cresco Labs spokesman Jason Erkes said he sought to "normalize and professionalize" cannabis to an audience that was concerned a dispensary would bring increased safety issues, loitering, and noise to the neighborhood — along with the pot.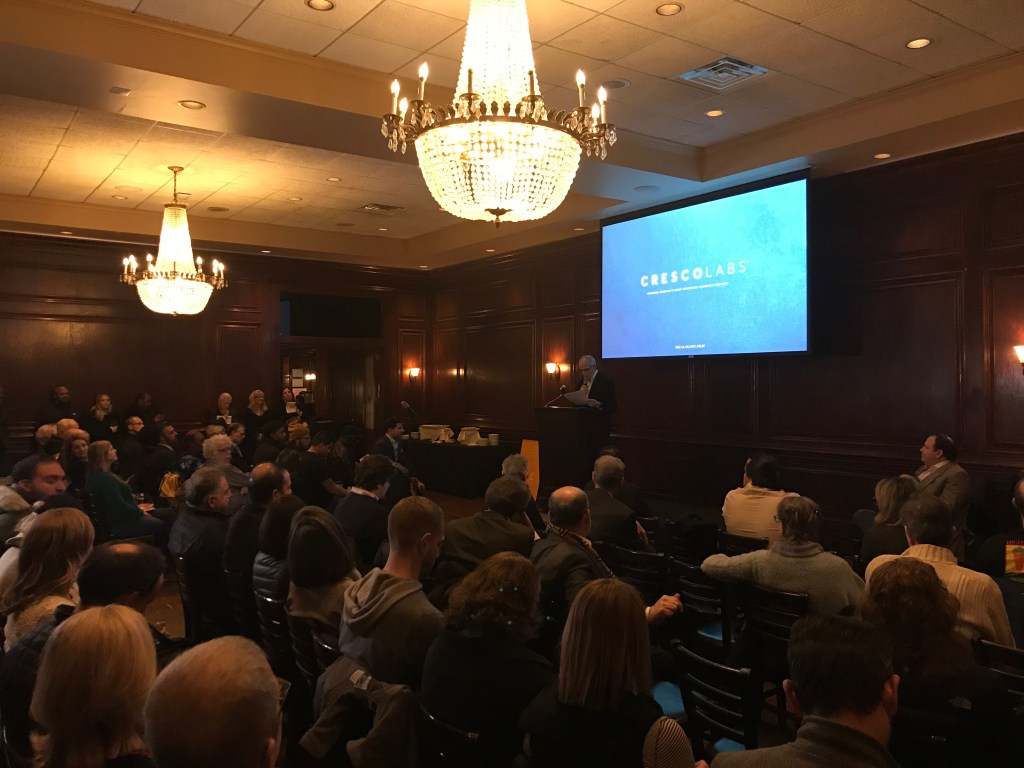 One group concerned with a lack of equity in the industry asked Cresco Labs — and all dispensaries in Chicago — to sign a Community Benefits Agreement committing to certain employment and outreach practices that go beyond what state law requires.
The meeting was also attended by Doug Marks, who owns MOCA Modern Cannabis with his brother Danny Marks. MOCA hopes to open a dispensary nearby at 214-232 W. Ohio St.
Cresco Labs President Joseph Caltabiano implied
the owner of that Ohio Street building, Sam Fakhouri, asked a negative question on MOCA's behalf.
Fakhouri brought up a recent Sun-Times article that reported the state was investigating whether large cannabis companies, like Cresco Labs, that own both cultivation centers and dispensaries were withholding product from other dispensaries their cultivation centers sell to, in violation of state law.
Caltabiano said the company did not violate the law and implied that Fakhouri had ulterior motives for his question, dinging MOCA's security measures in the process. MOCA was burglarized earlier this month.
"First Sam, I'm sorry we didn't sign a lease with you. I know you wanted us as a tenant, but we're not going [to your property]," he said. "…We're not being investigated. We are the largest provider of wholesale business to the tenant that you're looking to, who I believe also had a break in at their facility."
After the meeting, Erkes said he was surprised to see owners of other dispensaries at the meeting.
"I've never been part of a public meeting where your competitors come and voice their opinions, but it is a public meeting, and you know, we welcome anyone to participate," he said.
Fakhouri and Marks declined to comment.
Cresco Labs, MOCA, PharmaCann, and Greenhouse Group are all hoping to drop anchor in River North, but only one of the dispensaries will be allowed to open under state law because of their close proximity. Each dispensary is less than 1,500 feet from the other three vying to open.
Seven dispensaries are currently permitted to open in Central Cannabis District, which includes River North.
If the dispensaries receive a special-use permit from the zoning board, they can begin the build out of their pot shops in preparation of an inspection of the property by state regulators, a last step before a license can be finalized.
State regulators have not answered questions as to how they'll decide who receives a license when dispensaries are within 1,500 feet of each other, but those who are familiar with the
process have described it is a race to complete the build out of their property.
Before taking questions, Erkes told the assembled crowd that the dispensary would be 8,000 square feet, and hold 40-50 customers inside at a time. The company would use nearby
businesses as holding areas if needed, similar to how their Wrigleyville dispensary operates.
He said their dispensaries, under the Sunnyside brand name, cater to people of all walks of life, breaking them into five categories: boomers, the active, the progressive, the innovator, and the medicator.
"Our brand is progressive and personal, it's Target not K-Mart…and if it were a band it would be the Beatles, not the Grateful Dead," he said.
Erkes touted the companies security protocol, saying the company would have one security guard present 24/7, at least two while the store was open, and that there would be plenty of cameras.
"Our Sunnyside dispensaries have over 20 interior and exterior cameras," and the cameras provide, "…24/7 online access for law enforcement and regulators," he said.
One resident said those measures only pertain to the store itself, but customers would be flooding the area with cash on hand — an easy target for burglars.
Another said she's concerned with what will happen when customers leave the store.
"I know that those who purchase your items will want to use them, I understand that," she said. "…I live here. This is my community, and I don't want it to be consumed by so many people that are indulging."
Peter Contos and Akele Parnell, an attorney with the Chicago Lawyers' Committee on Civil Rights, attended the meeting with a group which is pushing all cannabis companies to sign on to a CBA to address the lack of equity in the industry, Cannabis Equity Illinois Coalition
Among other asks, the CBA seeks:
75% of dispensary employees to people who would qualify as a "social equity applicant" under the state law
50% of those employed would be full time, and 100% of those would earn "a living wage of $20+ per hour."
10% of dispensary products and/or services will be sourced from MBE/WBE or Social Equity qualifying businesses
"We haven't finalized all the different terms but the overarching concept and sort of the basic commitments around hiring, reinvestment, jobs, and reporting, all that, we're on the same page," Parnell said.
Contos said the group met with Barrington Rutherford, Senior VP of real estate and community integration at Cresco Labs, and felt they made progress on coming up with an agreement the company could sign.
After the meeting, Rutherford told Block Club he agreed with group on a lot of issues–he even thought they should ask for more from dispensaries on some issues– and thought the company may sign onto the CBA if they continue to work out the details, but cautioned that negotiations could go south if the group didn't work in good faith with Cresco Labs.
Mike Riordan, President of the River North Residents Association, said the group will hear out all of the proposals for dispensaries in the neighborhood and will decide on a case-by-case basis whether to approve them.
"We'll look at everybody, hold our opinion until we've seen everybody," he said, "…we have some of our board members here taking notes and we have a little scoresheet that we worked up, so we'll use that at all of our meetings."
Riordan said the group will likely approve of multiple dispensaries.
Their next chance to break out the scoresheet is Wednesday night, when MOCA will present their
plans at 6 p.m. at 216 W. Ohio St.
Two other meetings are planned for next week. Both dispensaries planned within 1,500 feet of each
other:
PharmaCann: 6 p.m., Feb. 6 at Maggianos, 516 N. Clark St. for their proposed dispensary at 444 N. LaSalle St
Greenhouse Group: 6 p.m., Feb, 7 at 350 N. Orleans St. for their proposed dispensary at 612 N. Wells St.
Do stories like this matter to you? Subscribe to Block Club Chicago. Every dime we make funds reporting from Chicago's neighborhoods.
Already subscribe? Click here to support Block Club with a tax-deductible donation.