LITTLE VILLAGE — Three weeks after the death of a worker at the site, work to demolish and remediate the old Crawford Coal Plant in Little Village has restarted.
Work resumed at the old plant at 3501 S. Pulaski Road on Thursday, Hilco Redevelopment Partners announced on a website detailing the progress of the project. Hilco Redevelopment Partners is redeveloping the site into a 1-million-square-foot distribution center.
"Since the accident, all site work was placed on hold during the investigation by the authorities. The Exchange 55 Team has assisted the authorities since the accident occurred. Based upon our communications with the authorities, as of January 16, 2020, site work has recommenced," company officials wrote.
On Dec. 30, worker Reynaldo Grimaldo, a 54-year-old Little Village resident, was attempting to climb onto an elevated platform when he fell to his death, officials said. Work was subsequently suspended at the site, said Ald. Michael Rodriguez (22nd).
RELATED: Worker Falls To His Death In 'Tragic Accident' At Crawford Coal Plant In Little Village
The demolition of boiler room No. 1 and boiler room No. 2 is in "in progress" now that work has resumed, according to the Jan. 16 update on the developer's website. Demolition of other parts of the old plant will continue in the upcoming weeks.
Work now being performed at the north end of the site includes demolition and general site cleanup, material sorting and recycling, ongoing sorting and recycling and building pad construction, according to the developer's website.
According to the Thursday update, abatement had been completed on the site.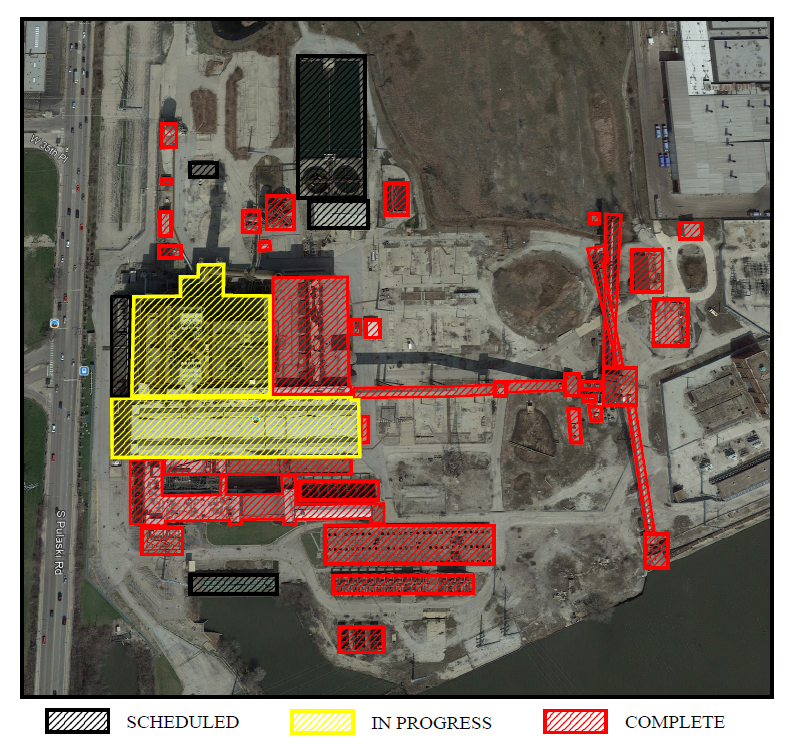 "Dust control, mitigation and management are critical areas of focus during all onsite demolition activity and we prioritize these efforts to provide a safe working environment for onsite workers and the local community," a statement reads on the site. "With this project, we leverage a variety of watering techniques for our dust control and mitigation efforts including water trucks, water cannons, direct-drive misting systems, selective interior demolition and weather monitoring, among others."
Hilco Redevelopment Partners representatives did not respond to questions Monday.
Grimaldo's death is being investigated by the Occupational Safety and Health Administration. No details on OSHA's investigation have yet been made available to the public and officials did not return a request for comment on Monday.
"OSHA will work to complete the investigation quickly and efficiently, but by law, OSHA has six months to complete the investigation," Scott Allen, a spokesman for OSHA, previously told Block Club.
On Monday, Rodriguez said he would reach out to OSHA to get more information about the agency's investigation into Grimaldo's death.
Rodriguez previously told Block Club he would ask the company to "go above and beyond in assuring workers safety as well as the communities safety."
RELATED: Little Village Residents Search For Answers After Worker Dies At Old Crawford Coal Plant Site
Patty Garcia, a representative from U.S. Rep. Jesus "Chuy" Garcia's office, said the Little Village Democrat demanded an expedited report from OSHA.
In February 2019, a fire broke out as crews were dismantling an electrical transformer on site.
The Crawford Power Plant was shut down in 2012 after community-led efforts raised concerns about the impact coal pollution was having on the health of Little Village residents. 
Hilco's redevelopment plan sparked anger among residents who fear the distribution center will bring more diesel trucks and pollution to the the neighborhood.
RELATED: Massive Little Village Warehouse On Old Crawford Coal Plant Site Approved By City Council
After the project was approved by City Council, neighbors and activists called on the developer to install air monitors ahead of the demolition and remediation of the site.
The distribution center is expected to be completed later this year.
Do stories like this matter to you? Subscribe to Block Club Chicago. Every dime we make funds reporting from Chicago's neighborhoods.
Already subscribe? Click here to support Block Club with a tax-deductible donation.
RELATED: Semi-Trucks Are Taking Over Little Village, Neighbors Say — And Giant Warehouse Plan Will Make It Worse