CHICAGO — In the first week of legal weed sales in Illinois, buyers showed zero chill.
After spending more than $5 million statewide in the first two days of legal recreational sales in Illinois, cannabis customers continued to gobble up supply at Chicago dispensaries over the weekend despite hours-long waits in line. By Monday at noon, all but one dispensary was closed to recreational customers.
Of the nine Chicago dispensaries that began recreational sales on New Year's Day, only two — Mission South Shore and Sunnyside in Wrigleyville — were still selling on Sunday afternoon. Some of the dispensaries will be closed every Sunday. The rest were closed because they were wiped out of product.
Only Mission South Shore was still serving recreational customers Monday afternoon. It's unclear exactly how many dispensaries will be open the rest of the week, as the shops are using social media to urge potential buyers to check back for updates on when they'll again be able to sell to the masses.
Sunnyside Lakeview, owned by Cresco Labs, will be closed Monday. Spokesman Jason Erkes said the dispensary still has some supply but wants to give its employees a break. The dispensary will reopen at 9 a.m. Tuesday.
"We do plan on closing tomorrow to give our staff a break as they have been working 15 hour days for the week. The only thing we are short on supply of is certified people to work in the dispensary to help make our lines go more quickly," Erkes said Sunday.
On Sunday, lines at Sunnyside were long. Those who waited were treated to hot dogs, Cresco hats, and a warm place to sit. Buyers were asked to wait inside a vacant storefront at 3753 N. Clark St., a quick walk from Sunnyside, until it was their turn to move in groups of around 20 to wait on the sidewalk outside of the store. 
The customers Block Club spoke to Sunday evening said they were initially misled about how long the wait would take.
Two women in their twenties who wished to only go by their first names, Martyna and Alexandra, said they had driven in twice before from the suburbs to Sunnyside only to be turned off by the long lines. They decided to stick it out on Sunday.
"They told us like, okay yeah, two-three hours wait, we actually stood in line for over six hours," Martyna said.
Alexandra said the third visit was a charm but they will wait until the appeal of legal weed wears off before going back to a dispensary.
"Honestly, we're not going to try this again until the lines die down because we're not going to come back here in a week and the lines are another six hours," she said.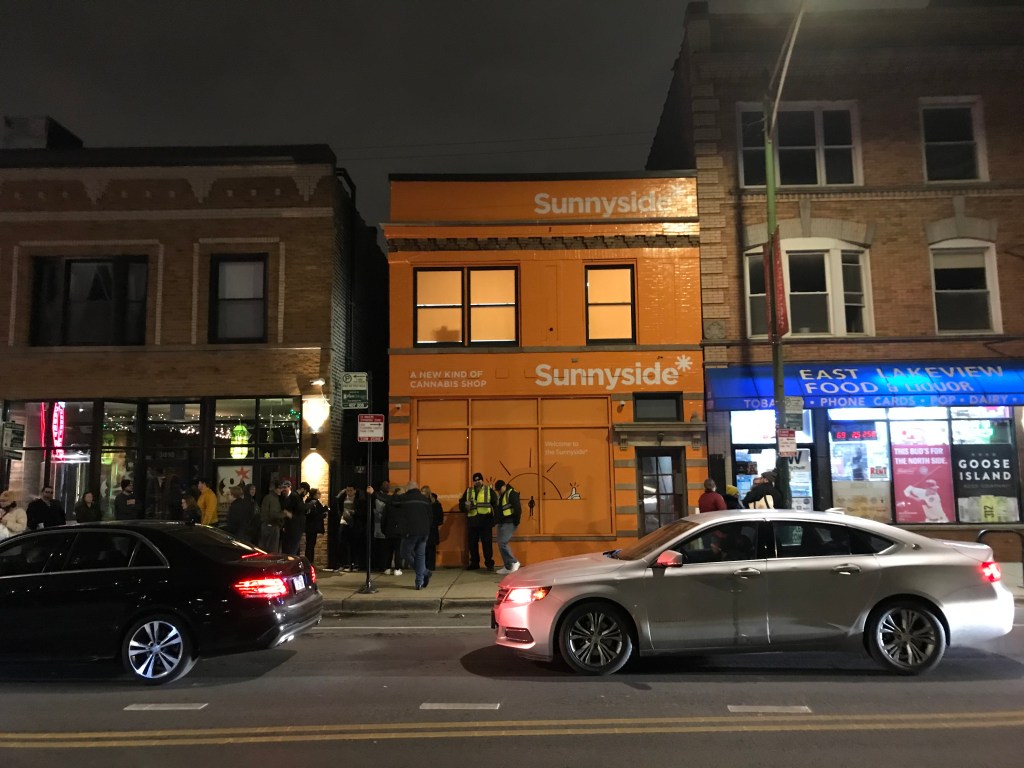 Inside the holding area, customers were sitting on the floor in queues. A 23-year-old man who asked not to be named said he wasn't too perturbed by the long wait, if only because he was able to watch his hometown Seattle Seahawks win their playoff game against the Philadelphia Eagles. But he had envisioned himself watching the game at home, enjoying the pre-rolled joints he eventually bought on Sunday evening.
"That's exactly what I was planning, but that's not going to happen," he said, "…I'm not going to wait this long. I don't expect myself to be outside another dispensary for another month. It's really ridiculous, like, it's very very long."
Lewis and Sarah, an engaged couple from Logan Square, said they arrived at noon Sunday and left the dispensary at 7:15 p.m. Lewis said after fours he figured his time was a "sunk cost," though he was more empathetic towards the dispensary employees than others.
"It was a long line but they were nice, like they were clearly efficient in the things they could control that it wasn't completely aggravating," he said. 
Erkes said that no one was misled about wait times, chalking it up as a misunderstanding between eager customers and eager-to-please employees.
"We have been experiencing daily wait times anywhere between three-seven hours since we opened and have not quoted anybody a specific time, as we don't know. We have cut the line off daily at around 3 p.m.to make sure all the people in line get served and have been providing food, beverages and even entertainment while people have been waiting," he said. "This is how long it takes to educate people on cannabis products and get them through a store with a small footprint."
An employee at Mission South Shore said the wait time on Sunday was around two hours and those arriving after 3 p.m. would be turned away.
The Mission employee said the dispensary hopes to get a new delivery before supply runs dry. The dispensary gets multiple deliveries per week but due to security protocol, employees don't know when new product will arrive, she said.
At Dispensary 33 in Andersonville, customers were turned away Sunday by a friendly but overwhelmed security guard. He told people to check back later in the week. 
Patrick Abella drove to Dispensary 33 from his home in Chinatown. He said he was "very disappointed" they were closed. 
"I came here specifically for Dispensary 33. I had my hopes up today, this was like my highlight, this was my big, big thing today," he said. 
Later on Sunday, Abella tried to hit up Sunnyside, but he said he was again turned away because of the long wait.
Dispensary 33 will opened to a limited number of recreational customers 8:30 a.m. Monday, said spokeswoman Abigail Watkins. Recreational customers who made the cut-off will sign up to receive a text when it is their turn to come in to shop.
By 10:30 a.m., Dispensary 33 stopped serving recreational customers.
All of the weed dispensaries in Chicago except Green Gate are licensed to provide weed to recreational customers and medical patients. At some dispensaries, like MoCa Modern Cannabis in Logan Square, employees are pushing recreational customers to sign up to become a medical patient.
At the arcade bar Emporium, which shares owners with the pot shop and MoCa uses as a makeshift waiting room, posters spelled out the benefits of becoming a medical patient. Medical patients are able to skip the lines and can avoid paying high taxes.
Dispensaries will also benefit when someone becomes a medical patient. State law limits medical patients to purchasing at one dispensary, although the process to switch dispensaries has been made easier by the state. As of Monday, all changes must be made online, and the switch will now be registered within an hour rather than the previous 24-hour wait time, according to the state's website.
While new legal dispensaries work out the kinks and deal with crowds, one old-fashioned weed dealer — peddling unsanctioned product — saw an opportunity. Outside Dispensary 33, a man gave a Block Club reporter a flyer touting his "420 Delivery Service" that accepts "donations only." Suggested donations were $40 for an eighth of an ounce of "Top Shelf," $25 for an eighth of "Mid Tier," or $100 for an ounce of "Shake." The man declined to be interviewed.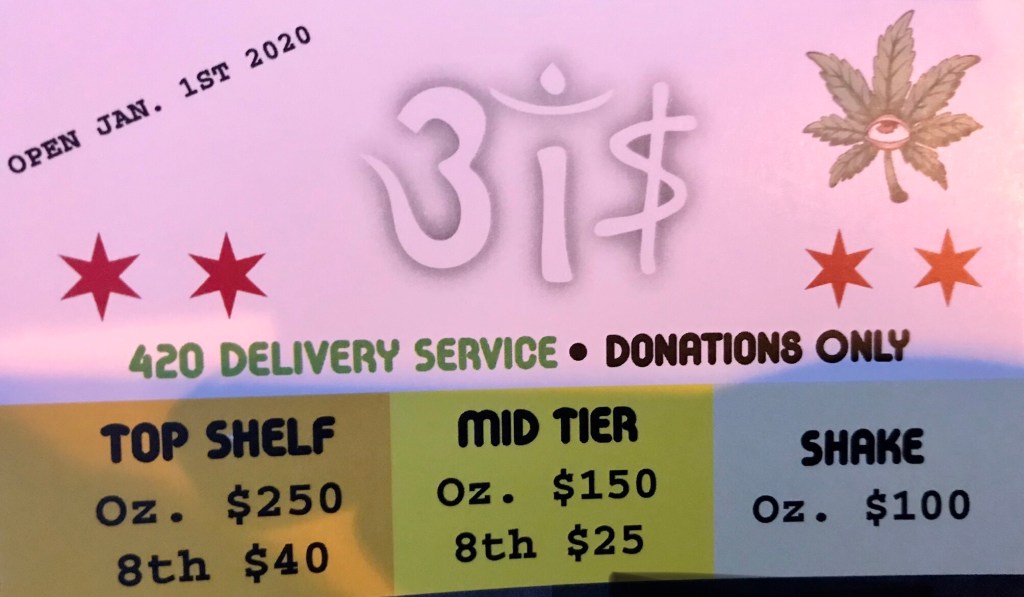 At Sunnyside, Alexandra said she and her friend were going to go home and smoke what they bought and then make a phone call to their regular weed dealer in the morning.
"We just wanted to try the hype, the legal hype, but we're gonna go back to him 100 percent," she said. "Tomorrow."
Status of dispensaries as of Monday at noon:
Sunnyside Lakeview, 3812 N. Clark St.
Closed on Monday to give employees a day of rest. Will re-open at 9 a.m. Tuesday to both recreational customers and medical patients.
Dispensary 33, 5001 N. Clark St.
Stopped serving recreational customers at 10:30 a.m. Monday.
Green Gate Chicago, 7305 N. Rogers Ave.
The dispensary has yet to receive its recreational license from the state. Dispensary owners said on Instagram this is "due to a delay with the state," and on Twitter that they hope to be open to recreational users this week.
NuMed at 1308 W. North Ave.
The location is out of stock for recreational cannabis until further notice and directs customers to sign up for text alerts.
MOCA Modern Cannabis, 2369 N. Milwaukee Ave.
MOCA was closed Monday morning because it was burglarized overnight. It is expected to reopen to medical patients at 1 p.m. Monday and recreational customers at 10 a.m. Tuesday.
Zen Leaf Chicago, 6428 N. Milwaukee Ave.
The store is regularly closed on Sundays. A call to the store was not returned.
The Herbal Care Center, 1301 S. Western Ave.
The dispensary ran out of recreational weed Sunday morning and they expect to be able to being sales again in the next few days, an employee said.
Midway Dispensary, 5648 S. Archer Ave.
Midway was suspending recreational sales as of Sunday, according to its website. Medical patients were being offered a 10 percent discount. Owners asked customers to "watch social media for updates."
Maribis Chicago, 4570 S. Archer Ave
The Brighton Park dispensary told the Chicago Sun-Times last month that they would "rather wait for the dust to settle," accurately predicting state-wide shortages. The Sun-Times reported they would open to recreational sales "on or after Feb. 1."
Mission South Shore, 8554 S. Commercial Ave.
The dispensary will be open Monday, but customers should expect long lines. The pot shop, which lies just miles from the Indiana state border, saw a bevy of Hoosiers show up to it's doors on New Year's Day. Recreational buyers are limited to $300 in purchases.
Columbia Care, 4758 N. Milwaukee Ave.
The dispensary was closed on Sunday as regularly scheduled. It is set to open at 10 a.m. Monday but the store is completely out of flower, pre-rolled joints and edibles for recreational customers, according to its online menu.
Do stories like this matter to you? Subscribe to Block Club Chicago. Every dime we make funds reporting from Chicago's neighborhoods.
RELATED COVERAGE:
Pot Shops Already Running Out Of Cannabis Flower, THC Oils As Recreational Pot Buyers Flood Dispensaries
Legal Recreational Weed Goes On Sale — And Chicagoans Line Up For Blocks In The Cold