UKRAINIAN VILLAGE — Before opening inside the old Grace Auto Repair in Ukrainian Village next spring, the team behind Shake-It will agree to sign a document addressing a list of neighbor demands, the neighborhood's alderman said Friday.
Located at 820 N. Damen Ave., the restaurant and bar will replace the since-vacated Grace Auto Repair. Owners began construction last week.
Forward Hospitality Group, the Ohio-based company behind Shake-It, will sign a legally binding "plan of operation" as part of its application for an incidental liquor license, Ald. Brian Hopkins (2nd) told neighbors in an email newsletter on Friday.
The plan lays out rules regarding late-night noise, trash pick-up, delivery logistics and other concerns shared by neighbors during two years of heated community meetings.
In Chicago, plans of operation are mandatory for establishments that require a Public Place of Amusement license, such as concert venues. Shake-It, however, is not and will not seek such a license, Hopkins said.
"By establishing additional, voluntary rules attached to their incidental liquor license within the Plan of Operation, it provides my office and the community with enforcement tools to ensure that the restaurant operates as good neighbors," he said.
The Ukrainian Village Neighborhood Association and the East Village Association assisted in the creation of the document, which several key concerns neighbors have raised during the last two years.
The plan — which can be viewed in its entirety here — will require Shake-It to adhere to the following rules:
Close outdoor patio by 10 p.m. Sunday-Thursday and by 11 p.m. Friday and Saturday
Close restaurant windows by 11 p.m. Sunday-Thursday and by midnight Friday and Saturday
Maintain noise monitoring on-premises and take immediate action to "abate excessive noise"
Create a single loading zone on Damen Avenue where all deliveries are to take place (no alley or Rice Street deliveries will be allowed)
Allow trash haulers to pick up only between the hours of 9 a.m.-9 p.m.
Participate in local CAPS meetings and meetings with the Hopkins, the Chicago Police Commander and other groups at the request of the Alderman's office
Work with the city to redirect ride share traffic to Damen Avenue
Neighbors can contact the 2nd Ward office by calling 312-643-2299 or emailing Ward02@cityofchicago.org.
During a series of heated community meetings dating back to 2017, Forward Hospitality partners often butted heads with residents who felt the idea behind Shake-It did not make sense in this part of the neighborhood.
RELATED: Shake-It Restaurant Shows Its Plans To Future Ukrainian Village Neighbors And Emotions Fly
Dante Deiana, a Loyola University graduate and a DJ for the Chicago Cubs, is a partner on the project. He told neighbors that of the 16 years he's lived in Chicago, eight were spent in Wicker Park.
"We want to ingrain ourselves into the neighborhood and be very family orientated. We want to be an anchor at that corner," Deiana told neighbors in 2017.
Since then, in an effort to appease neighbors, Deiana and his partners did away with the walk-up window part of the business — a "major concession," he said.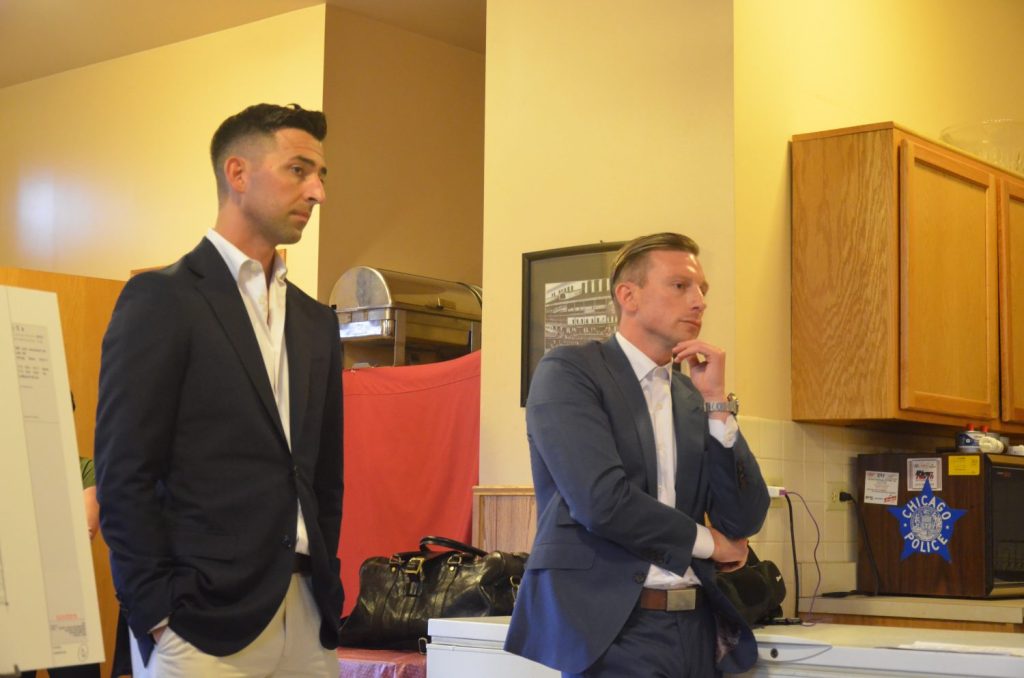 Still, at a community meeting in June, neighbors voiced concerns about late-night noise, parking for delivery drivers, the location of trash cans and other logistical issues.
Bobby Rutter, one of Deiana's partners, said in Ohio and in Breckenridge, Co., neighborhoods have benefited from the presence of the Forward Hospitality businesses.
RELATED: Shake-It Vows To Work With Neighbors Before Bringing Boozy Shakes And Burgers To West Town
"The only way we're successful is if we are a good neighbor," Rutter said. "We're not trying to be a bar. We're not trying to be a bad neighbor. If you want our GM's cell phone number, I'll give it to you."
Do stories like this matter to you? Subscribe to Block Club Chicago. Every dime we make funds reporting from Chicago's neighborhoods.