UKRAINIAN VILLAGE — At the request of Ald. Brian Hopkins (2nd), the owners of Shake-It — a boozy milkshake and burger restaurant headed for 820 N. Damen Ave. — met with residents to show off design plans and the menu, and talk about how it plans to operate.
But the meeting quickly descended into chaos as longtime Ukrainian Village and East Village residents probed the Shake-It team about outdoor noise, hours of operation, traffic, safety and whether Shake-It should construct a loading zone for deliveries.
There were also worries about what would happen if Shake-It doesn't last.
Gladys Anselmo, a 30-year Ukrainian Village resident, reminded the restaurant's reps that in the city of Chicago liquor licenses are tied to locations.
"This is what you have to understand," Anselmo said. "Let's say, all of a sudden, no one wants a James Beard burger and, within your business rights, you sell the license to somebody else. We're married to that business and that license at that location forever. So maybe you guys are top drawer. But maybe the people that your business people decide to sell to aren't."
"And you're absolutely right," Shake-It attorney Carmen Rossi said.
The proposed restaurant development at the corner of Damen Avenue and Rice Street needs aldermanic sign-off on a liquor license.
But despite Thursday night's impassioned pleas from residents, community approval is not required for the plan since no zoning change is needed.
During the meeting, Chicago-based architect Jonathan Splitt unveiled new renderings for Shake-It, which included 88 indoor seats — 66 dining table seats and 22 bar seats — and 82 outdoor patio seats.
James Beard Award-winning chef Jonathan Sawyer introduced himself as the brains behind Shake-It's menu, which he said will be more burger-heavy than booze-focused.
RELATED: Shake-It Vows To Work With Neighbors Before Bringing Boozy Shakes And Burgers To West Town
And Dante Deiana and Bobby Rutter, two co-partners in Forward Hospitality, the Ohio-based group behind Shake-It, appealed to the residents who just weren't buying what Shake-It was selling.
"We don't want to come in here and give you the finger," Deiana said.
"But that's what you're doing," Anselmo said.
A much younger resident sitting a few rows behind Anselmo shouted at her, "This isn't Ukrainian Village 20 years ago."
"Well, you're here because of the work we did to clean it up," Anselmo replied.
Things became particularly heated when East Village Association leader Neal McKnight, who is an attorney, pressed Shake-It's attorney for more information about the business' LLC and its liquor license.
McKnight said he read through Shake-It's 99-year lease agreement with Subhash Saluja, the owner of the Grace Auto building at 820 N. Damen Ave., where the restaurant wants to open.
RELATED: Neighbors Want Meeting With Shake-It's Backers To Hear Plans For The Boozy Burger Spot In West Town
As written, the lease, McKnight said, allows Shake-It to abandon its business after three years.
About 45 minutes into the meeting, Ald. Hopkins interjected with a description of what he saw as four major sticking points among neighbors. Two of the items — points No. 1 and No. 4 — are already outlined in the current draft of the Plan of Operation. 
Shake-It will not seek a Public Place of Amusement license, which would allow them to turn the restaurant into an entertainment venue.
Shake-It will meet with Hopkins four times a year to discuss sales figures as they relate to an incidental liquor license. (This license is designed for businesses that are primarily restaurants, but happen to sell alcohol).
Shake-It will agree to close patio windows and doors by a certain hour to limit noise.
Shake-It will agree to close at midnight, as required by city law.
Regarding, point No. 4, several residents want Shake-It to agree upfront to close its patio earlier than what's required by city law.
Rossi said he would agree to review Plans of Operation from nearby restaurants.
But Rossi challenged point No. 2. On the issue of the incidental license, Rossi said Shake It would enter a world of "Narnia" if forced to prove its food sales were lower than alcohol sales.
For example, a couple of craft beers with dinner could equal or exceed the price of a burger.
Some residents immediately challenged the efficacy of the Plan of Operation.
"So, alderman, all the burden is on the people in the immediate impact area, which is rather unfair," one resident said.
Another resident shouted at Hopkins that he was taking Shake-It's side.
"I am not advocating for the business owner. Not at all," Hopkins said. "What I'm trying to do is be honest, realistic and transparent."
The Plan of Operation gives city leaders leverage, Hopkins said, if Shake-It strays from its original pitch and becomes "more of an alcohol bar kind of place."
"We're speaking in worst case scenarios," Hopkins said. "If they obtain their license and go into operation and become a burden to the community, we're thinking, in advance, of potential remedies and things that we can do."
An hour into the meeting, co-owner Rutter addressed the crowd for the first time.
In Ohio and in Breckenridge, Co., Forward Hospitality businesses benefit the neighborhoods in which they exist, Rutter said.
"The only way we're successful is if we are a good neighbor," Rutter said. "We're not trying to be a bar. We're not trying to be a bad neighbor. If you want our GM's cell phone number, I'll give it to you."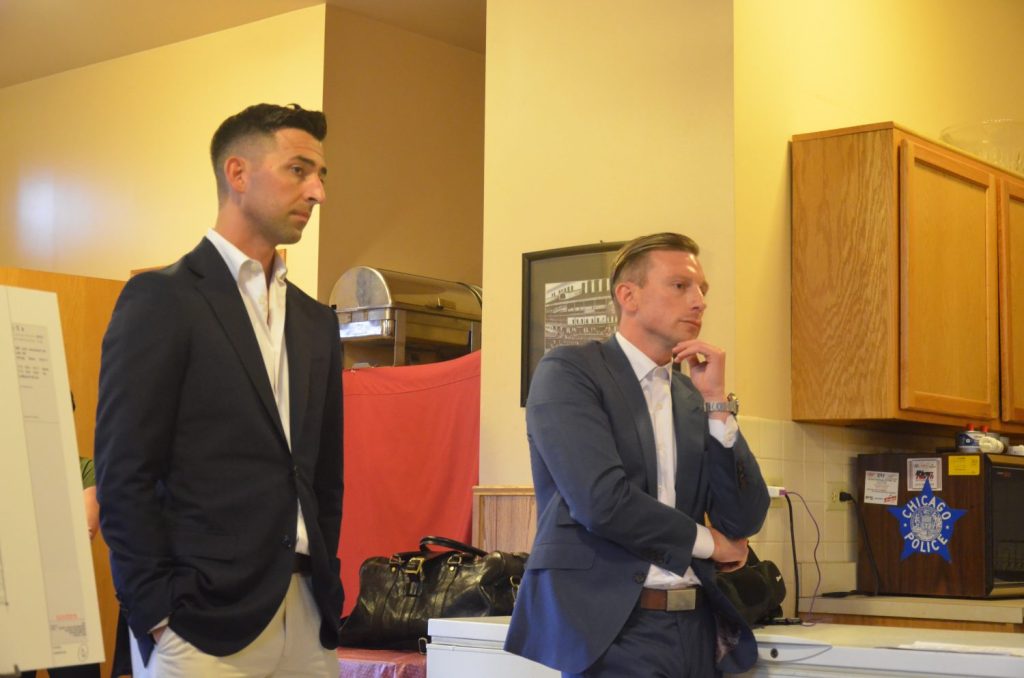 Mo Yehia, who lives on the third floor of an apartment building across the street from the Shake-It site, said he moved from the Gold Coast to Ukrainian Village because he sought a "quiet block."
He worried the business would disturb his 10 p.m. bed time.
"When I go to sleep, I don't want to hear bass, music or people shouting," he said.
That said, he asked Deiana and the other Shake-It leaders to "work" with neighbors, instead of against them.
"It is a very unique block," he said. "Please work with us and we'll try to do the same for you."
Not every resident in attendance at Thursday's meeting opposed Shake-It.
Danielle Ryan, a special education teacher at Chicago Public Schools, sat silently in the back row until the very end of the meeting, when she stood to voice her opinion.
"This is an opportunity," she said. "We're really excited."
Ryan shares her Ukrainian Village apartment with her sister, a CPS art teacher. In an effort to save money, the sisters limit their Uber rides — one reason why they're excited to have a "good meal" right around the corner.
"We love good food," she said. "We want something near us."
Who is behind Shake-It?
Shake-It is a venture by Ohio-based Forward Hospitality Group, which entered into a 99-year lease to replace Grace Auto Repair near the corner of Damen Avenue and Rice Street in Ukrainian Village.
Deiana, a Loyola University graduate and a DJ for the Chicago Cubs, is a co-founder of Forward Hospitality. Of the 16 years Deiana has lived in Chicago, eight were spent in Wicker Park.
While most of Forward Hospitality's 12 locations are in northeast Ohio, the group also owns restaurants in Breckenridge, Colo. and in Columbus.
Of Forward Hospitality's three Cleveland-based partners, one person, Rutter, lived in Chicago for six years, Deiana said.
"Some of our equity partners in this venture — like local Chicagoan and Blackhawk Stanley Cup Champion Scott Darling — own houses right down the street," Deiana said in an email. "So there are vested interests financially and residentially."
Menu
Sawyer described Shake-It's menu as burger-based, with vegetarian options. Side dishes and desserts would be available, as well.
Sawyer said the sole focus of his kitchen would be placed on wood-fire grilled burgers and locally sourced produce.
Almond wood has a low smoke point, Sawyer said. That's what he will use at Shake-It, since the restaurant is within a residential area.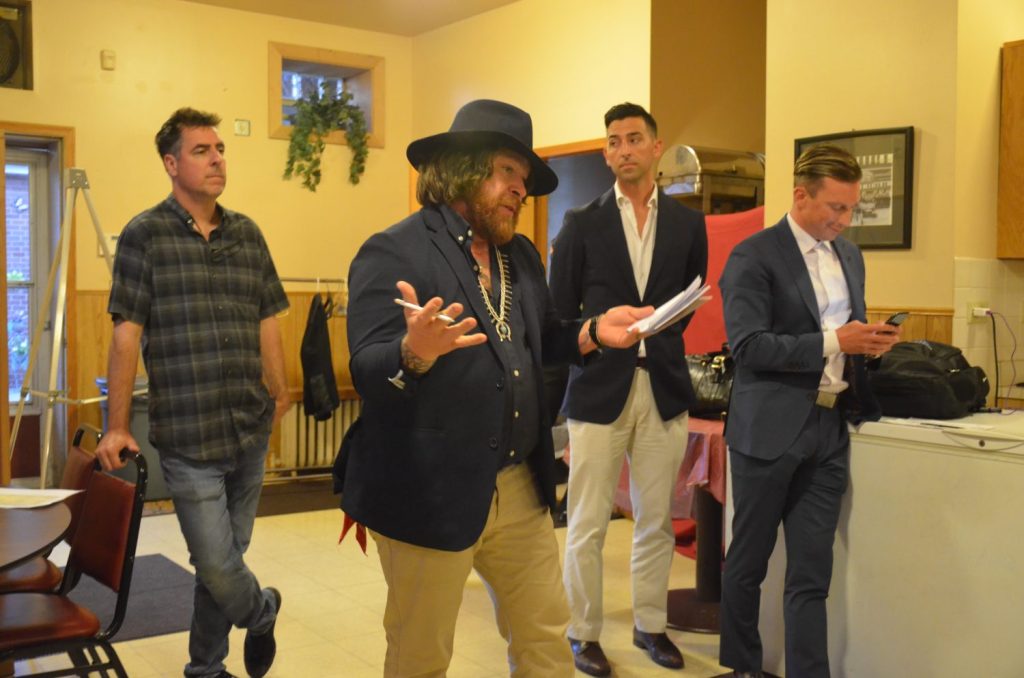 It was unclear how large of a role "boozy milkshakes" would end up playing in the restaurant's final concept. Sawyer said he was not qualified to discuss the beverage element of the restaurant.
Deiana said the restaurant would serve milkshakes, both "spiked and virgin," but he declined to detail flavors, cost or other elements of the idea.
A poster board displayed at the meeting read the following:
"A perfectly cooked burger and a thick milkshake, that's the taste of America. It's an open road, wind in your hair, and the rumble of ponies under the hood. It's polka dot dresses and red lipstick, white T-shirts and blue jeans. Born of Chicago, at the bookend of Route 66, you'll find Shake It, a place that serves up iconic tastes and independent spirit. Molded from a vintage auto garage located in the West Town neighborhood, Shake It offers a breezy patio and endless skies above – the perfect spot to enjoy ground-daily grass-fed burgers with house-made ice cream and milkshakes. Buzzing with energy, it's a place to unwind with a great cocktail and the chatter of new friends. A place to soak up every last drop of summer. A place for instant memories. All that's missing is you."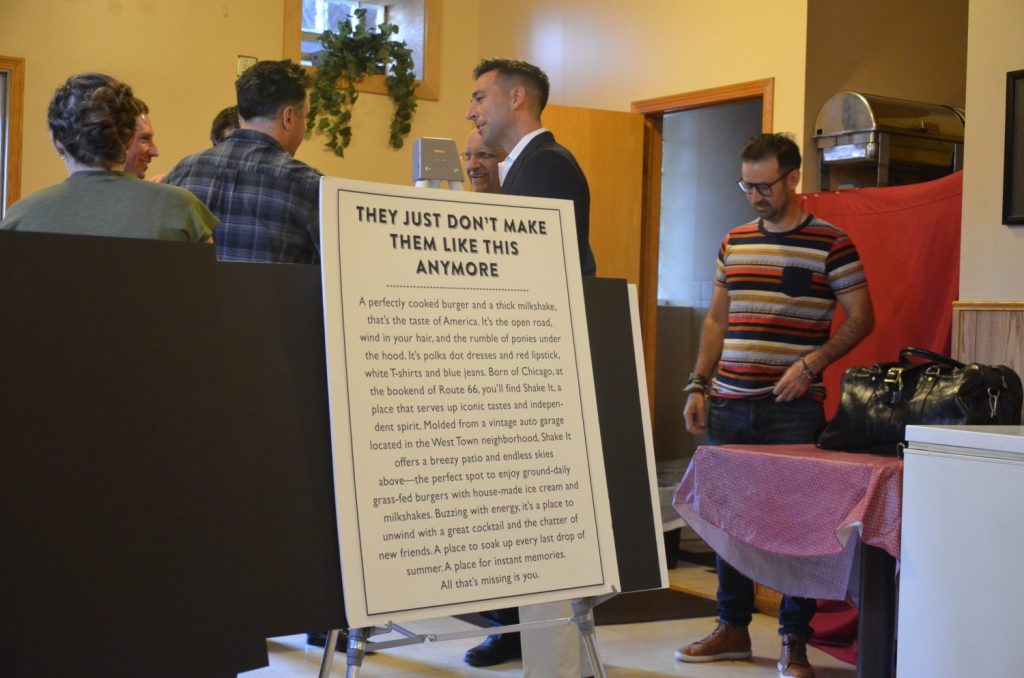 Saluja, the owner of the building at 820 N. Damen Ave., ran a taxi business out of the auto garage before renting the building to Grace Auto Repair.
"This area is coming up very good and a restaurant is better for the neighborhood than an auto shop," Saluja told DNAInfo in 2017.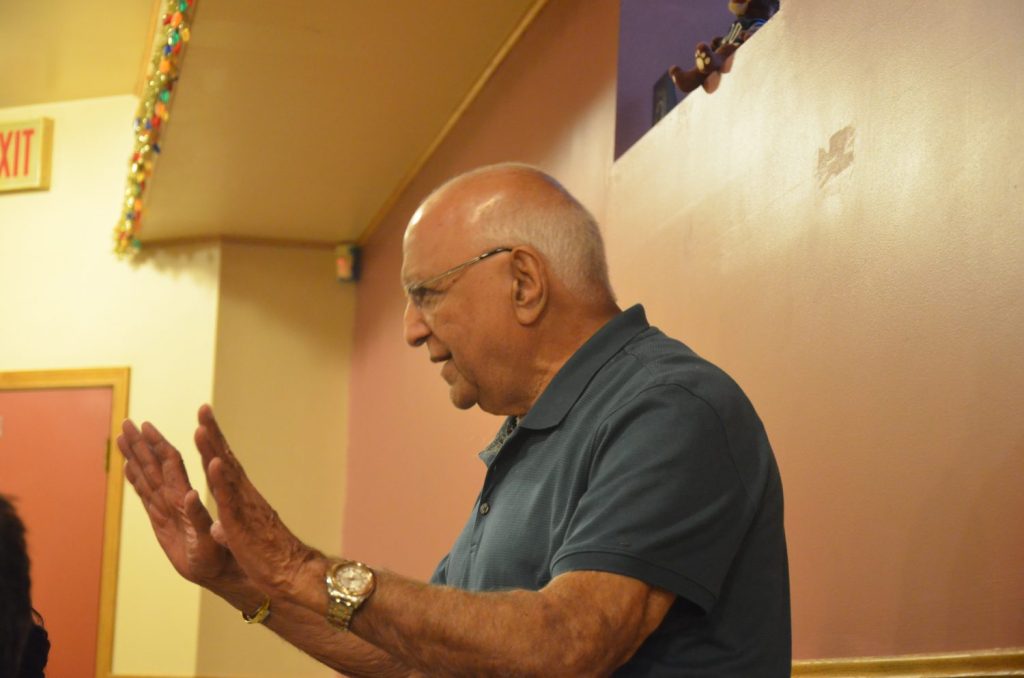 Logistics
Splitt, of Chicago-based Jonathan Splitt Architects Ltd., described the specs of the restaurant:
A 1,954-square-foot add-on to the existing 2,045-square-foot building will result in a total of 3,999 square feet.
82 outdoor seats will be included as part of a seasonal patio.
Three dumpsters will exist enclosed within the property, out of the alley.
Enclosed bike storage will adjoin the patio.
The zoning code allows for up to 300 seats inside the restaurant, Splitt said.
"We're way under density," he said. "It sounds like a lot of people, but again [the 82 outdoor seats] are only seasonal."
In compliance with city code, he added, the patio will close at 11 p.m. on weeknights and at midnight on weekends.
Hopkins asked for a show of hands on whether or not people would want a loading zone for valet parking. The majority of attendees voted no.
Do stories like this matter to you? Subscribe to Block Club Chicago. Every dime we make funds reporting from Chicago's neighborhoods.