EAST VILLAGE — Neighborhood leaders want to hear from Shake-It about its plans to replace an auto shop in Ukrainian Village with a restaurant — and how the proposed boozy milkshake and burger bar would fit into the neighborhood.
The proposed development at 820 N. Damen Ave. would likely need an aldermanic sign-off on a liquor license, although community approval is not required for the plan, since no zoning change is needed.
Ald. Brian Hopkins (2nd) requested a public meeting of the East Village Association and Ukrainian Village Neighborhood, and one is tentatively scheduled for June 27.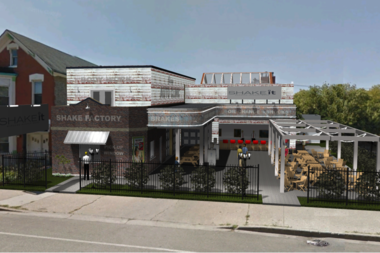 During Monday's East Village Association monthly meeting at Happy Village, the group's secretary, Neal McKnight, said he hoped Shake-It would show up on June 27 and opt to take its relationship with the neighborhood seriously.
"If you want to be in the neighborhood, then play ball," he said. "If you get into this situation and you're not nice up front … it becomes an absolute nightmare to run your business."
Neighborhood leaders have proposed a "Plan of Operation" to Ohio-based Shake-It. The plan would be legally binding and could set limits on outdoor noise past midnight or other concerns.
The Shake-It group did provide a drafted Plan of Operation to neighborhood leaders, but the document did not include anything related to closing hours for the outdoor space — a major sticking point for nearby residents.
Plans of Operation are commonly implemented when bars, restaurants and other late-night venues move into neighborhoods. For example, The Night Ministry and Ald. Scott Waguespack (32nd) signed a Plan of Operation into law for The Crib, an overnight youth shelter moving to Bucktown.
A time and location have yet to be determined for the June 27 meeting.
What is Shake-It?
Shake-It is a venture by Ohio-based Forward Entertainment Group, which plans to replace Grace Auto Repair near the corner of Damen Avenue and Rice Street in Ukrainian Village with the restaurant.
According to a DNAinfo report from 2017, Shake-It will offer 20 varieties of milkshakes — with booze or without — along with griddled hamburgers, chicken and a kids' menu.
Early renderings from architect Steve Ciciretto showed an 80-seat outdoor patio and a walk-up window.
Subhash Saluja is the owner of the building at 820 N. Damen Ave. He ran a taxicab business out of the auto garage before renting the building to Grace Auto Repair.
"This area is coming up very good and a restaurant is better for the neighborhood than an auto shop," Saluja told DNAInfo.
Dante Deiana — a Loyola University graduate and a DJ for the Chicago Cubs — partnered on Shake-It with Bobby Rutter and Michael Schwartz, of Forward Entertainment.
If successful, Shake-It would be the trio's third venture together following two nightclubs in Cleveland named FWD and Magnolia, according to DNAInfo.
Do stories like this matter to you? Subscribe to Block Club Chicago. Every dime we make funds reporting from Chicago's neighborhoods.